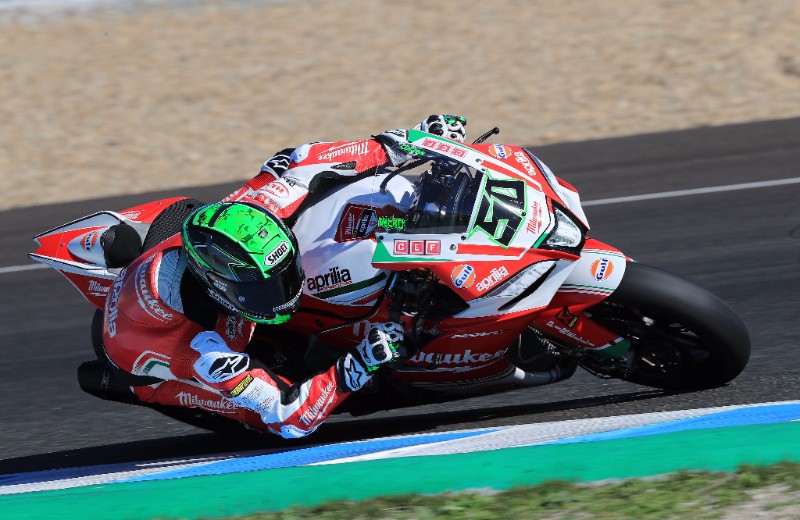 Eugene Laverty has completed a highly productive Jerez test, declaring that he and the Milwaukee Aprilia team 'made some big steps' as they worked through their testing schedule.
"The test first of all was about exploring the new rev limits. We had to understand how to use the gearbox differently, which is going to make the rider busier as we need to shift more. I can't say much more about the lower revs but we will just have to live with it, as every manufacturer will," said a slightly sceptical Irishman.
"Today we've also focused on the issue I had for a lot of 2017 which was getting the bike to push on the rear tyre more so we can stop, turn and accelerate better. We made some big steps on Tuesday, and I was surprised how extreme we had to go. We made progress though and suddenly I had rear grip, which gives me confidence because it confirms what we thought about the bike and the direction we need to follow," he continued.
Laverty has won at Jerez twice, both coming on the Aprilia in 2013. When he returned to the championship this season, he finished 8th in race one before retiring in race two. Whilst his testing lap time was slower than his qualifying time in 2017, the gains made will enable the Irishman to push on and have better race pace.
"I wish we had a third day as always so we could keep progressing, but it's been a very useful two days. We still have to chase down those guys at the front, and Aprilia understand what's needed on the engine and chassis side of things. We understand the direction needed, it will be the second year with the team and the same bike and we can only get stronger."