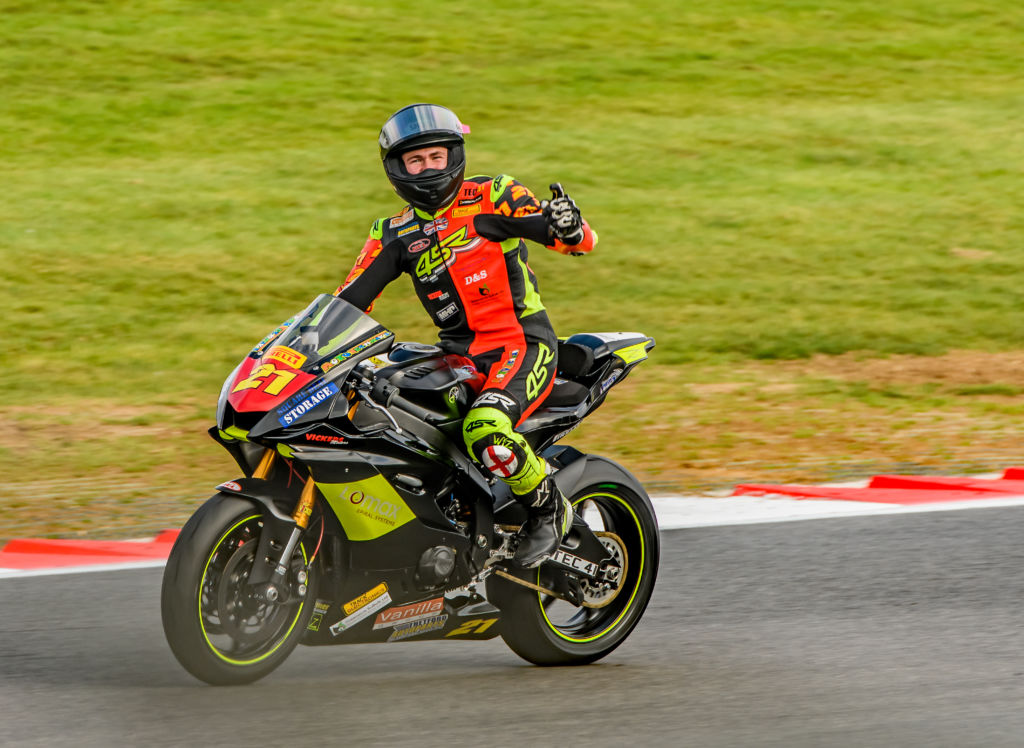 Back at Brands Hatch, I caught up with the father of Ryan Vickers, Paul. Outside the Kentagon (I was the one drinking, not Paul) we spoke about a great deal of things in what has been an incredible season for Ryan. The interview also took place just hours after Ryan had taken his first victory of the season, in a frantic Superstock 600 race. Here is what it has been like for the family-run team from Thetford, Norfolk.
"It's phenomenal. We've known for a long time that Ryan has the pace and the talent and after a couple of knock backs in the season, he has shown in the final three races that he has what it takes. We decided to use our own bike from Oulton Park onwards and thankfully, Ryan has really gelled with it. We've never put Ryan under pressure and he just goes out and tries his best; most importantly, he enjoys his racing and enjoys being out on track," began father Paul Vickers, who was once 3rd in the world wheelie championship.
"Alan carter has been an amazing mentor to Ryan. Alan has got his racing head on and he breathes every second of the weekend with us all and that is something that is hard to come by.
"We had the troubles at the start of the year but because I know what Ryan is like and what he's been like all through his life, I never doubted his ability to bounce back. We knew that if we could give him a bike that works for him, he'd be winning races. I must admit though, I wasn't sure that I'd be able to give him the bike – certainly not in the first year anyway. Having help from Ohlins has really transformed us and it made all the difference," he continued.
Ryan Vickers' first year was a success. After a difficult start to the season with another team, the team used their own bike and instantly, results came their way. Ryan crashed out of his home-race at Snetterton whilst battling for 2nd on the last lap, having come from as low as 10th. His first podium came at Silverstone, with 3rd in the race. Although he finished 2nd in the penultimate race, he, along with others, was disqualified. But the win finally came at Brands Hatch, under a sunny Autumn sky.
"Before we got Sam on board from Ohlins, I felt like I was letting him down. Ryan would come into the pits and basically say, 'Dad, it's doing this' and I'd say, 'I don't know what to do mate.' Now we have a couple of people on board that can react to what he is saying and turn it into an adjustment, there's nothing stopping him.
"We will look at all the options over the Winter but our plan is National Superstock 600 again next season and to try and win the championship with the bike. We may try to buy another and just strip it down so we have spares because then at least he knows that if he writes the bike off, he has spares to keep racing with. If he had wrote his bike of at a point during any weekend this year, we'd be heading back home.
"Dave and Sue next door have been mega. Every single one of our sponsors have been mega – and I mean that; that isn't me being PR but genuinely, without the help they provide, we wouldn't have been able to go racing. even people who have chucked us a tenner here or a fiver there, we wouldn't be here. Without the sponsors, we'd have had to make a lot of sacrifices. Work would've been harder, money would've been even harder too. We need more sponsors but with what we have, we can make it.
"With the package we have and the way we operate, I know that we have a bike and team that can win the title. People talking about us in a positive way helps us and spurs us all on; it builds your confidence and spirits and makes you believe what you may not have been able to believe before."