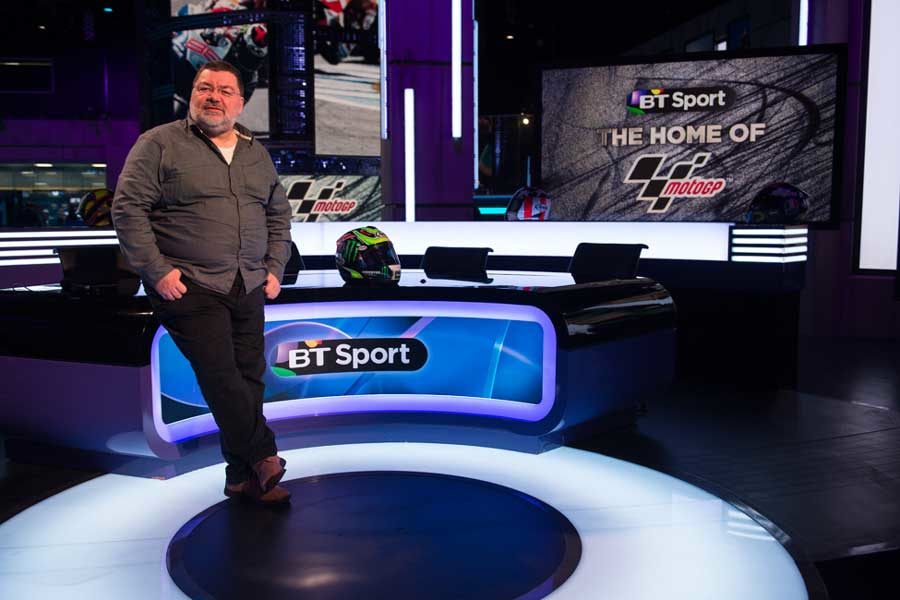 It is the end of an era. There is nothing better than turning on your TV and being welcomed by the same voice or face, or switching over to your favourite sport and being introduced by a regular, passionate, informative presenter. In commentary, it is the same, especially when you've listened to the same voice for the best part of 25 years, across numerous formats. You get a sense of more than familiarity but a sense of trust, like you are one of the family. As if they are in the same living room as yourself.
There is one partnership who seemingly go above and beyond that of just being regulars. Keith Huewen and Julian Ryder were reunited in 2014, when BT Sport took over the British rights to broadcast MotoGP. Whilst some may complain at their 'bickering' or as I'd rather put it, 'debating', I believe they are synonymous with MotoGP and indeed motorcycle racing in general. For years, the partnership has brought British viewers an in-depth, passionate and entertaining outlook on motorcycle racing, which has gained both of them incredible popularity, respect and appreciation. However, this weekend will be the last time that we hear the dulcet tones of Julian, who steps away from the MotoGP paddock at the end of the season.
Whilst he commentated on the early 90s Grand Prix era, where himself and Keith first found each other in the same box, at Eurosport, it wasn't until the two went to Sky Sports that they found big fame in the UK. Not only did they commentate on the best Superbike racing in the series' history, on household names such as Carl Fogarty, Frankie Chili, Aaron Slight and Troy Corser etc, but they became household names themselves. They were the two most entertaining, yet informative, motorcycle racing broadcasters that we in Blighty had been blessed with.
It is sad that Julian is going but the day was always going to come in some way, shape or form. No commentator lasts forever; no iconic public figure lasts forever. However, we talk as if he is leaving the sport, sitting at home and reading The Guardian for the rest of his days. Julian is far from retiring, he's leaving because of the amount of travel which is required to do his job. He will be heard in some form I'm sure.
A personal thank you from me too. As an aspiring commentator, it was 'Keith and Jules' who gave me that desire in the first place. I wanted to be able to talk about something that I enjoy watching and have a bit of a laugh whilst doing it – like them – and thankfully, that is beginning to happen – so thanks for that desire. Julian, thanks for the mentions on the TV and thanks for the wonderful insight into many things that only someone of your experience and passion could pass on.
I only met Mr. Ryder a couple of times but those couple of times were enough to confirm my thoughts that he is one of the most enthusiastic and knowledgable characters within our sport.
So, in the words of Frank Sinatra, 'the end is near'. But only in MotoGP – the paddock may lose Jules' services but he will be around – he really IS NOT retiring.
BT will keep Keith Huewen and the rest of the team for next season. Although, like I said at the start of this tribute, it is the end of an era. There will be no more 'Keith and Jules'. That partnership will be done and dusted after Sunday. Just let it sink in for a moment. The irreplaceable chemistry and incomparable irrepressibility from commentary's most dynamic duo will be in the history books. It's a bit like a collocation – you can't have one without the other; it just doesn't sound right.
From the 90s to now, thanks for the amazing commentary and your excellent end of season books, Julian. It has been a pleasure to endure both. MotoGP really won't be the same without you and I speak on behalf of hundreds and thousands of people on the UK on that.
Cheers mate.