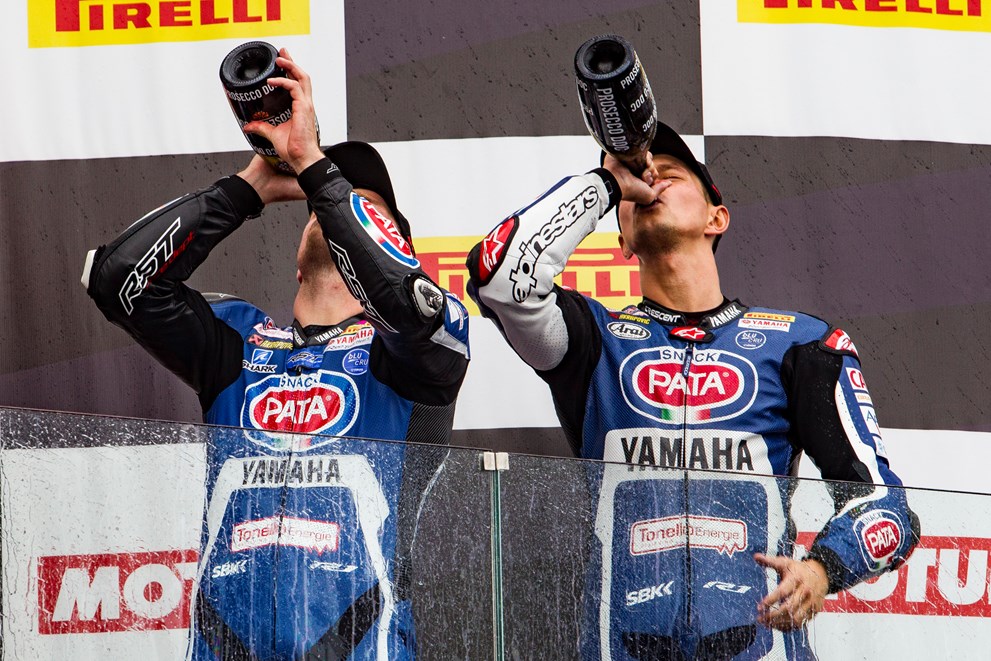 The Pata Yamaha World Superbike team of Alex Lowes and Michael van der Mark gave Yamaha their first double podium in WSBK since Marco Melandri and Eugene Laverty finished 1-2 in the 2nd race at Portimao, way back in 2011. It also marks the 2nd podium of the season for Michael van der Mark and 3rd of the season for Lowes, as the Pata Yamaha riders continue to develop the new R1. It was the closest a Yamaha has been to winning a race since race two at Phillip Island earlier this season.
In a race that was plagued by inclement weather conditions, Lowes lined up 2nd on the grid. He was initially the race leader, with teammate van der Mark coming into 2nd. Aruba.IT Ducati's Chaz Davies forced his way through the field with careless abandon, eventually taking the lead and clearing off into the distance.
Leon Camier was next up on the MV Agusta and he took over as 2nd place man ahead of Lowes, although it would turn out not to matter too much – Leon Camier's MV Agusta expired yet again. Lincolnshire Bullet Lowes was now ahead of Magic Michael.
The rain began to fall much heavier, with all four sectors giving warnings of drops of rain. van der Mark did not adhere to the warnings though, running out onto the white lines and using all of the kerb to try and close on his teammate. Thankfully, he remained upright, as the sun came from behind the clouds again, with the rain easing off.
Both riders put in a string of low 1.39s, closing the gap down to Davies in the latter stages of the race. Although both Yamahas gave pursuit to give the manufacturer their first win in six seasons, it wasn't to be and it was Davies who beat Lowes and van der Mark.
"Honestly, this weekend has been slightly strange with the different weather conditions yesterday and then today, with just that little bit of rain and difficult grip levels", began Alex Lowes, taking his best ever result at Magny Cours.
"I think it is a perfect example of how well the Pata Yamaha Team are working because, although we are still looking to close the gap to Kawasaki and Ducati in terms of out-and-out performance, whenever there is a chance to take advantage of a 'different' situation, we have been there", said the former BSB champion, hailing the progress that the Pata Yamaha team have made in just two seasons.
"It is a fantastic day for the Pata Yamaha WorldSBK Team! I am really happy to share the podium with Michael because, like I said, the team have been performing so well and I am looking forward to the rest of the season now! I try to do the best I can in every race and my goal is to try and challenge these guys every week; that is the target and that is what Yamaha employ me to do".
Lowes had previously only ever scored one point-scoring ride at Magny Cours, on a Suzuki in 2015, finishing 8th. A 2nd place on Sunday combined with a 5th on Saturday gave Lowes his best points haulage of the season to date.
"I think if I take a step back, I can be quite happy overall with the season up to now but as a rider, you always want more and there are some events where more could have been achieved. I still feel that there is still plenty more to come from myself and the R1 and we will keep working hard to improve", said Lowes, consolidating his 5th place in the championship.
Teammate Michael van der Mark was just as positive, despite not being top Yamaha this time out. The Dutchman took his 2nd podium in three races and also clinched his best ever finishes at Magny Cours.
"It is my second podium of the season and I am so happy! Yesterday in the first race I was a bit unlucky but I scored some points. Today it was good to start from sixth on the grid for race two. I had a really good start and fought my way to the front but it was really difficult as there were some big drops of rain falling, so it was tricky to know what to expect", van der Mark said, as conditions proved difficult for many riders.
"It was good for me to follow the other guys because I could see what they were doing. I was pushing quite hard but I also didn't want to crash; it was so difficult but I tried my best and managed to stay on the bike. I just focused on finding my pace and it was similar to the guys in front", he continued.
Michael had scored a magnificent 2nd place at the circuit last season, so this year's result only emphasises his love for the technical Magny Cours track. Prior to this weekend, he had never been lower than 5th at Magny Cours since joining the Superbike class. Unfortunately, his 9th place yesterday – after falling off and remounting – ended that amazing run of form in France.
"Towards the end of the race I closed the gap to Alex but then I made some small mistakes and I just didn't have the tyres anymore to attack again. It was a little bit of a weird race but Alex and I were really strong today and it was great to share the podium with my teammate. It was not the easiest race to control but in the end, we were both on the podium and that is what we aim for", said a magnanimous Michael van der Mark, who jumps to 6th in the points standings.
"We have made a good step forward and this result, along with Portimao two weeks ago, shows we can fight for the podium at every round. I am really happy and I look forward to Jerez already. Jerez is a special track for me, and one I really like. We cannot wait to go there".
The Yamaha pairing will now go to Jerez and look to build their advantage over Xavi Fores in 7th and also hope to be able to run with the leading Kawasaki and Ducati riders. Yamaha's best result at Jerez last season was a 6th and a 5th, both results coming from Sylvain Guintoli.
Image: Yamaha Racing WSBK