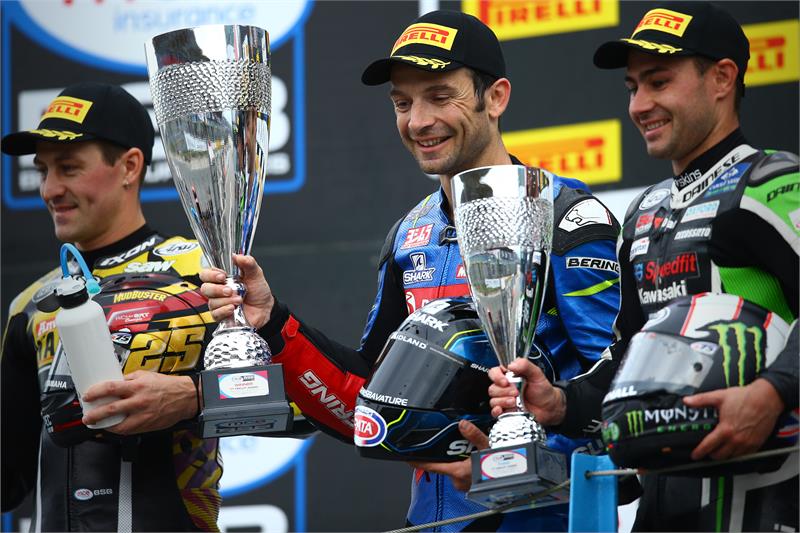 Sylvain Guintoli said that his first BSB win of the season "means a lot", having narrowly missed out on tasting the champagne in race one. He took his first win and the Bennett's Suzuki Team's first win of the season – Suzuki's first in British Superbikes since Josh Waters in 2014.
"It means a lot, this first victory. I felt good right away this weekend. We've improved the bike a lot in recent rounds and also in the wet too, which is somewhere we've struggled before", began former World Superbike champ Guintoli, joining a list of a select few that have won both BSB and WSBK races.
'Guinters' at one stage in the 2nd race was lapping over a second quicker than leading duo Shane Byrne and James Ellison, who escaped early on. It is the new Suzuki's first win in a Superbike class on Pirelli tyres too.
"In the dry, we've really improved. We worked step-by-step. We're also running a different swingarm now and we were able to have two good races. I enjoyed them both a lot. There was lots of fighting and people diving underneath each other; I'd never seen some of the types of passing we saw today", stated a remarkable Sylvain, who demonstrated throughout the weekend that he and his Suzuki are coming on leaps and bounds.
A frantic battle that at one point saw four of the five leading riders go side-by-side, working in the Frenchman's favour. He was able to lead and break away from his pursuers, building up a gap of over a second entering the last lap.
Assen is a place that already held special memories for Sylvain. He took his first – and so far only – Grand Prix podium there in 2003 in a wet 250cc race, which was won by Anthony West. He also took his first ever World Superbike victory at the track too, in 2012, riding a privateer Ducati.
"It was all safe and a lot of fun. We were unlucky to miss the podium in race one but in race two I felt really strong. I took it easy at the start, just to try and save a bit of tyre but then we were able to attack and get the win. We knew we had to develop the bike this year but sometimes people want things right away. It wasn't going to happen in a championship this competitive but we're making steps and this shows that the bike is improving", concluded Guintoli, who has silenced his critics with a masterclass of tactical racing in the 2nd outing today.
Guintoli is now 13th in the championship, equal on points with John Hopkins on 122 points and just four points back from top Suzuki rider, Bradley Ray. Sylvain is 25 points behind a top 10 place, currently occupied by Dan Linfoot, on a 147 points.
Image by: Suzuki Racing