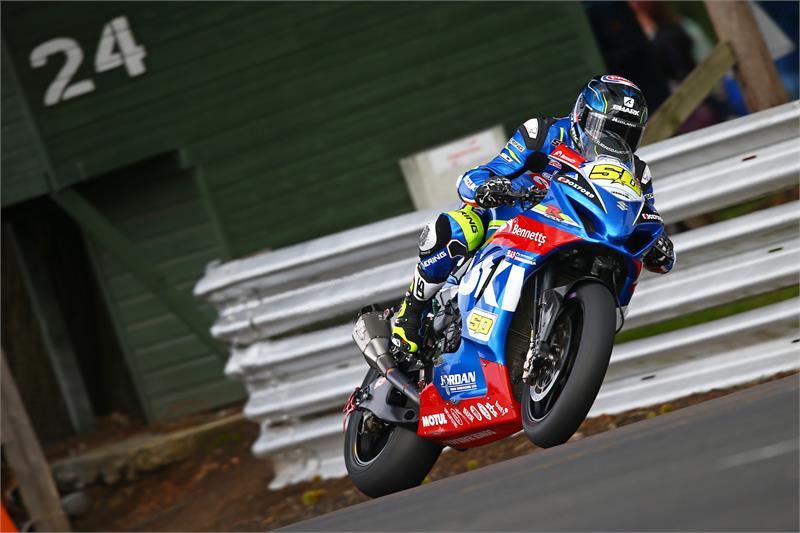 Sylvain Guintoli became the 10th winner of the 2017 British Superbike championship, seeing off challenges from Brookes, Haslam, Ellison and Byrne to take the new Suzuki to it's first race win in the United Kingdom in Superbike spec.
Despite a good start, Byrne was 2nd going into turn one, with James Ellison taking the lead momentarily. Byrne fought back into turn two and held the lead for several laps. In 3rd, Leon Haslam was ahead of Guintoli and Brookes, whilst Jake Dixon was up to 6th with Peter Hickman in behind.
Byrne and Ellison soon pulled away and at one stage, it looked like it was going to be a head-to-head dual between the two veterans of BSB. Both riders were in the 1 minute 36 second bracket, whilst the chasing trio of Haslam, Brookes and Guintoli were in 1 minute 37 second times.
Guintoli broke free from Haslam and Brookes and rapidly set off after the leading duo out front. In the process, he set a lap time that was fractionally outside of Byrne's best lap, even though it was a over a second quicker than the leaders on that particular circulation. Guintoli looked like his old self as he ghosted up to the rear wheel of 'Shakey' and Ellison. The three passed each other several times, slowing the pace.
However, whilst the leading three battled, it allowed Haslam and Brookes to also close back in and soon, we had a 10-wheeler. Out of the leading five, it looked like Australian Brookes was struggling more than others, just a few bike lengths more off the back of the group. However, it was all set to change.
A bad chicane exit from the-now leader Guintoli gave Haslam, Byrne and Ellison a chance down into the first turn. Four abreast, Haslam and Byrne messed turn one up completely and ran well off track, gifting the lead back to Ellison and Guintoli – who both did well to avoid a sideways 'Pocket Rocket'. Josh Brookes was now third.
Just two laps from the end, James Ellison had a moment whilst in 2nd place. His McAMS Yamaha sat up at the Struben hairpin, hindering those behind him and allowing Sylvain Guintoli to race away. Ellison held off a challenge from Haslam, making it more and more difficult to imagine anyone else but Guintoli taking a 25-point haulage for the first time this season.
Guintoli had broken clear and had over a second advantage onto the last lap. Into Ruskenhoek, Brookes put a show-stopping move on Haslam – a vital pass in the championship which meant Josh closes in on the ex WSBK race winner. Ellison and Byrne were out of the competition, just too far away from realistically launching any pass on those ahead.
Sylvain Guintoli kept a cool head and rode a faultless final lap, taking the new Suzuki to it's first ever race win in the UK in a Superbike race. Brookes held off Haslam, both finishing 2nd and 3rd respectively. James Ellison finished 4th, whilst a disconsolate Shane Byrne could only manage 5th, despite starting from pole and setting the fastest lap of the race. Hickman, Dixon, Iddon, Linfoot and Ray completed the top 10.
Haslam maintains his lead in the title, with a 32-point advantage over Josh Brookes, with Shane Byrne a further point back of his rivals. Overall, Leon Haslam made up 10 points on both Josh Brookes and Shane Byrne, meaning he can now finish 3rd in every race at Brands Hatch to become champion. Jake Dixon is next up, 54 points behind Haslam – meaning he must beat Haslam by 4 points in race one at Brands Hatch to stand any mathematical chance of title success. Peter Hickman is 5th and 63 points back, meaning he needs 13 points more than Haslam to keep his title hopes alive. 6th is Jason O'Halloran, who can't now mathematically win the championship, being 86 points adrift.
The race did not consist of Danny Buchan, who wasn't entered into the race after a race one tumble.
Image by: Suzuki GB