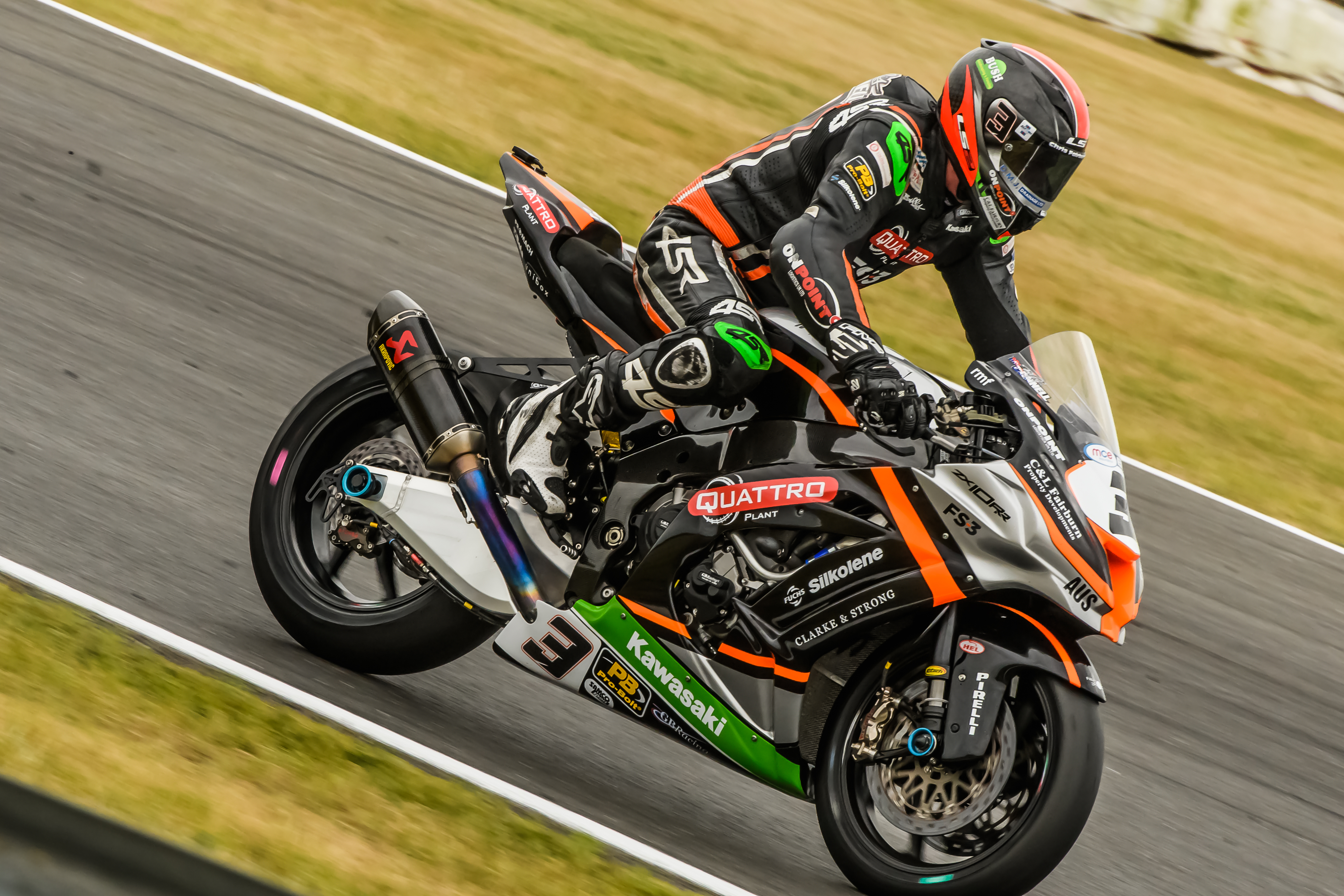 Back at Oulton Park, I caught up with FS-3 Quattro Plant Kawasaki team owner, Nigel Snook. Snook, who has a previous career in business, understands what it takes to become successful and he hopes to translate that to BSB. In this exclusive interview, Snook talks about his BSB life so far, his 2018 plans and his thoughts on National Superstock 1000 rider, James Rispoli.
How have you found your British Superbike experience so far?
I think it's been what you might call a 'difficult second season'. We had a charmed start in 2016, as we bought the ex PBM/Shane Byrne Kawasaki that 'Shakey' had finished second on in 2015, so we had ready-to-go bikes. We had five guys who had a wealth of experience between them, a couple of vans and we basically got on with it from there. Our rider, Billy McConnell, had a few decent results, including a fourth place at Snetterton. Overall, we probably exceed ours and other peoples' expectations.
Over the winter, we upgraded the bikes to the 2017/18 spec ZX-10RR with a lot of support from Kawasaki. We had engine work done by Frank Wrathall Developments, who used to work on the Paul Bird Kawasakis and we continued to use the special swinging arm and low, centre of gravity fuel tank that PBM had developed.
The engine in the bike is now a monster and our data engineer spends most of his time turning it down. That has been quite a challenge for Billy to master; he is a really good 600cc Supersport rider but unfortunately, he has had a few prangs. This culminated in him having a major off at Thruxton, which caused him and the bike a lot of damage. As a result, Luke Stapleford deputised for Billy at Silverstone and although he didn't race he was able to confirm to the team that we have got a very good bike. A number of riders have been in touch with us about riding the bike for next season and Kawasaki are very willing to support us.
As much as it's been difficult, you guys have made some progress though, haven't you?
We have made progress. We have bought a transporter, the hospitality unit that we are standing in right now and of course, the new bikes so we have made a big investment – in staff, facilities, branding, image and so on. Now what we need to do is pop the cherry on the top and – without being disrespectful to Billy or James Rispoli, our Superstock 1000 rider, – we need to take it to the next level for next season. Watch this space in 2018!
Are you therefore looking at a Showdown position for next season?
That would be very nice, however, we need to remain realistic. We need to be regularly getting into Superpole, troubling the top six and showing consistency. There are riders who have been both race winners and crashers this season who were only confirmed in the Showdown at the previous meeting at Silverstone. What we really need is a positive, professional building season in 2018 where we can establish ourselves as serious contenders.
On the topic of rider selection, who is in the running for 2018?
Well, we can't name names but there are plenty of people that have started saying hello to me! The rumour machine is well and truly flat out too. We have a close relationship with Kawasaki and they have riders who they have supported for many seasons too. So you won't be surprised to hear that Kawasaki are suggesting names. Stuart Higgs also likes to suggest names. However, they are all spending my money so at the end of the day, I'll decide who it is! Hopefully, on the other side of Assen, things will become clearer.
There is one rumour doing the rounds about Danny Buchan riding for you next season. Is there any truth to that?
You're quite right – that is a rumour that has been floating around and quite honestly, I can see where that rumour would come from. Kawasaki have supported Danny for many years and he has been with them for a long time. In 2015, he had a go on the BeWiser Kawasaki and whilst he had a few crashes – which some people seem to remember more than his results, including podiums. Sadly, that team folded and he then had a ride on the MotoRapido Ducati which is night and day different from a Kawasaki and it didn't quite work out.
For this season, he has come back to the National Superstock 1000 championship and whilst he is not quite storming it, he has been very successful. He and Richard Cooper are having a real dual. Obviously, Kawasaki are keen to see him win the championship and see him promoted to a Superbike. The Superstock series has been significantly upgraded this season as we know, with extra races and longer races. Therefore, with the investment in the championship, the organisers would clearly want the winner to graduate.
Have you enjoyed your British Superbike experience thus far?
Most days I do enjoy it! Some other days, I have to take myself for a long walk around the paddock – especially when I have to contemplate repair bills. However, having said that, there is as much regret at the missed opportunities as there is contemplation of the repair bill.
How would you sum up James Rispoli, your National Superstock 1000 rider?
James is another classic 600cc rider; he won both his titles in The States on a 600cc bike and had success at Team Traction Control too. Riding style has to be adapted for a big bike. James is very hard on the brakes into corners and comes out of the corners very hard on the power too. On a Supersport bike, you're used to coming out of a corner and thinking, 'well where is the power' but on a 1000cc Superstock bike it will just chuck you off.
James is very talented, he's very brave and just needs to refine his riding style so he can go to the next level on the big bikes. I think that, quite truthfully, we are a bit disappointed for James; we thought that maybe he would be able to make more of an impression towards the front but boy, that class is a tough one! James is a very good ambassador for the team but as you know, it is a results game and so far he's only managed a couple of fifth places.
Explain your role within the CoolFab Minibike championship.
It was a coincidence really. My professional life has involved me in leading significant organisations in the area of vocational education and training, so I've always been involved with skills development. So I suppose I've got a built-in interest to see people get on.
Crispin Vittoria came up to me at the MCN Live show in London and introduced himself. He mentioned he was buying the old Bournemouth Kawasaki hospitality unit and then asked me if I would be interested in using it for BSB rounds. To cut a long story short, his sponsor dropped out and I stepped in to buy it, on the condition that Crispin would run it for me at BSB rounds. In return, that meant he could have it for free at Cool Fab rounds. It was more a marriage of convenience than a business deal – the team got to support Cool Fab and we had the benefit of having our own hospitality facility at BSB rounds.
I turned up to the first Cool Fab round at Llandow and was so taken by the talent on display. I met Alan and Adam Cook, the father of James and Max and could see there were some really talented lads there. Adam has been running the hospitality unit so I got to know him well and have followed Max's progress in the Moto3 championship and was delighted when he won the championship ay Oulton Park. The Quattro Plant FS-3 team has been giving Max some support so we were delighted when he was also selected for the The British Talent Cup selection day at Silverstone has been one of the highlights of my year – a great day.
Max is just one example but what's not to like about youngsters enjoying themselves and pursuing their dreams? Even if they don't make it big, the skills and the disciplines are transferable to all walks of life. I will enjoy watching Cool Fab go from strength to strength.
Image by: Peter Backhurst