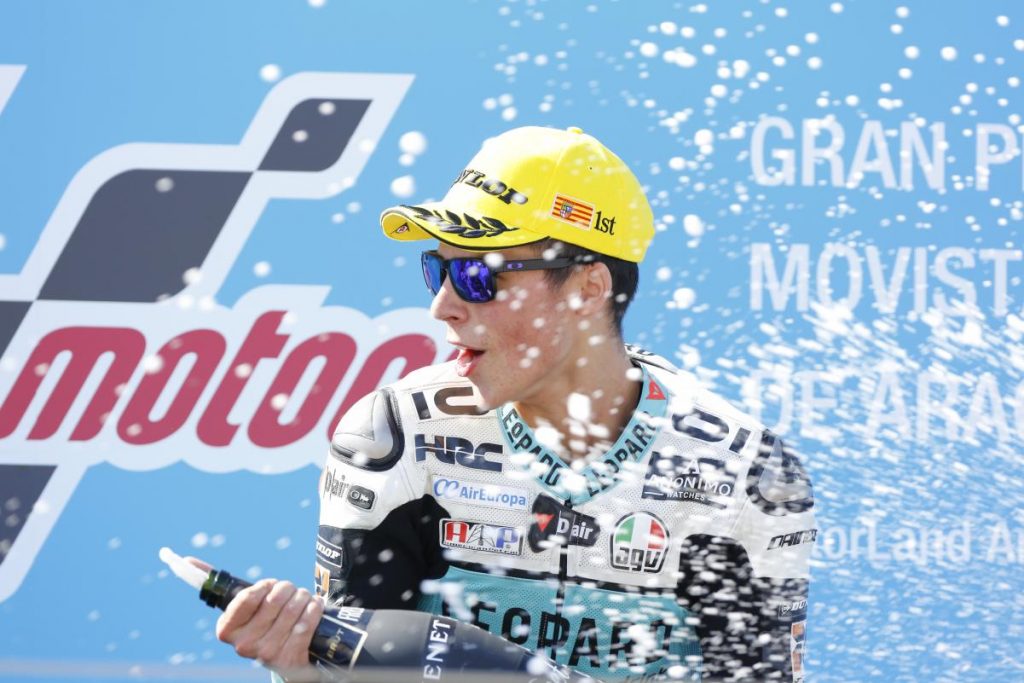 A delayed and shortened Moto3 race was controversially won by championship leader, Joan Mir, taking his 8th victory of the season. He beat Italians Fabio Di Giannantonio and Enea Bastianini, thwarting both of them of their first wins of the season. Mir now leads the championship by a staggering 80 points, meaning he could win the championship at Motegi if he finishes inside the top two, no matter what 2nd placed Romano Fenati does.
The race eventually got underway and it was Jorge Martin who hit the front from Bastianini and Dennis Foggia, the VR46 KTM wildcard – who displayed talent in bundles throughout the GP. Aron Canet took 4th. Bastianini passed Martin towards the end of the opening lap but Martin re-passed him, searching for his first ever GP win. Both riders had a gap over Aron Canet in third.
The battling continued at the front and due to the passes, the pace slowed. This brought Aron Canet, Joan Mir, Dennis Foggia and everyone else back into play as a typical Moto3 gaggle formed. A disaster soon ensued for Italian Romano Fenati, who languished dejectedly down in 15th for some time, costing him valuable championship points.
Slipstreaming was the word of the day and Joan Mir definitely perfected that particular art. He went from 4th to 2nd in one fell swoop on lap six, before taking the lead a lap later. Jorge Martin soon took the lead back but then the Estrella Galicia Marc VDS bikes hit the front; Enea Bastianini looking for his first victory of the season.
Going into the final lap, Mir went from 4th to 1st at turn one, passing Di Giannantonio, Jorge Martin and Bastianini. The champion elect held off the chasing pack, letting those behind scrap it out. Young Dennis Foggia was put back to 8th in the end but had learnt a lot by running with the leaders.
Going down the back straight to the final two corners for the last time, Mir weaved across the track a total of four times, almost causing a major accident with the chasing Di Giannantonio. Mir held on, beating Digia and The Beast, with just 0.051 covering the top 3. Pole-man Jorge Martin finished 4th, whilst Aron Canet pipped John McPhee to 5th. Ramirez and Foggia were 7th and 8th respectively, within three quarters of a second of victory.
After the race, it was announced that Joan Mir would be getting a 6-place grid penalty in Japan for his irresponsible riding.
Top 5 Championship Standings
1.) Joan Mir                                     271
2.) Romano Fenati                      191
3.) Aron Canet                             173
4.) Fabio Di Giannantonio      137
5.) Jorge Martin                         134