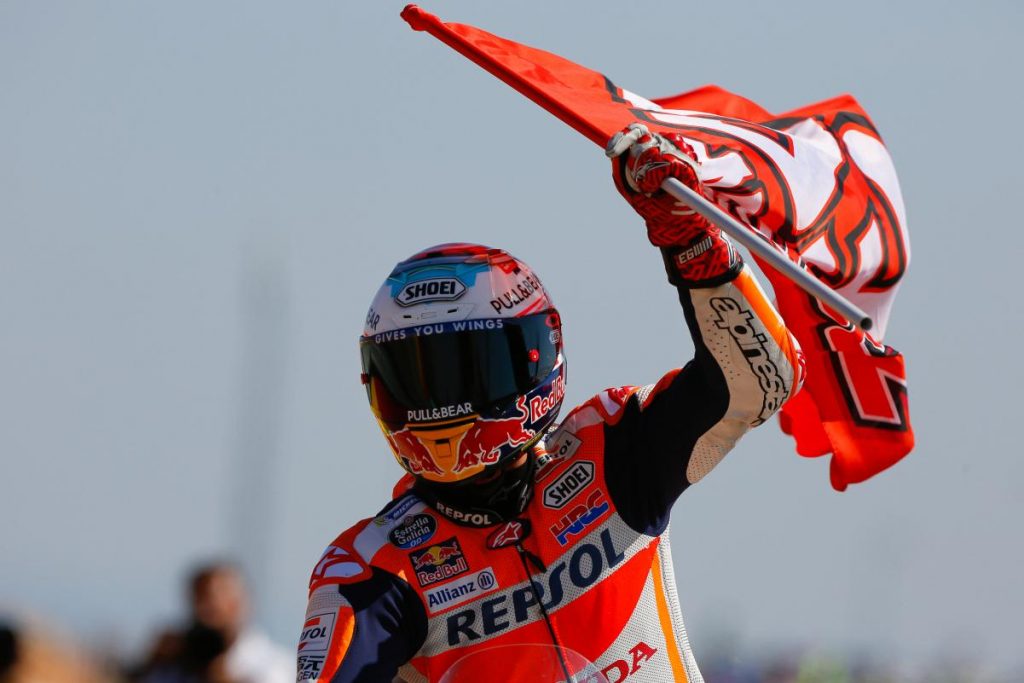 Marc Marquez took victory at Aragon for the MotoGP race, ahead of teammate Dani Pedrosa and Ducati's Jorge Lorenzo, in an action packed race – which also saw the return of Valentino Rossi from injury.
The race got underway and immediately, Jorge Lorenzo took the lead, with Maverick Vinales and Valentino Rossi in behind. Quickly, Rossi got passed his teammate and set off after the Ducati rider, who had an 0.8s lead by the end of the first lap. Marc Marquez had a difficult start and was in 5th place, behind the second factory Ducati, Andrea Dovizioso.
Maverick Vinales dropped back in the early stages, becoming mired in a battle for 5th with Dani Pedrosa, Aleix Espargaro, Mika Kallio, Cal Crutchlow, Johann Zarco, Pol Espargaro and Andrea Iannone. The front four escaped and were all within a second of each other.
On lap nine, Marquez tried an outrageous manoeuvre on Valentino Rossi at the turn 12 bus-stop, however, he narrowly missed colliding with the Italian and had to let the brakes off, running up the inside of Jorge Lorenzo before going off track and rejoining back in fourth. It was a very close call!
Karel Abraham was the first crasher of the race, at turn eight – similar to his teammate Alvaro Bautista yesterday. Karel was up and OK. This marked the Czech's first retirement since the French Grand Prix at Le Mans in May. It also highlighted that Karel and Aragon don't get on, as he only has one points-scoring finish to his name, with 9th in 2012.
Marquez hit 2nd place on the 12th lap, taking Rossi in the final bend, keeping a tight inside line whereas Valentino opted for a fast, sweeping run up over the hill and down the start/finish straight. Marquez held on. It was at this point where we realised two things: Marquez' pace wasn't an issue after his 2nd row qualifying and that Valentino Rossi's valiant effort was coming to an end, as he start to fatigue, now that the second half of the race was underway.
Cal Crutchlow crashed on lap 16, seven laps from home. He had just been passed by a struggling Johann Zarco. Crutchlow started fourth on the grid and was 10th when he crashed out of proceedings. It was Crutchlow's fourth retirement of the year and also meant that he didn't capitalise on taking Danilo Petrucci's 7th in the championship, as the Italian failed to score a point.
On the same lap, we saw our first change of leader. Marquez dive-bombed Lorenzo into the turn 12 bus-stop, going wide initially but cutting back to retain the advantage. Going into turn 16, Lorenzo used the power of the Ducati and took the lead back momentarily, before Marquez cut underneath him and got the inside line through turn 17 and across the line. The cheers of the Spanish fans told us that Aragon really is Marc Marquez territory.
Also on the 16th lap, Dani Pedrosa passed Valentino Rossi, after passing Dovizioso and Vinales in previous laps. Pedrosa now had around a second of clear track ahead of him before he would be able to mount a challenge on 5-time champion, Jorge Lorenzo. Pedrosa had preserved his tyre and whilst Marquez was too far ahead he did catch Jorge, setting the fastest lap in the process.
Pedrosa passed Lorenzo at the bus-stop, replicating his teammate's move on the Ducati ace a few laps previous. Pedrosa held his line and romped away from Lorenzo. It was now a Repsol Honda 1-2. That is how it remained until the end, with Marquez holding off Pedrosa's late surge and Jorge Lorenzo's Ducati. It was the first 1-2 for Honda at the Aragon Grand Prix since Casey Stoner and Dani Pedrosa in 2011, as well as Ducati's first podium at Aragon since Cal Crutchlow in 2014.
Valentino Rossi, despite his most determined efforts, was pipped by teammate Maverick Vinales, as the two factory Yamahas finished 4th and 5th. Aleix Espargaro and Aprilia took 6th, highlighting once more that the Aprilia's is very user-friendly with tyres. Andrea Dovizioso was pummelled back to 7th and now trails Marquez by 16 points in the championship going to Japan, whilst Alvaro Bautista was the best privateer Ducati, finishing in 8th. Johann Zarco salvaged 9th and Pol Espargaro emerged from the shadow of test-rider and wildcard, Mika Kallio, to complete the top 10.
Kallio in turn finished 11th, whilst Iannone struggled to 12th – although he finished as top Suzuki. Jack Miller was 13th and top independent Honda, with Britain's Scott Redding behind him in 14th. Esteve Rabat made it a double point-scoring finish for the Marc VDS squad, taking 15th and the final point of the day.
The championship now takes a two weekend sabbatical before returning to the Land of the Rising Sun – Japan. Motegi beckons next on the calendar but unlike last year, Marc Marquez can't wrap the series up at this meeting. The top five are the only riders that have a mathematical chance of the championship going into the closing stages of a phenomenal season of Grand Prix racing.
Top 5 Championship Standings
1.) Marc Marquez        224
2.) Andrea Dovizioso 208
3.) Maverick Vinales  196
4.) Dani Pedrosa          170
5.) Valentino Rossi     168
Image by: MotoGP