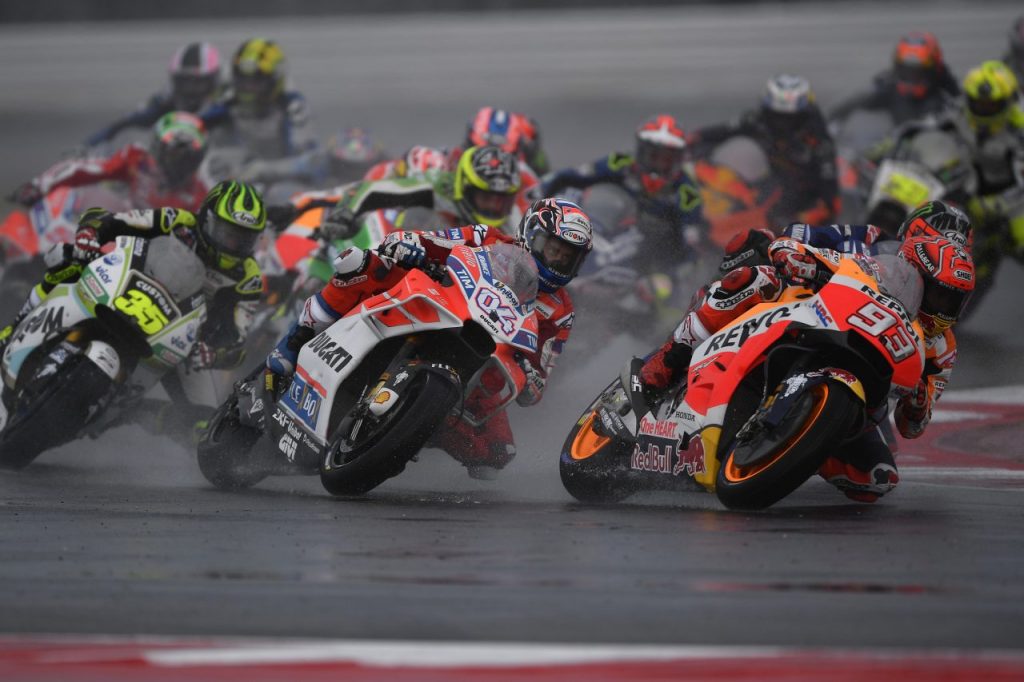 Round 14 of the MotoGP championship beckons this weekend and the venue for the occasion is the MotorLand Aragon circuit, in Alcaniz, Spain. The third of four Spanish rounds, Aragon has become a Marc Marquez heartland since he stepped up to the premier class in 2013 and the capacity crowd will want to witness their man take victory, for what would be a fourth time. Keeping the Spaniard honest is Andrea Dovizioso – joint championship leader, Maverick Vinales – just 16 points back and also Dani Pedrosa, who is a distant fifth in the championship.
Marc Marquez is at the head of the championship, courtesy of having more 2nd places than Andrea Dovizioso, as both have four wins. The Spaniard has taken three wins at Aragon – two in the premier class and one in Moto2. The five-time champion won at the circuit last season and in 2013 but when Marc hasn't been winner, he's been a crasher. The 24-year-old has never won back to back races at same Spanish circuit in consecutive seasons so that will be yet another record he will want to smash. Honda have won at Aragon a total of four times and will also hope to become the first manufacturer to make it five at the track.
Andrea Dovizioso took a steady 3rd at Misano, his sixth podium of the season. The last time Dovizioso took six podiums in a season was 2012 on the Tech 3 Yamaha and if he manages to make the podium this weekend, it'll be the first time since 2011 that he has had seven in a year. Dovi has just one podium to his name at Aragon, back in 2012 and his best result for Ducati at the track is a 5th in 2015. Ducati in turn haven't won at Aragon since 2010 and their last podium at the circuit was with Cal Crutchlow in 2014. 31-year-old Dovizioso has shattered records this year for Ducati and will hope to continue doing so into the forthcoming weekend.
Maverick Vinales has had a slightly subdued season since his wins in Qatar and Argentina. Vinales was off the podium yet again at Misano, where he finished 4th, limiting the damage that Marquez and Dovizioso have done to him. Vinales was fourth at Aragon on the Suzuki last year and won at the circuit in 2014 for the Pons Kalex team in Moto2. He has two other podiums in Moto3 too. Yamaha have won at the circuit twice – in 2014 and 2015. Vinales needs points and must take some off either Marquez or Dovizioso this weekend. If he is behind them for another meeting, one would have to think it'd take a monumental effort to get to the head of the championship again. Having said that, as hard as it may be, it is far from impossible.
The man stealing all the headlines into Aragon is 4th placed Valentino Rossi, who announced that he will attempt to ride during FP1 on Friday morning this weekend. That will make it just 22 days after initially breaking his leg. The Doctor has made the decision to come back at a circuit where he has struggled at in the past. He has been third on three occasions – 2013, 2015 and 2016 – but they are his best finish. Rossi has never qualified on the front row at Aragon either so in a normal, healthy condition, this circuit was never going to be his favourite. If we dare talk about a win for Valentino, then he would be the second oldest rider to win two GPs in a premier class season, after Leslie Graham. Will Valentino show one his most determined rides ever to salvage something out of this weekend?
Dani Pedrosa occupies 5th in the championship, seven points behind the Italian veteran. Pedrosa won at the circuit back in 2012 and had a strong ride to 2nd at the circuit in 2015, battling with Valentino Rossi on the final lap. A podium for Dani would see it be his seventh of the season, the first time since 2014 that he has achieved that many. Pedrosa has taken pole at the previous two Spanish rounds this season and won at Jerez so he clearly has no issues about performing in front of a home crowd. With five races to go, Pedrosa needs to slash the 49-point gap to the leaders to be in with a chance of the championship and that must start at Aragon. Like Vinales, it is far from over but it's going to be tough.
Sixth place in the championship belongs to top rookie, Johann Zarco. The Tech 3 Yamaha rider has been a revelation this season but he has never won at Aragon – one of the few circuits he looked despondent with in his Moto2 championship years. His only podiums at the circuit come from 2011 in Moto3 when he finished 2nd and in 2014 on the Caterham-Suter in Moto2, where he finished 3rd. There has never been a French winner at Aragon across all three classes and in dodgy weather, I wouldn't put it passed Zarco to atleast threaten that particular statistic. Tech 3's best premier class result at Aragon is a third place by Andrea Dovizioso in 2012.
Danilo Petrucci in 7th will be looking for his first ever back-to-back podiums and Pramac Ducati's first back-to-back podiums since 2008, with Toni Elias at Brno and Misano. Petrucci has only had one point scoring ride at Aragon, with 11th place back in 2014. He is 15 points behind Johann Zarco.
Cal Crutchlow is top Brit in 8th. The double GP winner has one podium to his name in GP racing at the circuit, on a Ducati in 2014. His best result for Honda was 5th last year. Crutchlow will be looking to finish his 8th consecutive race this season in the points.
9th place is Jorge Lorenzo, who still seeks his first win for Ducati after crashing out in Misano. Having led his first laps, Jorge can now progress further with the bike at a circuit he loves. He is the only rider to win at Aragon from outside of the front row in 2014 and dominated proceedings in 2015 too. A 2nd last year fires him up for what should be a successful weekend.
Jonas Folger is 10th in the championship, making Yamaha the only manufacturer with four bikes in the top 10. Folger never achieved a Moto2 podium at Aragon but he did manage a third place back in 2012 in Moto3. He will be looking to become the first ever German to win at the Aragon venue.
Image: Honda Pro Racing