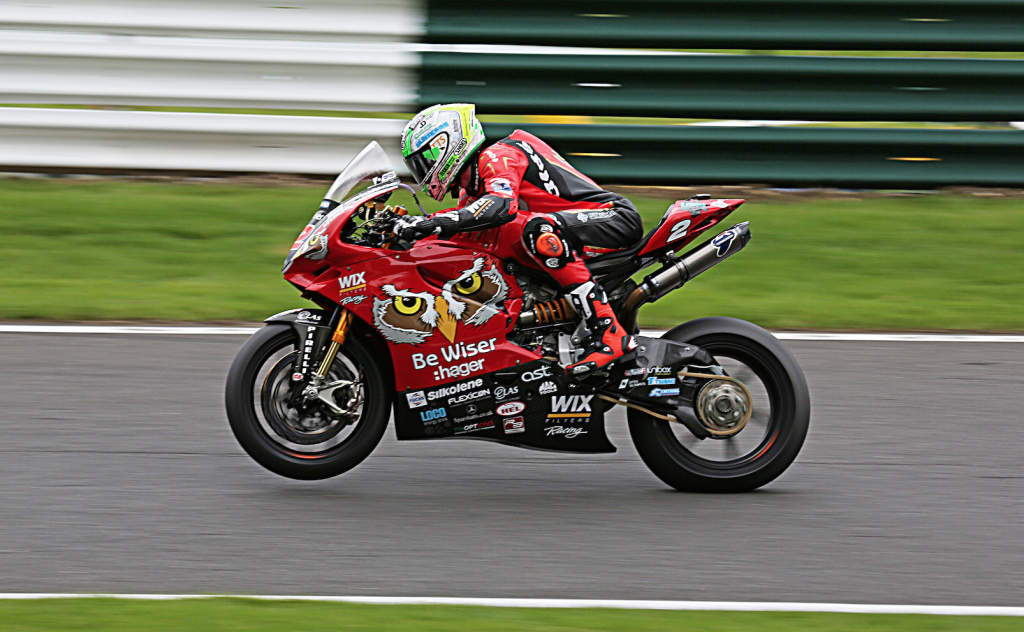 It was the greatest lap you'll ever see at the North West 200. Despite years of battling and emotional stories, it still surprises us. Glenn Irwin was the winner of the main race this year, beating Alastair Seeley in a head-to-head dogfight around the famous Triangle course. In his own words, Glenn Irwin recalls the final half a lap.
"It was pretty surreal! On each and every lap of the race I could pick certain people out in the crowd. People I didn't even know, they were just waving at me like I was a hero or something! I took the time to look at them too, even though I was doing 200mph or whatever it was! On the last lap, that all went out the window – not intentionally but I had to focus myself.
I wanted to lead every lap of the race, just in case there was a red flag but of course, the last lap is the only one that counts! I actually have very little memory of the last lap, until I arrived at Metropole and I could see a back-marker in the distance. I was like 'no, no, I don't need this', because I knew I had the beating of Alastair but this was going to bring him back into play. I knew that my strongest part of the track was the 'Coast Road' and I didn't think that he'd be able to get passed me there – that's not me being cocky, that's just how it felt.
When I got to the back-marker, I knew I had to get passed him but I also knew that I couldn't do anything silly. I didn't want to make contact with him or cause anyone harm so I was a bit more reserved. Alastair took the gamble and passed both of us into Church Corner. It was weird though; I guess a lot of people would panic when Alastair took the lead and I think the crowd probably did. However, I was sat there thinking, 'what has he done? Genuinely, what has he done that for?'. It was a weird feeling that made me think that. I think the adrenalin of it all gave me this 'invincible' feeling. It's nothing against Alastair and we get on well and have a lot of respect for each other.
I knew I was strong coming up Black Hill and into the Juniper Chicane, especially on the brakes. I got Black Hill probably the best I have ever got it and just dropped it down the outside of him. I then aimed for the inside of the track where there's a few bumps, to stop him trying to retaliate. Luckily, he didn't retaliate and I held my position.
That moment of crossing the line was just unbelievable! I was like, 'F**k, F**k, F**k, I've won! I've done it! I've done it!'. I saw my mechanic running up and then I saw my brother too! I was doing a burnout in front of a massive crowd who were cheering me on. It was just such a speechless moment! It felt like the whole of Northern Ireland was cheering for me. It was unbelievable and it still kind of chokes me up now.
I could hear the crowd as soon as I crossed the line. They roared. It was such an amazing feeling. I've watched it back since and now, I can hear them around the final part of the lap too. To be able to hear them over the footage is extremely rare in road racing. It was just mega! It was one of the most surreal experiences since racing.
When I saw my brother run on the circuit, it was class! I knew exactly what he was feeling as I'm the same when I'm watching him race in the British Supersport class. To have him there, it was absolutely unbelievable. It was a very, very special moment and I was proud to share the moment with him. My dad was there too and he said to me, "you've done something that I could never do" and I replied to him and said, "it's not that you couldn't do it, it's the fact you didn't do it". The main thing is that the Irwin name is there now!
I stayed in the hospitality after the race in my leathers until about 9pm! I'm the kind of person who doesn't want to be part of just one selfie or sign just one shirt or whatever on one side of the room and not make my way over to the other side. There was a guy there called Chris Esler who unfortunately got paralysed in a motocross accident years ago. I saw him in the corner of the room, so I made my way down to him. However, I knew there and then that I couldn't make my way to just one person so I just went with it. I really enjoy meeting the fans and signing caps or whatever! I had a lot of drink handed to me, that's for sure! I went off to have a quick freshen up, before coming back for more! I think the organisers were really impressed by that.
I'm just the same as everyone else at the end of the day. I've done something really cool and in all fairness, I just want to enjoy myself with everyone else! Mervyn White was a happy man that night too, as he's had a lot of criticism over the last few years. He'd had no luck with the weather and he took a big decision to delay the big NW200 race. He got the race he deserved!
It was great to see all my sponsors happy too, as without them, my career would look very different. It was also great to see James Jamieson from James Jamieson Construction who is massive sponsor of mine and my brother, Andy. He'd been watching me from York Hairpin and again, without him, my career would look very, very, very different indeed.
There were so many emotions! Grown men don't cry but actually, they really do! I saw James Jamieson again and he couldn't speak! I was just walking around thinking 'this is f*****g class!'. It was a bit like being a horse trainer I guess. When you work so hard and put so much effort in and then when it all finally comes together, it's the best thing ever! It was great to see the emotion of someone who has done so much for me!
I never really had the moment to celebrate with the team because they were already rushing back for the boat back to the mainland UK, as we had a test at Knockhill. However, when I got to Knockhill, we had a good meal out and a catch up. Paul Bird was absolutely over the moon!".
Image by Gareth Davies of Full Factory Photography