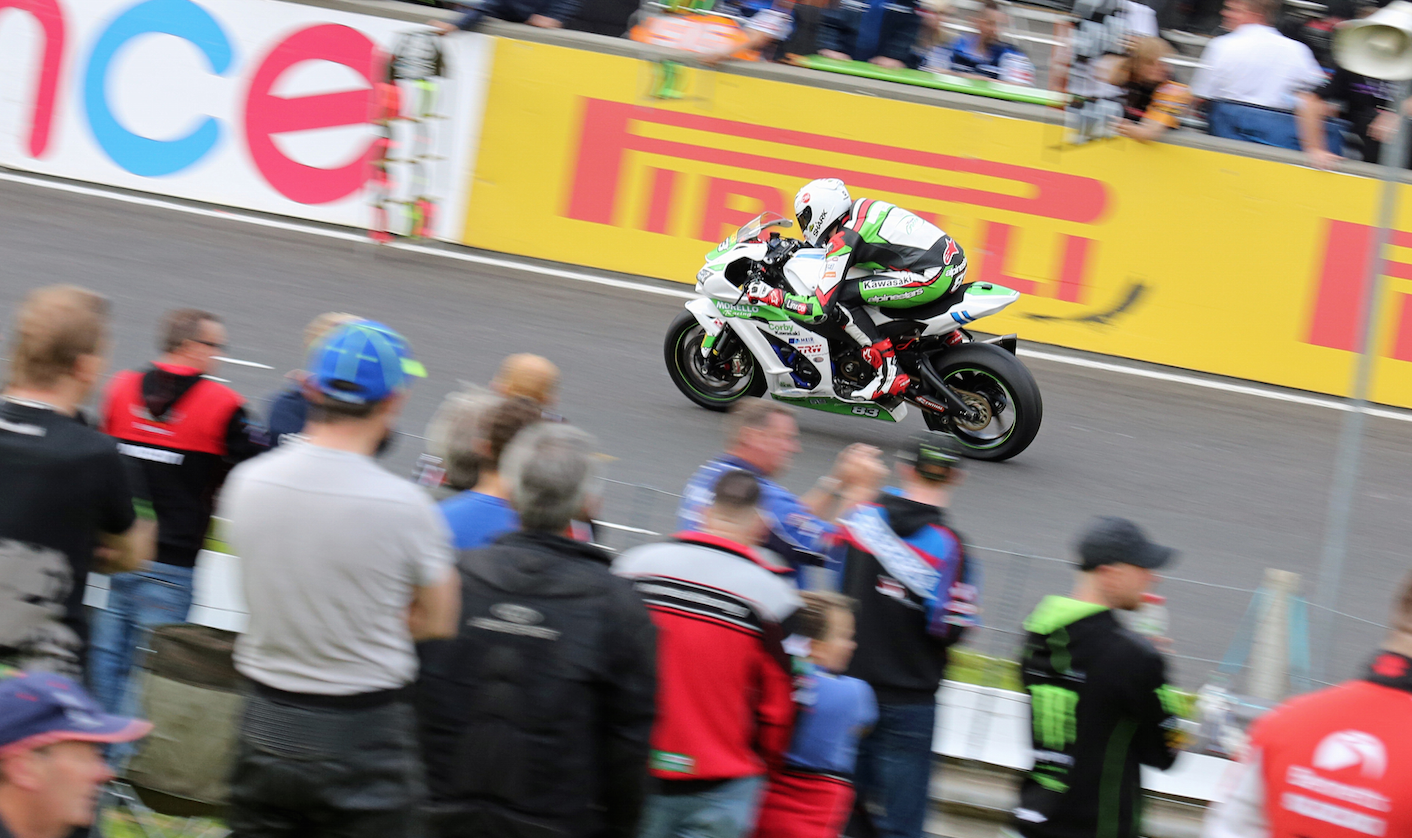 The owner of Morello Kawasaki, Steve Buckenham, has confirmed that Danny Buchan will not feature in the team's plans for 2018, whether it be in Superbike or Superstock. In this exclusive interview, Buckenham talks about a possible return to Superbikes, how he rates the new Superstock 1000 format, his personal opinion on Fraser Rogers' season and just why Danny Buchan is not part of their team next season.
With Danny Buchan in your team, you must have known you'd be competitive from the start?
Everybody assumed that Danny would come in and as the 2014 champion, do very well. We had Josh Elliott and he gave us the 2015 championship but look at him this year. Until Danny got on the bike for pre-season testing, no one really knew how he would get on. I think even from Danny's point of view, it's been a bit harder than what he thought. This year, we have moved on a lot and that is because of Chris Sayle who builds the bikes, Sam Palmer and Ryan who work on the bikes and Danny who rides the bike very well. We are very happy with what Danny is doing.
However, with Fraser, it is a different story. I thought he'd be doing a lot better. He's got nowhere near his times in places where he went well last year and I personally think that is down to a little bit of pressure coming from Danny. He may not admit it, but I believe it is.
I think it is a negative to bring in a rider of such stature in Danny Buchan, as I thought Fraser would have learnt from him instead. Fraser is used to being the star kid in the team; he was number one last year. Having said it's a negative, I'd do it all again. Fraser went to Assen and competed in the IDM last week and I said to him, "you'll do well over there". It's fast and it's flowing and he we was doing well until he was taken out. Anything that is fast and flowing, Fraser will be fast. His downfall is that he is riding the bike like it is a 600cc Supersport bike. Danny's bike has got hardly any scrape marks on the fairing but Fraser's has got loads, because he carries so much more lean angle. Fraser could be on full throttle and Danny could be on three quarter throttle, yet Danny is still quicker.
Have you exceeded or under achieved in relation to pre-season expectations?
With Danny, he's done exactly what I thought Danny would do. However, as I've said, in Danny's eyes, it has been a bit harder than what he thought. With Fraser, I believe that he has really under achieved. Although he has gone quicker at some tracks, like Brands Hatch, that is all I can say. He has been disappointing this year. I compare Fraser now to how Danny was when he was 21. The lad has undoubted talent and bags of it but he just needs to sit and listen and take things on board. He is probably one of the fastest riders in the paddock on his day.
There is no favouritism at all. Not in any way, shape or form. Another reason why he may be struggling is because this National Superstock 1000 championship is one of the most competitive, if not the most competitive, in the paddock.
What did you expect from Fraser in 2017?
I expected Fraser to be on the podium and I expected him to be Danny's wingman. It is his second year with us and I would've expected him to be doing more than what he's done thus far. For example, on Friday at Cadwell Park he was doing 1.29s but on Saturday he was in the 1.30s. The team has stayed the same as last year so the bottom line is that Fraser is under pressure and struggling.
What have been the main challenges this season?
The competition! 100% competition, nothing else. Bike wise, Danny was a bit unlucky at Snetterton and also at Brands Hatch, as he was running 20HP down. They ran it on the dyno and the results showed that it had lost 20HP. I won't go into why that happened but these things happen. Danny has challenged himself in some ways. When you're riding well, winning comes easily – like in 2014 for Danny. But this year, he has been pushed and forced to hit every apex and not to make a mistake and suddenly, the lap times don't come quite as easy and neither does the domination.
For me, Danny had to come back into this championship and win it. There's no guarantee that he will win it just yet either. Danny and Richard Cooper – without taking anything away from anyone else – have a big point to prove. Even though there are young, up and coming riders chasing them down, none of them are ready to move to a Superbike. Danny and Richard are still the cream of the class and they're both under such massive pressure. I think whoever loses this championship won't get a ride in Superbikes next season. Someone who may be over-performing further down the points table however, may get an opportunity but that is the politics of this paddock.
What do you make of the new National Superstock 1000 championship format?
I think some teams have criticised it because they may not have the budget to do it competitively. We are fortunate in the sense that I own a business and I can throw more or less anything at it. For our team, there is no budget.
My own opinion on the 50 mile back-to-back races is that it is wrong to have them. I think it should just be a Sprint Race on Saturday, followed by the Feature Race on a Sunday. I'd say that 99% of the Superstock 1000 guys would agree with me on that. Some of the teams in the championship are not set up to do the 50 miles back-to-back races. When you've got to refuel and change tyres in 10 minutes, even for our team, that is hard going. Everything has to fall into place to do that with some degree of success. It takes one thing to go wrong and you've had it.
However, whilst some people may agree with my proposed format, some people would be scared to challenge Stuart Higgs on it, as they all asked for more track time. So, Stuart would say, "you've got what you asked".
What are the main differences between a Superstock bike and a Superbike?
It's quite funny actually. I hear all these different people saying this and that about how easy it is to come off a Superbike and ride a Superstock bike – it's absolutely rubbish. Josh Elliott, as I've mentioned, is a former champion but for whatever reason, he can't find the set-up for the Tyco BMW.
Superstocks are no different when it comes to setting the bike up. We use a ride height gauge which some teams don't use and then, they wonder why their bikes won't steer. These bikes are probably closer to Superbikes than they've ever been. Our bikes have Superbike linkages. Although the swinging arm may not be a Superbike one, they're just as long as a Superbike one. They will only allow us to run SC2s on the bike because if we ran SC1s, the likes of Danny and Richard would be mixing it with Superbike times and that's not what the organisers want.
Fuel tanks on a Superstock bike are standard whereas when we ran the Superbikes, they were factory tanks, where they are positioned under the seat. The difference is the money involved – £2500 for a factory tank and just £500 for what we use now. The chassis is exactly the same as a Kawasaki Superbike, it is just the set up for some circuits that will alter. There's a lot of differences such as callipers, forks, yolks and brake disks. The electronics are different too; Superbikes run Motec and we run kit. We have more electronics on our kit package than what the Motec packages have on the Superbike.
Is being in a 'factory' supported team necessary to win races in the Superbike class?
One thing that I don't think that matters in BSB is having the big lorries and huge hospitality. Reason being, the McAms Yamahas aren't performing like they should, yet we are and we haven't got all of the big lorries and awnings. It's the same thing for Sylvain Guintoli – he is supposed to be in a factory Suzuki team yet he's nowhere. I take my hat off to people like Josh Brookes who just get on the bike and ride it well. Anyone who says you need factory support to win is talking like a twat quite frankly! They could have all the money in the world and all the lorries in the world but that won't buy you knowledge to build the bike or the skill to ride a bike well, even when it isn't set up.
So, your 2018 plans: will you be back in the Superbike class?
We might be. We are not prepared to run the Superbike if we are not able to get a proper rider on it. In 2015, our bikes were identical to Bournemouth Kawasaki in every way. We put Keith Farmer on the bike at Donington Park for a test and also for the Sunflower meeting at Bishopscourt. He turned to us and said, 'there's nothing wrong with the bike, it's your riders'. We wouldn't go in and throw money at it if we couldn't get a proper rider on the bike. We don't want to be making up numbers.
We had Peter Baker in 2015, who achieved everything he possibly could at club level. Peter's dream was to have a go at Superbikes and with all the best will in the world to him, we knew that he wasn't going to shine through in BSB. It came to a point where I had to say, 'listen mate, you're not quick enough'. We then put John Ingram on the bike, who got us a 12th place at Brands Hatch – our best to date. We then had Danny Johnson and Victor Cox. Danny didn't have a fair crack at the whip if I'm totally honest. My own opinion is that the people working on Danny Johnson's bike weren't good enough, as they couldn't get the balance of the bike sorted. Danny himself had a lot of potential.
For 2018, I can tell you that we have Josh Elliott testing for us in September. We are unsure whether it will be in Superbike or Superstock. I think he has gone backwards since he left us, down to the team he rides for now. If Josh was on our bike for 2017, Danny Buchan would have had an ever tougher time of things at the front.
Kevin Manfredi would be more than happy to ride for us; he was extremely happy with our bikes when he tested them and wants us to step up to the European Superstock 1000 series. He actually said that our bike is better than what he rides right now in the European Superstock.
So where does Danny Buchan fit in?
I can confirm that Danny Buchan won't be riding for us at all next year. Not in Superstock 1000 and not in Superbikes. It's not that we aren't interested in bringing Danny into Superbikes but he wants to go to a team that is already established. He doesn't want to be what would technically be a 'development' rider if he was to come up with us. If Fraser wants to stay, then he'll be with us. We will have another top rider alongside him, whether that be in Superbikes or Superstock.
Thank you to Steve Buckenham for his time at Cadwell Park, as well as Chris Sayle for his technical input. We wish the team all the very best moving forwards.
Image courtesy of Gareth Davies of Full Factory Photography