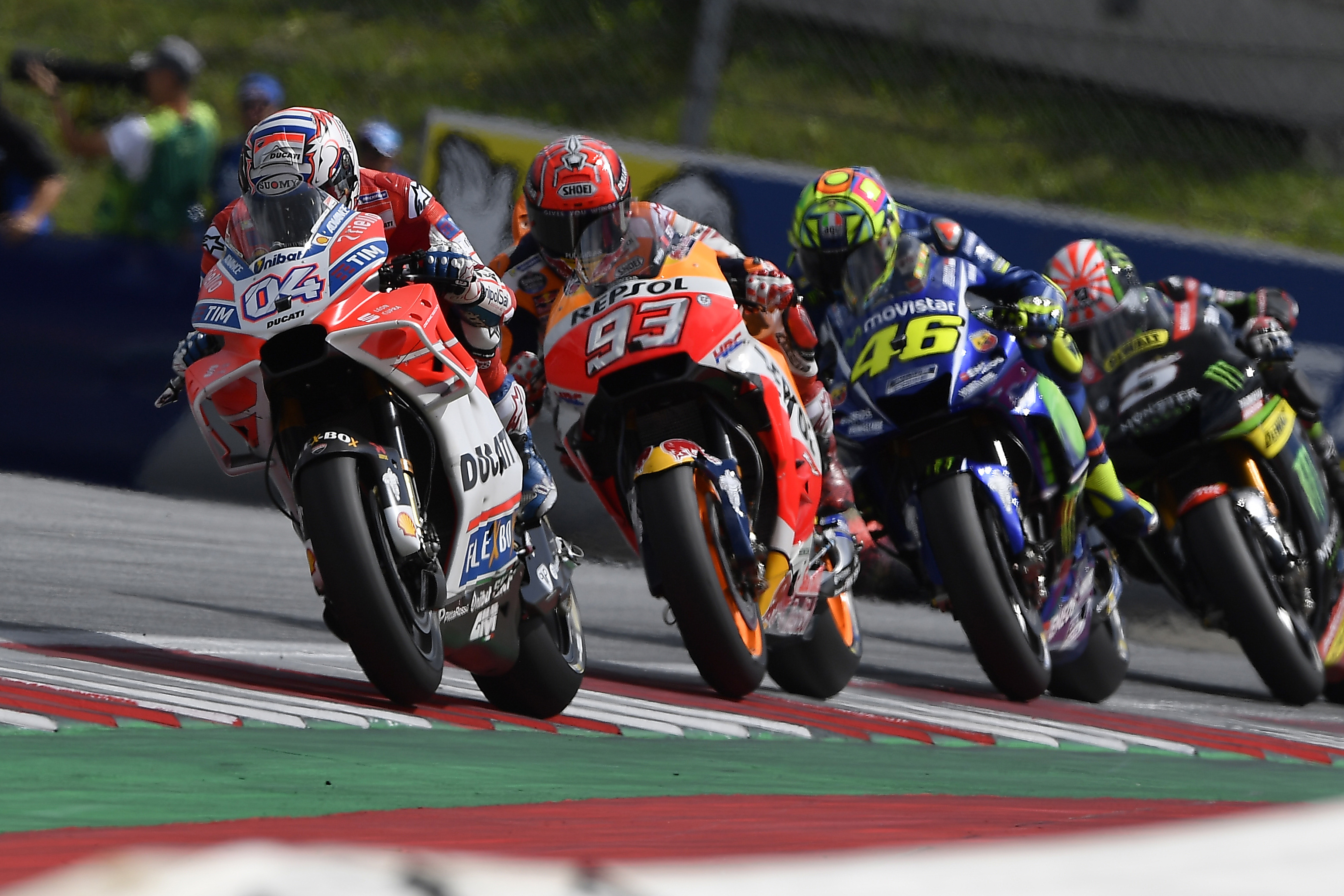 The home of black pudding. The home-ground for a pint of Marston's Pedigree and fish and chips. The only place in the world where you spend most of your life on the phone, making complaints, or queuing to make a complaint. The land of which Barry Sheene was born on, yet the land of which many a famous rider left us on. It is time for the British Grand Prix. The most iconic race of all time, steeped in history on both positive and negative gradients. The Silverstone circuit hosts its eighth consecutive British Grand Prix in 2017 and whilst the Circuit of Wales was a white elephant, the British entourage has never been better, with three lions seeking home pride.
Marc Marquez leads the championship on his Repsol Honda, having not been off the rostrum since Mugello in June. He's not been lower than second in the last four races, making him a worthy series leader. However, he isn't having it all his own way, with Andrea Dovizioso beating him in a last corner shoot out in Austria. Is Marc rattled by the fact that he – the most determined of all racers – was forced to be second best? He comes to a circuit at which he knows well. Since stepping up to the premier class, he has finished, 2nd (2013), 1st (2014) and 4th (2016), whilst crashing out in 2015 from 2nd. He has taken three pole positions, with last year being the first year he wasn't fastest after Saturday qualifying. Will his top three consistency be on show again this weekend or will Andrea Dovizioso chip away into a frail points advantage?
Dovi is 2nd in the championship, 16 points down on the five-time champion. The Ducati ace powered to victory last time out in Austria, taking his third of the year. The last rider to do that on a Ducati was Casey Stoner back in 2010. However, it is the first time since Stoner in 2008 where Ducati have got to the halfway mark in the season and still looked like genuine contenders. The Italian has had three podiums at Silverstone before and apart from 2013, he has finished every race in the top six whilst riding a Ducati. He was the British Grand Prix winner in 2009 at Donington Park; will he repeat his performance at Silverstone?
Maverick Vinales – despite enduring a poor run of form – is third in the championship, 24 points off leader Marquez. Vinales comes to Silverstone with happy memories from last year, with it being the venue for his first ever premier class race win – and thus far, Suzuki's last. Vinales hasn't won since the French Grand Prix, after a titanic scrap with teammate Valentino Rossi. The Spaniard has never had back to back sixth places so if he does finish 6th, it'll be the first time. A podium on Sunday would be his 10th in the premier class. He only has one other win to his name at Silverstone and that was back in 2012 on the FTR Honda in Moto3.
Valentino Rossi will be making his 300th premier class start this weekend, a phenomenal achievement that no one else has been able to reach. It will be his 353rd across all classes and his 201st for Yamaha. The Italian's form at Silverstone isn't the greatest – one win in 2015 is all he has to his name in terms of victories. However, he hasn't finished off the podium there since 2014. Rossi is the winner of eight British GPs, more than any other rider. To make it nine would be a big ask but not impossible. Since returning to Silverstone, Yamaha have won four races whereas Honda just two, so the bike clearly likes the fast direction changes the circuit has to offer. A recent test in Misano also looked promising so will we see a Yamaha battle at the top? Valentino has endured his worst spell in Europe since 2013, where – like this year – his only podium and win came at Assen. Rossi has to win again but will this round be the round he does it?
Dani Pedrosa lies 5th in the championship, 35 points off teammate Marquez and two down from Rossi ahead. Pedrosa has finished the last three races on the podium, meaning he could be a threat come race day. He hasn't had four consecutive podiums in Europe since 2013, between Jerez and Catalunya so another podium would correct that stat. Pedrosa has never won at Silverstone and his only other premier class British Grand Prix win was in 2006, his rookie season. Dani is still very much in the championship hunt and a win, coupled with misfortune for those ahead, would place the plucky Spaniard right in the mix once more. His last podium at Silverstone came back in 2013, so whilst current form suggests a strong challenge, his recent circuit form suggests otherwise. We will only find out on race day.
Johann Zarco continues to impress in 2017, setting the fastest lap of the race and a new lap record at the Red Bull Ring in Austria. The Frenchman comes to Silverstone, having been disqualified last season, despite taking a win the year before. In 2014, he was 4th and qualified on pole so Silverstone definitely seems like a circuit Zarco likes. The reigning double Moto2 champion could do with another top six, as his 5th in Austria was his first top six since Catalunya. If he carries on beating the factory Yamahas, you have to wonder if Zarco will be given the factory bike for next year, whilst remaining in Tech 3. He's doing the business and at the end of the day, he's a top rider. Could Silverstone be another Zarco success story?
Lorenzo is next up in the championship. A 4th place last time out wasn't too shabby but he was well off the winning time. The Spaniard has three victories at Silverstone, with the last one coming in 2013. Lorenzo also knows that he has to beat Andrea Dovizioso to remind Ducati why he was employed. Lorenzo was the last Spanish rider to win a race at the British GP on an Italian bike – 250cc, Aprilia, Donington Park, 2006.
Tech 3 rider Jonas Folger is eighth, having won the Moto3 race in 2011. The German retired from only his 2nd race at the Red Bull Ring and will want to be resurgent this weekend. A German rider has never won the British Grand Prix, nor have they ever scored a podium there. Then again, first time for everything, right?
Britain's Cal Crutchlow is 9th in the championship. The British GP pole-sitter from last year had a terrible Austrian race but always goes well at Silverstone. A fine 2nd last year and being taken out whilst running 4th in 2015 are highlights that Crutchlow thrives on home glory. Crutchlow is riding a vintage Castrol Honda livery this weekend, unveiled by none other than New Zealander, Aaron Slight.
Completing the top 10 in the championship is Danilo Petrucci, who took his first ever podium at Silverstone in 2015. Despite two podiums, four DNFs – including last time out in Austria – have landed him further down the table than he would've hoped. Silverstone knowledge will be key for Danilo come Sunday.
Alvaro Bautista's season has been a strange one. With the exception of COTA, every race he has finished has been in the top 10. On the other hand, he has crashed out five times. 11th in the championship, Bautista has bags of pace but crashes just a bit too often. He took his first ever premier class pole position at Silverstone in 2012 and for the last two seasons, has finished the British GP in 10th, riding an Aprilia. Keep your eyes peeled for Bautista the Bowling Ball.
Aleix Espargaro's Aprilia was off the pace in Austria, being caught up in turn one shenanigans that landed him at the back of the field. The Spaniard forced his way through to 13th place, his worst finish of the year. Since 2013, Aleix has finished the British Grand Prix inside the top 10 and has yet to not score points at all in the premier class in Blighty.
Jack Miller has had an OK year, but of late, has gone off the boil. The Marc VDS Honda rider had his best result of 6th at Assen but is yet to get a top 10 since then. He has already signed a deal to join the Octo Pramac Ducati team for next year, so the pressure is off in terms of delivering results. Miller has never had a top five at the British Grand Prix since joining the paddock in 2012 and is yet to score points in the premier class at Silverstone.
Loris Baz is fighting to stay in the GP paddock and he's fighting hard. The Frenchman is 14th in the championship and has had three top 10 results. A 9th last time out in Austria will propel him to hopefully remain in Grand Prix. He knows Silverstone well, taking a win in WSBK back in 2013. He is yet to score points at Silverstone in MotoGP.
Scott Redding's first ever win came at the British Grand Prix – albeit at Donington Park. However, he has also done the business at Silverstone too, winning the 2013 Moto2 race. He crashed twice last year but finished 6th in 2015 and 10th the year before. Up until joining MotoGP's premier class, he was yet to finish outside the top five at home.
Andrea Iannone occupies 16th in the championship and his season doesn't look like it will get any better. The flamboyant Italian has a best result of 8th in the premier class at Silverstone but had never had a podium at the track prior to that. Suzuki won at the circuit last year, but given the struggles of the manufacturer this year, how much of last years success was down to the bike and how much was down to the rider?
Karel Abraham will remain in the paddock for another season with the Aspar Ducati team. Karel comes to the British GP with happy memories, including a row two qualifying performance back in 2011. The same year, he finished 7th in the race – his best result at Silverstone. Abraham has been doing a solid job in 2017, having not retired since Le Mans.
Tito Rabat has had a better season in 2017 but it hasn't been good enough for Marc VDS to retain his services for another year. Yet to have a top 10 this season, Rabat has failed to score points in the last three races. It may well be an uphill struggle from here on in and who knows where he will be riding next year? The good news is that every British GP since 2010 has seen Tito score points, so the odds are evening themselves out.
Pol Espargaro had his Austrian Grand Prix cut short, to give him his fourth retirement of the year. Having said that, the last finish he had was 9th and KTM's first ever top 10. Espargaro's recent GP history shows DNFs for the last two seasons and a 6th in 2014. His last British GP podium was in 2012, where he won ahead of Scott Redding and Marc Marquez. Will Silverstone turn orange on Sunday?
He was 10th in last years standings but currently, Hector Barbera ranks 20th in the championship. A dire season – mainly due to Avintia Ducati's continuous front end problems – has resulted in a disastrous run of form for the Spaniard. If he fails to score points on Sunday, it will be the first time since the Avintia Kawasaki CRT days of 2014 where he's endured five non-point-scoring rides (Indianapolis-Aragon). His best result at Silverstone since joining the premier class in 2010 is a 10th, in 2012. He was 14th last year and 13th in 2015.
Alex Rins is 21st in the championship – albeit missing five races and only scoring points in two others. The Spanish rookie finished 16th in Austria, despite looking a lot more at home on his Suzuki. Last year's British GP was one of his worst finishes in the year, with 7th. A 2nd in 2015 and a win in 2014 do suggest that not all is lost. Riding a Suzuki that has won at Silverstone may give Alex the confidence he needs to score more points on race day.
Bradley Smith is 22nd and heads to his home race in need of points. Rumours suggest that Bradley may be out of a ride for next season, with KTM reporting to bring in Mika Kallio. Smith hasn't scored points in the 2nd half of the season and was only 18th in KTM's home race last time. The 26-year-old missed last year's British GP but was 7th in 2015. His last podium at the circuit came in 2011 on a Tech 3 Moto2 bike.
Sam Lowes brings up the rear of the MotoGP table (as far as full-time entrants go) and goes into his home round with an uncertain future. Lowes goes well at Silverstone, finishing in the top 7 on two occasions in Moto2, although he was taken out of the race last year by Johann Zarco. Lowes finished 2nd in a World Supersport race in 2013, having been knocked off whilst leading by Kenan Sofuoglu on the last lap. Lets hope that Sam can add to his points tally on Sunday to prove to team bosses that he has what it takes to remain in MotoGP.
Now that you are equipped with all the facts and stats for Sunday, you can head off and digest the atmosphere of race day. Will Valentino Rossi shine once more or will Marc Marquez reign again? Could Andrea Dovizioso continue his fighting spirit and tackle the Silverstone circuit or will Maverick Vinales be Top Gun for a 2nd season at the British Grand Prix. All that really matters though is that it is the British Grand Prix and it's being hosted in a country famed for good food. Double egg and chips anyone?