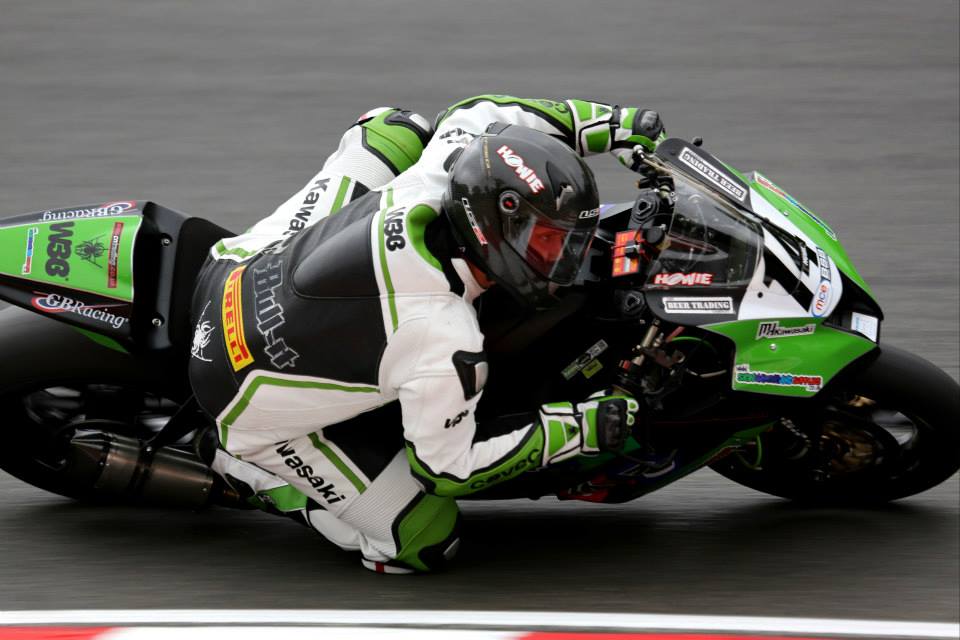 Former British Superbike rider and BSB Radio Commentator Michael Howarth spoke to me earlier in the week, as we discussed all topics of conversation in the world of BSB. Here is what Todmorden's finest pie maker had to say.
Should Alastair Seeley be allowed to race in Supersport, despite not being allowed to score points?
Personally, I think he should. I don't think he was the cause of Joe Francis' crash at Thruxton. Joe would've gone for that move had it been anyone else. It just happened to be Alastair so it gave everyone who is dead against him riding, a reason to have a go at him. Alastair is a professional rider who knows what he is doing on a motorcycle and he is out there doing a job, therefore he should be the last rider getting any grief. No one was kicking off about Joe Collier being in the race because he wasn't up the sharp end of things. Lets be honest, Alastair can't have a say in the championship can he? Like it or not, in the coming years we are going to see a lot more Moto2 bikes in the field. The target is to have a complete Moto2 championship. My opinion is that you should go out and beat him. If you can't beat him, then tough. He isn't taking points off anyone and he isn't getting in the way because he is just as quick as everyone else.
What do you make of the recent surge in privateer team success?
I think that the decision of the organisers to get rid of the fancy electronics is starting to pay off. The organisers' intentions are now coming to fruition. There is no "factory" team as such, but there are teams supported by the factory. Some teams may have access to certain parts but it isn't to say that some teams can't go and get something made which is very similar. The reason why Yamaha may not be so supportive is because their factory supported team is being a bit shown-up at the moment.
Do you think that McAms Yamaha have under achieved or over achieved in BSB?
I really don't know. I know James Ellison has had some really bad luck whilst running at the front, and had that bad luck not happened then he would probably be up there. However, James always gets his fair share of bad luck wherever he is so is it that he gets a little bit of head trouble when he gets to a big team? I really don't know. James has also made his own mistakes, crashing out the lead at Brands Indy being one of them. I'm a great friend of Michael Laverty's but he's just not performing either. It's a complete disaster for them.
Having said all that, Yamaha aren't doing amazing in WSBK so maybe the information being passed over isn't right. Overall though, referring back to privateer success, it highlights how good Stuart Higgs is. It highlights how right he was in the technical regulations. I want to see a Superbike look like a Superbike. I don't want Superstock rules or any of that old bollocks. I want to see a fancy swinging arm, a fancy set of forks and stuff. However, you can do all that but what Stuart has done is made it more affordable.
I think that the format that BMW have adopted – where they make everything affordable and available to the teams – is a format that a lot of manufacturers are going to need to look at. Manufacturers the world-over are going to need to embrace it. It would make WSBK better and more entertaining again, that's for sure.
What is your top six prediction?
I really don't know! Shakey will obviously be there, as will Haslam and the way Peter Hickman is riding at the moment, he will probably be there too. However, for the next three places, I don't have a clue; it is completely wide open. It's a bit like MotoGP, where so many riders can win a race and the top five are all in with a shout of the title.
Unfortunately, I don't think Dan Linfoot will be getting in the showdown and I reckon that means that he won't be getting a ride on the Honda next season. I would well imagine with the efforts that Peter Hickman is putting in and they way he is riding at the moment, Honda would be busting their balls to get him for 2018, as they need someone for the track and for the roads. They tried to get him for 2017 but would only give him a Superstock 1000 ride. They should be pulling out all the stops to get him. BSB isn't MotoGP though, when everyone is signed up by the halfway point of the year.
Who do you see as some of the brightest talents coming through?
I'd consider Danny Buchan and Taylor Mackenzie as two of them, however, they both seem to struggle without traction control. With traction control on the world stage, they'd be absolutely phenomenal. What Danny Buchan is able to do in the Superstocks is astonishing. He may say that he's running his bike with little traction control but I don't buy that for a second. I see Danny Buchan as becoming one of the next British World Champions in Superbike and I feel he's wasting his time in the UK – not because he's a bad rider, but because he would really showcase himself phenomenally well in the WSBK paddock. If he proves me wrong next season, if he comes back to BSB then I will be the first person to congratulate him.
Glenn Irwin's future? A NW200 win but no BSB Showdown must be tricky?
It's a hard one is that. He is a huge talent and I predicted his success. I'm just not sure that he has performed this season. Even before his injury, I don't think he's been where he should've been all season. Maybe he's getting himself too worked up, as we have seen before at Gearlink – I really don't know. Paul Bird won't stand for crashes either, as we've seen before with Keith Farmer, so maybe that has something to do with Glenn, where he doesn't want to push in fear of crashing. Whatever happens, he won't be short of offers for 2018.
Why aren't you riding in 2017 and is there a plan to come back?
My right leg is a complete and utter bastard! I had a crash last April, meaning I had to have my leg screwed back together with a big rod in it and stubbornly, I decided to come back a little bit too early. I had a big near-crash at Thruxton in turn two and although I didn't crash, the bike really battered my leg when it came back round on me. The idea was to come back at Cadwell Park and although it was hurting, I didn't really think anything of it and just pottered around thinking it'll be alright. The thread of the screws at the top of my leg were 20mm too long, so the thread went on to the ball of my hip but not on the femur. So, the pain I was getting was my bone sliding up and down on the screw. I went to a specialist in Leeds and they did some scans, basically saying my leg is still broken. This was around December last year. The bone at the ball of my hip, because it wasn't attached, started dying. They mentioned about a false hip but said it'd need replacing after 15 years.
In February this year, I had another operation and the surgeon removed the screws that were already in and put in new ones, which fit like a glove. Then, they drilled into my pelvis and took bone marrow and stem cells from that and injected it into the the dead ball of the hip. I wanted to get back racing this year but the consultants talked me out of it if I'm honest. I've realised that this year won't happen at all as the bone won't heal at the top of my leg, but hopefully I will be wobbling around on something next year. Then, I'll probably retire properly and then go on and talk some nonsense with Fred and yourself. I'd rather wobble round at the back of the BSB field than go to Superstock 1000 and finish in the top 20.