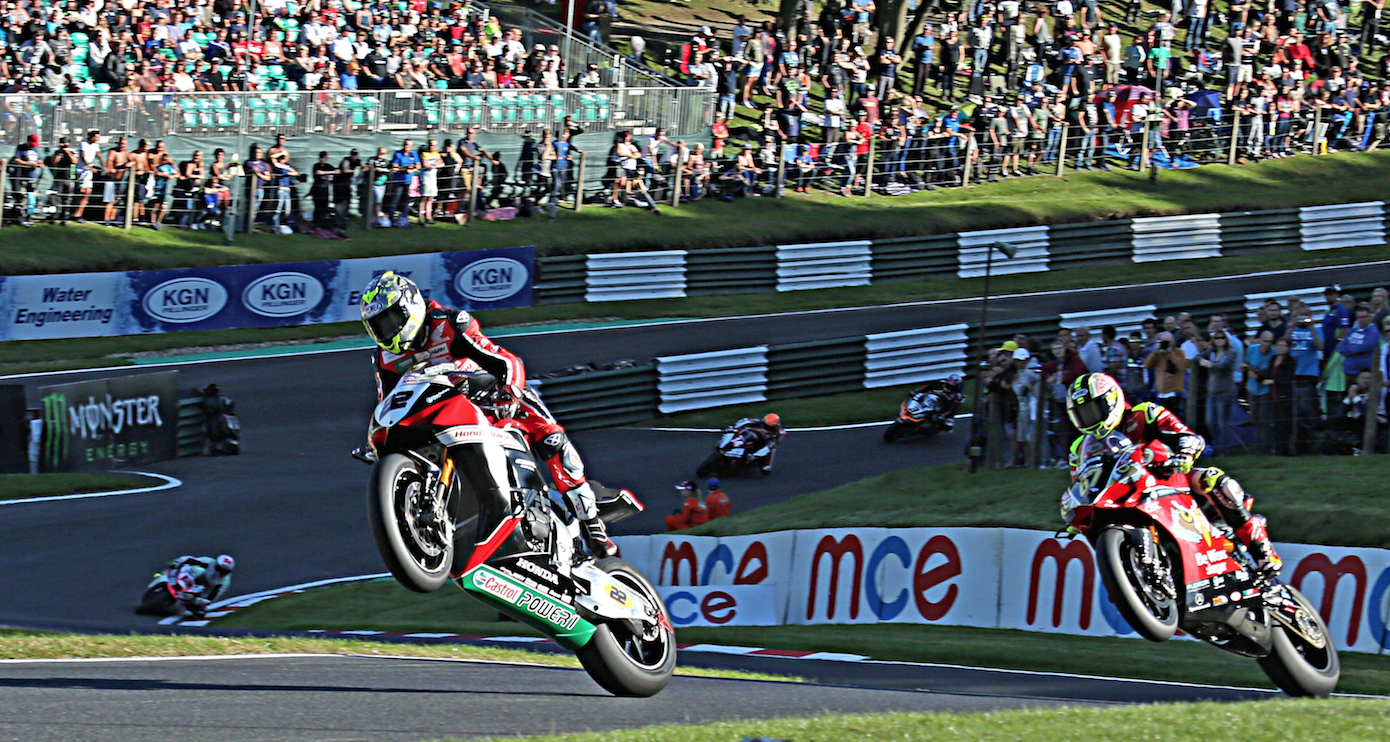 The eighth round of the British Superbike Championship takes place at Lincolnshire's Cadwell Park this weekend, the penultimate round before the Showdown six are locked into place. Josh Brookes and Peter Hickman took their first wins of the season last time out at Thruxton, whilst championship leader Shane Byrne endured a nightmare, with just a fourth place to his name. Leon Haslam is Mr. Cadwell himself, with six wins across three manufacturers but Jason O'Halloran is also one to keep an eye on. Looking to break into the top six this weekend will be Jake Dixon for the Lee Hardy Racing outfit and Christian Iddon for Tyco BMW – both riders seeking to capitalise on the absence of Luke Mossey.
Shane Byrne arrives at Cadwell Park with a healthy, but by no means comfortable, 19 point advantage over Leon Haslam. The five time champion and champion elect for 2017 won at Cadwell Park last season in race one. However, apart from that, Shakey hasn't particularly gone well at the venue. His only other win came in his first championship year of 2003, some 14 years ago. Ducati as a manufacturer have only won at the circuit twice in ten seasons so the odds are stacked against Byrne and the PBM team this weekend. However, if anyone can beat the odds then it's Shakey, who has achieved a podium in seven meetings of the fourteen he's competed in at Cadwell? Will Byrne remain Shakey at Cadwell or play safe in 'The Park'?
Leon Haslam goes to a circuit he absolutely adores. Six wins, two other podiums and four pole positions set Haslam up perfectly for the weekend ahead. The Pocket Rocket will be hoping to give Pete Extance's JG Speedfit Bournemouth Kawasaki squad their first win since Oulton Park back in May. Podium points are also very important at this stage of the season and the Kawasaki man is desperate to continue his Thruxton race two form. Haslam wasn't out of the top six throughout any session at the circuit last year and a repeat performance this year will be exactly what the team ordered. Can Haslam deliver at Cadwell like he so often has in the past?
Having taken a 2nd and a win at Thruxton, Peter Hickman vaulted up the championship pecking order on his Smith's BMW. Giving Rebecca Smith her first British Superbike victory was something pretty sensational but now, Hickman returns to a circuit where he has gone oh so very well at in the past. His first victory came here back in 2014 and a year later, he finished 2nd in both races. Last season, a 7th and 4th reinforced that Hicky is quick around Cadwell Park, come rain or come shine. Hickman hasn't just won a race at Thruxton either. The 30-year-old also took an astonishing four race wins at the Ulster Grand Prix, achieving "Man of the Meeting". Hicky and his Smith's BMW Team are in the form of their lives right now and I wouldn't bet against that continuing this weekend. I feel a strong performance is on it's way. A Hickman win would make it BMW's first ever at the circuit.
Luke Mossey sits precariously in fourth in the championship, having missed Thruxton after a horrifying crash in free practice. The news gets worse: Luke Mossey will not be riding at Cadwell Park either. The 24-year-old said he would be back for Silverstone but is currently only seven points ahead of Australian pairing Josh Brookes and Jason O'Halloran. Mossey may find himself out of the Showdown positions if Jake Dixon or Christian Iddon score 25 or 27 points respectively. Could Thruxton's practice spill be more pivotal than we thought?
Josh Brookes took his first win of the year and Tag Racing's first ever in British Superbikes last time out at Thruxton. The popular Aussie comes to a circuit where he has won at four times previously, although he is known for his spectacular style over The Mountain section. Brookes is seven points behind Mossey, meaning he is all but guaranteed to leap up at least one position. Just 10 points separate him and Peter Hickman, meaning a Josh Brookes double would elevate him to third in the championship, regardless of any other results. Being the top Yamaha in the series is quite an achievement given Rob Winfield's squad get barely any factory support. However, Josh is only 18 points clear of in-form Jake Dixon so mistakes could be costly this weekend.
Jason O'Halloran is in the exact same predicament as Josh. A double puts him third in the championship no matter what but a crash could be influential in the Honda rider's top six possibilities. Although having never won a race at Cadwell Park, O'Halloran likes it there and on his first Superbike ride last season, he achieved a 3rd and 2nd. It is also Honda's home round and that could work two ways. More pressure could lead to mistakes but the expectations of Honda fans may propel their riders to achieve great things and rise to the occasion. Only time will tell.
Currently in 7th place and ready to pounce on Luke Mossey's vulnerable Showdown position is Jake Dixon, for the RAF Regular and Reserve Kawasaki, run by Lee Hardy. Dixon was 9th and 10th in the races last year but could be one to watch, as he continues to extinguish anyone's doubts about his form at circuits, based on last year's results. The popular youngster has been turning heads all season and could continue to do this weekend, especially having won the Supersport event two years ago.
Christian Iddon is a further two points back, with Cadwell Park seemingly not being one of his favourites, having had a double DNF last year which was detrimental in the Tyco BMW team's absence in the Showdown. Iddon was 9th and 13th on Martin Halsall's Bennetts Suzuki in 2015. Like Hickman, if Iddon was to win, it'd be the first BMW win ever at the circuit.
Almost certainly out of any Showdown chance is James Ellison, who is next up in 9th. Ellison has won once around Cadwell Park before, back in 2009. If Ellison could do the double at Cadwell, it'd give him half a chance coming into Silverstone but that is a massive "if". Dan Linfoot is the next rider along in 10th and he equally has little chance of cracking the top six in 2017. Ellison is 66 points back of the Showdown whilst Linfoot is 69 away. Barring injuries and crashes for the front runners, it may already be over.
The average points required to get into the Showdown is 155, however with the likes of Brookes and O'Halloran on 154, 200 points may well be the absolute minimum for 2017. It is one of the toughest seasons yet and it is taking it's toll on some of the top riders. With five races taking place between now and the confirmation of the top six, anything could happen and whilst some riders may well look out of it for now, we will have a better idea by the end of the weekend.
Image courtesy of Gareth Davies of Full Factory Photography