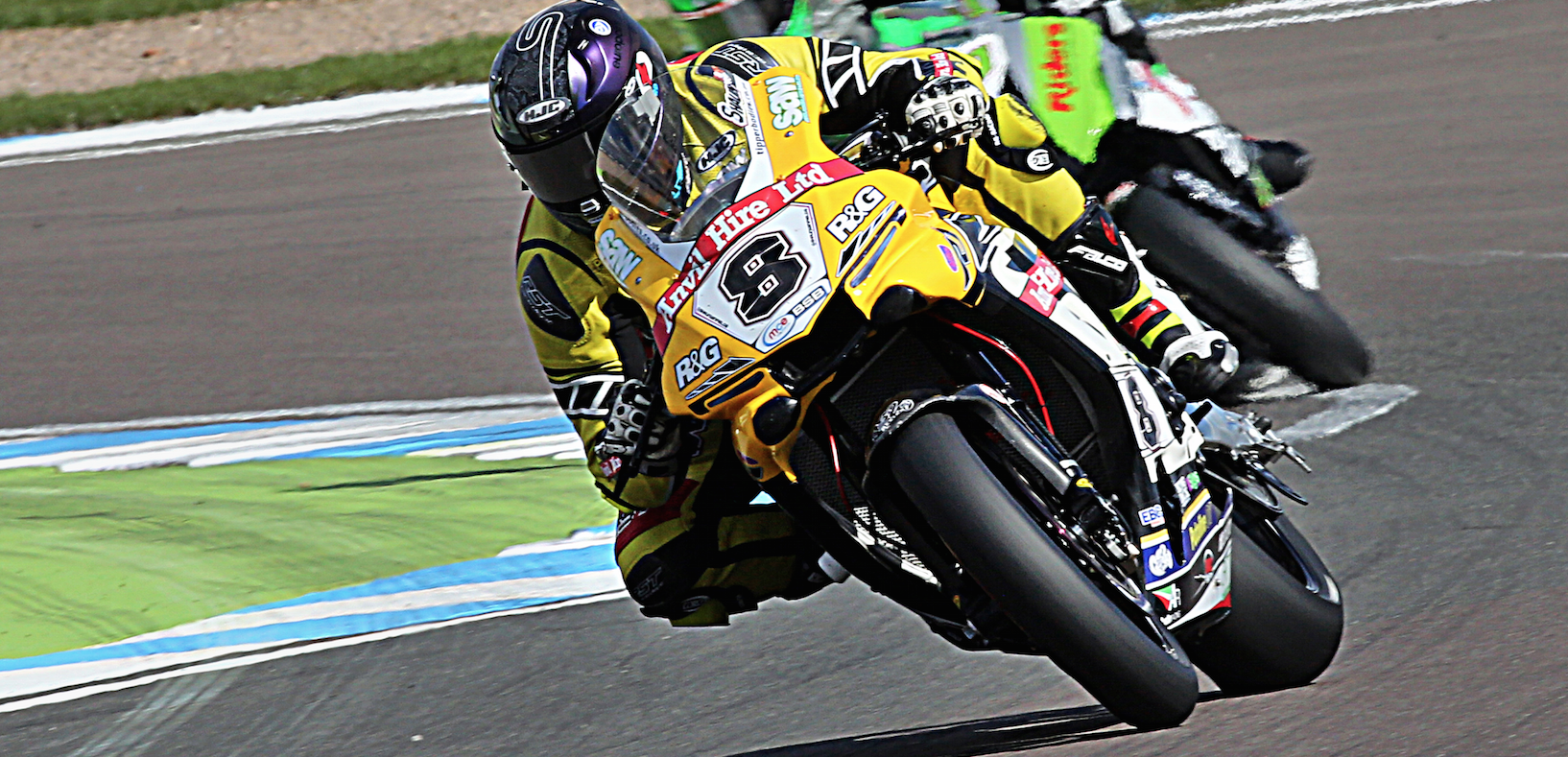 It could be considered that Shaun Winfield has been the forgotten man in the Anvil Hire Tag Racing Yamaha Team. The Derbyshire rider has been setting some of his quickest times and was less than a second off pole position at Brands Hatch in April. However, everyone else is also going faster than previous times. I speak to Shaun as he explains his journey in British Superbikes so far, his season to date and also, what it takes to be in Britain's premier motorsport championship.
How has your career in Superbikes been so far?
It's been a tough ride. I got chucked in the deep end when I got the ride. The first time on a Superbike was at Oulton Park and at the time, the team ran Mitchell Carr. He broke his wrist 10 minutes before practice and my dad said, 'fancy having a go on it?' and I rode it out, as I was never going to turn down a Superbike ride – it's a dream chance. The difference between a Superstock 1000 bike and Superbike at the time was incredible. The geometry of the bike, having never been on slicks before, rear thumb brake, power delivery, no traction etc all meant that there was quite a few things I had to get over. I finished ahead of Aaron Zanotti and Jennie Tinmouth so I was mega happy to not come last in the race. I did a few more rounds, at Thruxton and then the last round of the year so it was great to get the time on the bike before starting properly the next year (2015).
Last year was a bit tough. We changed to the Yamaha from Kawasaki – where my best result was 16th – so I had to try and ride a completely new bike. We got some data off teams at the start of last year but we mainly had to develop the bike ourselves. Having James Rispoli as a teammate helped in some ways. He was a very quick rider and I learnt a lot with his lines at tracks. Josh this year is really helping though, as he has such a wealth of knowledge whereas I have only had a couple of years on the Superbike and I'm still learning. My pace is getting stronger each year.
How has 2017 been for you so far?
This year is going really well actually. Having Josh – like I've said – has been pivotal in developing the bike and bringing knowledge to all of the team. I'm doing my personal bests every time I step on the bike. The pace this year is ridiculous and it seems like lap records don't mean a thing. Everyone is upping their game and although I'm beating my lap times from last year, I'm nowhere again, so I've just got to keep pushing and chipping away.
Does having Josh as a teammate help you or is it pressurising?
This weekend, I've tried Josh's seat and I felt a lot more comfortable on the bike. The way he rides the bike is definitely where we need to be. I look at photos mainly, to compare my style against his. One thing that the photos have shown is that I am more on the front end of the bike than what Josh  was. His seat is a lot lower than mine and that has helped me out a lot.
It is pressurising because people from the outside look at me and say, 'why aren't I doing it?' but you've got to consider Josh's experience and you can't buy that or get it overnight. Josh has been out riding factory bikes for years whereas I've never had the opportunity. I do get slated quite a lot. He knows everything there is to know about Superbikes and hopefully, that knowledge will come to me overtime.
Is it easier on the Yamaha in 2017, given you've had the year on it in 2016?
We've had a lot of new bits, such as the engine for example. It has been harder solely because of the pace and you just have to keep pushing harder every time you go out on track. The bike is essentially the same bike as last year. I'm happy when I do my personal best but in all honesty, we want to be in the points. The problem is that everyone else is improving and that makes it so much harder. I was only 0.8 off pole at Brands Indy and I was down in 18th on the grid, also within a tenth of the old lap record. Last year with that time, it would have put me on the front two rows. Sadly, we aren't in last year anymore!
Where do you feel you could improve the most?
Racing is all about mindset. I think you'll find that a lot of quick riders have no barriers. However, sometimes I feel that there's something holding me back, but I don't know what. Believing is another thing. I need to start believing that I'm here for a reason and that I'm in Superbike because I can do it. It's a big thing to be in British Superbikes and there's a lot of pressure involved in it and I think I need to get in my head that 'I can do it'.
Do you think going to the National Superstock 1000 championship might help?
It's worked for a lot of people. Taking a step back can be useful. However, it is a step back! If it doesn't go right then you've had it. There's that pressure of having to be up the front because you've taken a step back. If you don't make it work then you make yourself look a bit of an idiot. There'd be more pressure on me going back than what there would be if I continued doing what I'm doing now.
Presumably, you'd be staying with Tag Racing if you stayed in the Superbike class?
I can't see why I'd move! People only say that I'm here because my dad is paying for it, which he isn't. My dad wouldn't put me on a Superbike if he didn't think I could do it. I am here because of my dad but, if I couldn't do it, then he'd rather put someone else on it and he has told me that before. If he thinks that a different class would be better for me then he'd put me in that class. If you enjoy racing and that is what you want to do, you may as well do it.
How tough – both mentally and physically – do you have to be to ride a Superbike?
Physical fitness is a major thing, especially around tracks like Silverstone. You have to be holding on to it, particularly when it is bucking and weaving everywhere. You have to keep in the best shape that you can. I got sponsored by a local gym recently and they've been helping me out with diets and personal training sessions.
Mental state of mind is just as important. Like I said earlier, you have to be able to believe in yourself. I used to watch Shane Byrne on TV and now I'm riding against him every weekend. There's a photo of me and him from years back and he was there for one of my first ever minimoto races.
What is the aim for the rest of the year?
To go out and get in the points as much as possible. That's difficult when there are ten riders out there who could probably win a race. It's going to be difficult to get a top 10 but if we keep going in the right direction and keep pushing then we should be OK and get there eventually.
I would like to thank Shaun for his time as well as the whole Tag Racing Team for allowing me to interview him. Image courtesy of our very own Gareth Davies, of Full Factory Photography.