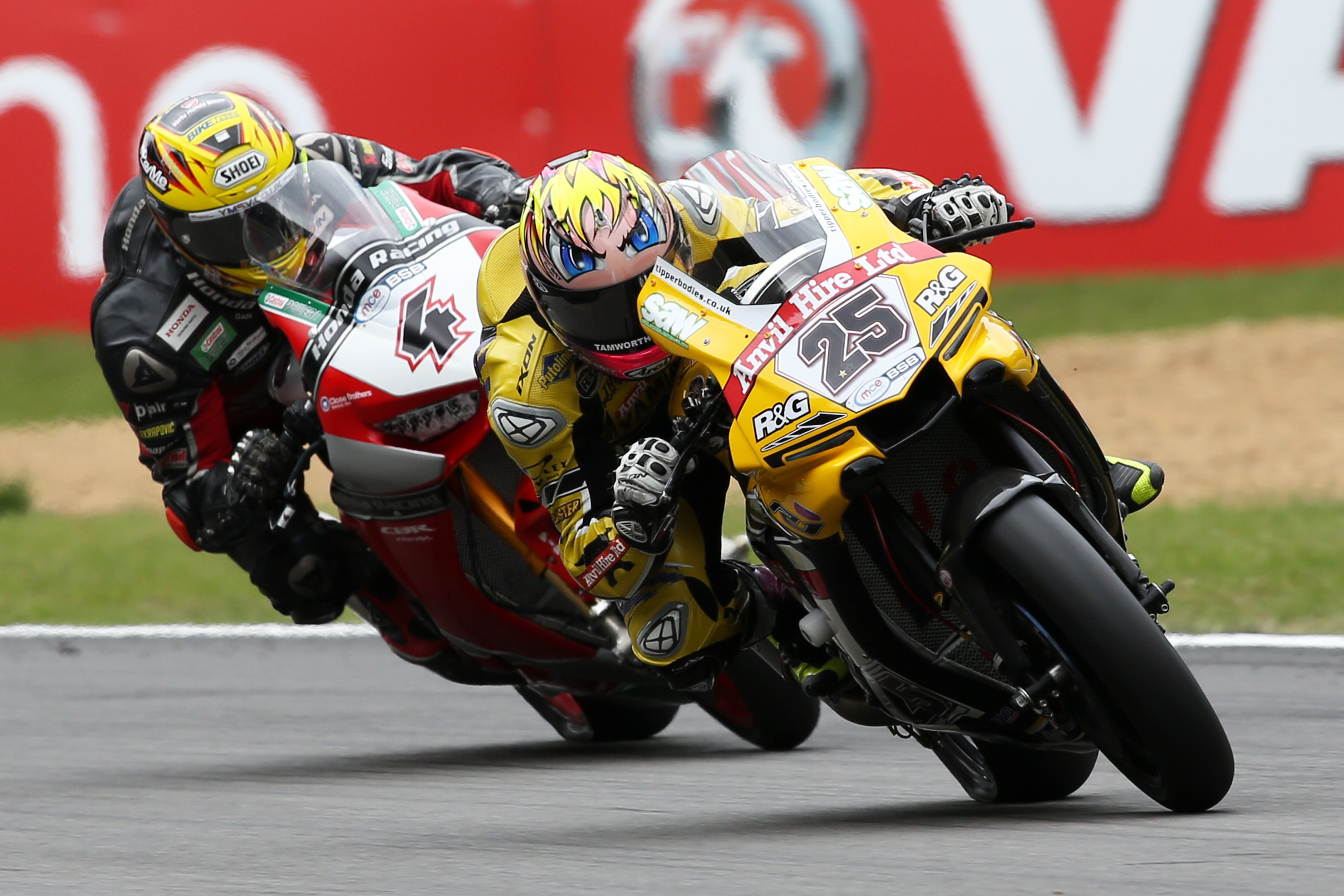 Is a big, proven and factory supported team really necessary for success in BSB? Yes, since the start of the season, we've seen the likes of Josh Brookes, Peter Hickman and John Hopkins have good rides, likewise Jake Dixon, who continues to impress – but at Thruxton, we saw the more 'satellite' bikes lock out the front row in qualifying. Then, when racing got underway, we saw the first ever all 'satellite' podium in race one. And that wasn't because top riders were absent. Shane Byrne finished fourth whilst Leon Haslam could only manage seventh. Luke Mossey was the only notable absentee. It all poses the question: do you really need to be in a top team to succeed.
This is a very unique situation. MotoGP has seen non-factory winners but not a whole podium. Not for a very long time. World Superbikes had some non-factory talent many years ago but BSB has always allowed the privately run teams who have no association with the factory of their manufacturer to do well. However, in 2017, it is on a pleasingly unprecedented scale.
Stuart Higgs has been pivotal in this. The rules in BSB are what they are so that everyone can be competitive. In fact, I believe other series need to look to BSB and admire Higgs' decision to make the rules what they are. Controlled ECU (Motec), controlled tyre supplier (Pirelli), no traction control, limited testing days and limited time allowed to test in relation to meetings have all contributed in enhancing British Superbikes' status as the toughest and fiercest domestic championship in the world. You also have the 'one-bike rule' which keeps costs down and allows the more 'factory' teams to not have ridiculous advantages over the lesser, family run, privateer teams. At the end of the day, that is what all this is about. Allowing everyone to compete fairly and giving everyone at least half a chance of success.
There are still some differences that are hard to regulate. The rider you get on the bike is one of them. Team personnel another. Money does talk in regards to who you employ and to how much testing you want to undertake and how many spare parts you want to buy. However, the technical regulations – thanks to Stuart Higgs' infinite wisdom – mean that all of the money poured into technicians, engineers and crew chiefs is dialled back on track. After all, there are only so many advantages that can be gained by the amount of spondulix one is willing outlay.
Josh Brookes said to me at the start of the season that it's all about getting the right rider on the right bike at the right time. He's right in saying that himself. Josh knows the Yamaha well but is by no means on the same bike as the McAms riders. The Tag Racing Anvil Yamahas are not connected to the Yamaha factory as much as McAms, if at all. Yet Josh Brookes continues to embarrass them round by round.
Peter Hickman enhances the point. The thousands that were invested by TAS Racing and B<W Motorrad meant sweet F.A. when Giugliano went AWOL post-Brands. But never mind, because Hickman is gathering points, podiums and wins. You never know, that may have something to do with him being third in the championship and Giugliano begging on his knees at Red Bull Honda in WSBK. Once more, a perfect example of talent outclassing money.
Once more, Jake Dixon proved that his RAF Regular and Reserves Kawasaki was just as quick in race trim as the more 'Factory' Bournemouth Kawasaki team, beating Luke Mossey in head-to-heads during both races at Knockhill. However, Kawasaki are becoming more friendly with their findings and more and more teams across all domestic championships and classes are enjoying some Kawasaki advice on bike set-up and integration towards the manufacturer.
All of this success in turn must question the way some series' are run. You wouldn't dream of seeing a privateer WSBK team such as Pedercini or even Bertocchi – back in the day – run up front and challenge the leaders. It just simply wouldn't be allowed by the factory. What British Superbikes is doing is reinventing the manufactural hierarchy. It is screaming out to the world of motorcycling that, 'it doesn't have to be a 'factory' way or the highway'. If you get some great talent, along with great technical support and mentors, then you can be just as competitive as the 'factory' teams. May I remind you of Jake Dixon – he has Glenn Richards, his very successful father Darren and Shane Byrne all giving him support. But is Lee Hardy's RAF Regular and Reserves Kawasaki Team the 'factory' team? Absolutely not. It just proves that without having huge factory connections that you can be quick with the right people. In fact, with BSB's unique Showdown system, you can actually be a championship contender.
Honestly, I think that the wins for Brookes and Hickman will change a lot; they are a turning point in the way that privateer teams are looked at. No longer will you be laughed at if you go to a privateer team. No longer will there be doubts about the quality of machinery in a privateer team, because as Josh Brookes has proven, privateer bikes are winning bikes with the right rider – likewise Peter Hickman.
You may have some series' adopting the same or similar regulations to what Higgs has introduced here in Blighty. Suddenly, the Australian, Japanese and MotoAmerica championships are all as productive and competitive as they were in their best years, over two decades ago. Because you get so much variation in winners with independently run teams and manufacturer parity that the talent is bound to be noticed by the world championships.
At the end of the day, it all boils down to performances on track. What Brookes, Hickman, Dixon and even Hopkins have achieved in 2017 is marvellous. It gives hope to every single team in the paddock that their day will come. Gearlink Kawasaki have already had a top-10 qualifying at Brands Hatch and they are far from the 'factory' team. As well as giving hopes to teams, it gives hopes to younger riders that you don't have to go straight onto a 'factory' bike to be a success. British Superbikes is a series that is better than it ever was and we all love seeing the supposed satellite teams give the factories a run for their money. Money talks but talent shouts in BSB and that is exactly how it should be.
Image courtesy of Gareth Davies of Full Factory Photography