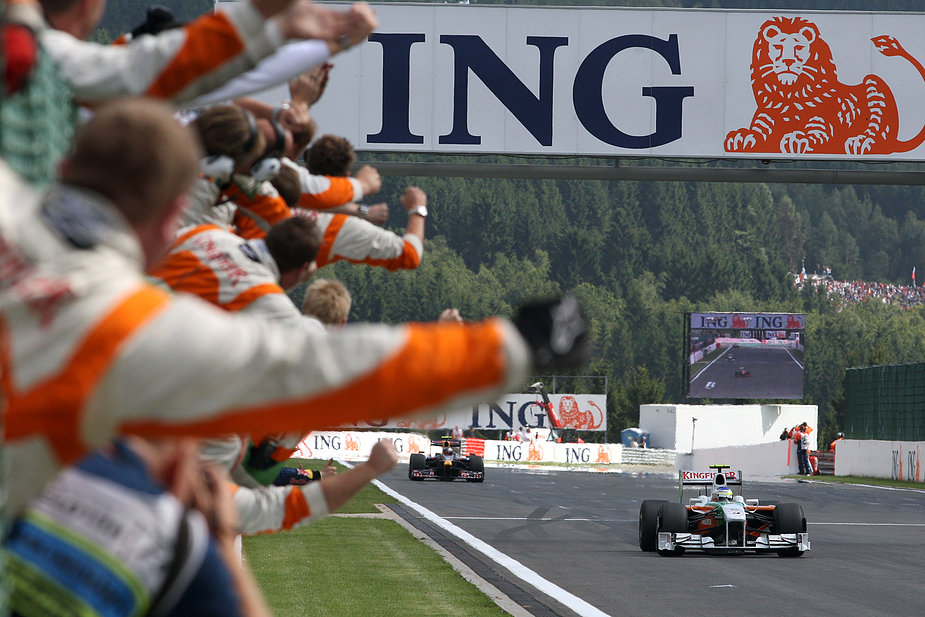 The 2009 Belgian Grand Prix was one of those rare races in Formula One where the form book was ripped up and everything was just a little off-beat. Force India had failed to score a point under the current name, and few expected them to change that when the F1 circus rolled into the Ardennes Forest. Spa though had often been the scene against the odds results. Just ask Eddie Jordan, whose Jordan team ran from the very same factory as Force India's, about 1998.
Championship leader Jenson Button had hit some poor form after sheer dominance from Brawn early in the season and qualified 14th for the race, while his teammate Barrichello was a stronger fourth. The resurgent Red Bulls of Sebastian Vettel and Mark Webber were a disappointing eighth and ninth, as Toyota and BMW found form. Not as much, however, as Giancarlo Fisichella and Force India. The popular Italian had driven to 12th in the previous European Grand Prix, so the strong pace shown throughout qualifying to eventually take pole was remarkable to say the least, although Adrian Sutil only managed 11th.
Fisichella led at the start of the race although the KERS powered Kimi Raikkonen's Ferrari was now behind him, having started from sixth. A Safety Car after a first lap incident involving Romain Grosjean, Jaime Alguersuari, Lewis Hamilton and Button lasted five laps, but Giancarlo was under threat.
On the restart, Raikkonen used his extra boost to glide past Fisichella into the Les Combes chicane, but he far from drove away. Fisichella was able to stick with him, and as they pitted for fuel and tyres on the same lap Raikkonen was just able to stay ahead. Alas, it would be the KERS that Raikkonen used to pass Giancarlo that would ultimately deny the former Renault man the chance to re-pass. Fisichella was clearly the quicker driver and remained under a second behind the Iceman, but Force India were to be denied their first ever win. They did pick up their first ever points, testament to the achievement that second place was for the team.
Fisichella would go on to join Ferrari for the very next Grand Prix to replace Luca Badoer, the Ferrari test driver standing in for the injured Felipe Massa. Force India would replace him with Vitantonio Liuzzi, while Sutil would set the fastest lap and take fourth place at the next Grand Prix in Italy.
The team have never been as close to winning a Grand Prix, although since 2014 have been more regular visitors to the podium in the new turbo era of Formula One.
Jack Prentice