Going into the weekend, many thought that the Singapore Grand Prix would be prime Ferrari territory with its high temperatures and tight, twisting layout. However, as the season so far has proven, many expectations can and probably should be thrown out the window, with Lewis Hamilton claiming victory for Mercedes around the streets of Marina Bay.
The most damage was arguably dealt to Ferrari in qualifying, with Hamilton setting an extremely impressive lap, probably one of the best of his career, to take pole position by three tenths ahead of Max Verstappen. Title rival Sebastian Vettel was six tenths back in third.
"I came here knowing that Singapore is a hard one for us," said Hamilton. "But I'm always optimistic, thinking that if we're really diligent and do our work, we can create some chances. Then Friday was already a good day for us. Saturday didn't start off well, but then all of [a] sudden that special lap came in. Knowing that we would start on pole, I knew that it was a great opportunity for us to capitalise on."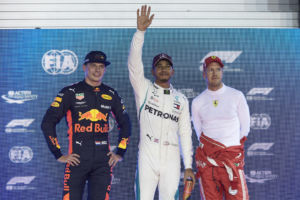 Hamilton made a good getaway at the start and maintained a healthy gap to the cars behind for much of the race. The only real hiccup came at just over half distance when he tried to lap the squabbling duo of Sergey Sirotkin and Romain Grosjean, who failed to see Hamilton and allowed Max Verstappen to close to within a second of the Mercedes.
"When I hit traffic, I was just mindful not to take any risks," said Hamilton. "When you start to get closer to another car, you start losing grip and start sliding around more, so there's a higher chance of mistakes. If you're lucky you catch the cars at the right point and they let you by so you don't lose any time, but today I always caught them at an unfortunate point. So when Max was right behind, I had to go on the defensive, and I thought to myself, 'Bro, you're not getting by – not today!'"
Both he and Verstappen eventually cleared Sirotkin and Grosjean – with the Haas being given a penalty for ignoring blue flags – and Hamilton immediately opened up the gap again to just over three seconds.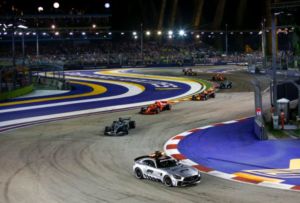 He went on to claim victory – his 69th in F1 – by almost nine seconds, bringing to a close one of the most challenging races of the year.
"It was physically such a demanding race," Hamilton added, "so I'm relieved that it's over now – it felt like such a long night, but I'm super grateful for the result."
As a result, Hamilton now leads Sebastian Vettel – who finished third after a strategic blunder from Ferrari lost the German a potential second-place finish – by 40 points in the championship.
Yes, the next Grand Prix – at the Sochi Autodrom in Russia – has always been a happy hunting ground for Mercedes, but if Singapore and the rest of this year have shown us anything, it's that you really can't rely on past showings to predict how things will unfold in the remainder of 2018.