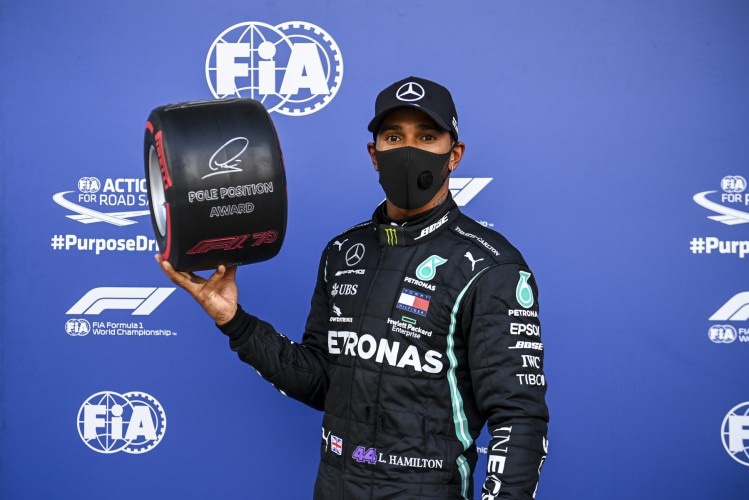 image courtesy of Pirelli Motorsports
Lewis Hamilton took his 5th straight pole of the season at Sochi on saturday afternoon to put himself in an excellent position in his bid to equal Schumacher's record tomorrow (91 wins). The pole position looked set to evade him today after the fiasco in Q2 almost saw him miss out on Q3.
Hamilton failed to register a time in Q2 as he crossed track limits during the first run of Q2 and this meant that the 6 time world champion had only one run under his belt to put a time on the charts. However, a Sebastian Vettel crash during the second run of Q2 brought out a red flag with exactly 2 minutes and 15 seconds to go and Hamilton barely made it to the finish line before the flag fell, setting a lap time good enough to go into Q3.
It is not Valtteri Bottas, but Max Verstappen on the front row this time as the Dutchman put in an amazing lap in the second run of Q3 to go 2nd. Bottas who started the weekend well could not make it onto the front row after hitting the sausage kerb in turn 2 and losing momentum going into the rest of the lap.
Sergio Perez put in a great effort despite not having upgrades on his Racing Point and qualified on the second row alongside Bottas while his teammate Stroll could not make it out of Q2 after getting his lap time deleted in the first run and suffering a temperature issue towards the end of Q2.
Ricciardo's fine form during the weekend continued after his efforts in qualifying will see him start at 5th on the 3rd row next to Carlos Sainz in the McLaren. The 4th row will be a repeat of the colours in the 3rd row but with Ocon in Renault at 7th and Norris in the McLaren at 8th.  Gasly in the Alpha Tauri is set to line up at 9th next to Albon in the RedVull who will be hoping for a much better race than the qualifying today.
Both the Ferraris crashed out of Q2, one literally of Sebastian Vettel at turn 4 after hitting the kerb and one of Charles Leclerc narrowly missing out and all set to start at P11 as the advantage from the minor upgrades they have got this weekend also seems to be minor. Danil Kvyat is set to line up next to Leclerc at 12th and will look to score some good points in his home race, especially after his car seems to be showing a decent race pace.
George Russell in the Williams made it into Q2 for the sixth time this season  and will line up at 14th after yet another good effort in Q3 but his teammate Latifi will have to be content with 19th. It is going to be a Ferrari powered bottom 6 except Latifi after both the Haas cars and the Alfa Romeos are all in the bottom 5.
Kimi Raikkonen went spinning in the second run of Q1 which will mean that he is set to start 20th on the grid and his teammate Giovinazzi will start 17th. Grosjean and Magnussen in their respective Haas cars are set to start 16th and 18th with Grosjean surprisingly offering some positive feedback at the end of Q1.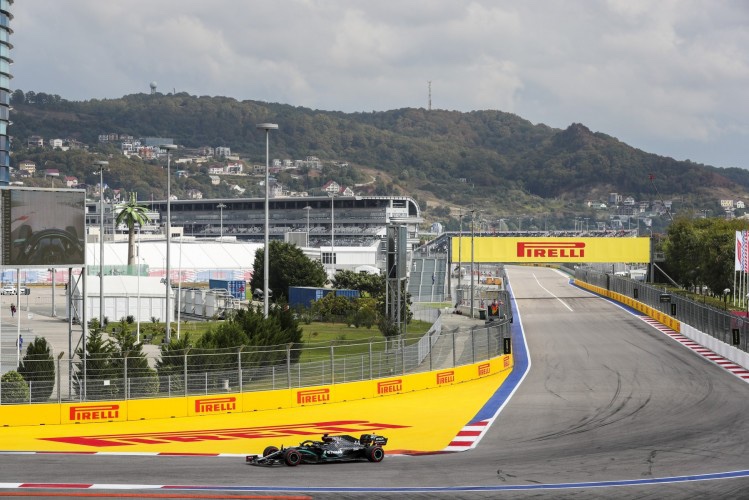 image courtesy of Pirelli Motorsports
With Hamilton set to start on the soft tyres thanks to the Q2 drama and with Max Verstappen just next to him, it might not be a straightforward drive to win number 91 for the English driver. It is also worth remembering that Bottas' last victory at Sochi came from 3rd on the grid, which is where he will line up tomorrow, with a tyre advantage. It is all set to play for, in the Russian Grand Prix.