The WRC season continues with Rally Mexico, a very tricky round. Road position will be key for the hopes of those further down the championship order and this could mean that drivers like Kris Meeke, Jari-Matti Latvala and Elfyn Evans could all feature in the top spots at the end of the first day. Last year in particular, Elfyn was going well having been second fastest in stage three before the roll that gave then co-driver Dan concussion, meaning that they'd have to retire on safety grounds.
Kris of course drove well, securing at the time his last podium for Citroen Racing. Jari-Matti was the best placed of all the Toyota drivers, getting eighth place. Of course, they had challenged near the front before problems with the cars had dropped them back.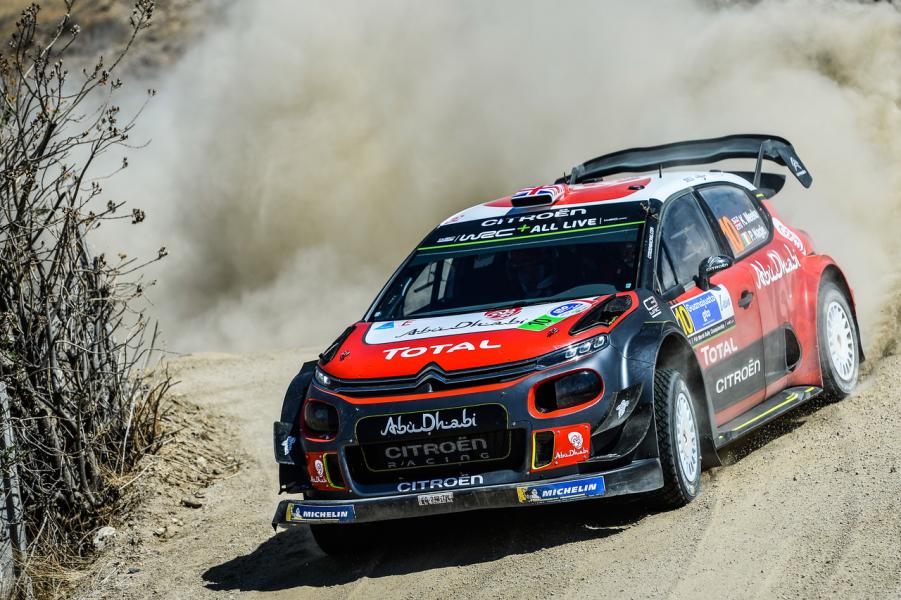 Last years winner, Seb Ogier sits third in the championship and is also in a strong position to win for Citroen, although hopefully not like Kris Meeke in 2017, driving through a carpark on the last stage!
Now, here are the key points about Rally Mexico. There are 30km's less this year, compared to last year's event. Friday sees 114km's of competitive stages, with Saturday 138km's and Sunday around 60km's.
21 timed stages covering a total of 313.87 km.
10% the percentage loss of power for every 1,000 metres above sea level.
2,756 metres – the peak altitude of the rally, located on the Ortega stage.
The stages are run six hours behind GMT.
THURSDAY 7 MARCH
10.00am: Shakedown (Llano Grande)
6.00pm: Start day 1 (Leon)
8.08pm: SS 1 – Street Stage GTO (1,14 km)
9.38pm: End of day 1 (Leon)
FRIDAY 8 MARCH
9.00am: Start day 2 and service A (Leon – 15 mins)
10.18am: SS 2 – El Chocolate 1 (31,57 km)
11.16am: SS 3 – Ortega 1 (17,28 km)
12.59pm: SS 4 – Street Stage Leon 1 (1,11 km)
1.34pm: Service B (Leon – 40 mins)
3.17pm: SS 5 – El Chocolate 2 (31,57 km)
4.15pm: SS 6 – Ortega 2 (17,28 km)
5.18pm: SS 7 – Las Minas (10,72 km)
6.58pm: SS 8 – V-Power Shell Stage 1 (2,33 km)
7.03pm: SS 9 – V-Power Shell Stage 2 (2,33 km)
8.03pm: Flexi service C (Leon – 45 mins)
SATURDAY 9 MARCH
7.15am: Start day 3 and service D (Leon – 15 mins)
8.23am: SS 10 – Guanajuatito 1 (25,90 km)
10.11am: SS 11 – Otates 1 (32,27 km)
11.08am: SS 12 –  El Brinco 1 (8,13 km)
12.53pm: Service E (Leon – 40 mins)
2.31pm: SS 13 – Guanajuatito 2 (25,90 km)
4.29pm: SS 14 – Otates 2 (32,27 km)
5.38pm: SS 15 – El Brinco 2 (8,13 km)
7.03pm: SS 16 – V-Power Shell Stage 3 (2,33 km)
7.08pm: SS 17 – V-Power Shell Stage 4 (2,33 km)
7.51pm: SS 18 – Street Stage Leon 2 (1,11 km)
8.21pm: Flexi service F (Leon – 45 mins)
SUNDAY 10 MARCH
8.00am: Start day 4 and service G (Leon – 15 mins)
9.03am: SS 19 – Alfaro (24,38 km)
10.11am: SS 20 – Mesa Cuata (25,07 km)
12.18pm: SS 21 – Las Minas Power Stage (10,72 km)
1.53pm: Service H (Leon – 10 mins)
3.00pm: Podium
Let's hear from the drivers.
Citroën Total WRT
Sébastien Ogier
"We had two good days of pre-event testing, on roads that were fairly representative of the kind of stages we'll have to tackle this weekend. We were lucky with the weather during the tests, which was very warm, although obviously not quite as hot as in Mexico. After a tough Rally Sweden, where we weren't able to express ourselves, I can't wait to get started and realise our full potential. The stages are beautiful here but you do need to be careful on the afternoon loop, when it's warmer. The second passes are always hard on the cars, especially as the high altitude means not only reduced horsepower but can also cause issues with cooling."
Esapekka Lappi
"The tests held in Spain enabled me to feel even more comfortable in my C3 WRC, building on what we achieved at Rally Sweden. I feel increasingly at one with the car. Having said that, I know that my experience of Rally Mexico is very limited. I only have one competitive appearance here, at last year's rally, in addition to completing recce in 2017. In light of that, a top-five finish would be a good result for me. Our starting order will give us an advantage over the first few crews so it'll be up to us to make the most of it. You really need to be clean and efficient in your driving on these roads, given that we lose about a hundred or so horsepower due to the high altitude."
Toyota Gazoo Racing WRT
Ott Tänak
"It was a great feeling for us to win in Sweden, but we quickly changed our focus to Mexico. We flew straight to Spain for two days of gravel testing on the Monday and Tuesday after the rally. We worked on a number of different things, just trying to be as well-prepared as we can be. The whole team has been working hard and I believe we should be competitive in Mexico. As championship leaders, we will have to run first on the road on the Friday. It won't be easy but we saw in Mexico last year that it is possible to have a good result from this position, so let's see how it goes."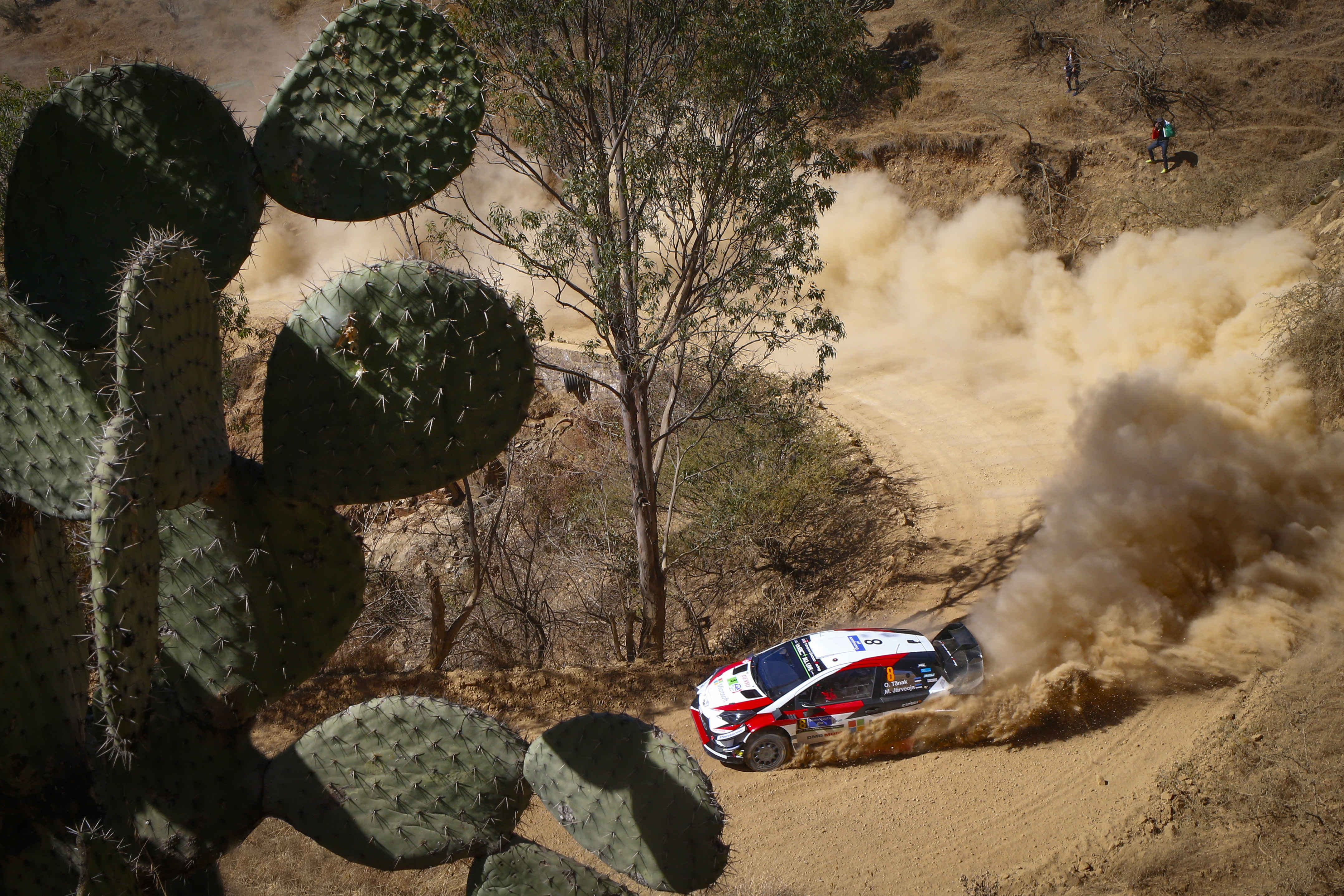 Jari-Matti Latvala
"I am looking forward to being in Mexico: particularly the warm sun at the end of the Finnish winter! So far, it hasn't really been the start to the season for me that I would have wanted. If there is one positive from this, however, it is that I will have quite a nice starting position for the first day in Mexico, as the eighth car on the road. I had a good test in Spain last week, using pretty much the same setup that I used to win in Australia, with just a few small tweaks. Most importantly, I am confident that as a team we are totally prepared this year for the altitude and the high temperatures."
Kris Meeke
"I had two days of testing in the south of Spain last week, which was my first time driving the car on gravel outside of Finland. It was really useful for me and I came away feeling comfortable. Mexico is a place I've gone well in the last few years: I won in 2017, and last year I was in the fight for the victory and finished third. Now with a different car I hope to be competing at the sharp end once again. Monte Carlo and Sweden were events with very complicated conditions where it would have been easy to make a mistake. Mexico is usually a lot more consistent, and I'm looking forward to it."
Hyundai Motorsport
Thierry Neuville
"We have got the 2019 season off to a solid start with two satisfying podium results. It's early days in the championship but we have shown our pace and potential, as well as identifying areas of improvement. Mexico, as always, will be a different challenge. It's the first rally of the year with hot temperatures, a real contrast to Monte-Carlo and Sweden, as well as being high up in the mountains. The reduction of oxygen at altitude will mean less horsepower for the engine, while the heat makes life more demanding in the cockpit for the driver and co-driver. It's a rally where we've fought for podiums in the past, so we know what we have to do to be successful."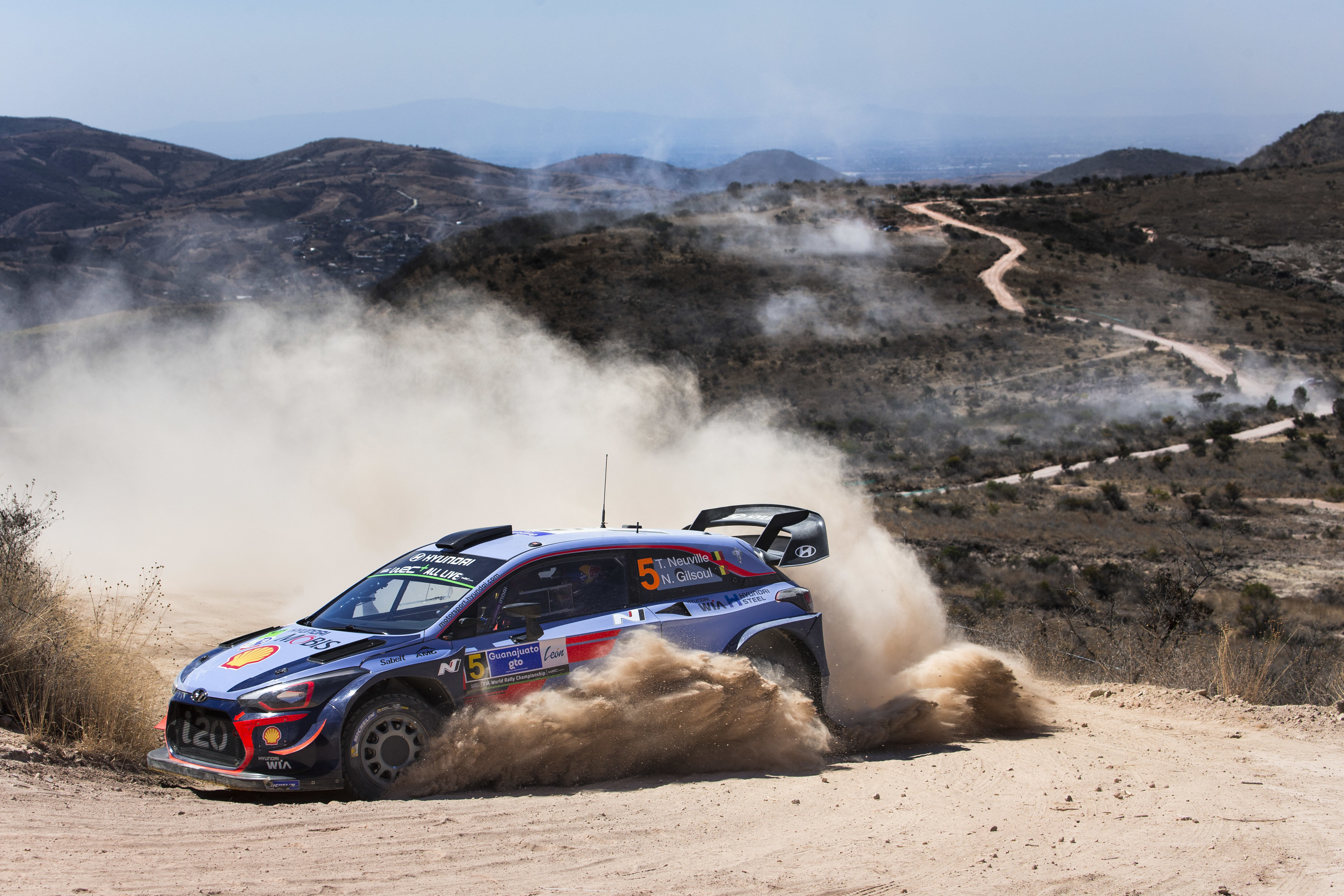 Andreas Mikkelsen
"The difference in conditions from Sweden to Mexico could not be greater! It is one of the warmest rallies of the season, at high altitude and with some long, hard gravel stages. The combination of heat and height makes it a gruelling rally for crews and cars. The altitude reduces the engine power output, which means we are constantly looking for something more from the car. The start of the season has brought some positives for us as a crew, and for the team. We were fighting for second place in Sweden, so we'll be hoping to feature near the front in Mexico too."
Dani Sordo
"I am happy to be starting my first WRC event of the season, having followed the opening rallies very closely. The other crews have already warmed themselves up at Monte-Carlo and Sweden, even in the cold conditions. Now it's time to begin our own season! Carlos and I used Rali Serras de Fafe as a way of preparing ourselves for Mexico, and we had a successful weekend in the Hyundai i20 R5. We will use this experience, as well as Thursday's shakedown, to get quickly up to speed, as we aim to fight for the podium. Mexico is a tough event but one I enjoy and with incredible support from the fans."
M-Sport WRT
Elfyn Evans
"I've always enjoyed Rally Mexico and have had some good results here in the past. I've come close to the podium a couple of times, and the aim will be to challenge for the top results again next week. The whole team showed good speed in Sweden, and we want to continue that in Mexico.
"We'll have a good road position on the first day that we'll need to make the most of. But this rally isn't without its challenges. It's a notoriously demanding event with high temperatures and rough stages. So, we'll need to be fully focused to deliver the best results.
"We'll also encounter the highest altitudes of the year, and the thinner air can see performance fall by as much as 20 percent. We'll need to adapt our driving style to contend with that – being really smooth and not so aggressive behind the wheel – to ensure we're getting 100 percent of the available performance."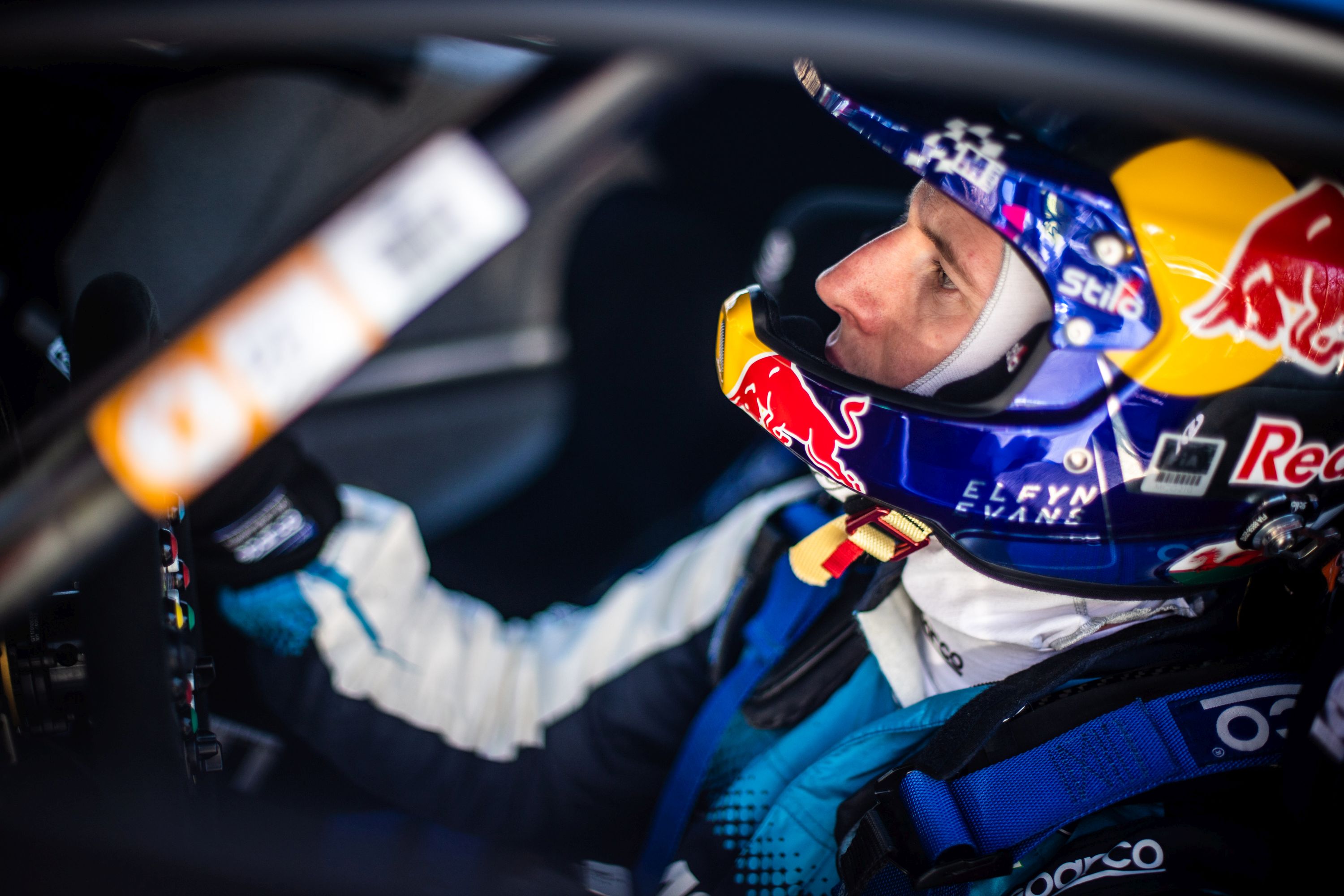 Teemu Suninen
"Rally Mexico and Rally Sweden are two totally different events, but it would be nice to continue our strong performance. We drove a one-day test in Spain last week and, although the temperatures aren't very close to what we'll see in Mexico, it was a good opportunity to get a feel for the car at high altitude on gravel.
"The feeling was really good, but there is always a little uncertainty going to the events as we don't know what our rivals have done. There was that same feeling before Sweden, but our pace was good and we had the speed to challenge for the top results.
"I don't know if we'll be able to challenge with the top guys next week, but we're all working really hard and team have put a lot of effort into the development of the Fiesta. That hard work showed in Sweden, and I hope it will show in Mexico too.
"I'll have a later start position, but that's not always a good thing as there could be a lot of stones dragged onto the line. The key for me will be to drive neatly and have the consistency as well as the speed."
Łukasz Pieniążek (WRC 2 Pro)
"I'm really looking forward to Rally Mexico which will be my first ever event outside Europe. Due to the high temperatures and potentially really demanding conditions, Kamil [Heller, co-driver] and I have been training really hard, and we're ready for the battle.
"We left Poland on Thursday to give ourselves two days to acclimatise ahead of Monday's pre-event test. I didn't find a set-up that was perfectly suited to my driving in Sweden, but we have a few ideas of what we can improve next week. We want to continue the work we started in Sweden – to try a few things and get to know our Fiesta better.
"It's a great pity that we'll be the only WRC 2 Pro crew in Mexico, but that doesn't mean we're not going to fight. Our goal is to be the first R5 crew so we won't be cruising and we'll try to go as fast as possible. On the other hand, there will surely be less pressure. Either way it's still going to be a long and demanding rally, but the longer the stages the better for me."
Summary
Well, we are set for an interesting event, with potentially five or six different winners. We could have a mixed podium with crews from different teams. In fact, this is what happened last year. The weather looks to be very hot and dry over the weekend.
Now you'll also be able to listen and watch live with WRC+, and there'll be highlights on Channel 5 as well. Finally, early next week you will be able to read a full review, stage by stage right here.
Enjoy the event!