Well, what an amazing rally we were treated to! Here's the story of how Seb Ogier won, and took the championship lead back from Thierry.
On Thursday, last year's winner Kris topped shakedown with Thierry in his Hyundai also going very well, just a little behind the Northern Irishman, whilst Seb Loeb was getting his bearings back, going ninth fastest on his return to competitive action.
The first stage, run that evening, was won by Thierry.
Friday morning dawned bright, if a little cool. It would certainly warm up, for sure and not just the temperature, as the fight for the lead started in earnest! Nine stages faced the crews, including the longest of the rally, El Chocolate 31km test and as always, run twice!
Stage two saw Kris and Paul take the lead, whilst Thierry tumbled down to ninth as he was opening the road, courtesy of being the championship leader. Dani Sordo also had a great run jumping from eighth to second and Loeb went brilliantly to go third in the stage and move into fourth overall.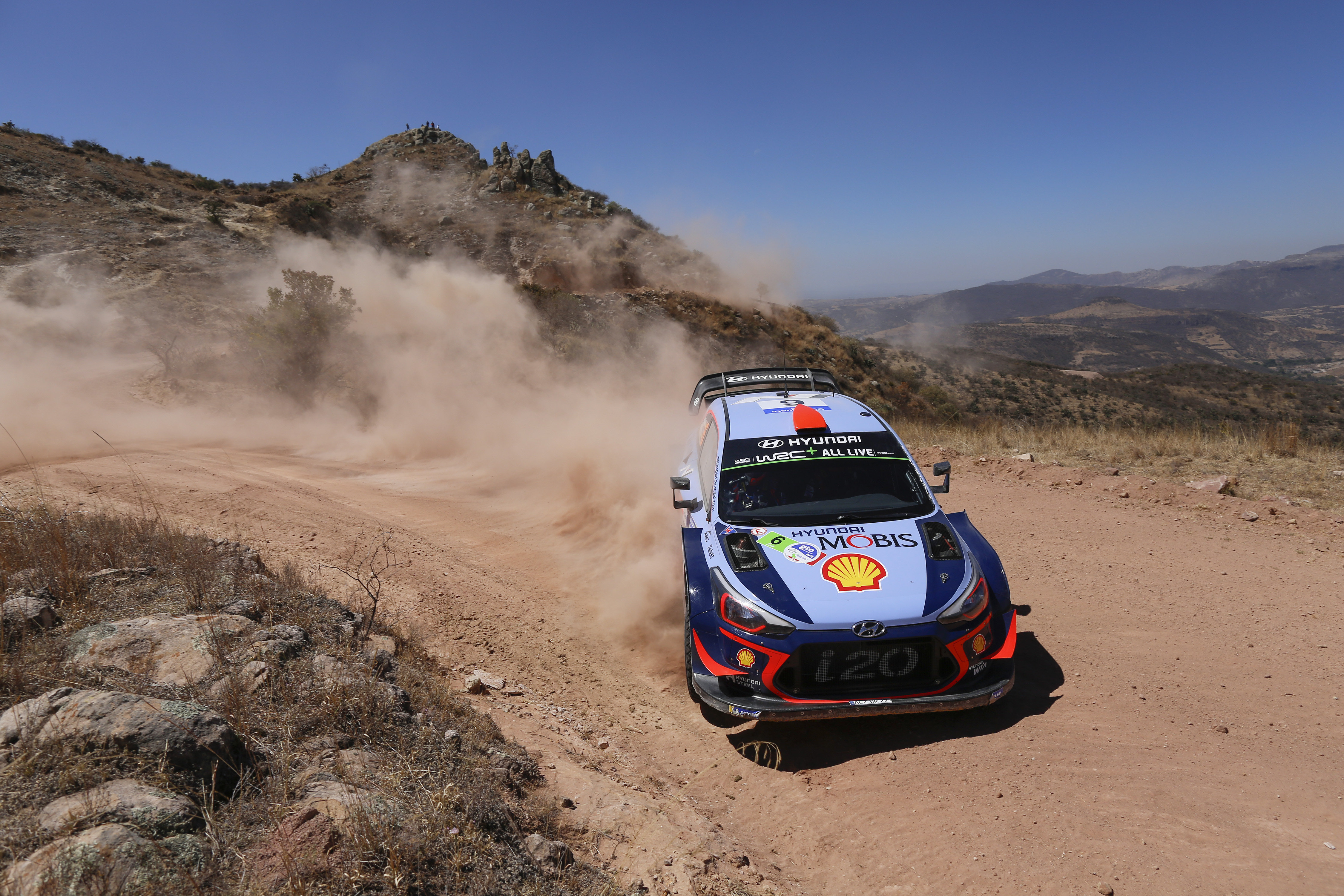 The following stage would see a big change around though! Kris found the balance of his car tricky and after being third fastest behind Elfyn and stage winner Dani, would fall to second overall, nine and a half seconds behind our new leader, Dani!
Stage four would see Elfyn and Dan roll multiple times, after losing control on a jump in sixth gear! The car wasn't actually that damaged, but they were both taken to have medical checks done and Dan was found to have suffered concussion and they would withdraw from the event. A big shame after moving into third overall. Kris also had a big moment on a jump, but was still second overall, whilst Loeb had moved up to third after the demise of Elfyn and Dan.
The short street stage at Leon was won by Teemu in his M-Sport Fiesta, with Andreas and Loeb taking second and third. Thierry suffered from an engine issue in this stage, dropping twenty seconds as a result and dropping two places down to ninth, now more than a minute from his teammate Dani who was still leading.
Stage six started the afternoon loop, after the lunchtime service break and Kris fought back with a time four seconds faster than Dani who continued to lead the event, although it was now reduced to twelve seconds. Ott Tanak was faster than Loeb, and took third overall as a result, whilst Thierry moved back up one place after Hyundai fixed the problem with his car during service.
The second run of El Chocolate, stage seven, and the nine-time champion took it, and with Kris suffering a spin losing six or seven seconds he also moved into second overall! Further down the order, both Teemu and Esapekka went out of the event after sliding out and Andreas passed Ogier for fifth, after being almost three seconds faster.
The following stage saw Loeb and Ott set exactly the same time allowing the Estonian to pass Kris who spun again dropping to fourth and whilst that was happening, Loeb had closed to within eight seconds on the current leader, Dani. Sadly, Jari-Matti, who had been in seventh overall retired with alternator failure after this stage.
Stages nine and ten were run at the Autodromo de Leon, and honours were shared by Tanak and Ogier.
It had been a very interesting day, with Dani leading throughout and the Citroen duo of Meeke and Loeb being the closest challengers. Championship leader, Thierry was a full two minutes off the lead in seventh place whilst Seb Ogier lay just thirty seconds from the lead, fifth overall.
Here's the thoughts of the drivers at the end of the day with the top three first.
Dani Sordo, Hyundai
"I have been happy with our pace and rhythm today, particularly on the morning loop when we could really set some good times, making the most of our road position. To be leading the rally at the end of the opening day is a great feeling but we know it is very close and we will have a fight on our hands tomorrow. I have to say thanks to the whole team for their hard work. They have given us the perfect car. The stage wins on Friday morning were very nice but we knew the repeat loop would be tricky. We thought the soft tyres might be a bit on the limit but it was a risk that did not really pay off; we didn't generate enough lateral grip. We have been quick in Mexico before so we hoped to be in the fight, and we will do all we can to remain in the podium battle."
Sébastien Loeb, Citroen
"Overall, clearly, it has been a very good opening leg! I didn't know what to expect before coming but we are here in second, not far off the lead, so I'm delighted to be on the pace after six years away from Mexico. We're now going to try and maintain the same pace, but I know it won't be easy. Tänak is very close behind, in particular, and we know he's very good in the quick stages!"
Ott Tanak, Toyota 
"All in all, it has been a good day. It is my first time on gravel in this car, so there have been many new things to learn. The temperatures have been very high. This morning we had to manage it as best as we could but the team did an extremely good job during the service and made some good improvements. This afternoon I was pushing really hard. Our road position was not as good as the leaders but still we managed to close on them. It has been a nice start and we can definitely build on that tomorrow."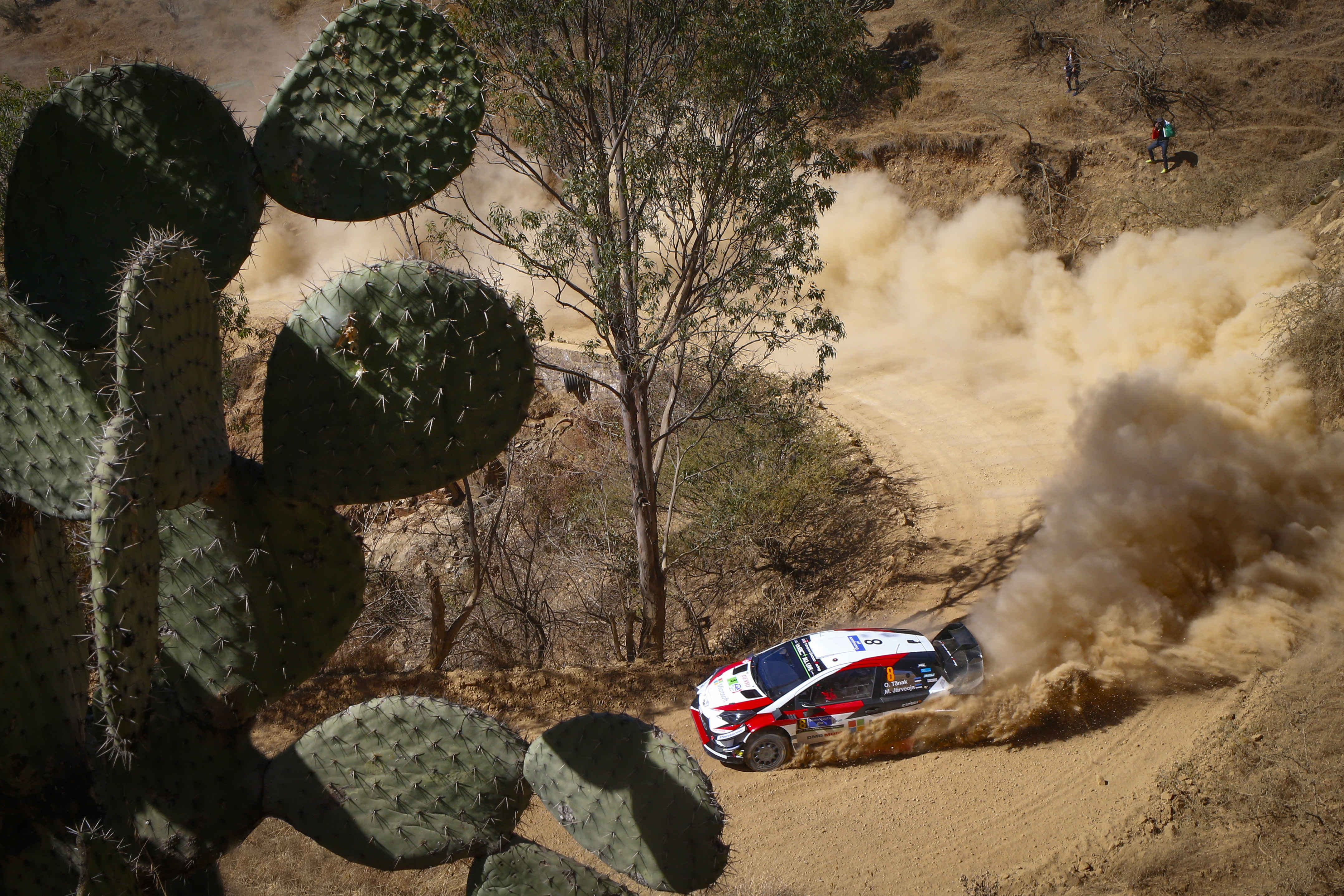 Citroen Abu Dhabi WRT
Kris Meeke
"Without the less-than-perfect tyre choice this morning and my two silly mistakes this afternoon, we could have been right up there at the front, so it's a bit frustrating. But that's life. The main thing is that our speed is good and I really enjoyed driving my C3 WRC. There is still a long way to go. I'm certainly going to keep pushing and let's see how things work out."
M-Sport Ford WRT
Sébastien Ogier
"We tried to push as hard as possible today. We had a small spin which cost us maybe six or seven seconds but, being second on the road, I think we can still be happy with our day. We made the best of it and were beating everyone around us. But for sure the guys starting further back were faster – as we expected.
"Tomorrow won't be much better as we'll still start very early on the road. It's going to be difficult to catch the guys in front but you never know and we'll try our best."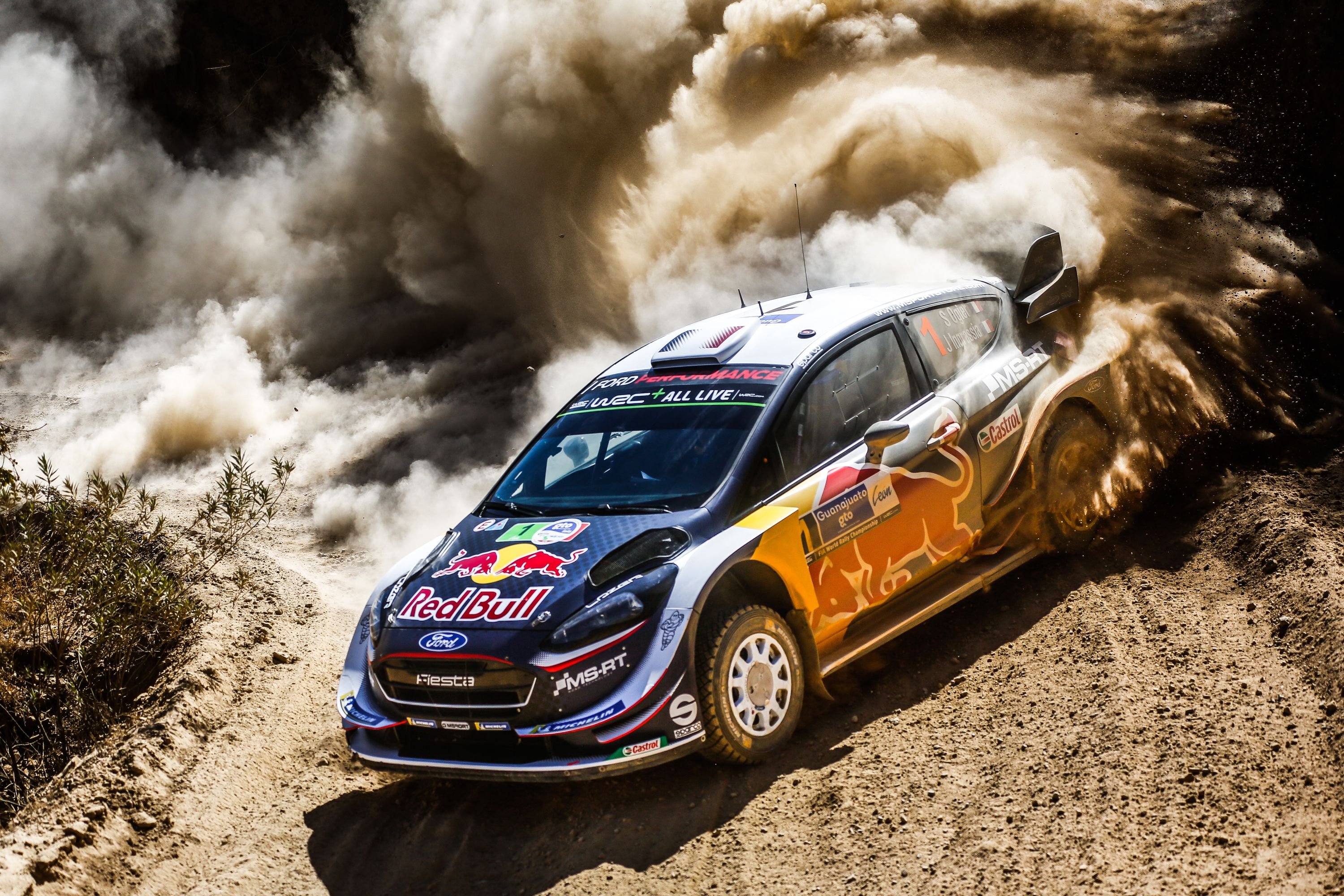 Teemu Suninen
"I was struggling a bit with the rhythm this morning and wasn't as fast as I wanted to be. I had a good road position and was hoping to be closer to the guys around me. But I was comparing myself to Loeb, and I need to remember that he is a nine-time World Champion!
"In the first stage of the second loop we were pushing a bit more. There was one easy right that narrowed towards the end and we ran a bit wide. We touched the fence and damaged some of the suspension parts.
"After that the car was really difficult to drive – which is normal if you break it! It was difficult to set the car for the corners and I was braking all the time and overheating the brakes. I ran wide and hit the barrier which forced us to retire for the day.
"But it was really good to win the super special stage as this is an area I have been working to improve. There are a lot of these stages on this rally and if you lose a couple of seconds on every one then it can be a lot of time at the end of the rally. We worked hard to improve on these kind of stages, so it was good to see that hard work paying off."
Elfyn Evans
"We hit a series of bumps that were a lot worse than expected. We lost the rear – still in sixth gear – and didn't have the power to pull out of the slide. We clipped the bank on the inside and rolled I don't know how many times.
"I jumped out of the car immediately because I didn't think there would be any way to continue. But when the dust settled we could see that the damage wasn't too bad at all. We got our helmets back on and managed to finish the stage – which is incredible after a roll like that.
"We checked in with the medical team when we returned to service and Dan was advised to go for some further precautionary checks. We're both okay, which is the main thing, and now we just need to focus on starting our season afresh in Corsica.
Hyundai Motorsport
Andreas Mikkelsen
"We have tried to push as hard as we could today in the circumstances. I've been happy enough overall, but we know there is room for improvement. In the morning loop, our focus was on getting to grips with the car, and how to control it on the dusty mountain stages. In the afternoon, we opted for harder compound tyres, which felt very slippery at times. It was difficult to know where to push, and how hard, because you lose the line so easily. There were a few mistakes here and there but generally it's been a solid first day. We're involved in a close battle for the top-five, which gives us something to build on."
Thierry Neuville
"Not the most positive day for us. Our motivation level was quite high even if we knew it would be difficult as first on the road. We did our best not to lose too much time on the morning loop. Before the start of the short SS5 we were in seventh overall. Unfortunately, we had an unforeseen over-consumption of fuel, which caused a loss of fuel pressure in the stage. We lost around 20 seconds and two positions. It was really disappointing. The afternoon didn't really improve and we struggled again in SS8 (Ortega 2) with some power steering trouble losing another 40 seconds of time. Tomorrow will be another hard day but we'll keep pushing to get the best that we can out of the weekend."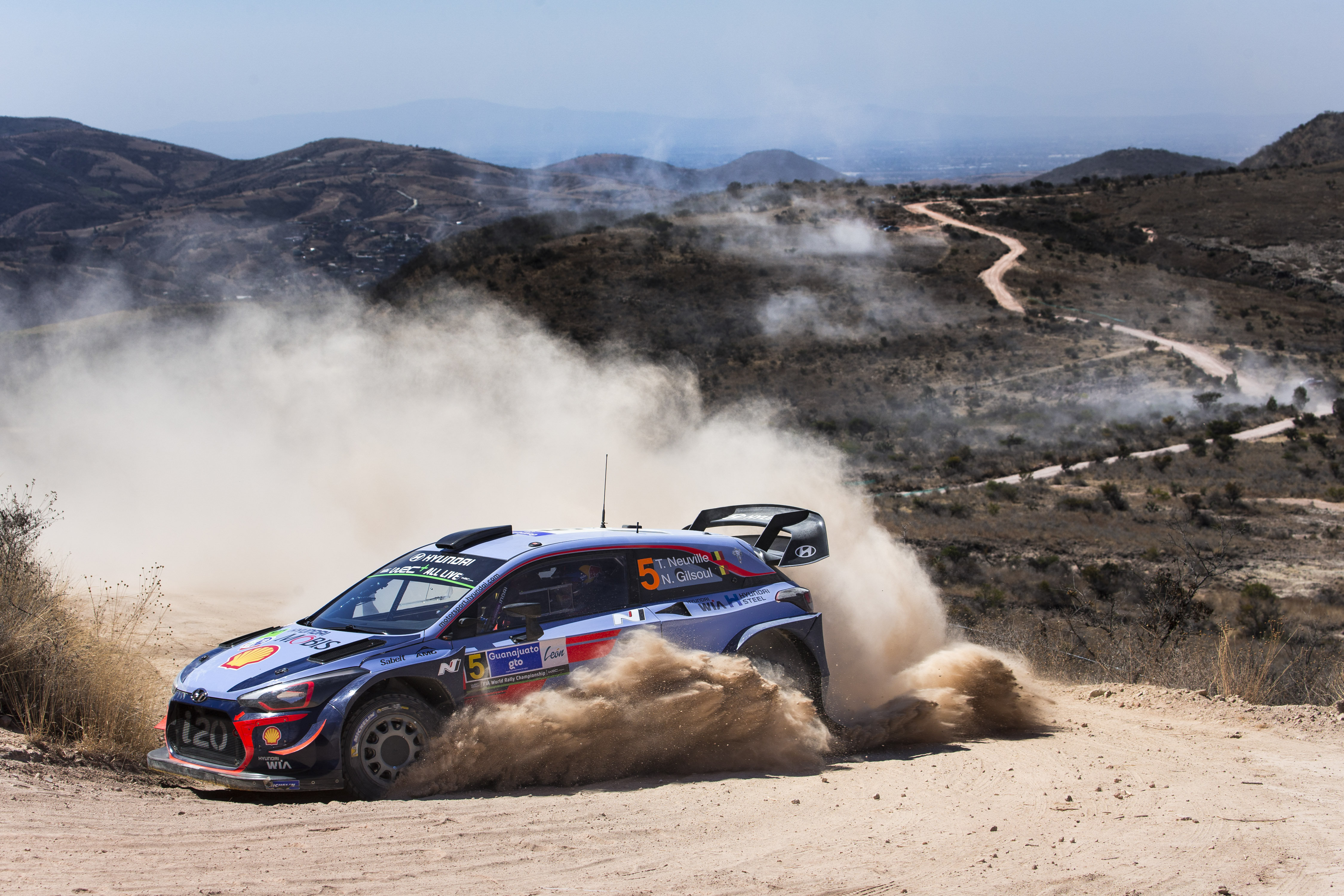 Toyota Gazoo WRT
Jari-Matti Latvala
"The car felt very good at the start of the first stage this morning but then we began to suffer from high engine temperatures. We were able to control it, but it affected our performance, and I was concentrating too much on the temperatures and not on the driving. The team worked on it during service and in the afternoon, it was getting better, so it was a shame that we had the problem with the alternator and had to retire. When we restart tomorrow, there is a good chance for some points so we just need to keep fighting."
Esapekka Lappi
"It has been a really difficult day for me. This morning was quite disappointing and then I made a fairly stupid mistake this afternoon. On a 90-degree left-hander, I missed the line on entry and just slid wide and off the road. The car was not very badly damaged but we couldn't get it back on the road. There were not so many positives for me from today but hopefully we can make something happen tomorrow."
Saturday saw around 130km of stages. Loeb would draw first blood, winning stage 11 and with overnight leader Dani only fourth fastest and twelve seconds slower, Loeb moved into the lead, five seconds clear of the Spaniard in his Hyundai. Also, on the move was Kris, Ogier and Andreas who all passed Ott Tanak. He'd suffered turbo failure with seven km's left of the stage, leaving him bereft of engine power. He retired after the stage.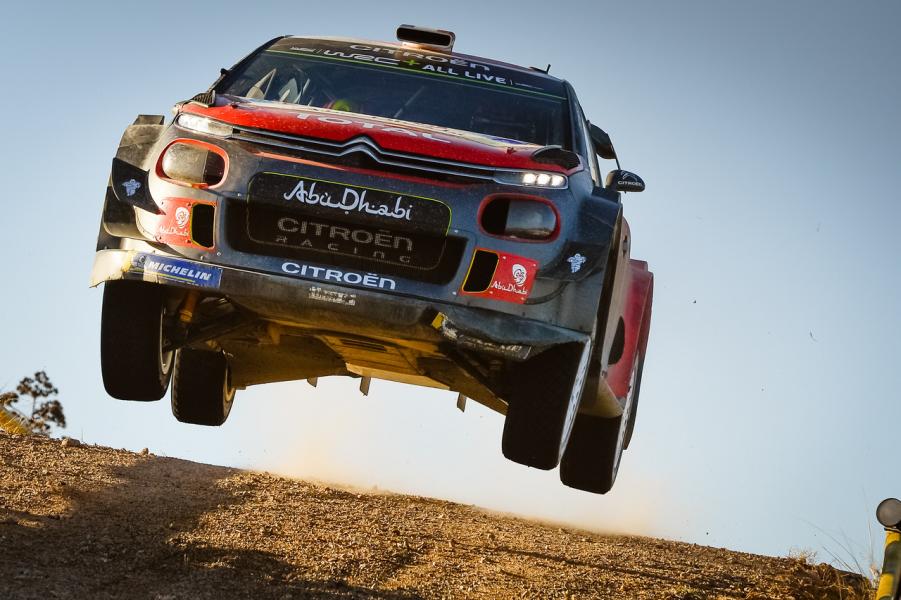 The following stage saw Loeb and Sordo set pretty much the same pace for fourth and fifth fastest, whilst Kris won the stage closing the gap to the top two by some ten seconds! Also going well was Ogier who had benefitted from Ott retiring plus also he'd brought the gap down to the leaders a full ten seconds, to under twenty.
The final stage of the morning saw Dani close the gap to the leader, whilst stage winner Ogier drew himself level on time with Kris, after the Northern Irishman suffered a scrappy stage with a stall and also running wide near the end of the stage.
After service, stage 14 saw our leader suffer a puncture after his tyre caught a stone on the line which saw him plummet to fifth position. Dani also lost time dropping thirty seconds and falling behind our new top two of Ogier and Meeke who were separated by just 3.8 seconds.
The next stage saw Kris spin and lose thirty seconds, giving Ogier a big lead of the same amount! Loeb was Ogier's closest challenger, just six seconds down on his fellow country-man.
The second run of El Brinco saw Kris much closer to Ogier's pace, just 2.6 slower through the 10km stage, whilst Dani was a similar amount further back, consolidating his third place overall.
The last two stages of the day were won by Meeke and Sordo, whilst Ogier's lead stood at a remarkable 35 seconds! We'd had a super Seb Saturday, turning a thirty-second-time deficit, into a thirty-five second lead! Just astonishing! Dani Sordo had also driven a very clever day, minimising mistakes, and was well placed to take a deserved third place with a 45 second lead over Andreas, his teammate.
Let's hear then from the top three once more.
Sébastien Ogier
"I am very happy to be in the lead at the end of the day. Our starting position was a bit better this morning and, in the afternoon, there was no cleaning left to do which is where we were able to make the biggest difference. We wanted to push – and I was pretty much on the limit most of the time – but we had a good feeling in the car.
"We didn't always have a perfect run, but I was really happy with the morning loop where I made very few mistakes – especially in the second and third stages [SS12 and SS13] which were almost perfect.
"It was a bit tougher in the afternoon – still very slippery and very hot inside the car and for the engine and the brakes as well. It wasn't an easy loop, but everything worked well and we can be really happy with the job we have done so far."
Kris Meeke
"It was a good day for us in terms of rhythm, especially this morning when we were really comfortable. I then benefited from Seb's puncture, but that's part and parcel of rallying, and this stage was particularly tricky, with a lot of loose stones on the road. We now have to finish off the job tomorrow by making sure of second place, but it won't be an easy task. The power stage might also be interesting, with temperatures that will have risen by lunchtime, whereas we'll have to decide on tyre choice when it's much cooler, early in the morning."
Dani Sordo
"A podium in Mexico this weekend would be a great result and I am determined to keep this important position for me and the team. Things haven't gone according to plan today. I struggled with confidence on the opening stage and lost some time compared to my nearest rivals. The feeling was better for the rest of the morning loop, but it was in the first stage of the afternoon when we lost most time. I hit a small stone at the start of SS14, so had to drive the 31km stage with a front-left puncture. With no spare tyres to rely on, I took the rest of the loop quite steady, not pushing hard. We didn't want to risk anything. Meeke is not so far in front, so we have to make sure we remain focused and see what happens on Sunday morning."
Citroen Abu Dhabi WRT
Sébastien Loeb
"This morning, it was really nice to be able to confirm yesterday's performance and hold the overall lead six years after my last Rally Mexico. To be honest, I hadn't expected to be in this position before the start but it's reassuring to know that I haven't lost my driving skills! It was all set to be a good battle at the front until we got the puncture. There were two successive corners with stones on the inside of the bend. We went over them a little and one of them proved fatal. The mistake we made was to change the wheel. I wasn't very familiar with how these tyres last and our instinct was the wrong one, probably from cross-country rallying, in fact! We would have lost a lot less time had we not stopped to change the tyre, but that's just the way it goes. We'll now try and make it to the finish and enjoy driving the car as much as possible."
Hyundai Motorsport
Andreas Mikkelsen
"The morning was tough and our stage times were not so impressive. We were really struggling when the grip levels were low. Things were better in the afternoon and we were more competitive. On the plus side, we are up to fourth, which is not so bad. There is a big gap to Dani in third and to Loeb in fifth, so we have to really concentrate on our own rally. It's very easy to make a mistake here, so I want to keep a steady pace and rhythm. It's impossible to do anything about our position based on pure driving but let's see what happens tomorrow."
Thierry Neuville
"It has been another difficult day, but we're still there and fighting. We have managed to gain one position today, and there are lots of things happening at the front of the pack. The morning didn't get off to the best of starts after we got stuck in the water splash, losing over a minute of time. We also had two punctures during the day which made things very complicated. We learned a lot as first on the road, so we have to take some positives away despite the obvious frustrations. We have to look forward to Sunday and aim for some points to minimise the damage from this tough weekend."
M-Sport Ford WRT
Teemu Suninen
"It's been a bit difficult today. In the morning I was struggling to find the right rhythm and driving style. But in the end, it was getting better and the last few stages were okay. There is still some work to do, but the good thing is that I know where I can improve and be more precise with the driving."
Toyota Gazoo WRT
Jari-Matti Latvala
"I don't think it's ever been as hot in Mexico as it was this afternoon. For sure, it was asking a lot from the cars and the tyres. But overall it was a consistent day with no problems. Step by step we were improving. I hope the final day will be good for us because it has faster, more flowing stages which suits me and the car. These are my favourite stages in the rally. We will try to get eighth as the points could be very valuable for the championship, and of course there is a chance in the Power Stage too, so we have to keep attacking."
Ott Tanak
"Everything was looking quite good this morning. I could feel more grip than yesterday, and that was suiting our car really well. I missed a junction early on and we lost close to 10 seconds there, but we were still trying to do a good stage. Then seven kilometres before the end the turbo failed and we had to retire from the day. Unfortunately, this is part of rallying, but I can be happy that our pace was competitive on our first gravel event with the team. We will try to do our best tomorrow: it would be nice to get some points from the Power Stage if possible"
Esapekka Lappi
"In general, it has been quite OK today and much better than yesterday. The mechanics did a good job to fix the car last night, so a big thank you to them. I was able to enjoy the driving this morning and the times were better. We were delayed after service because my seatbelt was stuck underneath a box that the TV crews had moved, so I had to wait half an hour for them to come and fix it. Once we got going we had some good splits before we got a puncture, and then on the next one I thought I had another puncture, but the time was actually quite decent. The Power Stage tomorrow gives us a chance to get some points."
Sunday dawned dry and hot. Seb had a very good lead over Kris, but the gap to Dani was just eleven seconds. First stage was won by Jari-Matti, but it was not so good for Kris. The car slid wide, with the result that the wheels popped into a gulley and putting the car on its' side. He lost 47 seconds, and with it any hope of second place and now Dani was in second place!
Stage 21 was won by Ott, returning to the fray with a new turbo under rally 2 rules, and with this stage doubling up as the power stage later it was one way to find out what would work later. Latvala and Neuville completed the top three.
Ott certainly knew the way with this stage, as he won it and the five points, with Seb second and Latvala third. There would be drama later though, with the French ace being given a ten second penalty for not correctly negotiating the chicane in that stage. This would drop him out of the top five, down to eighth place in the stage. Those to benefit were, Latvala, Neuville, Mikkelsen and Loeb.
However, Seb Ogier had given the field something to think about, after his amazing drive on Saturday, which had given him, Julien and the M-Sport team a consummate victory, tempered slightly with Elfyn and Dan not making the finish.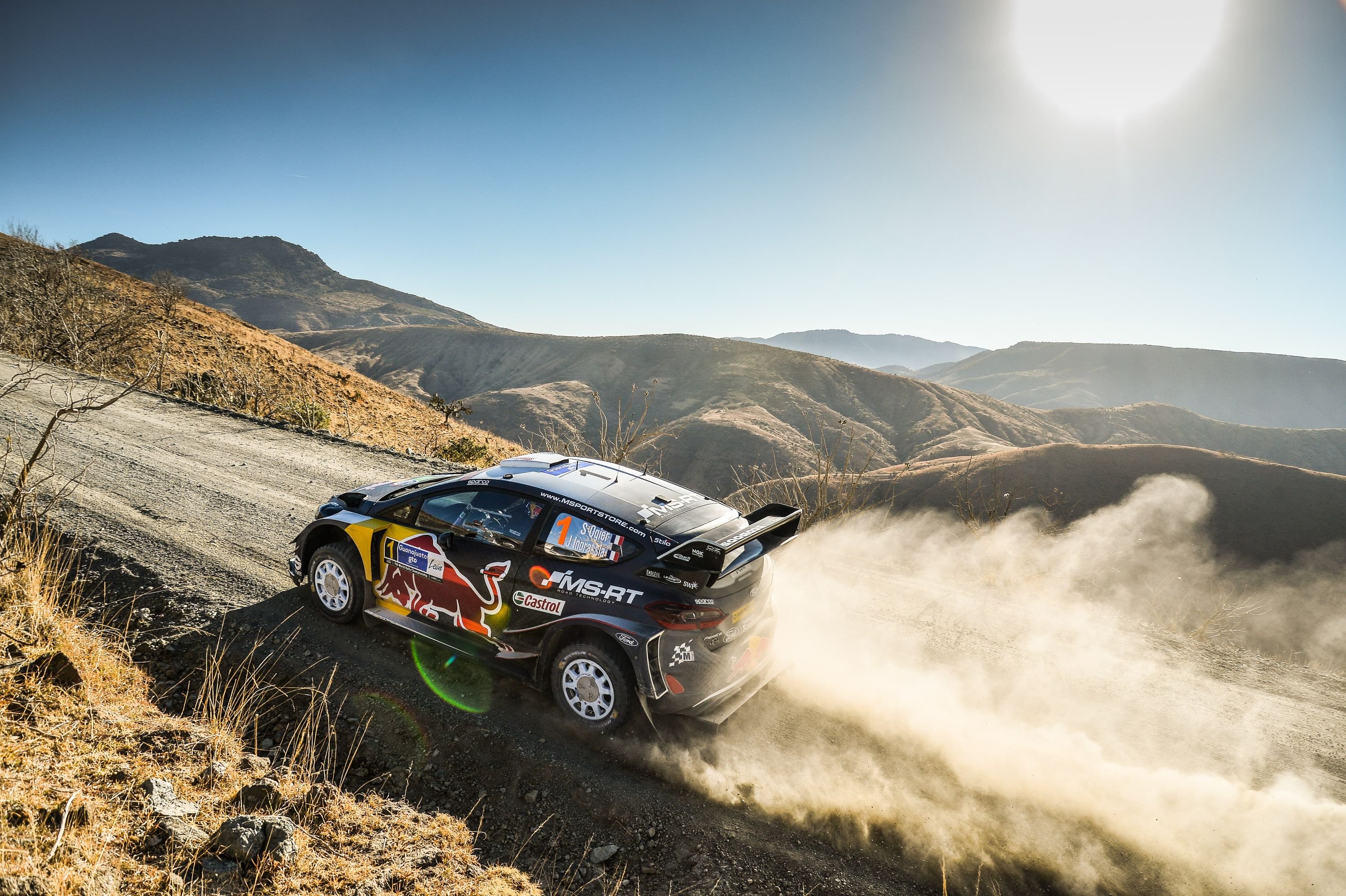 Dani Sordo had driven very well all weekend, keeping errors to a minimum, and ultimately benefiting from Kris' mistakes. A well deserved second place. Last year's winner, certainly had the pace to win, but for those errors that came along. He'll hope for better things in Corsica, for sure.
Final Classification
Sébastien Ogier / Julien Ingrassia (Ford Fiesta WRC) 3:54:58.0
Dani Sordo / Carlos del Barrio (Hyundai i20 Coupe WRC) +1:03.6
Kris Meeke / Paul Nagle (Citroen DS3 WRC) +1:19.2
Andreas Mikkelsen / Anders Jaeger (Hyundai i20 Coupe WRC) +1:38.4
Sébastien Loeb / Daniel Elena (Citroen C3 WRC) +2:24.6
Thierry Neuville / Nicolas Gilsoul (Hyundai i20 Coupe WRC +9:03.0
Pontus Tidemand / Jonas Andersson (Skoda Fabia R5) +10:24.7
Jari-Matti Latvala / Miikka Anttila (Toyota Yaris WRC) +15:37.1
Gus Greensmith / Craig Parry (Ford Fiesta R5) +17:09.3
Pedro Heller / Pablo Olmos (Ford Fiesta R5) +24:18.1
2018 FIA World Rally Championship for Drivers' Standings
After round 3
1              S. Ogier                56
2              T. Neuville           52
3              A. Mikkelsen      35
4              K. Meeke             32
5              J.M Latvala          31
6              O. Tanak               26
7              E. Lappi                 23
8              C. Breen               20
9              D. Sordo                18
10           H. Paddon            10
2018 FIA World Rally Championship for Manufacturers' Standings
After round 3
1              Hyundai Shell Mobis World Rally Team                   84
2              M-Sport Ford World Rally Team                                 72
3              Citroën Total Abu Dhabi World Rally Team            71
4              Toyota Gazoo Racing World Rally Team                  67
Ogier's win put him back in the lead of the championship, four points ahead of Thierry.
Let's hear then from the drivers!
Sébastien Ogier
"I'm super happy today and this win is a fantastic way for me and Julien to celebrate our tenth-year anniversary in the FIA World Rally Championship. It started in 2008 with a win in the Junior category and so many great things have happened here since then – this win, I think, being one of the best.
"This weekend we really gave it everything. Julien was perfect, and the team were so strong as well. The victory is great of course, but it's the performance that was really good. We've made such a big improvement from last year, and that is a big positive for the rest of the season.
"I was pretty much on the limit all weekend. When you're early on the road you're trying your best but the time is still far away from those starting behind. There's always some frustration coming with that, but you have to keep going and not give up.
"That's what we did, and on the second day – when our road position was a bit better – we kept pushing and were able to take the lead in the afternoon.
"We can be very proud this weekend, and there's not a lot we could have done better. We gave it everything – right up until the final stage."
Dani Sordo
"I am very happy to score this podium after what has been an enjoyable, competitive but tough weekend. We have shown good pace here in previous seasons, so I was optimistic that we would be able to fight for the top-three this weekend. It wasn't entirely straightforward; even in the Power Stage there was a scary moment when we picked up a rear right puncture. With stones in the middle of the road, it was so easy for something to happen so we backed off and took it carefully to the end. A podium result is so important and we made the most of our road position in these really tricky gravel stages. It's been a good team effort and I am particularly pleased to see us increase our lead in the manufacturers' championship. Thanks to Carlos and to the whole team for this result."
Kris Meeke
"Obviously, there are positives to take away from this weekend, starting with the fact that I secured my first podium of the year and picked up good points for the championship. But I can't help but feel disappointed, not least for the team. I had everything you need to win here in Mexico – the pace, the car and road position – but I didn't do the job. I made too many silly mistakes and you just can't get away with that at this level. I need to tidy my game up, starting in Corsica where we were very competitive last year."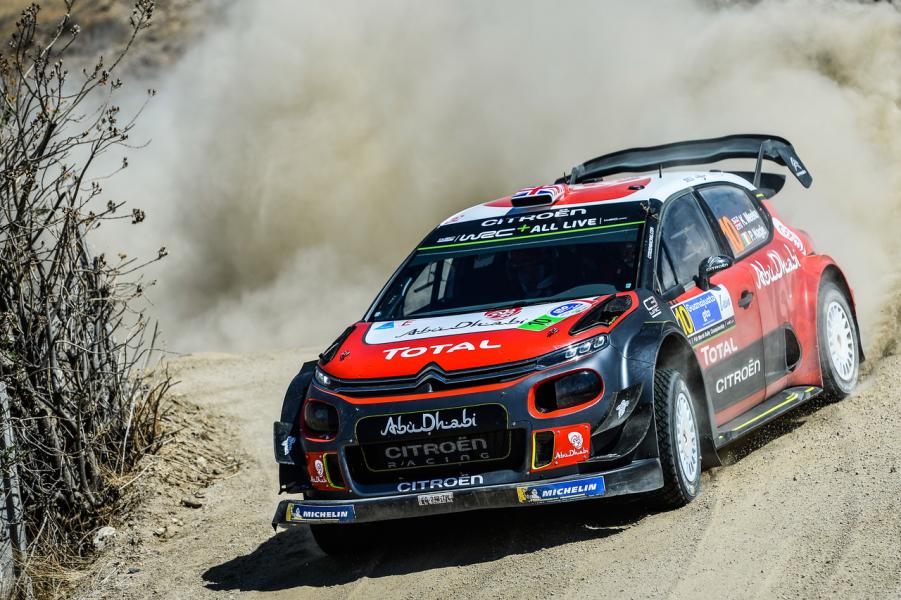 Hyundai Motorsport
Andreas Mikkelsen
"It has not been an easy rally for us, and we haven't really been able to find the optimum pace or performance that we needed here. We made some changes to the car in service on Saturday evening, and I felt more comfortable in this morning's final stages. We weren't really in a position to improve, so we simply tried to keep things clean and tidy. There were definitely areas where we could have attacked more but finishing fourth gives us important points. As a team we have increased our lead in the manufacturers' table, and I have also moved up to third in the drivers' classification, which is a positive to take away."
Thierry Neuville
"We approached the final morning of the rally determined to score as many points as possible for the drivers' championship. I gave it all I could in the Power Stage, and I'm happy to take three extra points away from what has been a very tough weekend. Starting first on the road each day was far from ideal, but that's part of the game. It was actually a useful experience to deal with those conditions, despite the obvious time disadvantage. We had some other issues over the weekend, so to come away with sixth place and to keep up the pressure in the championship is important. Thanks to everyone in the team. We have a never-give-up mentality, and Corsica will be another story."
Citroen Abu Dhabi WRT
Sébastien Loeb
"Coming into the rally, I felt that testing had gone well, but I obviously had no certainty about my level, bearing in mind that everyone is fighting over tenths of a second, and that it doesn't take much to find yourself left behind a little bit. So, it was a nice surprise to be on the pace! I'm just a bit frustrated that I wasn't able to test myself properly against the others right to the end because of the puncture. In any case, it was a very good weekend and that was the initial aim of this comeback. I hope I can now go on to get a good result in Corsica, even though I'll still have quite a few things to refamiliarise myself with."
Toyota Gazoo WRT
Jari-Matti Latvala
"I had a fantastic feeling this morning and the car felt very good. We had a really big push and won the first stage. Then the second stage was also really good, even though we had to save the tyres a bit. In the Power Stage I gave it everything and I'm really happy to finish second fastest with my road position. It has been a difficult weekend but to retire from one day and still come back and score eight points is good. Overall, I know that the car performance is there, and now I am starting to find the performance in myself."
Ott Tänak
"Today we were putting everything on the Power Stage. We had nothing to lose and just wanted to get these five points. The car was performing really well and I felt really comfortable in the car so I could give an extra push. Of course, I'm not happy with the overall result as we were in contention for the win, but we still have a long season ahead of us and the performance side has been good. It was my first time on gravel in the car, we learned a lot and we can see many places where we can improve."
Esapekka Lappi
"Today we were concentrating on the Power Stage, so in the first two stages we just wanted to get through them, check the pace-notes and save the tyres. It has been a tough weekend for us. The highlight has actually been the spectator stages. In our pre-event test we did some work on a go-kart track and we managed to find some new things which seem to have worked, because last evening I almost did the fastest time on the street stage. Previously we had been losing a lot of time in those. We also gained a lot of experience and data, which we can use to improve next year."
M-Sport Ford
Teemu Suninen
"It's been a difficult rally for us, but we showed some improvement over the second loops and I was also fast on the city stages which is a big positive. These type of stages [city stages] had been my weakness and we worked really hard to improve, so that was a good.
"Of course, it would have been nicer to have been a bit faster on the gravel – and not to have made the mistakes on Friday – but we still learnt a lot and know where we can improve. I need to keep the car on the line and be a bit earlier on the throttle. It's just some little things, but if you lose 0.1 seconds on every corner it will be a lot of time at the end of the rally!
"We need to analyse this event and then focus on our next one in Argentina. I did the recce there in 2016, so I know something about the stages but this will be my first time in a rally car. Because of this, we will need to prepare even more than normal."
Gus Greensmith (2nd WRC 2) Fiesta R5
"I feel pretty good after this one. It's a relief to get to the end to be honest as it was a rough rally – much rougher than I expected – so to walk away with second in WRC 2 and ninth overall is great.
"It was one of those rallies where you don't want to drive conservatively but, with the attrition rate so high and the wise words of Malcolm and Dad, that's what we did. I don't want to have to do it again, but they're a lot cleverer than me and we're now fourth in the championship after just one rally.
"I also have to say a big thanks to the team as there wasn't a single problem with the car all weekend. Everything was brilliant, just brilliant."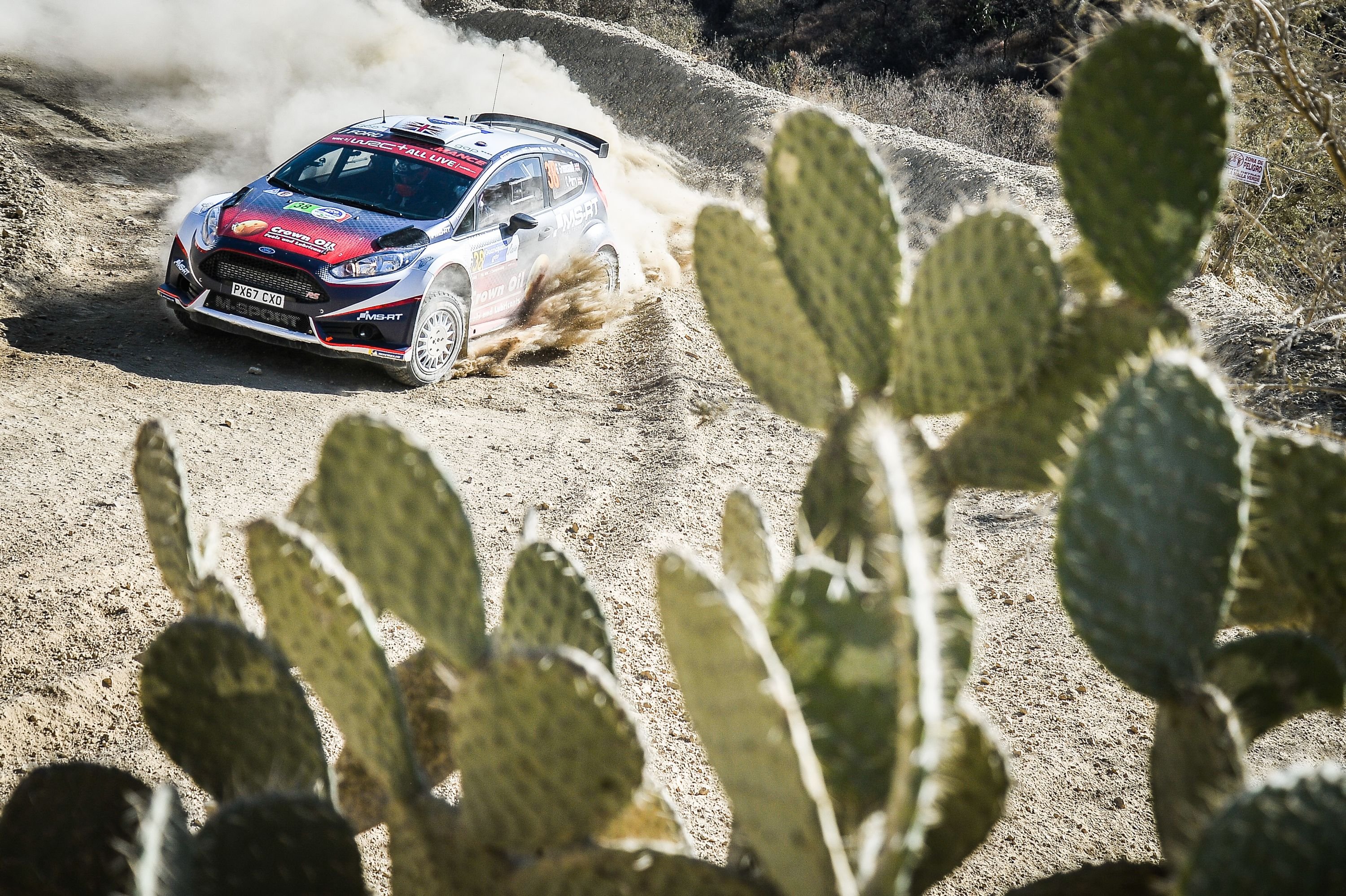 Pedro Heller (3rd WRC 2) Fiesta R5
"I feel really, really happy after this rally. If you compare it to last year, it's the complete opposite! Okay the gap to the winner was pretty big, but this is Mexico – it's rough and we made it to the end with our first points in WRC 2 and also our first top-ten finish overall. Now, I'm looking forward to Argentina where we plan to do the same."
The next round is on the weekend of the 5th to 8th of April on the Island of Corsica. Can Thierry get back winning ways, or will Seb prevail again? Perhaps Kris can follow up his speed from last year and take his first victory. Or will we see Jari-Matti follow up his victory from 2015 and take a win for Toyota?
See you then!