It was a another very strong victory for Toyota and Estonian Ott Tanak this year. Here's the story of how he won Rally de Portugal! He was joined on the podium by Thierry Neuville and Seb Ogier.
Friday
This was going to be an interesting day, as there was no afternoon service. It was also very hot as well, with temperatures set to get higher! The crews faced seven stages, which had been last run in 2001. The start list looked like this – Ogier, Tänak, Neuville, Meeke, Evans, Loeb, Lappi, Latvala, Suninen, Sordo, Greensmith.
SS 1 – Lousa 1 (12,35 km) was won by Dani Sordo in his Hyundai, showing that the later you ran the better your grip, although Ott setting the second fastest time showed how good he and the Yaris were getting on. Ogier, who was opening the road, was way down in ninth with Thierry one place ahead. Teemu went well, sitting third at this point.
The longer SS 2 – Gois 1 (18,78 km) saw a number of changes to the top ten. Ott went fastest from Jari-Matti, and leader Sordo setting the third fastest time. Teemu was slower than both Kris and Jari-Matti, which saw him drop places down to fifth overall. Elfyn also gained a place, passing Thierry overall and staying ahead of Ogier.
The last morning stage, SS 3 – Arganil 1 (14,44 km) saw Ott take the lead after problems for Dani, whilst Esapekka suffered a puncture losing over a minute and tumbling down to eighth place. The top three was now a Toyota 1-2-3, with Jari-Matti and Kris slotting into the podium positions. Also going well were Teemu and Elfyn, who were around twenty seconds from the lead. Thierry did a great job in the stage to close the gap to Ogier by five seconds to just half a second.
The re-run of SS 4 – Lousa 2 (12,35 km) saw a more difficult surface for the crews to contend with. Dani Sordo won the stage, whilst Finns, Jari-Matti and Teemu set the same time and were equal second fastest. Thierry moved ahead of Ogier on the overall leaderboard as well. Further down, Gus Greensmith, who was making his maiden challenge in a full WRC car was finding his feet, setting the ninth fastest time, only a few tenths down from Lappi.
SS 5 – Gois 2 (18,78 km) saw the end of Elfyn's challenge near the front after a problem that caused the car to just stop. The Welshman would lose around four minutes finding the problem and fixing it. What a shame. In the other Fiesta WRC, Teemu would set a great time, winning the stage and jumping ahead of Kris into third overall. Ott continued to lead, whilst Ogier, after going second fastest, jumped ahead of Thierry into fifth place. However, this battle was certainly not over.
Thierry won SS 6 – Arganil 2 (14,44 km), his first stage victory of the weekend and jumped straight back ahead of Ogier, plus with Teemu suffering a problem it put him in a net fourth place overall. Kris was now back into third place. Elfyn showed that without the problem in the previous stage, he'd still be in the fight for the final podium place, with a time good enough for seventh, only a few tenths from Jari-Matti.
The final stage of the day, SS 7 – Lousada (3,36 km) was won by Thierry who had just managed to shade Ogier's' time and staying ahead of the Frenchman. At the top, we still had a Toyota 1-2-3, but now Thierry was looming in the mirrors of those Toyota's! Ogier was also right there as well, looking to move into a podium position.
STANDINGS AFTER DAY 1
Tänak / Järveoja (Toyota Yaris WRC) 1:03:26.7
Latvala / Anttila (Toyota Yaris WRC) +17.3
Meeke / Marshall (Toyota Yaris WRC) +22.8
Neuville / Gilsoul (Hyundai i20 WRC) +24.2
Ogier / Ingrassia (Citroën C3 WRC) +25.8
Suninen / Salminen (Ford Fiesta WRC) +1:15.7
Greensmith / Edmondson (Ford Fiesta WRC) +1:22.1
Lappi / Ferm (Citroën C3 WRC) +1:23.7
Veiby / Andersson (VW Polo R5) +3:45.2
Kopecky / Dresler (Skoda Fabia R5) +3:49.3
The thoughts then after day one from the drivers.
Toyota Gazoo Racing WRT
Ott Tänak (1st)
"It was a very challenging day. It's been really hot and the stages have been quite demanding. But, in the end, we had a very clean day. I've had a great feeling and confidence with the car, so I've been able to push. We wanted to get a good road position for the rest of the rally and we managed to succeed in that. In that sense we did everything we could and we should be happy with that. As a team we're in a great position, but we've only completed a small part of the event so far and there is still a long way to go. Tomorrow will be tough: We saw during the recce that the stages are quite rough, so we need to keep our focus."
Jari-Matti Latvala (2nd)
"Generally, I'm happy about today. The car was going fantastically, it was really enjoyable to drive. I was pleased with my driving this morning, and the speed was good this afternoon as well. I was just struggling with the tyre wear a little in these temperatures: It has never been as hot as this when I've been doing this rally in northern Portugal. That together with an aggressive driving style is not a good combination. So that's going to be our focus tonight, to try and make it a bit easier to manage tomorrow. We're in a good position, and now we need to try and defend it."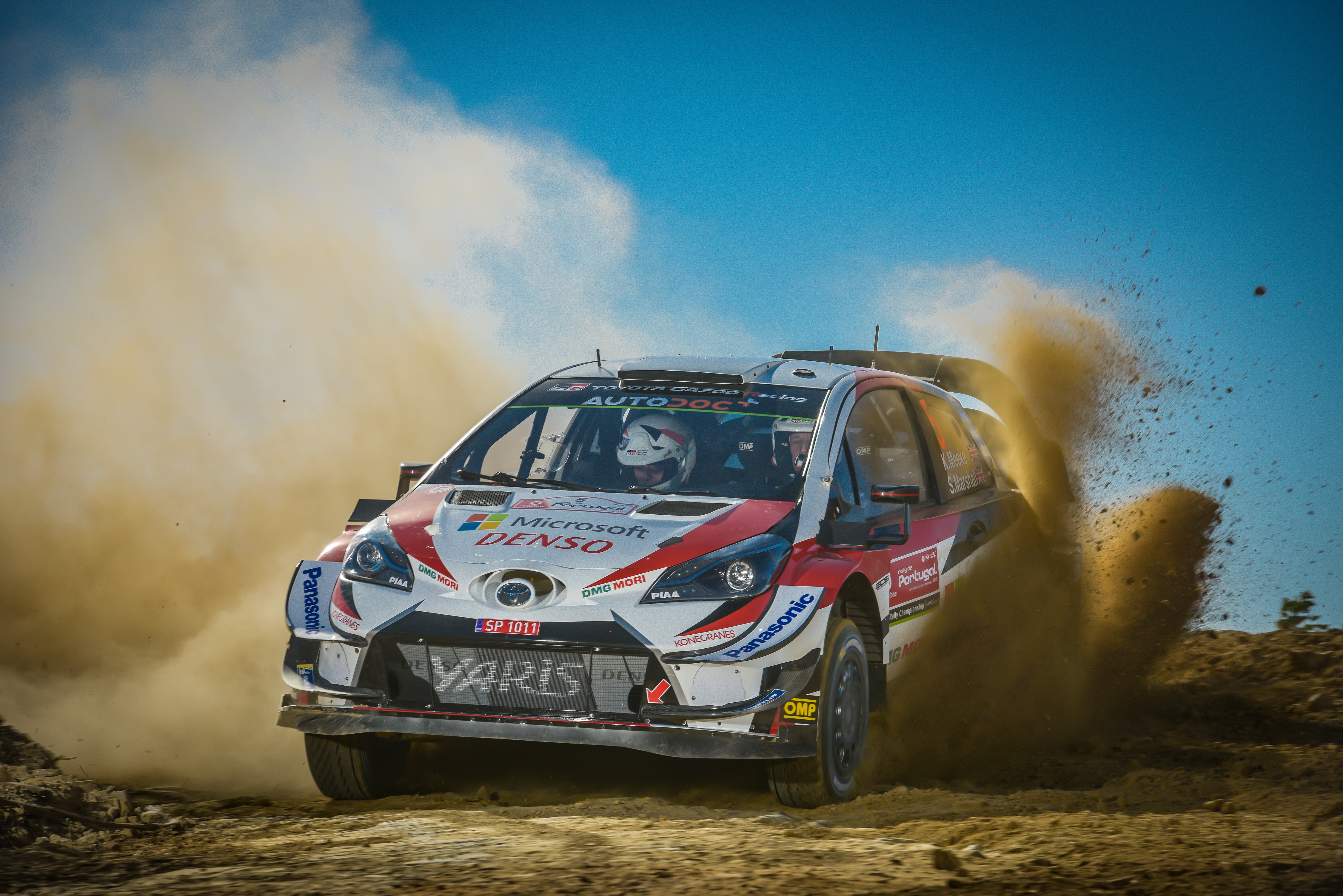 Kris Meeke (3rd)
"It's been a great day for the team. It was tough out there, especially with the high temperatures. We had a problem with the intercom during the morning, so Seb had to make hand signals for me on one stage as I couldn't hear the pace-notes. In the afternoon we had to manage a few small issues, but we're in third place overall and I'm quite content with that. We have a couple of quick guys breathing down our necks, but we'll get the car back in shape in service tonight and we'll give it our all again tomorrow."
Hyundai Motorsport
Thierry Neuville (4th)
"It has been a tough start, no question. We struggled on the opening stage this morning due to the standing dust and we had to take things a bit too carefully. In SS2, I stalled the car at a junction and lost some time. We were back on track in SS3 and set the second fastest time, so it was a mix of feelings at lunchtime. Things weren't perfect in the afternoon loop. The most frustrating thing is that we have been missing a bit of speed all day and haven't had the chance to find the rhythm. To finish the first day with two stage wins and inside the top-four – only 1.4 seconds from the podium – is not too bad but we know we have more in the tank."
Seb Loeb (39th)
"A disappointing day and certainly not what we wanted coming to this rally. Things started out OK but then about 20 metres into the third stage of the morning loop we picked up a mechanical issue. We had to complete the stage at a very slow pace and lost between 15 and 16 minutes. It was the start of what we had hoped to be a positive rally but now we are far back with nothing to play for. We had just to enjoy the afternoon loop as much as we could, have a bit of fun because we will be one of the first on the road tomorrow so it will be a long, tough day."
Dani Sordo (43rd)
"We started the day well with a stage win on the opening run and getting a good feeling with the car. We conserved tyres on SS2 to prepare for the end of the loop. At the start of the final stage of the morning, the car just lost power and we lost a massive amount of time getting to the end. I was frustrated, not just for myself but also for the team. As we could see from our pace on other stages, we had a great opportunity to fight for the victory this weekend, and that's been taken away from us."
Citroën Total WRT
Sébastien Ogier (5th)
"I'm pleased with what we managed to do in the really tough conditions we had today in opening the road, especially on the first stage of the loop. If you'd offered me fifth position at the end of day one before the start, I'd have bitten your hand off! The gap to Ott is already pretty big, but the second-placed crew is not that far ahead. We're now going to try our very best to catch them. Day two will be very long and probably very rough but we'll give it everything."
Esapekka Lappi (8th)
"We were unlucky with the puncture but I'm pleased to see that we are a lot more competitive here than at the previous rounds. We're moving in the right direction, especially as I'm now starting to feel that we can do even better. That's our aim for the rest of the rally: focus on our race, undoubtedly fight with Teemu, whilst trying to keep out of trouble."
M-Sport WRT
Teemu Suninen (6th)
"We had some problems with the brakes this afternoon and lost close to a minute on a single stage – I can tell you that these fast cars are not easy to drive without brakes! Apart from that, we had a really good day. I was setting good times and fighting for second position. Just before the problem I set a fastest time, and I had a really good feeling with the car. Everything was working well so it's a shame that we lost the podium position. But tomorrow is another challenging day and anything can happen so we have to keep going."
Gus Greensmith (7th)
"It's been a mega day out there and I'm pretty happy with how things have gone. The morning was fairly clean – maybe not pushing enough on the second stage and losing a bit of unnecessary time – but in the afternoon we took a good step forward. We lost some time when the car cut out at the start of SS5 – costing us about 10-15 seconds as we waited for it to restart. Then out of frustration I drove way too aggressively and cooked the tyres for the next one. But overall everything has been good and we're beating some pretty big names! The plan is to improve again tomorrow – I know those stages pretty well, so it would be nice to have a bit of a push!"
Elfyn Evans (16th)
"It's obviously been a disappointing day for us. It hadn't been the perfect morning, but the feeling was good after lunch and we were starting to make some ground on the guys in front. Then unfortunately there was just a loose connection on the throttle pedal and it took a while to track down the issue. We lost a fair bit of time, and our road position won't be ideal tomorrow, but I think we just need to go out there, enjoy ourselves, and see what happens."
Saturday
We would see the longest day's action, with over 160km of stages, including a double run through the Amarante stage, which was the longest of the day at 37km's. The startlist looked like this – Sordo, Loeb, Evans, Lappi, Greensmith, Suninen, Ogier, Neuville, Meeke, Latvala, Tänak.
After SS 8 – Vieira do Minho 1 (20,53 km), there were comments from Ogier and Lappi to have a longer time gap between the cars, saying three minutes was not long enough to allow the dust to settle. Kris Meeke, third to last on the road won the stage and what with Latvala second fastest and Ott fifth, but nine seconds down on Kris, his lead was now just 11.3 over Jari-Matti. Lappi moved ahead of Gus in their battle over seventh.
Latvala won SS 9 – Cabeceiras de Basto 1 (22,22 km), and Ott pretty much matched his time, the Estonian just three tenths slower than his Finnish teammate. Ogier moved ahead of Thierry as well. A battle for sixth place between Lappi and Suninen was starting to develop as well.
A second stage victory for Latvala in SS 10 – Amarante 1 (37,60 km), plus Ott only third fastest, but 5.8 seconds slower, meant the Finn was just 5.1 seconds from the lead. There were also a couple position changes, with Thierry moving back ahead of Ogier, who was now fifth and Lappi passing Suninen who was now in seventh. Showing how hard it is to open the road, Elfyn was half a minute slower than the stage winner.
SS 11 – Vieira do Minho 2 (20,53 km) saw Ott hit back with a stage win, with Kris just one second slower, whilst Thierry continued to increase his gap over Ogier. Latvala was now almost fifteen seconds behind Ott and the Finn had a broken damper to deal with. Meeke was going well and staying well out of Thierry's reach.
SS 12 – Cabeceiras de Basto 2 (22,22 km) would see disaster for Jari-Matti, as his broken suspension continued to cause him problems. He lost over 50 seconds and dropped out of the podium fight, into fifth. Gus Greensmith suffered a puncture, falling a further 30 seconds behind Suninen, but still in eighth overall.
The last stage of the day, SS 13 – Amarante 2 (37,60 km) was won by Thierry, with Kris just 1.8 seconds behind the Belgian. Ott's lead was now just 4.3 after he lost almost a full thirteen seconds to his teammate. He'd suffered the same problem as Latvala with a broken damper, costing him time. There was a spin as well at roughly half distance, a result of the handling imbalance.
STANDINGS AFTER DAY 2
Tänak / Järveoja (Toyota Yaris WRC) 2:47:23.1
Meeke / Marshall (Toyota Yaris WRC) +4.3
Neuville / Gilsoul (Hyundai i20 WRC) +9.2
Ogier / Ingrassia (Citroën C3 WRC) +21.0
Lappi / Ferm (Citroën C3 WRC) +1:37.5
Suninen / Salminen (Ford Fiesta WRC) +2:02.7
Evans / Martin (Ford Fiesta WRC) + 6:10.4
Rovanperä / Haltunen (Skoda Fabia R5) + 8:33.8
The driver's thoughts then after Saturday.
Toyota Gazoo Racing WRT
Ott Tänak (1st)
"It's been a really tough day. Already early in the first stage we lost the brakes. We had to work quite hard on the road sections but we managed to make the car OK for the long stage and then the team could fix it completely in service. The afternoon loop was definitely the most challenging of the rally. It was really rough with lots of rocks everywhere, so it was very demanding for the cars. Unfortunately, we got an issue on the last stage, and we were lucky to continue. But we are still in the lead and it's all to play for tomorrow. We know the car has the speed and performance to win. Sunday drives can sometimes be quite boring but this time we will need to push, and I'm looking forward to the fight."
Kris Meeke (2nd)
"It's been a good day for me, probably my best yet in this car. I've really enjoyed driving the car and I
was able to find a good rhythm this morning, much better than yesterday. I've struggled on the second passes up to now, but I could have good pace this afternoon which I'm happy about. We had to push hard to defend our position, and I gave it everything. I feel sorry for Jari-Matti as he was doing a really strong rally. But it's been a tough rally, especially for the cars: With it being so hot and dry, the roads were really broken on the second pass – the worst conditions I've seen them in. Now it's important that Ott and myself try to bring home a Toyota one-two. We'll need to do our maximum tomorrow."
Jari-Matti Latvala (Retired/Rally2)
"I had a really good morning. I went for two hard tyres and they were working really well, and I was able to push hard. I was really happy with the speed. The car was feeling really good and I was in a good rhythm and enjoying it. Then in the first stage in the afternoon, I had a strange feeling at the front and knew that something wasn't right. We tried to make a fix in order to continue but the road was so rough and it finally broke. It's frustrating because I thought we had the chance to get back on the podium. At least the speed is there: That keeps me motivated, and I know we will keep fighting. Tomorrow we will try to take some points from this rally."
Hyundai Motorsport
Thierry Neuville (3rd)
"It has been a strong day for us and I'm pleased to reaffirm our potential here this weekend. It's been a first-class team effort. We made a strategic call to take six soft tyres for the morning loop, which was perhaps a mistake because of the extra weight. It wasn't too bad and we were able to keep Ogier behind us. We had five tyres in the afternoon and looked to build a gap, which we did, as well as move closer to the podium. It wasn't easy on the second pass with some rocks on the line and a far from trouble-free final stage. However, the speed has definitely been there with another two stage wins. We now have Meeke and Tanak in our sights; it promises to be an exciting battle for the win on Sunday."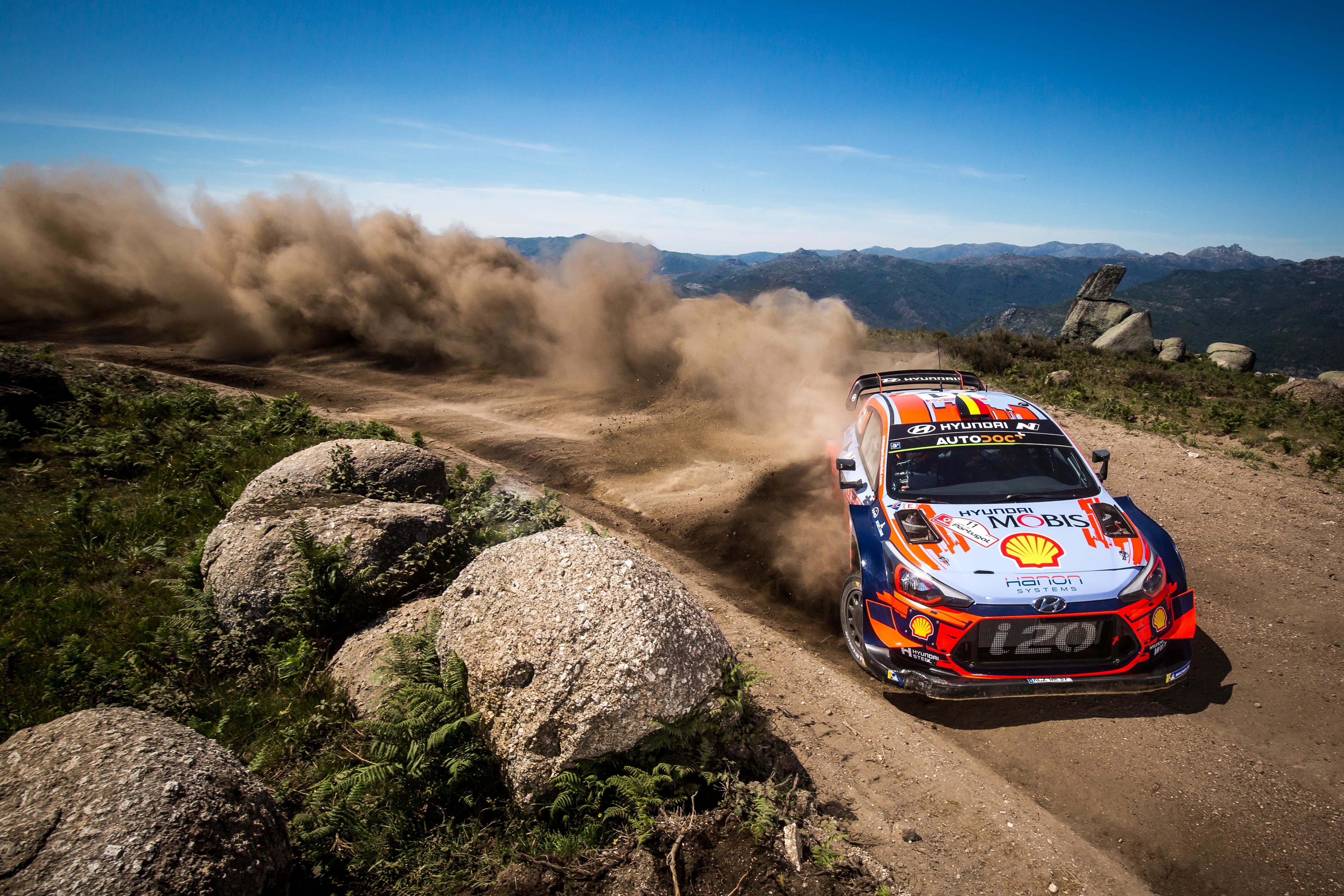 Dani Sordo (24th)
"There's not much to say after the disappointment from Friday but we never give up, particularly when our main job is to support the team's championship ambitions. We weren't able to match the times set by the frontrunners today; they were just out of reach. We have done our best and also used the opportunity to prepare a bit for Sardinia. We had a good feeling for much of the day and our job now is to complete the rally smoothly, to soak up the atmosphere from the amazing fans and to enjoy these wonderful stages."
Seb Loeb (27th)
"It's never as much fun when you are not fighting for the leading positions, but we acknowledge we have a team role to play and we've done that today. My situation doesn't change much in the circumstances because our chances for a strong finish were over on the opening day. We have simply been concentrated on each stage as it comes. We didn't drive anywhere near the limit, playing it safely so we can bring home some important points for the team."
Citroën Total WRT driver
Sébastien Ogier (4th)
"I'm pleased with my fourth place this evening. The morning went better than the afternoon. We made a call on the tyres and changed the set-up, and perhaps that wasn't the best decision for the second loop. I am still learning the C3 WRC. It is still a positive result so far, because I feared the worst given the very loose conditions we saw in recce."
Esapekka Lappi (5th)
"It was a very good day for us. I really enjoyed driving the C3 WRC! We have done some good work with the team and the car suits my driving style much better now. In fact, you can see this in the times we set, despite our position in the running order. The aim is now to keep up the momentum tomorrow."
M-Sport WRT
Teemu Suninen (6th)
"It was a difficult day running early on the road. The driving was on an okay level, but we still lost some time to the other drivers so it wasn't as good as yesterday!"
Elfyn Evans (7th)
"Being first on the road for the majority of the day made it pretty difficult for us. Obviously, there was quite a lot of cleaning today so it was just a case of making it through without any problems. Tomorrow we just need to do more of the same and if the feeling is good, we can have a look at some points in the Power Stage."
Gus Greensmith (15th)
"We wanted to be closer to the pace today, and that's what we did – trading times with Elfyn and Teemu on only my second day in a world rally car. I felt as though we were getting better with every kilometre, so it was a shame about that last stage. I just missed my braking, slid wide and hit a tree with the rear. It was a silly mistake, but I can't be too upset because at the end of the day I was still driving a world rally car – and that's awesome!"
Sunday
Just a few stages then to decide the winner! The startlist looked like this – Greensmith, Latvala, Sordo, Loeb, Evans, Suninen, Lappi, Ogier, Neuville, Meeke, Tänak.
First stage then, SS 16 – Montim 1 (8,76 km) and Kris won the stage, beating leader Ott and reducing the gap to him as well. There was some swapping going on as well, with the two Hyundai drivers (Loeb and Sordo) not starting at their allotted times and going in just before Neuville. Interesting tactics. Meanwhile Lappi spun, and had a low speed roll at a hairpin. The Finn lost half a minute.
Now it was time for the first run through the spectacular SS 17 – Fafe 1 (11,18 km), with its jump! Ott hit back with the fastest time from Kris, but there was more drama further back, as Esapekka slid wide, hitting a bank. His car was looking a bit second hand, with damage to his aero after the roll and now suspension after this stage. Sadly, he retired from the event, as the damage was too much to fix.
Ott then also won SS 18 – Luilhas (11,89 km) and increased his lead over Meeke who certainly wasn't giving up on victory. Thierry now had a very good gap to Ogier as well, adding another ten seconds just in this stage. Elfyn had now made it up to sixth overall as well, after a well-judged drive through the field.
Stage SS 19 – Montim 2 (8,76 km) and it was nearly disaster for Kris Meeke, who spun at the same hairpin as Lappi earlier! He lost 17 seconds and second place to Thierry who won the stage.
The last stage then, SS 20 – Fafe 2 Power Stage (11,18 km) and the drama wasn't over. First up, Loeb who ran wide, damaging his suspension and he limped to the end of the stage. Then Gus crashed after landing from the jump. His suspension was broken before he took off, meaning he was always going to lose control when he landed. Finally, Kris cut a corner too much and broke his steering, the result that he slid off the road and was out! The top five in the stage were Ogier, Neuville, Tanak, Suninen and Sordo. With Ogier taking third place, he would now lead the championship as well. Not what he wanted at all.
FINAL STANDINGS
Tänak / Järveoja (Toyota Yaris WRC) 3h20'22''8
Neuville / Gilsoul (Hyundai i20 WRC) +15''9
Ogier / Ingrassia (Citroën C3 WRC) +57''1
Suninen / Salminen (Ford Fiesta WRC) +2'41''5
Evans / Martin (Ford Fiesta WRC) + 7'08''3
Rovanperä / Haltunen (Skoda Fabia R5) + 10'34''2
Latvala / Anttila (Toyota Yaris WRC) + 11'28''2
Kopecky / Dresler (Skoda Fabia R5) + 11'41''9
Let's hear then from the drivers!
Toyota Gazoo Racing WRT
Ott Tänak (1st)
"It feels great to stand on the top step of the podium today. It's been a long and very tough weekend, definitely the hardest win I've ever had. From Friday, our performance was really strong, especially considering our road position. On Saturday we had to fight really hard, but today everything was working well and the speed was there. In the first stage I was a bit careful, as there was a lot of tricky dust and it was difficult to see anything, but after this we could safely push a bit more and build a bigger gap. The championship is looking really tight but I think we are in a good position going to Sardinia."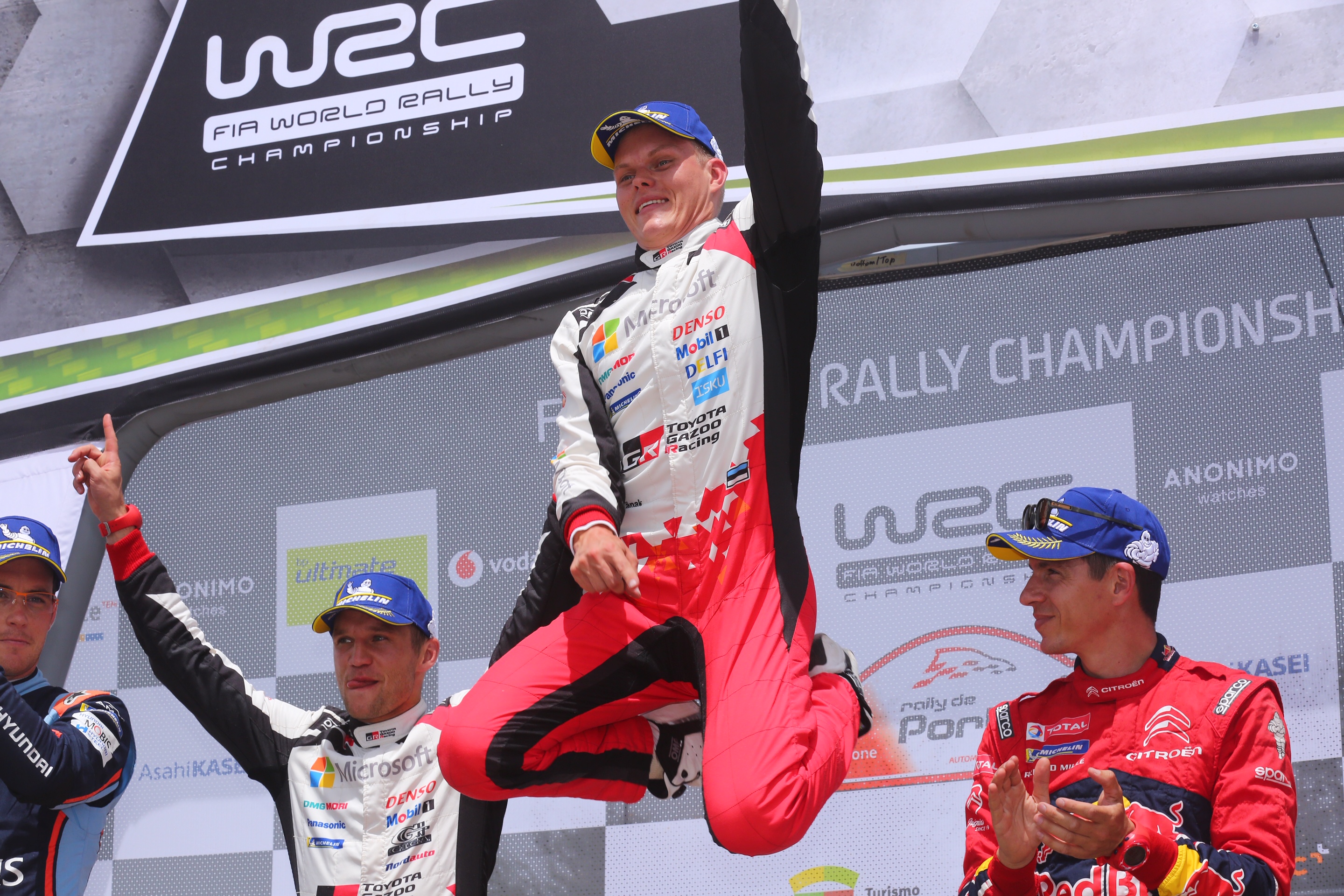 Jari-Matti Latvala (7th)
"It was good to restart this morning, and our target was to get back into the top 10 and score some points. Unfortunately, we couldn't go for a fast time on the Power Stage: My run was red-flagged because another car blocked the stage in front of us. But in the end, we were able to get back up into seventh position overall and take some important points, especially for the team. Personally, I can't be satisfied with the result, as we were going very strongly yesterday. But the speed is there, that is very important, and we know that the car is fast. I'm looking forward and believe we can have some very positive rallies coming up."
Kris Meeke (Retired)
"Today started well. We were able to increase the gap to behind us, and then we were just trying to hold it. Unfortunately, we had a spin on the penultimate stage and it cost us some time trying get going again. Going into the Power Stage, I didn't have so much to fight for, the bonus points were not such a big concern for me. But in a right-hand corner there was a tree stump in the grass on the inside, I didn't have it in my notes and I caught it with the steering wheel open. It was completely my mistake. I'm gutted for the team because we'd had such a strong rally. Now we have to move on and take the positives from this weekend: It's been my strongest yet in this car and we have to look forward."
Hyundai Motorsport
Thierry Neuville (2nd)
"After the big crash we had in Chile, it was important to come back fighting. It's not been an entirely smooth weekend but we have shown some strong pace including several stage wins. Overall, I think we can be pleased with second place. The time we lost on Friday's opening stages is more or less the time we were missing at the end. We were lacking a bit of precision today to give it more of a push, but on the whole it's a good result. The championship is nicely poised as we reach the halfway point. We know there is no room for error when things are this close, so we have to keep pushing together."
Dani Sordo
"We have tried to put the disappointment and frustration from Friday behind us, and to enjoy these great Portuguese stages. It's a special feeling when you are pushing hard and flying through Fafe with all the spectators. We have put in a full team effort this weekend so I think we all share in the podium result, even if it would have been nicer to be standing on the podium ourselves. We'll have to try and rectify that in Sardinia!"
Seb Loeb
"I enjoyed driving this morning's stages with some new discoveries for me. It wasn't without incident but overall it was nice to get the experience. The routes were fast and narrow, and the feeling with the car was pretty good.  It was particularly nice to get the buzz from all the fans. We were able to set some competitive times, which shows what might have been possible this weekend. I am happy for the team to get a podium finish after what has been a tough event."
Citroën Total WRT
Sébastien Ogier (3rd)
"I didn't think we could score twenty points this weekend. Although we never had a chance of winning the rally with our position in the running order, we gave it absolutely everything, regardless of the situation. So, to that extent, this result is just rewards. In truth, I was hoping not to be first on the road in Sardinia, but every point counts at the end of the season. I'm pleased to see that we were competitive on the Power Stage, which was more or less the only stage of the weekend where we had the same grip conditions as our rivals. That means we have also progressed in terms of performance although it was difficult to show it, given the circumstances."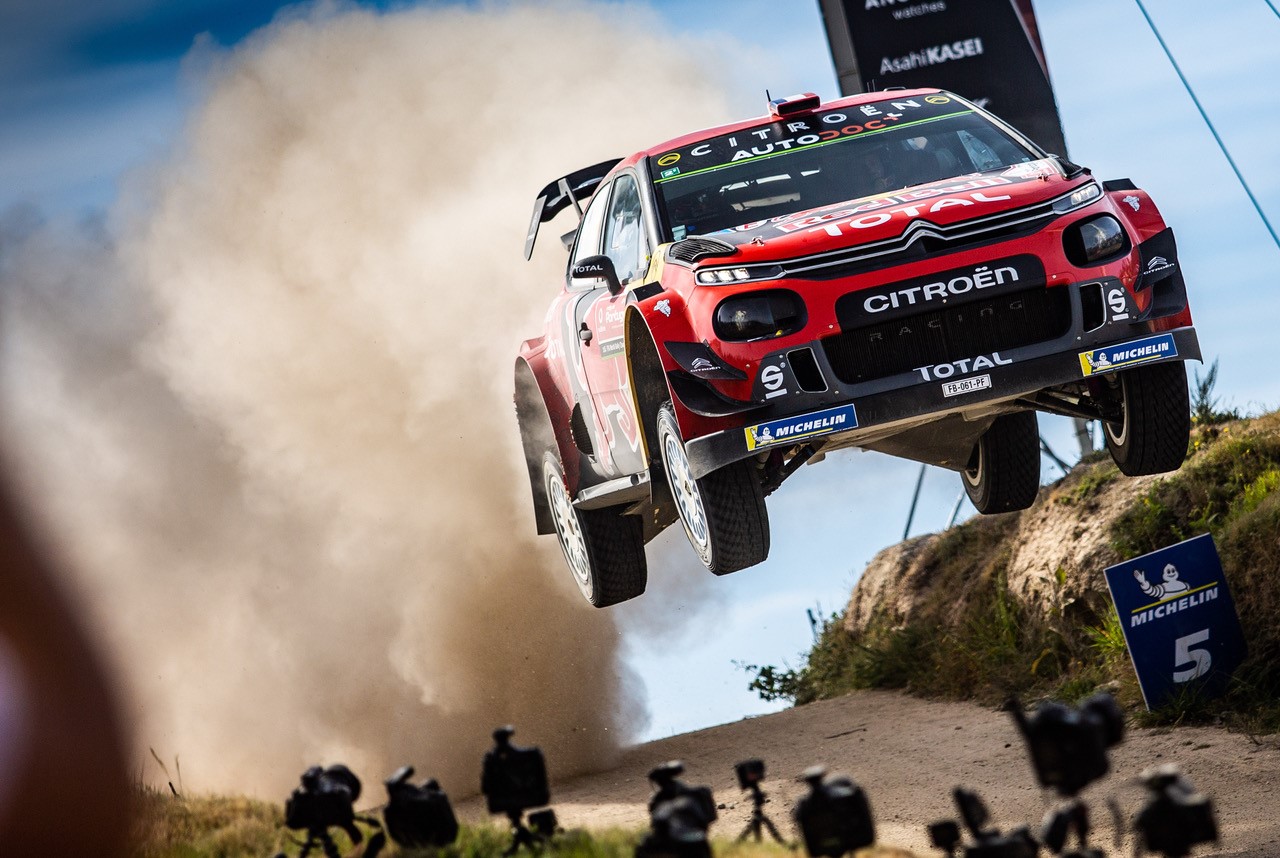 Esapekka Lappi (Retired)
"After our roll, the car wasn't too badly damaged, it was just missing the rear spoiler. I thought I had a good rhythm on the following stage but I was slightly too optimistic on a right hander over a crest and I hit a bank, which caused a puncture and then damaged the suspension. There were too many kilometres left to cover with our makeshift repairs. I'm really very sorry for the whole team, who deserved better."
M-Sport WRT
Teemu Suninen (4th)
"I can be quite happy with this result. It's a shame that we had a problem on Friday afternoon because that meant we didn't have a good road position for the rest of the weekend. But our pace was really good on Friday morning, and we took some points in the Power Stage today which was also really good."
Elfyn Evans (5th)
"We made a pretty good start to the weekend. It wasn't perfect, but the pace was there. Obviously, it was a shame to lose as much time as we did with the issue on Friday, but these things happen. There wasn't much more we could do after that, and in all fairness fifth place is a lot more than we could have hoped for on Friday evening.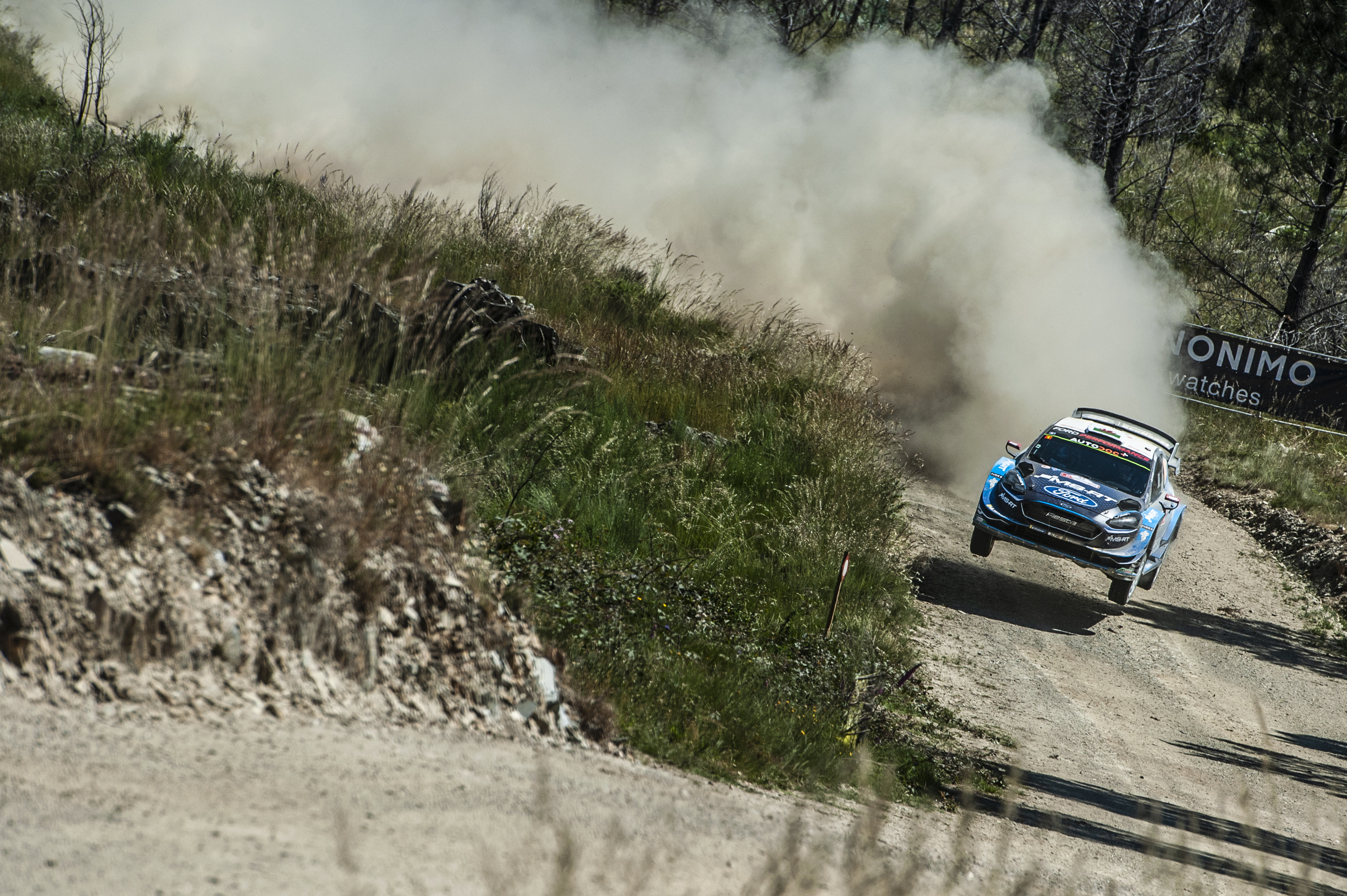 Gus Greensmith (Retired)
"It's been a really good weekend for us. For some reason everything just seemed to click quite nicely and, to be honest, the speed came pretty quickly. We were battling with Elfyn and Teemu throughout most of the weekend – and that wasn't something I was expecting from my first time in a world rally car!
"It was a different challenge opening the road today, but generally a really good experience. It was just a shame that we had the issue over the jump. To have our rally come to an end just 200 metres from the finish was a bit gutting, but overall it's been a more than positive weekend."
Summary
Well, another victory for Ott and Toyota! The combination is proving pretty amazing and consistent! Once he took the lead, he was never headed. Both his teammates went very well, and it was a shame that it ended with Kris retiring. Jari-Matti was right there, and set for a well-deserved podium before the suspension problem.
Thierry came back and got his head down to the task at hand. It was a good battle between him and Seb Ogier, before the Belgian moved clear, the result being very good with second place and keeping him in touch with his two rivals. Dani Sordo also drove incredibly well, running at the front until car troubles hit. Hyundai will be happy that they continue to lead the manufacturers standings.
Seb Ogier drove his C3 to a very good podium, given that the team are working to make it better. Being in the top five by the end of Friday was key to the result, and he did have some good fortune with the two Toyota's hitting trouble to get him up onto his sixth podium of the year.
In the M-Sport camp, Elfyn and Teemu drove really well, and could have had a double podium result, with both of them. Sadly, their challenge was held back with car troubles. Brakes on Teemu's car and electrics on Elfyn's. Still the Welshman got up into fifth place and was rewarded with moving ahead of Kris Meeke into fourth in the drivers' standings. Teemu didn't lose so much time, and kept the car on the road well, given the problems. Finally, Gus drove a great event, his first in a WRC car, setting some good times, only to be derailed on the final stage, not far from the finish. It won't be long before we see him in a top car again.
DRIVERS' WORLD CHAMPIONSHIP
Sébastien Ogier – 142 points
Ott Tänak – 140 points
Thierry Neuville – 132 points
Elfyn Evans – 65 points
Kris Meeke – 56 points
Teemu Suninen – 44 points
Sébastien Loeb – 39 points
Jari-Matti Latvala – 38 points
Andreas Mikkelsen – 36 points
Esapekka Lappi – 34 points
MANUFACTURERS' WORLD CHAMPIONSHIP
Hyundai WRT – 202 points
Toyota Gazoo Racing – 182 points
Citroën Total WRT – 158 points
M-Sport Ford WRT – 122 points
We don't have long now to wait for the next round with the next round, Rally Italia Sardegna on the weekend of the 13th to 16th of June. It will be the final round before the summer break for the championship.