Thierry Neuville took a remarkable victory in Argentina with Andreas Mikkelsen and Seb Ogier completing the podium. Here's the story of how it happened. In the days before the event, there had been a lot of rain and thunderstorms before and this would make things very interesting!
After the short SS 1 – Super Especial Villa Carlos Paz (1,90 km) on Thursday night the top ten was covered by just three and a half seconds, with Ott holding the lead and Teemu Suninen in tenth place.
Friday
With seven stages due to run, including a double run of SS 3 – Amboy – Yacanto 1 (29,85 km), the longest stage of the day, plus very different conditions since the reece, getting through the first full day would be a big challenge.
The start list looked like this, with the cars entering in championship order – Neuville, Ogier, Tänak, Evans, Meeke, Lappi, Sordo, Latvala, Suninen, Mikkelsen, Greensmith, Ostberg.
First up then was SS 2 – Las Bajadas – Villa Del Dique 1 (16,65 km), and it was Kris who set a great pace, winning and closing on his teammate for the lead. The big loser was Ogier, who could only manage eighth fastest and fell down to seventh overall. However, Thierry was doing really badly, now 14 seconds from early leader Ott.
Sadly SS 3 – Amboy – Yacanto 1 (29,85 km) was cancelled for safety reasons, so it was a long wait for the next one, SS 4 – Santa Rosa – San Agustin 1 (23,44 km). It was a drama filled stage, with Thierry hitting back and winning the stage from Meeke and Ogier and Ott, who lost 10 seconds and fell to second overall. However, the worst happened to Esapekka Lappi, who had been in sixth, picked up a puncture and fell down to ninth! Elfyn was also on the move, going fifth fastest and climbing from eighth to sixth overall.
The short SS 5 – Super Especial Fernet Branca 1 (6,04 km) was won by Andreas, with Seb and Thierry setting identical times for equal second fastest. The Norwegians pace saw him move up into sixth overall. Thierry was now Kris' closest challenger, just five seconds separating them at the top of the leaderboard.
After service, SS 6 – Las Bajadas – Villa Del Dique 2 (16,65 km) saw more changes. Ott won the stage from Dani Sordo, with Andreas third. Kris could only manage sixth in the stage and now his lead was just seven tenths of a second! Thierry had now dropped a place, but was still in podium contention.
SS 7 – Amboy – Yacanto 2 (29,85 km) next up and with conditions better than expected, Ott moved into the lead after Kris dropped 20 seconds, falling to fourth overall, now behind Thierry and Ogier.
The final stage of the first day then, SS 8 – Santa Rosa – San Agustin 2 (23,44 km) and there was drama once more for Lappi who crashed after sustaining another puncture. It was a scary crash, as there were some spectators far too close to the road. The outcome could have been so different. Thierry won the stage and with Ott only sixth fastest the Belgian took the lead, whilst Ogier was now second, ahead of Ott, who was now third. Further back, Elfyn moved up to sixth overall after setting the third fastest time in the stage.
Well, the first day had produced lots of drama, and it's fair to say that it was a surprise to see Belgian pairing Thierry and Nicolas in the lead. The standings looked like this.
STANDINGS AFTER DAY 1
Neuville / Gilsoul (Hyundai i20 WRC) 1:11:13.9
Ogier / Ingrassia (Citroën C3 WRC) +11.9
Tänak / Järveoja (Toyota Yaris WRC) +13.4
Meeke / Marshall (Toyota Yaris WRC) + 28.1
Mikkelsen / Jaeger (Hyundai i20 WRC) + 29.4
Evans / Martin (Ford Fiesta WRC) + 38.2
Sordo / Del Barrio (Hyundai i20 WRC) +41.1
Latvala / Anttila (Toyota Yaris WRC) +1:13.6
Suninen / Salminen (Ford Fiesta WRC) +1:59.2
Østberg / Eriksen (Citroën C3 R5) +6:11.1
Here's the thoughts of the drivers at the end of day one.
Hyundai Motorsport
Thierry Neuville (1st)
"We didn't really expect to be leading this rally at the end of the first day, especially considering our starting position as first on the road. It's a pleasant surprise but it has been a complicated day with tricky conditions. We know things will be equally challenging as the weekend continues. Even with the wet weather, there were times when it was better to be earlier on the road and other stages when it was not. The car has performed well today and we are in the fight, so we will do what we can to defend our lead on Saturday."
Andreas Mikkelsen (5th)
"We had a good morning loop and were able to set some encouraging times. The only issue was a puncture in SS4. Anders noticed we had a front-left issue after 5km into the stage so we took it carefully after that so we didn't lose the tyre off the rim. We were lucky, and were able to remain in the fight. I was happy not to lose more time to be honest. It's been a bit of an up and down day, and by the end of the afternoon loop I really felt that our starting position was hurting us. Saturday we will be more in the middle of the pack, so we will hopefully fare better."
Dani Sordo (7th)
"The day had been going quite OK and we were having more fun on the stages than I thought we would be able to in these conditions. Some of the stages were so difficult to read; you didn't really know what speed was possible. We tried to push a bit harder in the afternoon and the times were good until the final stage. We went into a ditch in a slow corner and had to reverse out, so we lost some time there. Not the greatest way to end but tomorrow's another day."
Citroën Total WRT
Sébastien Ogier (2nd)
"The opening leg at Rally Argentina is always very complicated and rough. I'm pleased to finish the day in this position. It was all the more difficult because we did recce on these stages before the rain fell. We fought as hard as possible, and although the car isn't running perfectly as yet, we're still in contention for victory and it's still open at the front. The second leg looks like it will be very difficult again, probably with fog early on, as is often the case on these stages."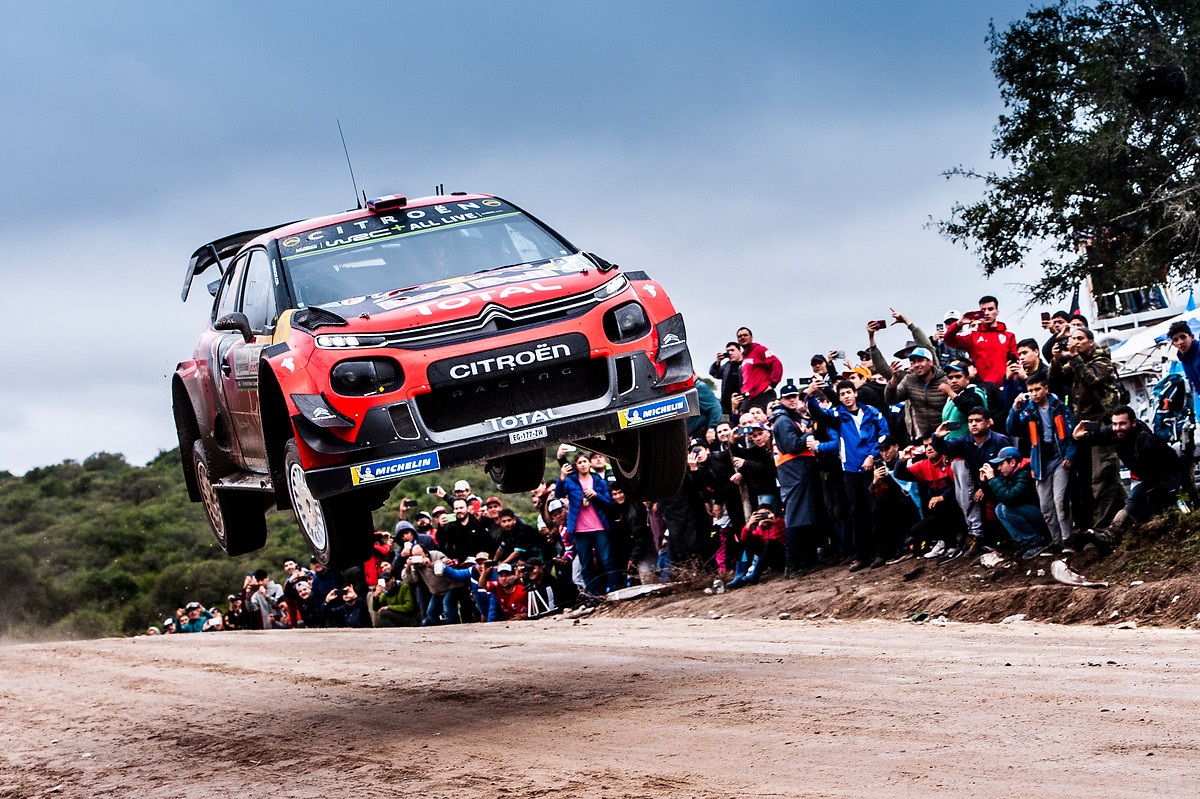 Toyota Gazoo Racing WRT
Ott Tänak (3rd)
"It has been a tough day with conditions that were very hard for the cars. With the engineers we were able to make some changes in service, and that improved things for the afternoon so that I could have a bit more confidence. I was quite enjoying it and some good stage times were coming. We had the issue with the driveshaft on the last stage, but we could make it back to service to get it fixed tonight. I believe we should have a good car for tomorrow's stages, and we'll push hard. There's a long way to go so everything is still to play for."
Kris Meeke (4th)
"It has been a challenging day for everyone in these conditions. I really enjoyed it this morning. It wasn't about ultimate pace it was a case of reading the road and trying to work out where it would be really slippery. For most of the stage it would be fine with good grip, and then there were some really deep patches of mud that you had to try and anticipate before you hit them. The afternoon was tough. We had a couple of issues with the car that slowed us a little bit, but I simply didn't have the pace anyway. Hopefully tomorrow will be better and we can still challenge for the podium."
Jari-Matti Latvala (8th)
"This morning was quite good, it was consistent and we were up there, not far from the leaders. This afternoon was much tougher. It started well but I was too fast in one corner in the ruts and pushed a tyre off the rim, so we had to finish the stage with a flat tyre. That made me a bit cautious on the next stage, and then on the final stage of the loop I had a spin and lost some more time there. We still have two days left and a lot can happen, especially in these conditions, so we will stay positive."
M-Sport WRT
Elfyn Evans (6th)
"Obviously it's not where we wanted to be at the end of the day, but we're not a million miles away and there is still a long way to go. I felt that we were driving quite well at points, but I didn't always have the feeling to push that little bit more – just struggling with the balance here and there. The midfield battle is pretty close, so we have to keep fighting for the best possible position tomorrow."
Teemu Suninen (9th)
"Today has been quite difficult. The conditions have changed a lot from the recce with a lot more mud and a lot of surprising places. This made it difficult to get into a good rhythm as I was always expecting some tricky conditions. But then on the second loop when I had a bit more knowledge, I was able to improve my times – except on the last stage where the engine took in some water and we lost some time."
Saturday
With 146.52km of competitive stages, Saturday would be the longest day of this event. The start list looked like this- Suninen, Latvala, Sordo, Evans, Mikkelsen, Meeke, Tänak, Ogier, Neuville. The rally leader was in a good position to move further ahead of his competitors, but this event was certainly not decided.
SS 9 – Tanti – Mataderos 1 (13,92 km) first up, and Thierry won the stage from Ott, and with Ogier only fifth fastest as well, the Frenchman dropped to third. Elfyn also started well, going fourth quickest and closing on Andreas in their battle for fourth overall.
SS 10 – Mataderos – Cuchilla Nevada 1 (22,67 km), saw the battle between the Hyundai and Toyota drivers continue with Ott winning the stage, but Thierry keeping the timeloss down to just two and a half seconds. There was drama though for Elfyn and Scott. Approaching a quick right-hander, the Welshman lost the rear of the Fiesta, and all was well until the front hit a huge boulder, which had the effect of spinning the car around, which then caused the tyres to dig in and the car to roll off the road, coming to rest back on it wheels. They were out, bringing an end to a good start.
Here's the massive rock that brought @ElfynEvans' morning to an early end. The luckless Welshman had the ability to gain some positions today, before oversteering into a slide and impacting with the fateful boulder. We now await the return of the car to assess the damage #WRCLive pic.twitter.com/rG0drelkOD

— M-Sport (@MSportLtd) April 27, 2019
SS 11 – Cuchilla Nevada – Characato 1 (33,65 km) was won by Ott, and he took six seconds out of Thierry as well, thus reducing the gap to just five seconds between them. However, Ogier lost a huge amount of time- over half a minute after his powersteering failed- falling behind Kris as well into fourth place. Any hopes for victory had now almost evaporated as he was 46 seconds from the leader.
SS 12 – Super Especial Fernet Branca 2 (6,04 km) was won by Andreas from Dani and Jari-Matti, whilst Kris fell from third to fourth and Ogier lost more time due to his powersteering problem, falling to sixth overall, over a full minute from the lead.
After service, SS 13 – Tanti – Mataderos 2 (13,92 km) Ogier with his problem fixed flew through the stage, setting the fastest time. Andreas continued his good form, with the second quickest time, keeping himself ahead of Kris.
SS 14 – Mataderos – Cuchilla Nevada 2 (22,67 km) saw drama for two drivers. Ogier continued his scorching pace by winning this stage and passing Dani Sordo. This would have been good enough for fifth overall, but the Yaris piloted by Ott suffered a failure, making him retire for the day.
SS 15 – Cuchilla Nevada – Characato 2 (33,65 km), the final stage of the day saw Andreas set the fastest time, with Thierry and Seb second and third. The Norwegian had had one of his best days in his car. There would be drama away from the stages though. Seb talked about the road book, and about their being changes to the results later.
This statement from Pierre Budar, Citroën Racing Team Principal sheds some light on it –
""It wasn't an easy day for Sébastien and Julien. They lost a lot of time this morning when the power steering broke, after they were confused by the gate left open, which should have been closed. We are therefore expecting the rally organisers to take the appropriate decisions for those crews that didn't follow the route indicated in the roadbook."
STANDINGS AFTER DAY 2 
Neuville / Gilsoul (Hyundai i20 WRC) 2:37.23.6
Mikkelsen / Jaeger (Hyundai i20 WRC) + 45.7
Meeke / Marshall (Toyota Yaris WRC) + 1:03.2
Ogier / Ingrassia (Citroën C3 WRC) +1:06.0
Sordo / Del Barrio (Hyundai i20 WRC) +1:12.0
Latvala / Anttila (Toyota Yaris WRC) +1:28.3
Suninen / Salminen (Ford Fiesta WRC) +3:48.4
Ostberg / Eriksen (Citroën C3 R5) +12:04.5
Here's the thoughts of the drivers.
Hyundai Motorsport
Thierry Neuville (1st)
"We are in a very strong position but we still can't take anything for granted. It has been an excellent day. We have enjoyed a good feeling in the car on all stages. We knew it would be tough to defend but we were able to maintain our lead and then saw that increase when Ott unfortunately retired. Knowing we had a margin, we were able to take it easier on the last stage, avoiding rocks and punctures. Even then the confidence we had in the car allowed us to set a competitive time. We have three iconic stages tomorrow, but the aim is clear: we have to keep it clean."
Andreas Mikkelsen (2nd)
"I am incredibly happy with how we have ended today's stages. I wasn't overly pleased with the morning loop, and I struggled in the opening two stages. I felt a lack of grip from the rear of the car and it was hard to push without sliding. However, we made some suspension changes at lunchtime service that improved my feeling and we could generate some excellent performance. We drove cleanly and precisely, finishing the day with a fantastic stage win. Bring on Sunday – and a push for the podium!"
Dani Sordo (5th)
"The battle for the podium is very close and it is pleasing to see all three of our cars featuring strongly on the classification. I lost some time on the first stage but we were able to bring ourselves back into contention. I enjoyed the stages a lot. There was a bit of cleaning in the morning but we were still able to make up ground. We find ourselves in a strong situation now with Thierry and Andreas 1-2, and what promises to be a fun and interesting fight for third place on Sunday."
Toyota Gazoo WRT
Kris Meeke (3rd)
"I was enjoying the driving this morning: the rhythm was good and the speed was quite OK, we were taking some seconds from Ogier in the fight for the podium. On SS11 I had a brake problem after a watersplash, which caused me to slide wide in a later corner and I touched the rear which punctured two tyres, so we had to do the super special with one flat. This afternoon, our setup wasn't perfect, with the stages having dried out quite a bit. Ogier took a little bit of time out of us, but we're still in the battle and tomorrow is going to be an intense fight."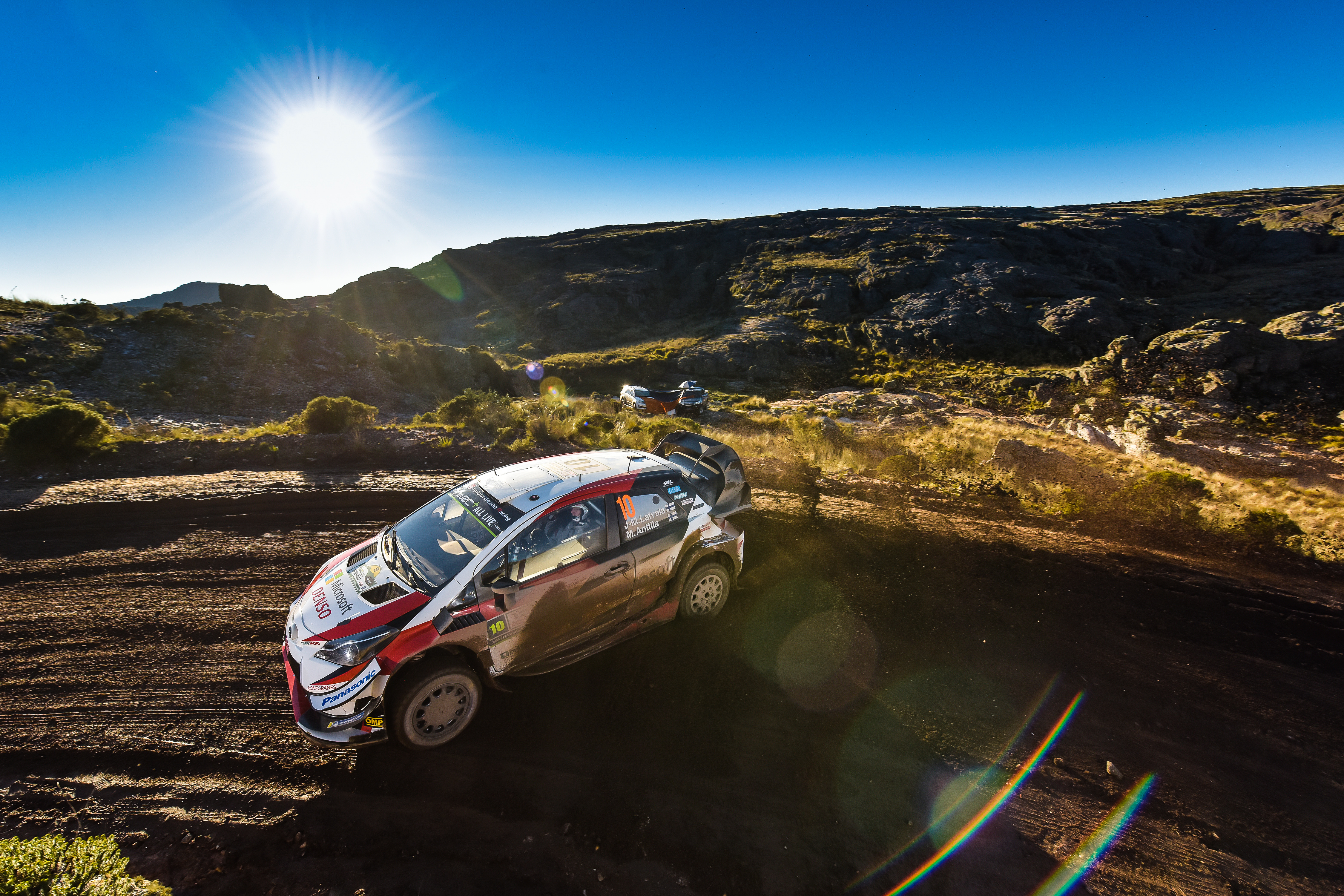 Jari-Matti Latvala (6th)
"I was satisfied with how the morning went. I hadn't done this group of stages for two years and some sections were completely new, but I enjoyed them. I knew I could improve doing them for the second time, so I was really confident going into the afternoon. The first two stages went well. On the last one, the engine took on some water in a watersplash, but I managed to get it restarted. Then I did a mistake myself, so in all we lost five or six seconds in our fight for fifth place, but I want to keep fighting tomorrow and let's see what we can do."
Ott Tänak (Retired/Rally2)
"We had a good start this morning. The roads today were very different to what we had yesterday: really smooth and fast in places. There were still a few slippery places, so the grip was inconsistent. We were looking forward to having a big push in the afternoon, but we knew in the first stage that we had a problem, that the battery voltage was going down, and in the second stage we had to retire. Of course, it's disappointing. With the performance we have I believe we are capable of winning any rally, but we still have some work to do. Tomorrow we'll do what we can, and we'll keep pushing: it's a long season."
Citroën Total WRT
Sébastien Ogier (4th)
"We had an up and down day. After dropping a lot of time this morning, I had very little to lose this afternoon, so I pushed hard with the C3 WRC. There was also a bit more grip and that appeared to help us. I'm expecting to move up a position or two this evening, after the rally organisers look at what happened at the gate this morning. Tomorrow, the goal will be to keep out of trouble on these rough roads and score as many points as possible."
M-Sport WRT
Teemu Suninen (7th)
"Today was a difficult day for us. We were first on the road where the conditions were a bit more slippery and we couldn't match the times of the fastest drivers. Then in the afternoon the intercom was cutting and I couldn't hear all of the notes from Marko. He had to give me the instructions by hand which took away some of the confidence."
Elfyn Evans (DNF)
"I've used these notes for quite a few years and not had a problem before, but when I arrived at the corner, I felt I was carrying just a little bit too much speed. I threw it in, and we made the corner to be fair, but I couldn't recover the oversteer. I planted the throttle but couldn't get the car straight and we hit a fairly massive boulder that was lining the road."
Sunday
Well, just three stages left, and the start list looked like this – Tänak, Suninen, Latvala, Sordo, Ogier, Meeke, Mikkelsen, Neuville. Also, the classification had changed, with Ogier now in third, ahead of Dani and Kris who had been given a time penalty.
Kris hit back with the best answer to this situation, winning SS 16 – Copina – El Condor (16,43 km) and moving into fourth place, just half a second from Seb who was struggling for traction. Thierry remained in the lead, now 36 seconds ahead of Andreas.
SS 17 – Mina Clavero – Giulio Cesare (20,30 km) was won by Thierry, but the big news was that Kris had passed Seb on the overall leaderboard and was now third. Also, on the move was Jari-Matti who passed Dani Sordo.
The final stage then, SS 18 – Power Stage El Condor (16,43 km) and Ogier flew through and won the stage, taking all five power stage points. His pace, plus a problem for Kris saw the Frenchman regain third overall. In the Toyota, Kris got a warning that his tyre pressures were low. It was enough to lose the third place that he had so convincingly gained. Still, it marked a great result, the best yet this year.
What a victory though for Thierry, Nicolas and Hyundai? Retained the championship lead in both the drivers, co-drivers and manufacturer tables. Impressive stuff.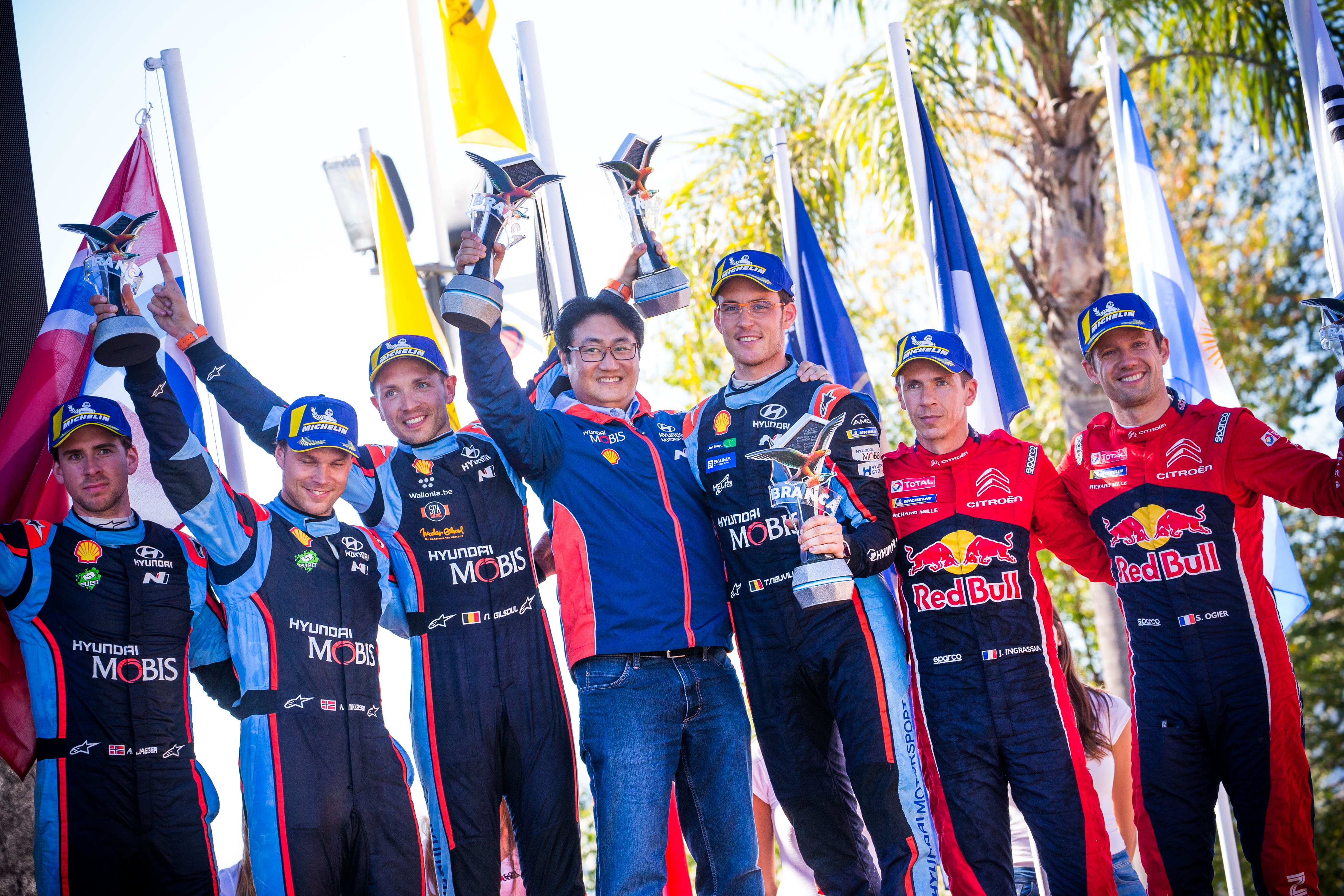 FINAL STANDINGS
Neuville / Gilsoul (Hyundai i20 WRC) 3:20:54.6
Mikkelsen / Jaeger (Hyundai i20 WRC) +48.4
Ogier / Ingrassia (Citroën C3 WRC) +1:04.8
Meeke / Marshall (Toyota Yaris WRC) +1:06.2
Latvala / Anttila (Toyota Yaris WRC) +1:21.1
Sordo / Del Barrio (Hyundai i20 WRC) +1:26.7
Suninen / Salminen (Ford Fiesta WRC) +4:57.3
Tänak / Järveoja (Toyota Yaris WRC) +14:24.8
Østberg / Eriksen (Citroën C3 R5) +14:28.5
Let's hear from the drivers!
Hyundai Motorsport
Thierry Neuville (1st)
"This is a really great feeling! The car has been absolutely perfect all weekend and I have felt comfortable, quick and in control throughout the event. We have taken some strong stage wins and shown the performance of our i20 Coupe WRC in some very challenging conditions. It has been an amazing team result, not only at the rally, but also everyone working tirelessly in Germany. I am so thankful to everyone for their hard work, dedication and professionalism. We have scored some important points for the championship and I am really proud of what we have achieved this weekend."
Andreas Mikkelsen (2nd)
"It's been a really tough really so I am overjoyed with this result. We have had to wait a long time for this, and we've certainly battled through some frustrating times. It might be second place but it really feels like a victory to me. We have been working so hard and I am incredibly thankful to the team for their support. We found great pace from the car this weekend and finally been able to show what we – and the car – are capable of. To finish 1-2 gives us such important points for the championship, and I couldn't be happier."
Dani Sordo (6th)
"I am really happy for the team, and pleased that our manufacturers' position has been strengthened. I really wanted to push for third place today but I just didn't have the pace that was needed. I have done my best all weekend but ultimately the 1-2 result for Thierry and Andreas gives the team maximum points, which is the most important thing. There are some things I can learn from this weekend personally, and I will aim to return stronger next time."
Citroën Total WRT
Sébastien Ogier (3rd)
"It's a pretty good result in terms of points, but we can't be pleased with our out-and-out performance level. There are some conditions, like those we saw in Mexico or here on the second runs, where we are fairly competitive. But we have to improve when there is less grip or when the road is more technical. I'm pleased to see our persistence rewarded, because once again this weekend we pushed as hard as possible right to the end."
Esapekka Lappi (DNF)
"Despite not knowing the roads here particularly well, I was obviously hoping for a better outcome from this round. But after we had picked up a puncture, I was caught out when the tyre suddenly came loose. This caused the car to understeer, we hit a bank at the side of the road and rolled the car. Obviously, I'm sorry for the team, but after a few days' rest with my family, Janne and I will back raring to go and have the best Rally Chile possible, where we'll all be on an equal footing in terms of experience."
Toyota Gazoo Racing WRT
Kris Meeke (4th)
"The time penalty last night dropped us back to fifth, but everything was still there to fight for. The car was working really well this morning and I enjoyed it. The rhythm was good and we continued that into the Power Stage, but about six kilometres from the end, I got a warning light to say the tyre pressures were going down. I have no idea where it happened. I tried my best, and sometimes it's like this. It's a bit frustrating, because in the last three rallies we could have had a top result. I'm really enjoying driving this car, and I enjoyed today even though it didn't quite work out. I have to keep doing what I'm doing, I know it's going to come right."
Jari-Matti Latvala (5th)
"Honestly, I'm feeling happy at the end of the rally. The season has been difficult for me so far, and we had a bad start here on Friday. But step-by-step we started to come back on Saturday, and today I felt I was back on the level where I was at the end of last year. I'm really happy about that. I wanted to attack a lot on the Mina Clavero stage: it's a stage where you can make big differences if you're confident. This strategy worked out, which gave me an extra boost for the Power Stage, where we had a really good fight for the fastest time. Now I'm looking forward to Chile and the fast and flowing stages we're expecting there."
Ott Tänak (8th)
"It was pretty demanding for us today. We were early on the road so we really struggled to set any good times. The positive was that we just managed to catch and take eighth place. It's been a very frustrating weekend with the issues we had. We had good performance but no big result, so there is a lot to improve. We will keep doing our best, so let's see in Chile how we can fight back."
M-Sport WRT
Teemu Suninen (7th)
"This has been a difficult rally for me and I'm sorry for the team that we didn't perform as well as we wanted. We know that we have a good car and we want to be pushing for better results. But at least we finished the rally and got some good experience for the future. Now, I'm looking forward to Chile and to seeing what we can do there."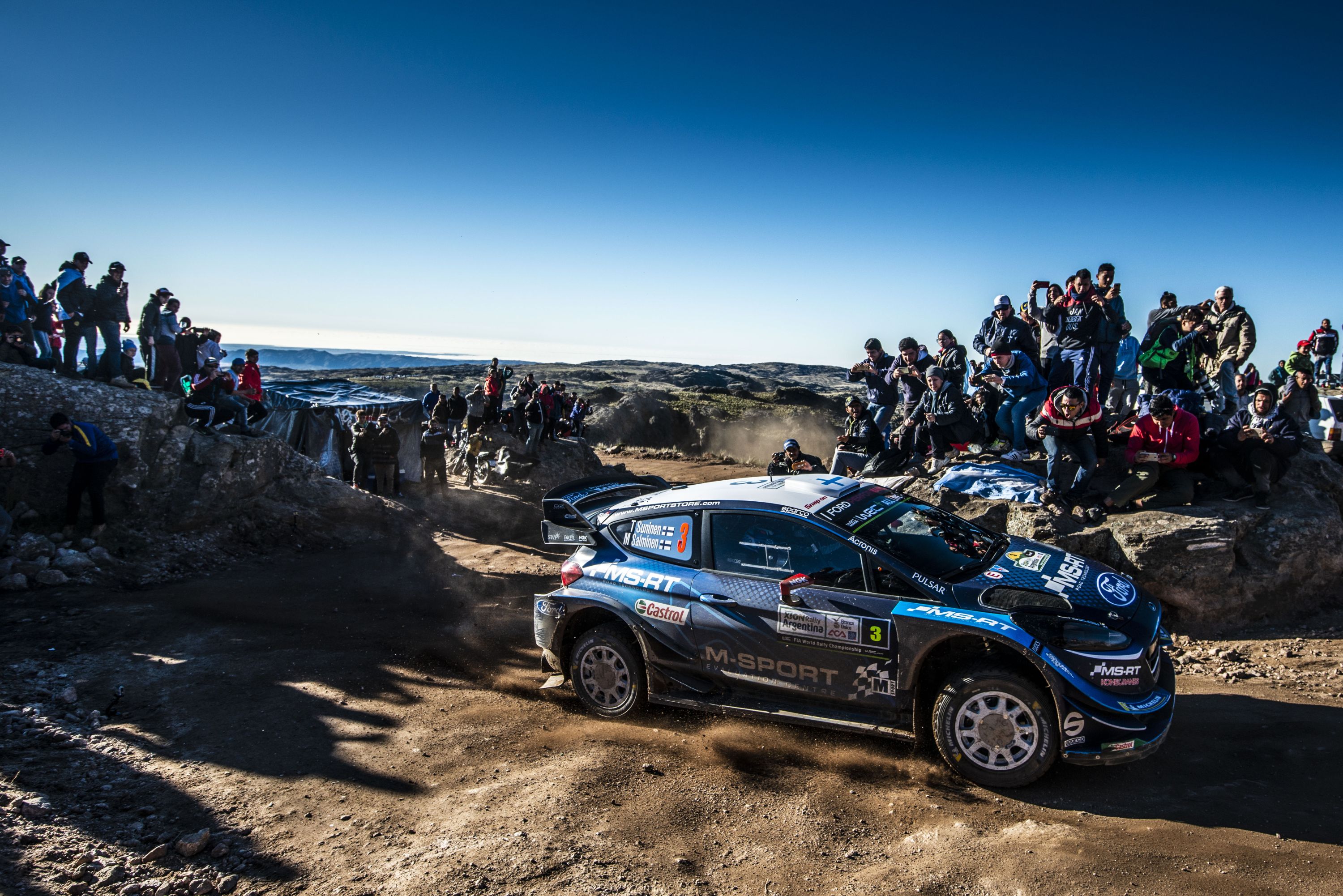 M-Sport team principle, Richard Millener had this to say as well;
"Teemu has done a solid job this weekend. It's only his second time here and he had to contend with some really challenging conditions. Anticipating those conditions when the rally is so different to the recce requires a certain level of experience, and he's gained some good knowledge for the future whilst keeping our points scoring record intact.
"But overall it's been a pretty frustrating rally for the team as we had the potential to secure another really strong result this weekend. But that's the way it goes sometimes, and we're already focused on the next event in Chile.
"The technicians started the re-prep on Elfyn's car yesterday afternoon and it's already starting to look like a proper rally car again! It's been stripped and washed, the chassis has been repaired, and most of the rear has already been rebuilt.
"We'll continue the re-prep on both cars over the next two and a half days, and then the technicians are going to have a couple of days holiday before flying to Chile on Saturday. We've actually got some mountain biking planned on El Condor which should be good fun!"
DRIVERS' WORLD CHAMPIONSHIP
Thierry Neuville – 110 points
Sébastien Ogier – 100 points
Ott Tänak – 82 points
Kris Meeke – 54 points
Elfyn Evans – 43 points
Andreas Mikkelsen – 30 points
Jari-Matti Latvala – 28 points
Esapekka Lappi – 26 points
Dani Sordo – 26 points
Sébastien Loeb – 22 points
MANUFACTURERS' WORLD CHAMPIONSHIP
Hyundai WRT – 157 points
Toyota Gazoo Racing – 120 points
Citroën Total WRT – 117 points
M-Sport Ford WRT – 78 points
Summary
Well, what a great rally! Those Thierry Neuville fans out there will be very happy indeed! He has a small lead in the championship over Seb, with Ott right there too. Kris moved up another position into fourth, after Elfyn Evans' non finish. Andreas Mikkelsen drove well, scoring his first podium since last year's Rally Sweden, and he was pretty pleased with that. Dani also went well, helping the team retain a good lead over Toyota in their battle for the manufacturer crown.
Next up is the first ever Rally Chile, held from the 10th to 12th of May.