This event marks the start of five straight events on gravel before a return to tarmac in Germany in August. Road position will be very important for those challenging for the championship as we head through these events. Thierry Neuville leads the championship giving him the situation where he is opening the road. Last year when he was in that position, he was not troubling the top positions, meaning that it'll be interesting how he deals with this. Can the Hyundai teammates get themselves into good positions to take points away from his rivals in the championship?
Seb Ogier and Citroen have to be considered as potential winners, but incredibly the Champion has never won this rally, but has stood on the podium four times. Perhaps this will be the year that sees him and Julien take their first win.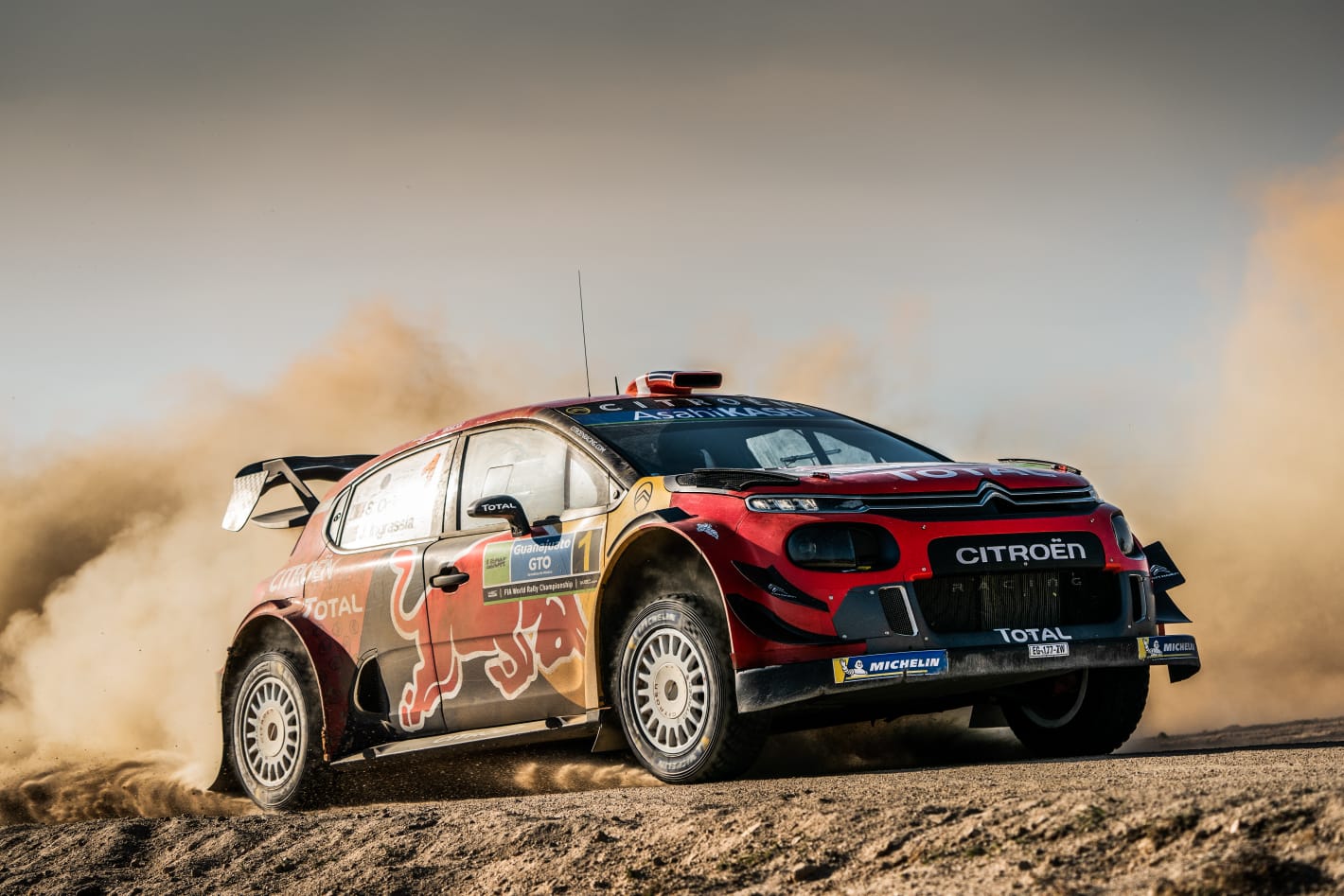 Two years ago, Elfyn Evans almost won this event, finishing just seven tenths from Thierry Neuville. This year, he comes to this event, having driven incredibly fast and consistently in Tour de Corse, with terrible heartbreak in the end for the Welshman, missing out on his second victory.
Now twelve months ago, Ott Tanak took his first victory for Toyota and will be hoping for a repeat, but perhaps we'll see Kris Meeke win instead. After all, he did take his first victory in this event in 2015, and what of Jari-Matti, who has also done very well, winning in 2014 for Volkswagen during their first season. One driver missing from the event is 2016 winner Hayden Paddon, and what a shame he is not competing.
Well, let's have a look at the stages that make this year's event. There is a total of 347,50km's competitive tests making up this year's event, with minor changes to the event and the penultimate stage, SS17 being run in the same direction as 2017. The start times for the stages are three hours behind GMT.
THURSDAY 25 APRIL
10.00am: Shakedown (4,25 km)
6.30pm: Start (Service park – Villa Carlos Paz)
7.08pm: SS 1 – Super Especial Villa Carlos Paz (1,90 km)
7.33pm: Parc ferme
FRIDAY 26 APRIL
6.25amp: Start & service A (Villa Carlos Paz – 15 mins)
8.08am: SS 2 – Las Bajadas – Villa Del Dique 1 (16,65 km)
8.55am: SS 3 – Amboy – Yacanto 1 (29,85 km)
10.08am: SS 4 – Santa Rosa – San Agustin 1 (23,44 km)
12.03pm: SS 5 – Super Especial Fernet Branca 1 (6,04 km)
12.43pm: Service B (Villa Carlos Paz – 40 mins)
2.51pm: SS 6 – Las Bajadas – Villa Del Dique 2 (16,65 km)
3.38pm: SS 7 – Amboy – Yacanto 2 (29,85 km)
4.51pm: SS 8 – Santa Rosa – San Agustin 2 (23,44 km)
6.41pm: Flexi service C (Villa Carlos Paz – 45 mins)
SATURDAY 27 APRIL
6.57am: Start & service D (Villa Carlos Paz – 15 mins)
7.47am: SS 9 – Tanti – Mataderos 1 (13,92 km)
8.38am: SS 10 – Mataderos – Cuchilla Nevada 1 (22,67 km)
9.25am: SS 11 – Cuchilla Nevada – Characato 1 (33,65 km)
11.26am: SS 12 – Super Especial Fernet Branca 2 (6,04 km)
12.02pm: Service E (Villa Carlos Paz – 40 mins)
1.17pm: SS 13 – Tanti – Mataderos 2 (13,92 km)
2.08pm: SS 14 – Mataderos – Cuchilla Nevada 2 (22,67 km)
2.55pm: SS 15 – Cuchilla Nevada – Characato 2 (33,65 km)
4.55pm: Flexi service F (Villa Carlos Paz – 45 mins)
SUNDAY 28 APRIL
7.45am: Service G (Villa Carlos Paz – 15 mins)
9.08am: SS 16 – Copina – El Condor (16,43 km)
10.31am: SS 17 – Mina Clavero – Giulio Cesare (20,30 km)
12.18pm: SS 18 – Power Stage El Condor (16,43 km)
2.01pm: Service H (Villa Carlos Paz – 10 mins)
2.31pm: Finish
Let's hear from the drivers then.
Hyundai Motorsport
Thierry Neuville
"Rally Argentina is a fantastic event with some tough stages and a great atmosphere. As one of the roughest rallies of the season, it requires a careful approach. On the one hand, we need to look after the car but on the other there are some sections where you can really attack. It's a balancing act; we have to find a good rhythm but also be ready to push more or less when necessary. We'd like to add more victories after the success in Corsica but we know it will be a demanding event, especially starting first on the road."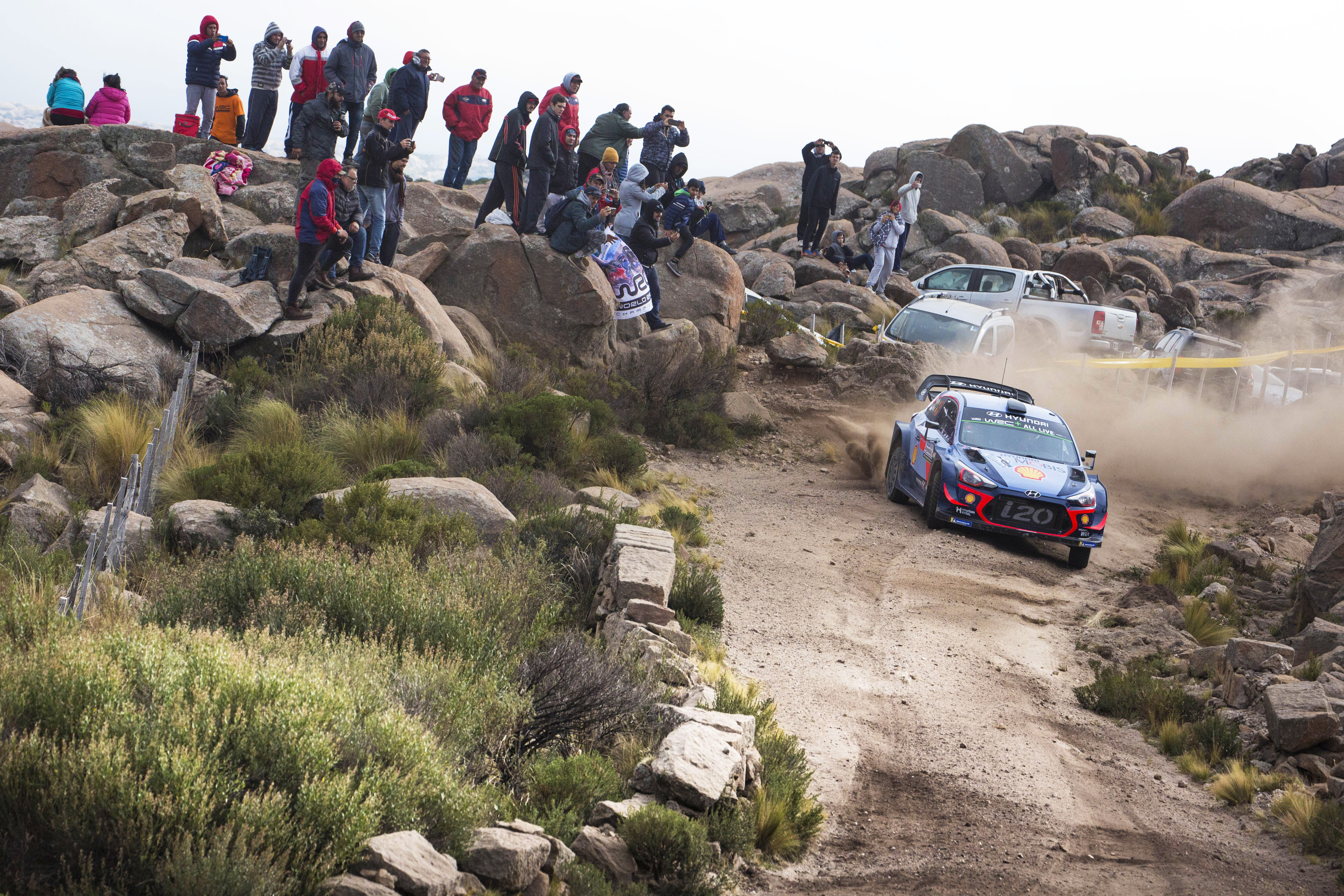 Andreas Mikkelsen
"Argentina is without doubt one of my favourite gravel rallies. There are a huge number of spectators and passionate fans, which creates an incredible atmosphere. The stages are in really nice condition, a little bit sandy compared to other gravel events that increases the grip level. As a result, we can set the car sideways into the corners and then push to the maximum. There are also the classic Argentina stages El Condor and Mina Clavero, which offer the ultimate test of man and machine."
Dani Sordo
"I always look forward to Rally Argentina, a special event with some truly amazing supporters. Despite being one of the roughest events on the calendar, there are some very nice stages – including El Condor and Mina Clavero – that are a real privilege to drive. We showed our pace on gravel in Mexico, fighting at the front on the opening day. We want to repeat that level of performance in Argentina and do all we can to get a good result for ourselves and the team."
Citroën Total WRT
Sébastien Ogier
"Although I have never won in Argentina, it's a rally that I like and I have often been quick here in the past. So, I come into this round with the same high hopes as usual. I would even go as far as to say I feel slightly more motivated by the prospect of winning this rally for the first time and with Citroën. It's also true that being second in the running order gives me a bit more of a chance than in previous years. The
type of roads used varies a lot, but I would say that what really stands out is how rough the gravel can be in places. You really do have to think about looking after your car sometimes, whilst continuing to drive quickly."
Esapekka Lappi
"With only one previous appearance at this rally, which doesn't change much from one year to the next, in principle, I start with a bit of a disadvantage compared to many of my rivals. Having said that, I'll have a good place in the running order and I'm very determined to build on my promising outing on gravel in the C3 WRC in Mexico and bring home the best possible result from Argentina. I remember that the stages here are fairly nice, but you have to watch out for the countless embedded rocks, because they pose a real risk in terms of punctures."
Toyota Gazoo Racing WRT
Ott Tänak
"I'm feeling good about Rally Argentina. It's the event where we managed to take our first win for Toyota last year, and we are expecting nothing less this year. I believe that we should be able to perform well again there. The fast roads and the kind of surface that we have in Argentina should really suit our car quite well. It's a really tough event, as the stages can turn very rough in places, so there are points where you need to take some extra care. As for Chile, I don't really know what to expect, as I haven't been there before. There are a few things that we've been able to find out in advance, but we'll only really discover how the stages are when we get there and see them for ourselves in the recce."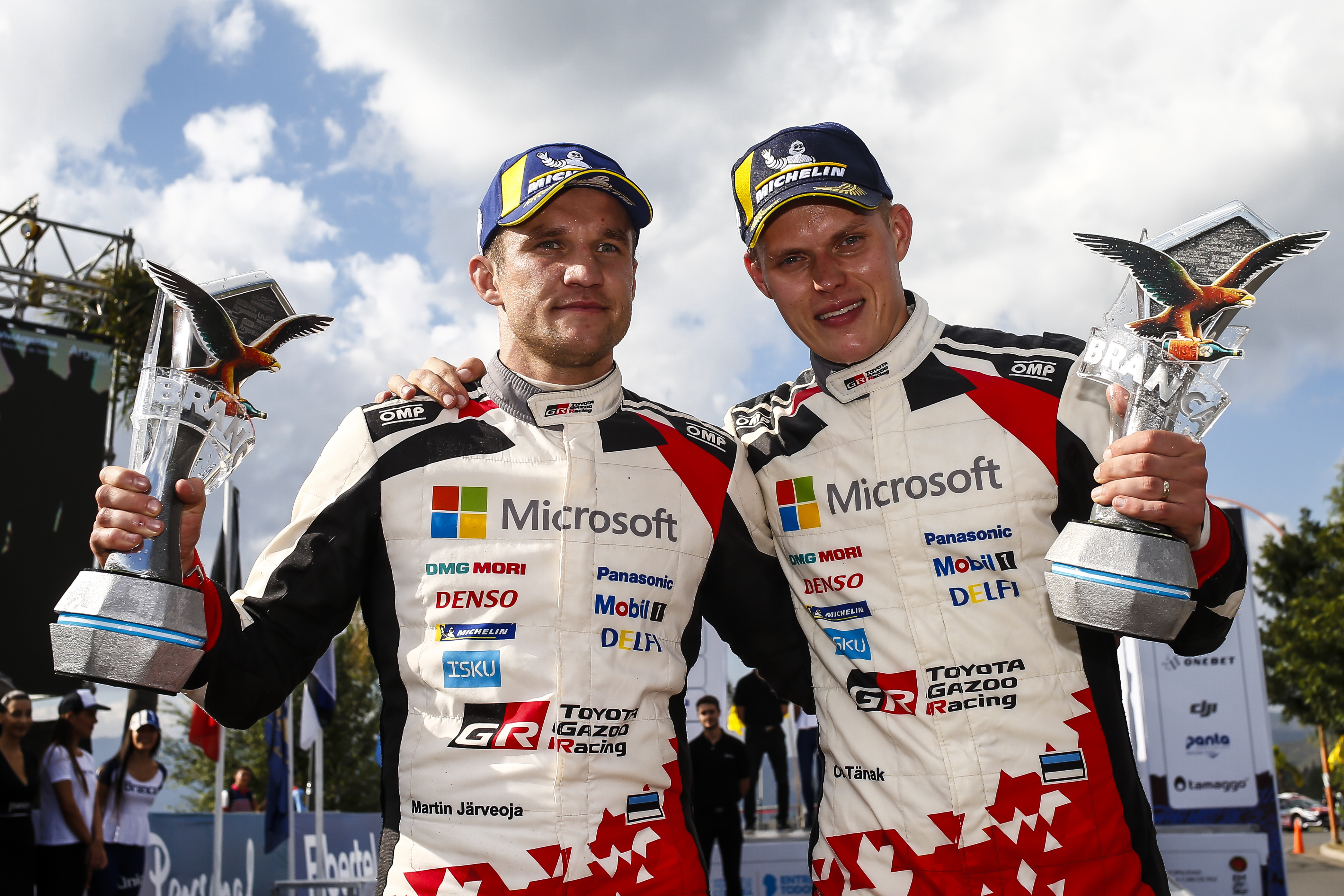 Jari-Matti Latvala
"Rally Argentina is one of the greatest events we have in the WRC. There is a lot of passion and a lot of spectators: some of them camping in the mountains, waiting to see the rally cars come by. The rally itself has some very nice, beautiful stages. The main challenge is that they can get quite rough for the second pass. On the other hand, I have been looking at how the roads are in Chile, and that won't be a rough event: there are no rocks and the sides of the road are very clean. Some places actually remind me of how the forest stages in Britain are when they're dry. My motivation is now very high, and I'm looking forward to getting started on these two events and being in the fight."
Kris Meeke
"Argentina has always been a rally that I've enjoyed and I have some good memories from there, particularly my first ever WRC win in 2015. I'll be hoping to try and have a clean rally. Mexico and Corsica could have been a lot better for me, so I'm definitely looking to have a top result. I had three days of testing on gravel in Portugal last week and I think we're in good shape for Rally Argentina. We've got five gravel events in a row coming up and they're all rallies I go well on, aside from Chile which is new for everyone. As drivers we won't know exactly what we're facing until we get to Chile and do the recce, but events in South America are always really well-supported with a great atmosphere, and I'm sure this one will be no different."
M-Sport WRT
Elfyn Evans
"I've always enjoyed Rally Argentina and I'm looking forward to heading back there again this year. The Argentine fans are amazing and make it a really special place for rallying – and for me. It's where I got my first podium back in 2015, and where I came pretty close to victory in 2017.
"We've had a pretty good start to the season and we want to see that continue that next week. We've had the speed; we've made some good steps forward with the car and we've secured two back-to-back podiums.
"The goal will be to continue that with another podium in Argentina. The competition is exceptionally strong at the moment and it's fair to say that we struggled here last year. But I'm confident in the work we've been doing and if everything goes to plan, I see no reason why we can't challenge for another top result."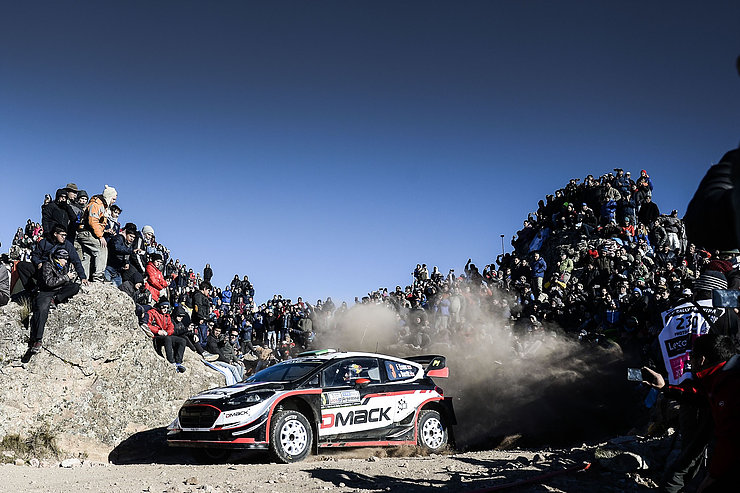 Teemu Suninen
"I'm really looking forward to next week and it will be interesting to see where we are. The start of the season has shown that the team have clearly taken another step forward with the car. There are still some question marks, but based on the previous events I feel that we can be competitive in Argentina.
"I competed here for the first-time last year and really enjoyed it. It's not a particularly rough rally, but it is fast and requires a lot of strength. On a long straight you can feel the holes in the road as they bounce the car in the air! You also need a lot of traction and the car needs to handle well in the ruts – which is one of the things we focused on at our test last week.
"Personally, I don't feel the same pressure that I had before Corsica but I still need to finish this rally with a good result. The good thing is that we can rely on our old pace notes from last year as there aren't many changes to the route."
I held a Twitter poll from my account (@Warren_S_Nel) asking to predict the winner and got 118 votes.
Sébastien Ogier got the highest percentage score of the votes, with Thierry deemed least likely to take victory.
| Sebastien Ogier | 33% |
| --- | --- |
| Elfyn Evans | 29% |
| Ott Tanak | 26% |
| Thierry Neuville | 12% |
Well, we are set for a fascinating battle, and you'll be able to follow all the action on WRC+ in the app, plus highlights on 5Spike Monday evening the 29th of April at 7pm for an hour.