Deniz Öncü takes his first career win in style today in Germany. He waited until the final moment of the race to pounce on Ayumu Sasaki as both riders were in a league of their own today at Sachsenring. 
After a long time coming for Deniz Öncü, he has finally taken his first win with victory today at the GermanGP. Can we see a challenge for the title now for the rest of the season? Daniel Holgado took the final podium place today, extending his championship lead to 41 points before heading into Assen next weekend.
HOW IT HAPPENED
Collin Veijer flew off the line, going from 4th to 1st down into turn 1 in an interchanging first lap.  There was a brief 1-2 for the Husqvarna riders until Öncü passed both in one move. Öncü is always with creative overtakes. Sasaki was then back into 1st ahead of Öncü, and with Veijer dropping back into 4th, normal order resumed at the front. It was a great battle to start us off in the blazing sunshine.
⚔️ @AyumuSasaki1 and @DenizOncu53 are wasting no time!#GermanGP 🇩🇪 pic.twitter.com/ZAFLT89pXf

— MotoGP™🏁 (@MotoGP) June 18, 2023
David Alonso on the 1st lap went from 14th to 7th with an amazing start from the Sunday man. On lap 2, Holgado gets by Ivan Ortola just as Veijer goes down and out after a great start for the Dutchman. Holgado was posting the fastest lap times and was now up into 3rd place.
Midway through lap 3 and the top 6 in the championship were the top 6 in the race. They were led by Sasaki and with clear air at the front. He managed to push over half a second clear of Öncü, in 2nd, by the end of the lap.
Out of turn 13, as we begin lap 5 with Ortola now dicing with Öncü, the battle for 2nd place is only helping Sasaki keep his lead and build momentum. He is now pulling away from the chasing pack behind.
A third of the way through the race now and we have Sasaki leading to Öncü by 1.433 seconds. There was a trio of Öncü, Holgado and Ortola, and then a gap of 3.224 seconds to Masia in 5th. Öncü, with 16 laps to go, was trying to pull away from Holgado and Ortola, to catch Sasaki before it was too late.
Öncü determined to catch Sasaki now, reducing the gap by half a second on lap 9. A great lap for Öncü and Sasaki will want to respond. Öncü quicker again on lap 10 but only slightly with Sasaki maintaining that 1 second gap.
At the halfway mark the fight is on for the win. Öncü was likely still reeling from last weekend's heartache in Mugello, but is now catching Sasaki and is just half a second behind. Öncü and Sasaki are clearly in a league of their own today, with a gap of 3.635 seconds to Holgado and Ortola in 3rd and 4th place respectively.
On lap 15 Öncü was seen whacking his leg, clearly struggling with some sort of injury, possibly cramp. Öncü was now multi-tasking and massaging a leg at the same time as keeping pace with Sasaki as they cross the line. Sasaki was only a few tenths of a second clear of the Turkish wonderkid, Öncü.  The front two are now 7.766 seconds clear of the rest of the field, with Holgado holding station in 3rd place ahead of Ortola in 4th.
With 7 podiums and 6 pole positions for Öncü, can we finally see a first career win for Öncü as we head into the final third of the race? Sasaki is without a win since Austria last year and both riders are desperate to get the victory here at Sachsenring.
It's no longer a matter of IF 🥵

It's all about WHEN or WHERE @DenizOncu53 will attack @AyumuSasaki1 👀#GermanGP 🇩🇪 pic.twitter.com/eeU3tZRLe5

— MotoGP™🏁 (@MotoGP) June 18, 2023
Attacking up the hill in the short run to the line, Öncü was along the straight and still waiting to pounce. He was sitting patiently on the back wheel of Sasaki. Further back on the lap, Holgado was doing a great defensive job holding off Ortola for 3rd as their battle continued.
3 laps to go and a battle for 5th place has 8 riders gunning for it with David Alonso currently heading that group of riders.
Lap 22 of 23, we have Sasaki and Öncü battling for first with a gap to Holgado and Ortola behind of 11.955 seconds, who in turn are battling for 3rd. Ortola to the melee for 5th place behind with a gap of 4.750 seconds.
3.6 km left now, with one final lap remaining – everyone was wondering if Öncü can get ahead of Sasaki. Sasaki was leading out of turn 1 and Öncü nearly ran into Sasaki into turn 3.  It's neck and neck with two more corners to go. Through turn 11, down the hill into turn 12, Öncü is on the wheel of Sasaki into turn 13 and makes the move on Sasaki.  A divebomb up the inside of Sasaki is what it takes to secure his first career win.
What a win for Deniz Öncü and what a fight for victory, leaving it until the last corner of the last lap to get the job done. It's been a long time coming the first win for Öncü and I'm sure the joy of victory has healed that cramping leg pain.
ABSOLUTELY ECSTATIC! 🤩

It's been a long time coming for @Denizoncu53 🏆#GermanGP 🇩🇪 pic.twitter.com/sigxfUxUk7

— MotoGP™🏁 (@MotoGP) June 18, 2023
Daniel Holgado rounded off the podium places, in 3rd, and extends his championship lead to a mighty 41 points ahead of Jaume Masia 2nd. Can Öncü, Sasaki, Masia and Ortola keep chipping away at Holgado's lead next weekend in Assen?
Race Result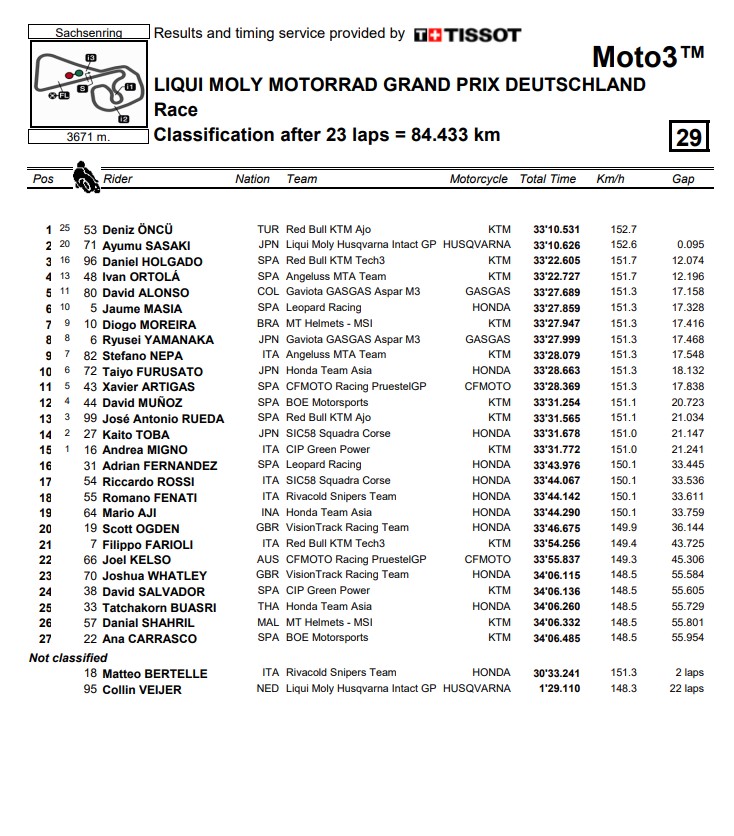 Moto3 Championship Standings After Round 7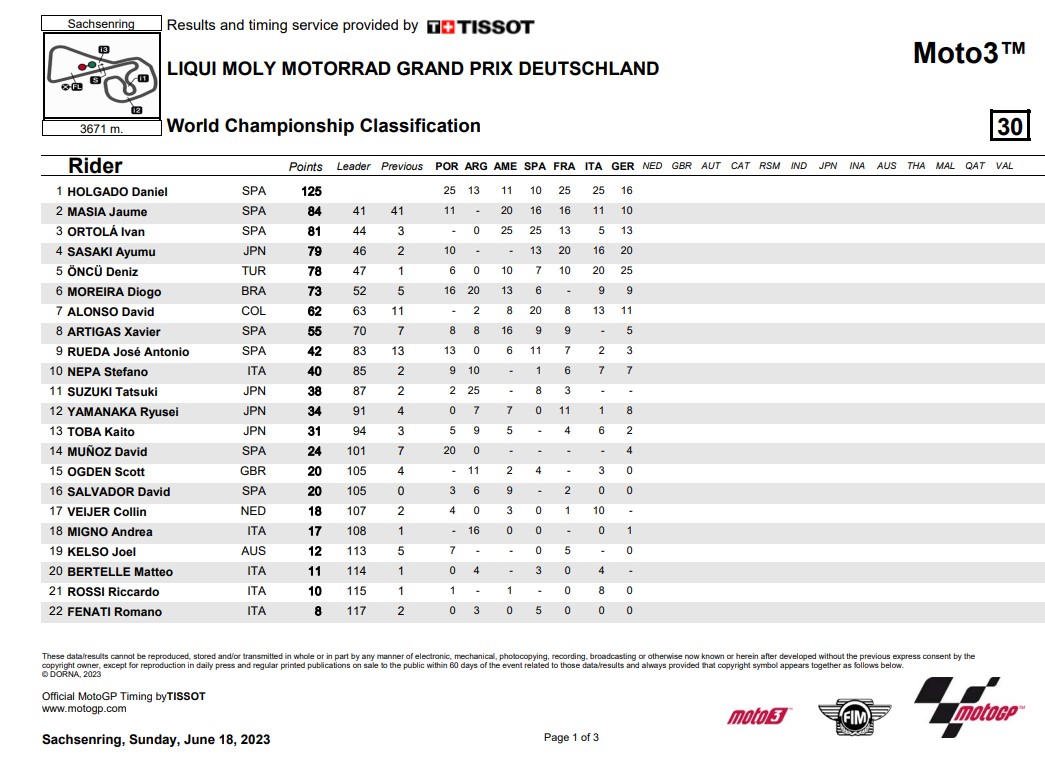 Feature Image Credit: MotoGP