It's business as usual in the Red Bull garage as they have finally unveiled the racing livery for the RB15 ahead of the first session of winter testing which began in Barcelona this morning.
After an exciting week of livery reveals, Red Bull were the talk of the pit-lane by unveiling an unusual geometric livery ahead of the official 'shake-down' and filming day at Silverstone. It was made clear from Red Bull's press release that the livery being displayed wasn't set to last: "In recent years, we've chosen to kick off the year with some memorable paint jobs – but we revert back to our well established racing colours pretty quickly".
The clarifications did not prevent fans disappointment as many had hoped the livery would have at least lasted until the end of pre-season testing, which begins today.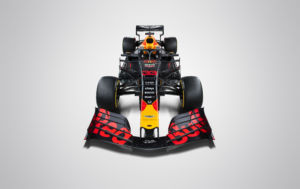 The traditional matte colour scheme remains, with the trademark charging bull along either side of the car. The livery has been updated slightly to reflect their partnership with Honda, however it doesn't create much of a difference to the design overall.
Although it would have been nice to see Red Bull really shake things up with their livery, it doesn't stop them shaking things up on the grid this season. The Red Bull has put on its racing suit – bring on 2019!
[Featured image – Thomas Butler / Red Bull Content Pool]