The last race before the summer break takes us to Hungary, a track that last year produced carnage at the start and one of the strangest restarts in history with only Hamilton taking the lights on the grid. Ferrari has it all to do so that they can go into the summer break with some positive energy in the team.
Hungarian GP 2021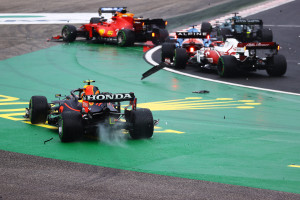 Last year saw the race start wet, which meant everyone started on intermediates but created chaos at the start. Bottas got a poor start but couldn't slow down fast enough for turn one, hitting the back of Norris. This created a chain reaction, Norris hit Verstappen, Bottas hit Perez and behind them, Stroll had crashed into Leclerc, who hit Ricciardo.
This created a red flag, allowing the track to dry, and on the formation lap to the restart grid, all drivers apart from Hamilton dived into the pits to get slick tyres, creating one of the weirdest standing starts in Formula 1 history.
The race itself is known as an exciting track with plenty of overtaking opportunities and a great place to rack up some decent points for the championship.
Ferrari's strategy calls in question… again
It's no secret that in the last few years Ferrari has managed to build a reputation for making strategic decisions that often get in their own way. The French GP was no exception to this.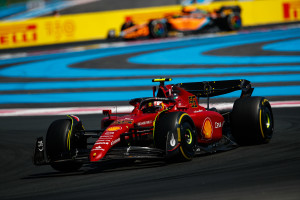 After losing Leclerc from the race early on, they only had to focus on Sainz, who was making great progress through the field and looked on pace for a podium. However, with 10 laps to go Ferrari decided to pit him for fresh tyres. He was on the mediums, and it was questionable if they would make it to the end, but Sainz was at a good pace and had just past Perez in P4.
These calls have now created a situation where Ferrari will need an almost flawless performance from now on. For Leclerc who is now 63 points behind Verstappen, he needs a clean weekend to take that confidence into the summer break
Double podium Mercedes
Mercedes had their first double podium since the Saudi Arabian GP in 2021. They are currently the most reliable team on the grid, and at their fastest, they have been able to pick up podiums when the top two falter.
However, they are now consistently on the pace and fight for the podium places now merit. Hamilton seems to have returned to his performance after a shaky first part of the season and Russell is still consistent. Hungary has always been a happy hunting ground for them, so they will want to replicate their past success.
Alpine is at the top of the midfield pack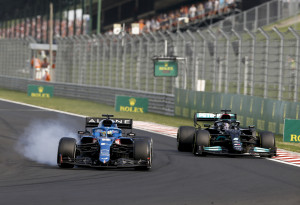 Alpine has fond memories of the Hungarian GP last year, Ocon got his first win in Formula 1 and Alonso had an epic battle with Hamilton, helping out his teammate from the charging Silver Arrow. This year they appeared to have a faster car to bring to the fight.
In France, Alpine definitely had the measure of its closest championship rival, McLaren. Alonso appeared to taunt the papaya behind him and finished P6, while his teammate finished in P8 after an early incident with Tsunoda.
However, they are only four points ahead and McLaren seems to be having unpredictable performances. Alpine can't rely on that pace alone with the midfield battle so close.