Round fourteen of the 2018 Formula One season saw teams arrive at Monza for the Italian Grand Prix. Deemed the Temple of Speed for a reason, it would be a two-way fight for the victory between Ferrari and the Mercedes. Ferrari hoped to please the Tifosi at their home GP whilst Mercedes wanted to steal the show and dominate proceedings, over their Italian rivals.
In a dry qualifying it was Ferrari that took a front row lockdown, but not in the usual order. It was Kimi Räikkönen who profited from the slipstream he got from his teammate Sebastian Vettel, giving him the fastest ever F1 lap with an average speed of 263kmh. Vettel wasn't happy with his P2, as he told his team they'd "talk about it" afterwards. He was most likely disappointed that the Finn got the slipstream instead of him as he's a Drivers' Championship contender. The second row belonged to Mercedes.
The Tifosi were in for a party as the front row coloured red, just as all the grandstands were. Räikkönen had a great start as he led into turns three and four. It was at that same corner that Lewis Hamilton went round the outside of Vettel which then led to contact. The Ferrari driver spun and headed to the pits to repair his front wing. The stewards would look into the incident between the two championship contesters. Before the drivers had cleared the first corner, the Safety Car (SC) was brought out for an incident involving  Brendon Hartley, after he got sandwiched on the straight between a McLaren and a Sauber. This meant his suspension broke and he had to pull the car onto the grass.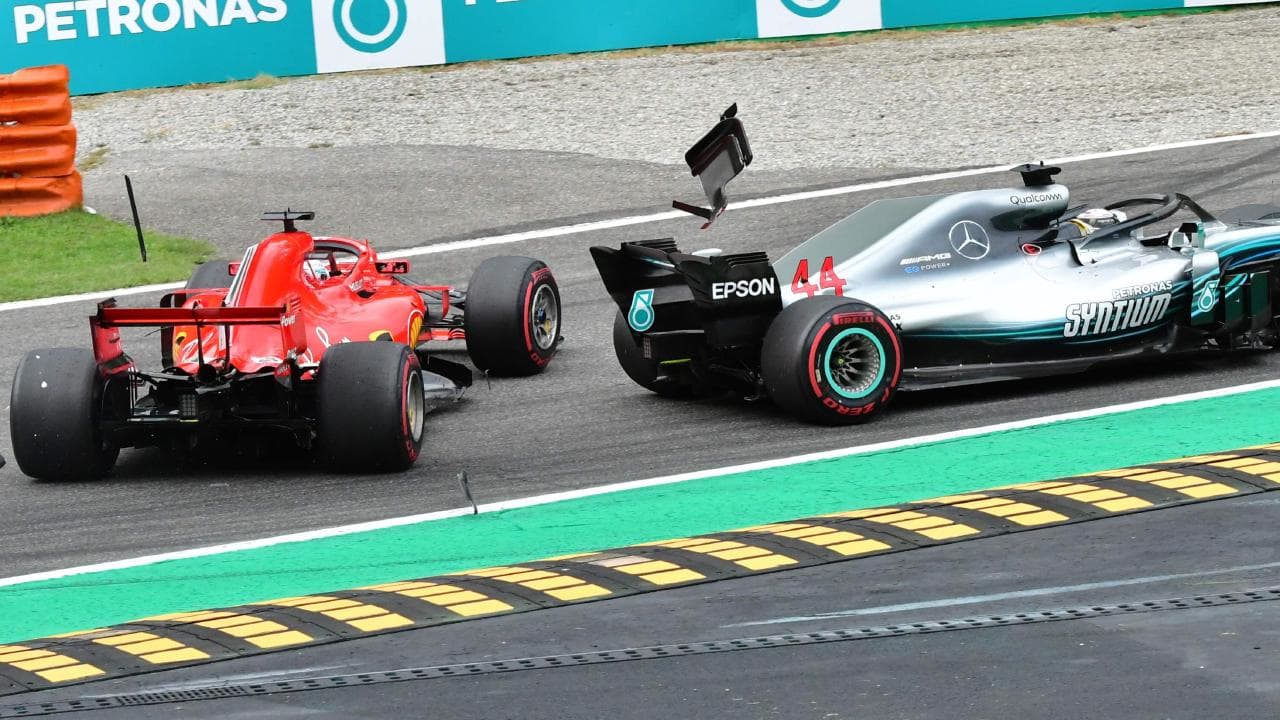 At the restart in lap four it was Hamilton who got past Räikkönen into turn one without DRS. However, a better exit gave Räikkönen the opportunity to get first place back, leading to big cheers from the Italian crowds. Vettel opted during his pit stop for the soft tyres, probably trying to avoid another pit stop.
At the back there was slight contact between Sergio Perez and Kevin Magnussen at the first Lesmo corner. Some debris flew onto the track and onto Magnussen's car, but not enough to bring out another SC. Meanwhile the stewards decided to take no further action in the incident between Hamilton and Vettel.
During lap eight it was chaos in the fight for the last available point. Charles Leclerc got P12 from Pierre Gasly, and Daniel Ricciardo tried to profit from his poor exit but that almost cost him his front wing into turn four. One lap later Vettel overtook Leclerc for P13, who had already lost his P12 to Gasly. Drama for Fernando Alonso and McLaren again, as he had to retire the car only ten laps into the race due to an engine problem.  His "what a shame" comment sounded a bit sarcastic over the radio.
A huge fight between Ricciardo and the new 2019 Red Bull driver Gasly took place. It was the Australian who braked too deep into the corner, hitting the Toro Rosso on the side but without major damage.
Then Esteban Ocon taking sixth place from Carlos Sainz using DRS on the main straight. At front it was still Räikkönen leading Hamilton by 1.4 seconds. Meanwhile Vettel reported to his team that he still had some damage affecting the balance of the car. Max Verstappen, who was in third, was under increasing pressure from Valtteri Bottas, closing in on the Red Bull driver to try and get within DRS reach. Vettel was in ninth place by lap 16 and closing in on the Force India of Perez. Trying to overtake him the German braked too late, missed the apex and Perez got his eighth place back. Finally in lap 18, Vettel got past the Mexican for eight place, now heading towards the Renault of Sainz.
The battle between Verstappen and Bottas continued to heat up, causing both to lock up their tyres into turn one. Verstappen seemed to think Bottas was close enough to overtake him, but his team reported to him that "he was nowhere near." Vettel meanwhile passed Sainz for seventh place, still around thirty seconds behind his teammate and race leader, Räikkönen. The Finnish Ferrari driver came into the pits during lap 21 whilst the Mercedes crew were 'faking' a pit stop. But only one lap later they were saying the famous words, "It's hammer time!" He then didn't come to the pits again, after his team ordered him to stay out as he still had the pace but his teammate Bottas was still struggling to get past Verstappen.
On lap 24 some drivers reported that it was raining at the back of the circuit around turns three and four, but one person who wasn't worried about the rain was Vettel. He was still surging ahead and got into P5 after overtaking Ocon.  Then there was a big smoke plume behind Ricciardo – his new C spec Renault engine died, meaning he had to retire from the race. For the fourth time in six races the Australian didn't make it to the end. His teammate Verstappen then asked his team if everything was alright with his engine, the team assured him that there was no problem. The Dutchman would soon come into the pits, opting for the soft tyres, but he dropped back to sixth place behind Vettel.
Bottas was told by his team to keep Räikkönen behind him to help Hamilton make a safe pit stop. He would opt for the soft tyres, but he couldn't even get close to Räikkönen coming out of the pits. During lap 30, Vettel made his second pit stop of the race, now opting for the supersofts. Falling back to tenth place for doing so, he once again had to fight his way back to the front. Bottas was in "holding mode" – keeping Räikkönen behind him so that Hamilton could close the gap between himself and the Finn. Mercedes reported to Bottas that Räikkönen had blistered his left rear tyre.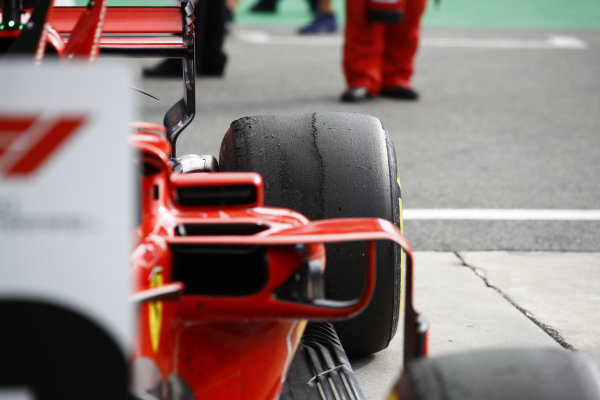 Hamilton was within a second of Räikkönen by lap thirty-five, splitting the top three by just less than two seconds. Finally, Bottas came into the pits from the leading position, going from the supersofts to the softs, but he would fall back behind Verstappen by three seconds. This pit stop gave Räikkönen the chance to create a gap between himself and Hamilton, but at this stage he was really struggling with his blistered tyre. Hamilton's tyres were eight laps newer with fifteen laps left.
Vettel meanwhile overtook Perez for sixth place with only a small gap to catch Ocon, who headed to the pits, so Vettel surged to fifth. Whilst Räikkönen was struggling with blisters on the rear left, it was Hamilton who was struggling with blisters on the front left. The battle behind them was between Verstappen and Bottas who got very close to the Red Bull and tried to get past him in lap 42, but Verstappen defended well. One lap later he tried again but this time it cost him way more as he completely missed turn one after he and Verstappen made contact when the Dutchman went to the left where Bottas was trying to overtake him. Once again the stewards had a tough job to decide what to do. Bottas lost four seconds because of the incident. The stewards handed Verstappen a five-second time penalty for causing a collision. He didn't sound too happy on the radio: "For what? I gave him space. They are doing a great job of killing racing, honestly."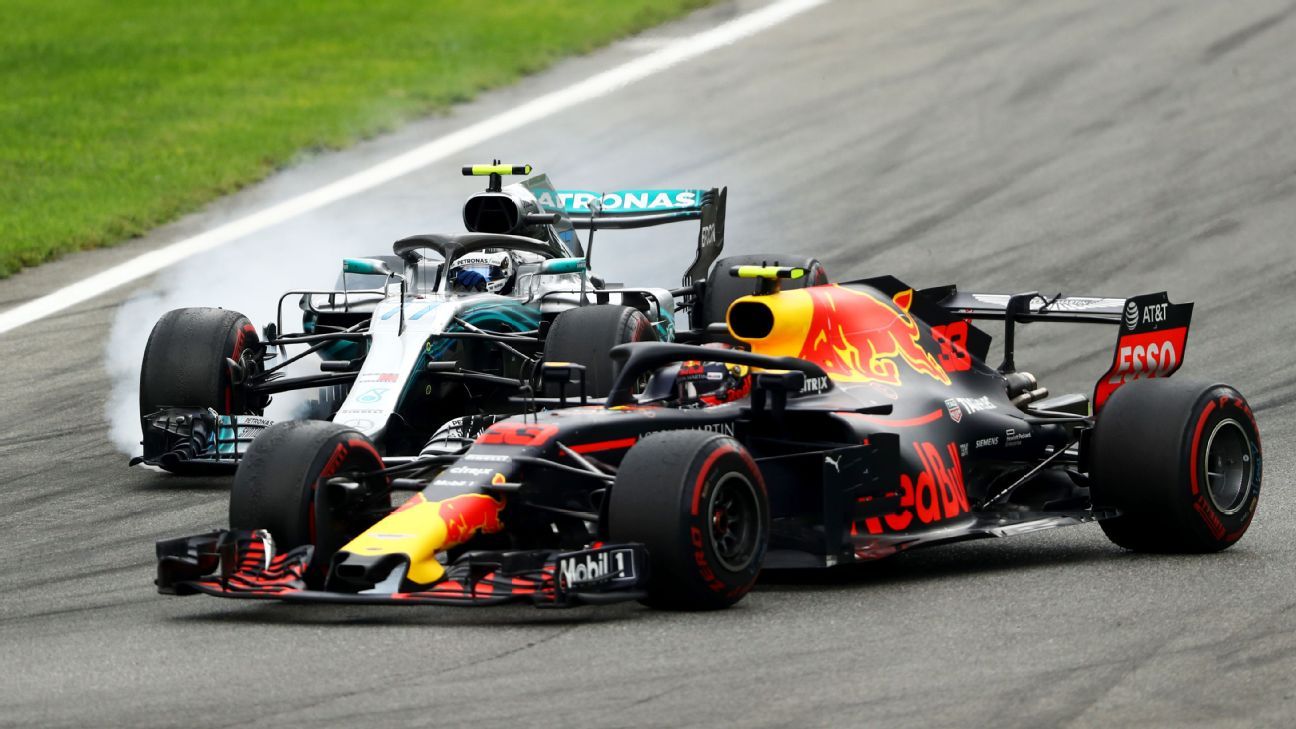 Then Monza had a new race leader as Hamilton finally got past Räikkönen using DRS into turn one, despite Räikkönen's defense attempts. Seven laps to go and Räikkönen began losing time to Hamilton. Verstappen had a gap of just over one second on Bottas and with the time penalty he had it would mean he'd be in fourth place. The Dutchman also lost time to Vettel because he was fighting Bottas, but told his team, "I don't care about it."
Meanwhile it was worryingly to see that Sergey Sirotkin had unlapped himself by passing Räikkönen, when Ferrari had told the Finn that his tyre situation was critical.
After 53 laps, taking around 77 minutes, it was Hamilton who took his 86th career victory at Ferrari's home GP. This made it extra painful for the Tifosi who really made this clear by booing the race winner and his 'wingman'. Mercedes then angered the Tifosi even more as Bottas was told over the radio to stay next to Hamilton in "formation all the way out, just to show our Italian colleagues." Hamilton even thanked his teammate for helping him out. One positive for the Tifosi was that Driver of the Day Räikkönen brought home his Ferrari in second place and Vettel fought back to finish in fifth position. Bottas completed the podium as Verstappen got demoted to fifth. Romain Grosjean, Ocon, Perez, Sainz and Lance Stroll completed the top ten.
Hamilton entered the weekend as Championship leader and left Monza still as the leader in the title fight, but now with an even bigger margin. He now has 256 points over Vettel's 226 points, as the German threw away some very important points at his team's home GP. Räikkönen extended the gap between himself and Bottas  to five points, and Verstappen once again shortened the gap to his teammate due to another retirement. While Mercedes are leading the Constructors' Championship with 415 points with Ferrari trailing behind with 390 points.
F1 will return in two weeks for round 15 in Singapore. Vettel really has to get some points to keep Hamilton from running away with the Championship, and Singapore seems to be one of his biggest opportunities to do that. Will Vettel be able to bounce back, or will Hamilton take another big step towards his fifth World Championship?