Max Verstappen wins from P10 with Hamilton finishing P2 from 7th and Russell rounding out the podium after getting pole in qualifying. Ferrari had another disastrous strategy resulting in them finishing off the podium in P4 and P6.
The weather looked like it could have played a part when it began to spit before the start of the race. Several cars locked up into turn 2 with the strong tailwind that was being created and could have affected them during the race.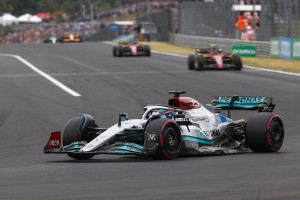 Lights out and George Russell gets a great start from pole but behind him, Sainz has kept up with him going side by side with Carlos on the outside of into turn 1. Russell closes the door and manages to stay ahead of both Ferraris. Leclerc got a slow start meaning Norris could pressure for P3 but with no success. Hamilton was the main mover at the start, making it to P5 before turn 1.
Bottas got a slow start so both RedBulls were able to jump ahead of him and begin to chase down the Alpines. On lap 7, with a much faster car, Verstappen was able to make a move down the inside of turn 1 and move past Alonso before chasing after and passing Ocon. Perez was not far behind and took both Alpines just the next lap.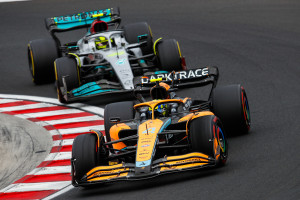 By lap 12 Verstappen had closed down the gap to Hamilton in P5 who was battling Norris for P4. Just as Verstappen reached within the DRS range of the Mercedes, Hamilton made a DRS move on Norris down the inside of turn 1. Verstappen took advantage of this as Norris went slightly wide to have a drag race into turn 2. Verstappen, still with DRS, was able to go around the outside of Norris meaning the McLaren lost two places within two corners.
Just before the first pitstops, Leclerc began to complain that he was faster than Sainz in front of him. To solve this they brought Sainz in leaving Leclerc out for a longer stint. However, this benefited Leclerc who came in for his stop on lap 22 and then came out behind Russell but ahead of his teammate.
With fresher tyres, Leclerc didn't take long to catch and overtake the Mercedes for the lead. On lap 30 Leclerc used DRS down the main straight to make a move around the outside of turn 1 which this time he made stick. Sainz was not far behind so this was Ferrari's race to control.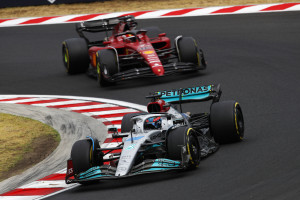 10 laps later it was time for stop number two for Leclerc and Russell. In a bold move Ferrari but on the hard tyres, which no one had been able to make work in the cooler conditions. The pitstop hadn't worked for Mercedes as Russell came out behind both RedBulls, with Leclerc out just in front of them.
The hard tyres would prove to be Leclerc's undoing though. As he couldn't get them to warm up and find pace, just one lap later Verstappen had DRS and passed him down the inside of turn 1. Just when we thought Verstappen had made the move stick for the net lead, he went for a spin, losing the back end of the car coming out of the penultimate corner.
This had a domino effect on Perez, who got caught up behind his teammate and now had to defend from Russell going down the main straight. Side by side, the Mercedes was able to make it around the outside of Perez in turn 1, nearly making it past the other RedBull before having to yield.
It wasn't long before Verstappen caught up to Leclerc and overtook him in a similar fashion to before. This time though he was able to make it stick and create a gap to the Ferrari, which still had the hard tyres on.
On lap 54 Russell had now closed the gap on Leclerc as well and looked on for a move. Leclerc defended the inside of turn 1 but unfortunately, it wasn't enough to keep the Mercedes behind him. Moving Russell back into P2. Ferrari then decided enough was enough and pitted Leclerc for mediums one lap later. It was too late though as he came out behind Perez, who had struggled but was finding some good pace towards the end of the race.
At this point, Hamilton was back on a charge having made a late stop for soft tyres. Putting in fastest lap after fastest lap, he was able to make his way up to the podium places with ease. When he came across his teammate 5 laps from the end there appeared to be no team orders and they were allowed to race. However, Hamilton was just faster and after a clean battle, he did a switch back coming out of turn 1 on his teammate to take P2.
Verstappen took the chequered flag to win his 50th Grand Prix and be 80 points ahead in the drivers' championship heading into the summer break. Mercedes got a second consecutive double podium, and it looks like they are on pace to compete for race wins if it weren't for issues in qualifying. However, with the technical directive coming into play in Spa, this could affect the race pace of the top teams. Either way, Ferrari needs a flawless second half of the season to get back in the championship hunt.