The final day then of this unique rally and with 67km's over four stages to decide not only the result, but also this seasons championship.
Elfyn and Scott returned to the action with a rebuilt GR Yaris and would open the road throughout the final stages. Could they take a power stage win and extend his championship challenge?
First up was SS15 Böhmerwald 1 – 17.25 km and Seb was fastest from Elfyn and Thierry. The Belgian was continuing to pull away from the Finns in second place, the gap now over 30 seconds. Meanwhile we had drama in WRC2 with long time leaders Emil and Reeta in their Rally2 i20 suffering a mechanical problem on the road section to the start of the stage and having to retire. Nicolas was fastest from Nikolay and Alejando with the Frenchman moving into the lead of the category.
Next up was the first run of SS16 Passauer Land 1 – 16.37 km, what would be the power stage at the end. Elfyn was fastest from Seb and Takamoto, whilst Kalle and Jonne continued to just complete the kilometres with a controlled drive through this stage. In WRC2 Andreas was fastest from Nikolay and Nicolas, whilst Nicolas continued to lead the category from Erik and Kajetan. Nikolay was climbing up the leader board now into sixth place.
Onto the penultimate stage then, SS17 Böhmerwald 2 – 17.25 km and Seb was fastest from Takamoto and Thierry. Further back, Kalle and Elfyn were equal sixth fastest in the stage. Nikolay was fastest in WRC2 from Alejando and Nicolas. The Frenchman continued to pull away from second placed Erik.
Time then for the power stage, SS18 Wolf Powerstage Passauer Land 2 16.37 km and there was a thirty-minute delay before the action started. Once the action got started Elfyn flew through the stage and set a time that no-one bettered. He and Scott took the maximum power stage points from Thierry, Seb, Takamoto and Ott. The key moment was when second place finishers Kalle and Jonne completed, only eighth fastest in the stage, but securing second overall and therefore this years world championship title. They had become the 2023 world champions and double world champions as well.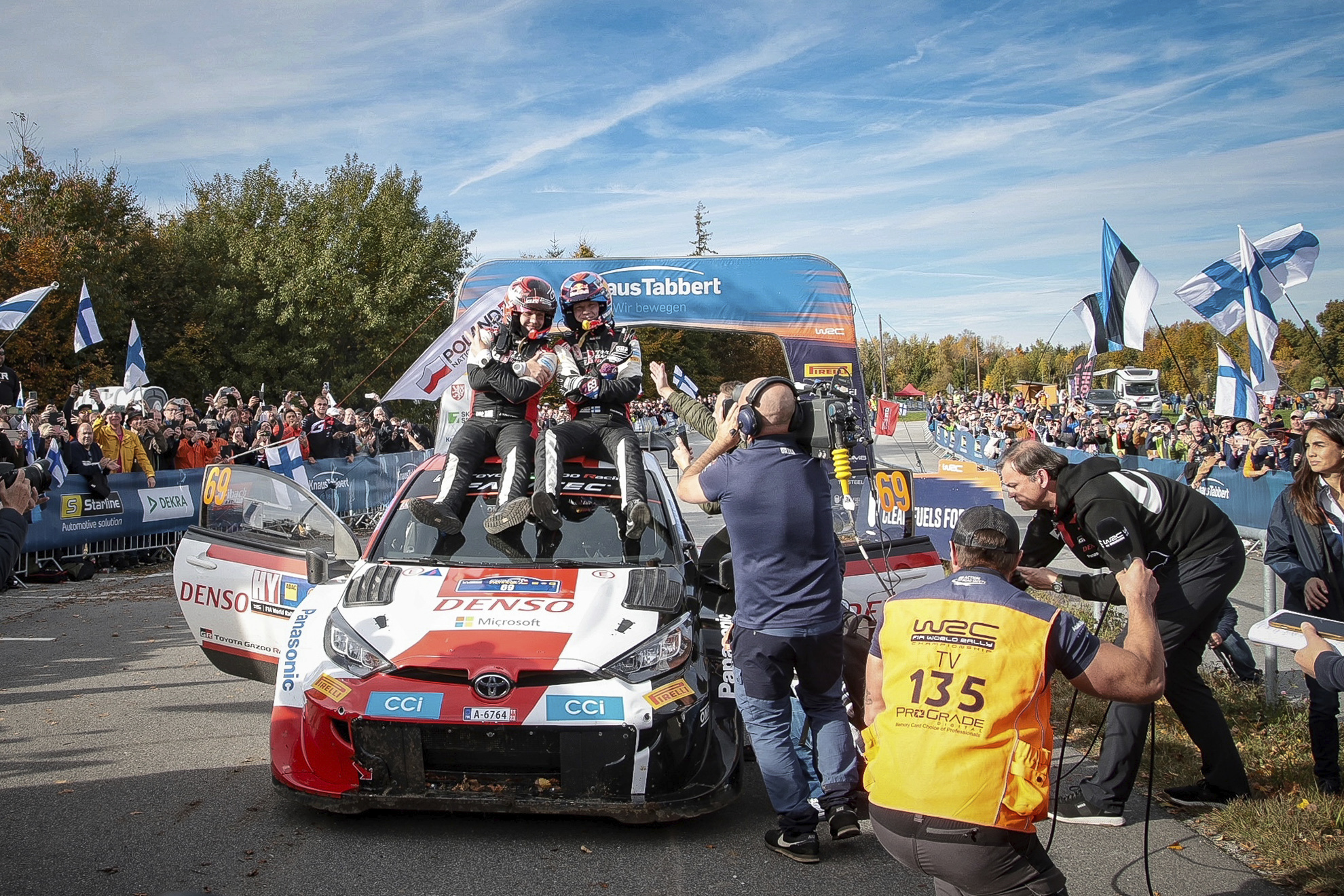 Let's take a look at the final finishing positions and hear from the drivers.
Final Overall Classification – Central European Rally
| | | | | |
| --- | --- | --- | --- | --- |
| 1 | T. Neuville | M. Wydaeghe | Hyundai i20 N Rally1 Hybrid | 2:52:39.9 |
| 2 | K. Rovanperä | J. Halttunen | Toyota GR Yaris Rally1 Hybrid | +57.6 |
| 3 | O. Tänak | M. Järveoja | Ford Puma Rally1 Hybrid | +1:52.8 |
| 4 | S. Ogier | V. Landais | Toyota GR Yaris Rally1 Hybrid | +2:08.6 |
| 5 | T. Katsuta | A. Johnston | Toyota GR Yaris Rally1 Hybrid | +2:48.3 |
| 6 | T. Suninen | M. Markkula | Hyundai i20 N Rally1 Hybrid | +3:06.3 |
| 7 | G. Munster | L. Louka | Ford Puma Rally1 Hybrid | +4:22.3 |
| 8 | A. Fourmaux | A. Coria | Ford Fiesta MkII | +11:35.8 |
| 9 | N. Ciamin | Y. Roche | Škoda Fabia RS | +11:53.1 |
| 10 | P. L. Loubet | B. Veillas | Ford Puma Rally1 Hybrid | +12:04.3 |
Hyundai Motorsport
Thierry Neuville (1st)
"I am really happy; it was a relief to make it to the finish! It was a very challenging, tough weekend out there. Overall, we have done a very good job; we had good consistency and speed, which really paid off, and I was able to start enjoying the rally more towards the end – especially when the grip conditions got a bit more stable. Thank you to everyone – it was a real team effort this weekend, and we did it. We have been pushing hard since Sardinia for another win, and it didn't happen despite many podiums. To win here in front of lots of Belgian fans and family is obviously great – a lot of joy in this moment. We can be proud of what we achieved and now we look forward to the last event of the year and focus on another victory."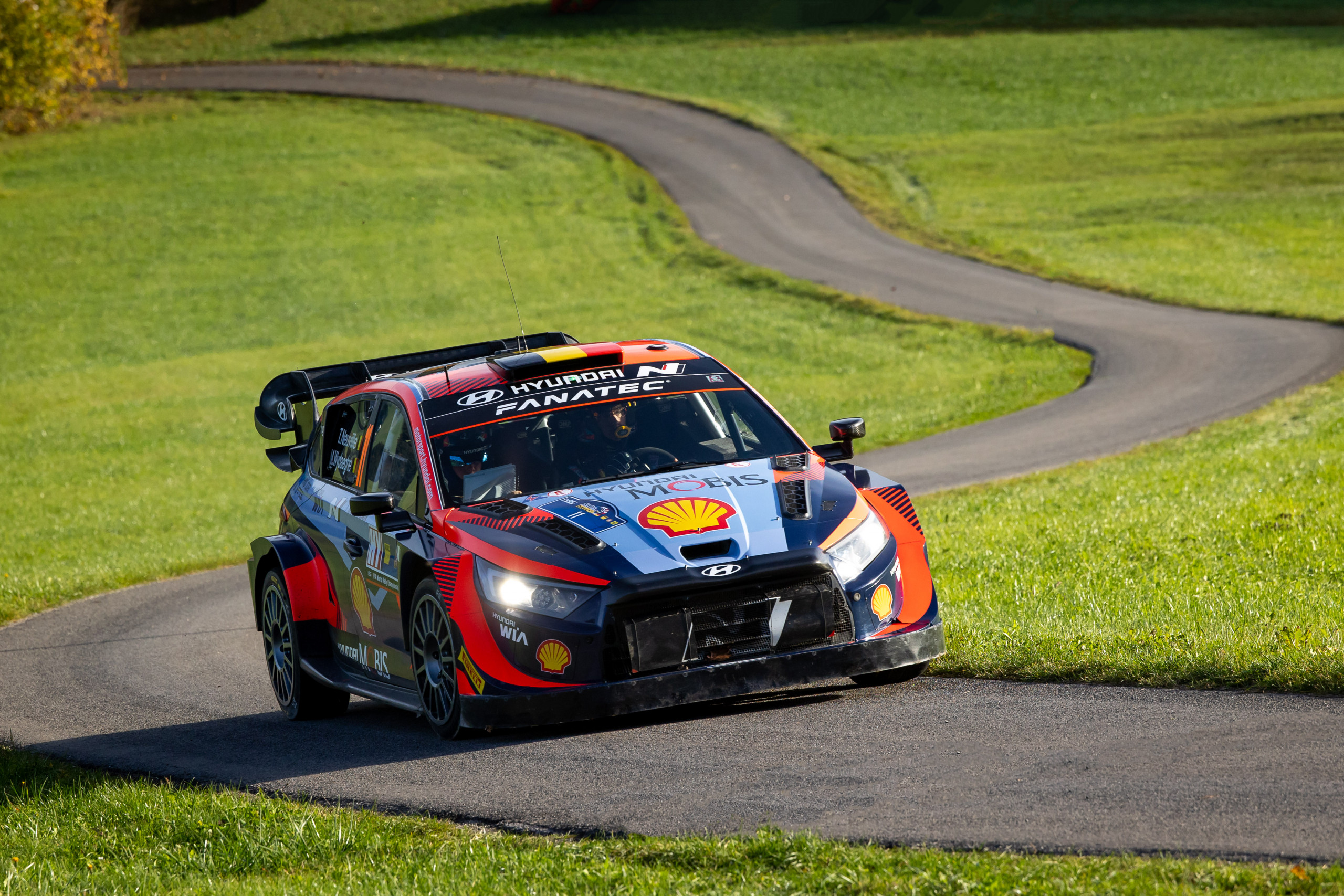 Teemu Suninen (6th)
"Generally, the rally was good. I haven't done one like this for two years, so I was thrown in the deep end! Every loop was different in terms of weather and conditions, so there was a lot of learning. I had good pace in places – like going second fastest on SS11 – but my experience wasn't enough to adapt to the conditions of the car from the very first kilometre. I'd like to say a big thanks to the team, it was a great season. It was nice to jump in the car mid-season and take on this challenge; I think this is a good position to continue building on from here. I'm satisfied with the job I've done; I was pretty much where I expected to be on paper at what is the hardest rally for me on the calendar."
Toyota Gazoo Racing WRT
Kalle Rovanperä (2nd)
"It feels really good right now. I'm really relieved, because it's always a big burden on your shoulders when you're fighting for a title. I think this year, it was tougher and more of a challenge than last year. The competition was tighter, but we did a really good job. I'm really proud of the season that we did, and I think I'm going to enjoy this one more than the first one. This was a difficult event with some of the trickiest conditions we've had for a long time, but we kept our cool and stuck to our plan. We had to make of use our starting position on Friday, which we did, but once Elfyn went out, it was clear we didn't need to fight for the win anymore because there was a bigger goal we were aiming for. A big thanks to Jonne and the whole team, and to everybody who is supporting us. Now I'm going to enjoy Rally Japan."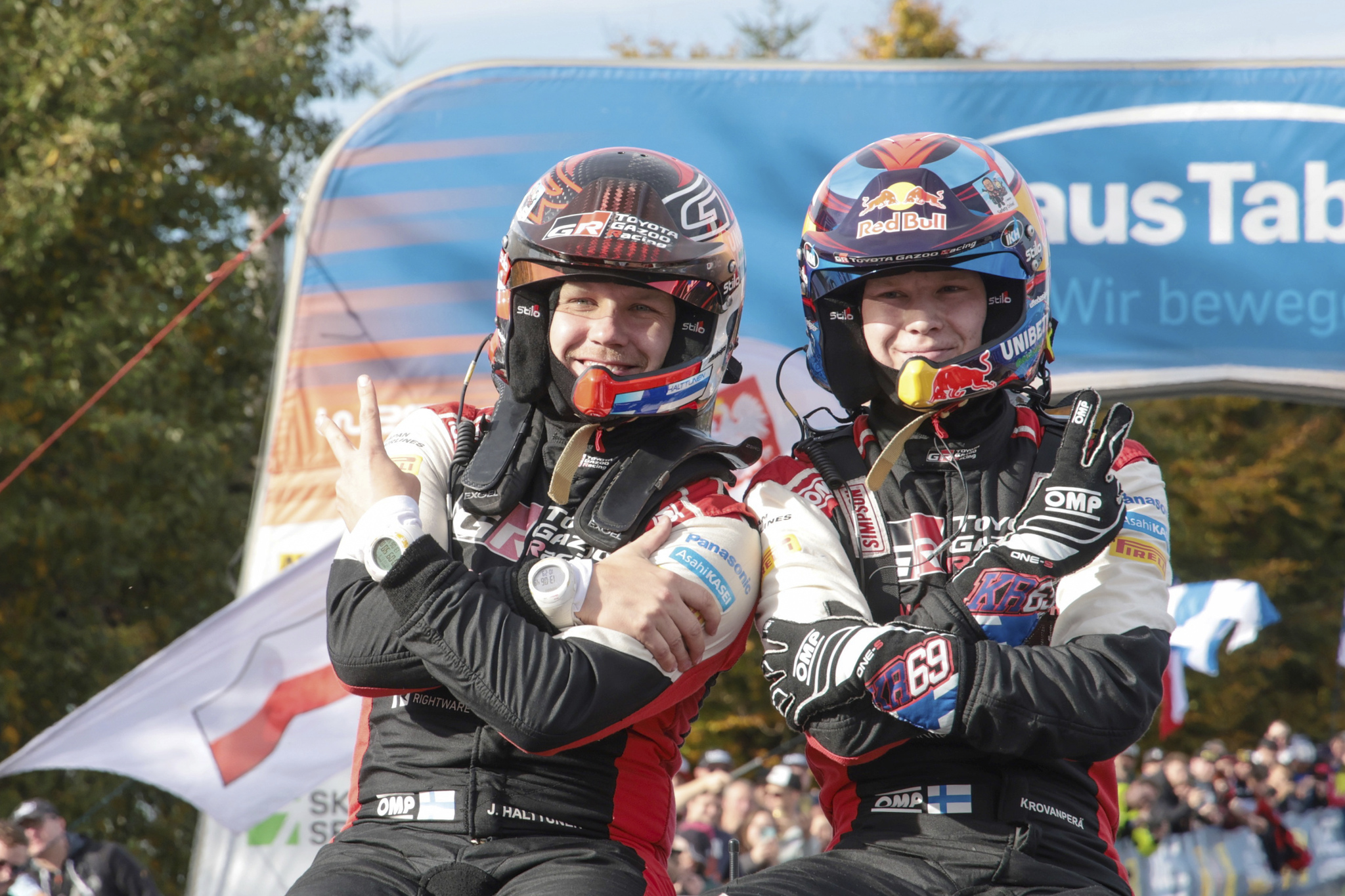 Sébastien Ogier (4th)
"This rally was not my strongest and I think there was not much we could do with our start position in these conditions even without our issue on Friday morning. But towards the end of the weekend, the conditions were more enjoyable with some dry sections where we could push a bit and have fun in the car. So at least we have some fast times we can take from this weekend. Congratulations to Kalle and Jonne: they did another impressive season and I'm sure this will not be the last one. At the same time, I feel sorry for Elfyn because he made a good fight with Kalle this season. Now we'll try to finish the year on a high at Rally Japan."
Elfyn Evans (31st)
"I want to say a huge congratulations to Kalle and Jonne – as well as the whole team – for winning these titles. They've worked hard and done an incredible job and they deserve the title. From our side, there's disappointment of course but we knew it was a long shot coming into the weekend and we had to give it a go. In fairness to Kalle, he was very strong on Friday, and we didn't have the pace to follow him. After that we continued to try, it didn't work out this time, but sometimes that's the way it goes, and we'll try again next year. We managed to get a few points from the Power Stage and now we can look forward to Rally Japan."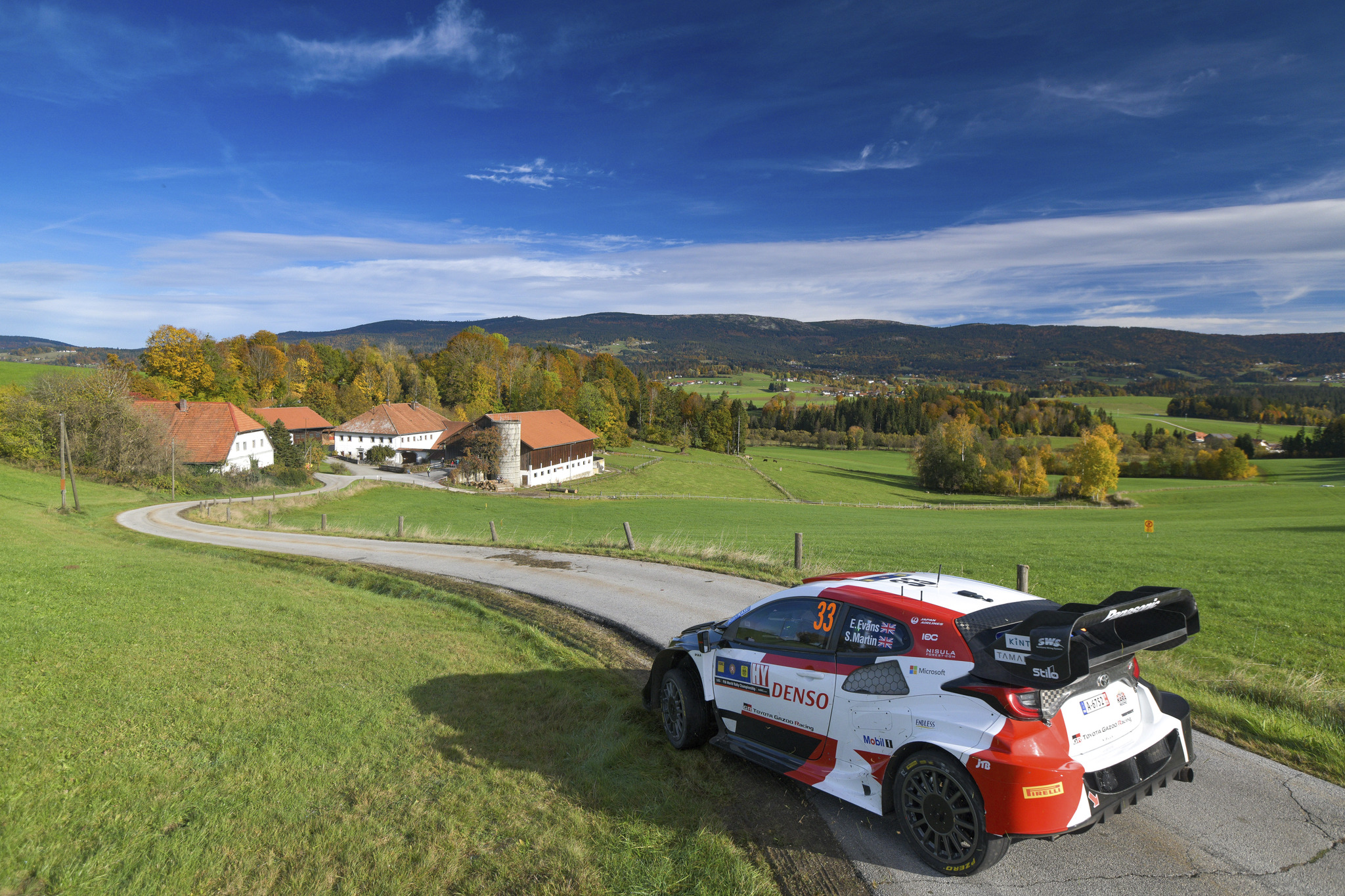 M-Sport Ford WRT
Ott Tӓnak (3rd)
"It's a great outcome after the weekend so not a bad weekend at all. Staying out of trouble gave us something good back. I would say we weren't that competitive this weekend but we also didn't have a great start position on Friday and by lunchtime that day we were already in a position where there was no need to push things further, so we focussed on managing the weekend. Let's see what Japan brings and maybe there is more competition for us."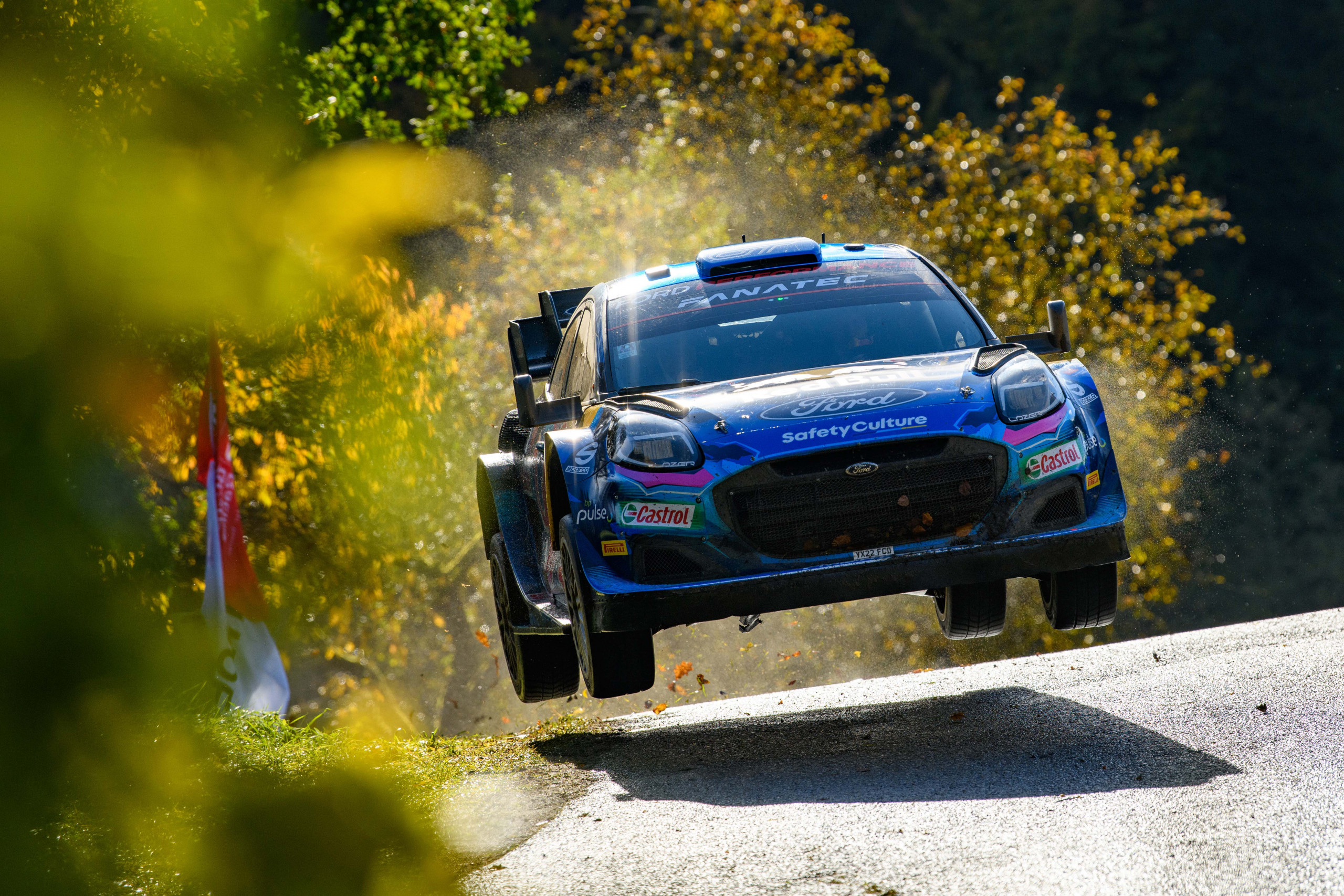 Grégoire Munster (7th)
"The rally felt like a big test for me, we drove in wet conditions, mixed conditions with mixed tyre packages and then we drove on dry on the last day with a mixed tyre package, even using the hard tyres at a certain point. We did some good stage times I think, so that was a bit like the cherry on the cake. The team did a great job and I think I can say that I felt pretty confident straight away with the Puma and it's a really positive point about the car that you feel comfortable straight away. We did a personal best stage time with a fourth place even with a stall in a hairpin so it could have been even better but all in all happy with the performance."
Pierre-Louis Loubet (10th)
"It's been a very big weekend on the new event, it's been a lot of work. Very demanding for us with the new co-driver, Benjamin, but everything was working well even if it's been very tough for him with the notes.
"A bit disappointed about our small off on Friday which cost us four minutes, but without that we can say the pace was not so bad. A bit unfortunate about the issue with the clutch or the diff this morning, but that's part of the rally and let's see for the future if we're able to be there!"
Adrien Fourmaux (1st) in RC2
"Really happy about the weekend. Starting with a puncture in stage three we were fifteenth overall, catching all the positions to get the lead on Saturday evening with some fastest times and to win the rally. It was a big push, the car has been fantastic, and the team has been working really well on the car, everything was always perfect.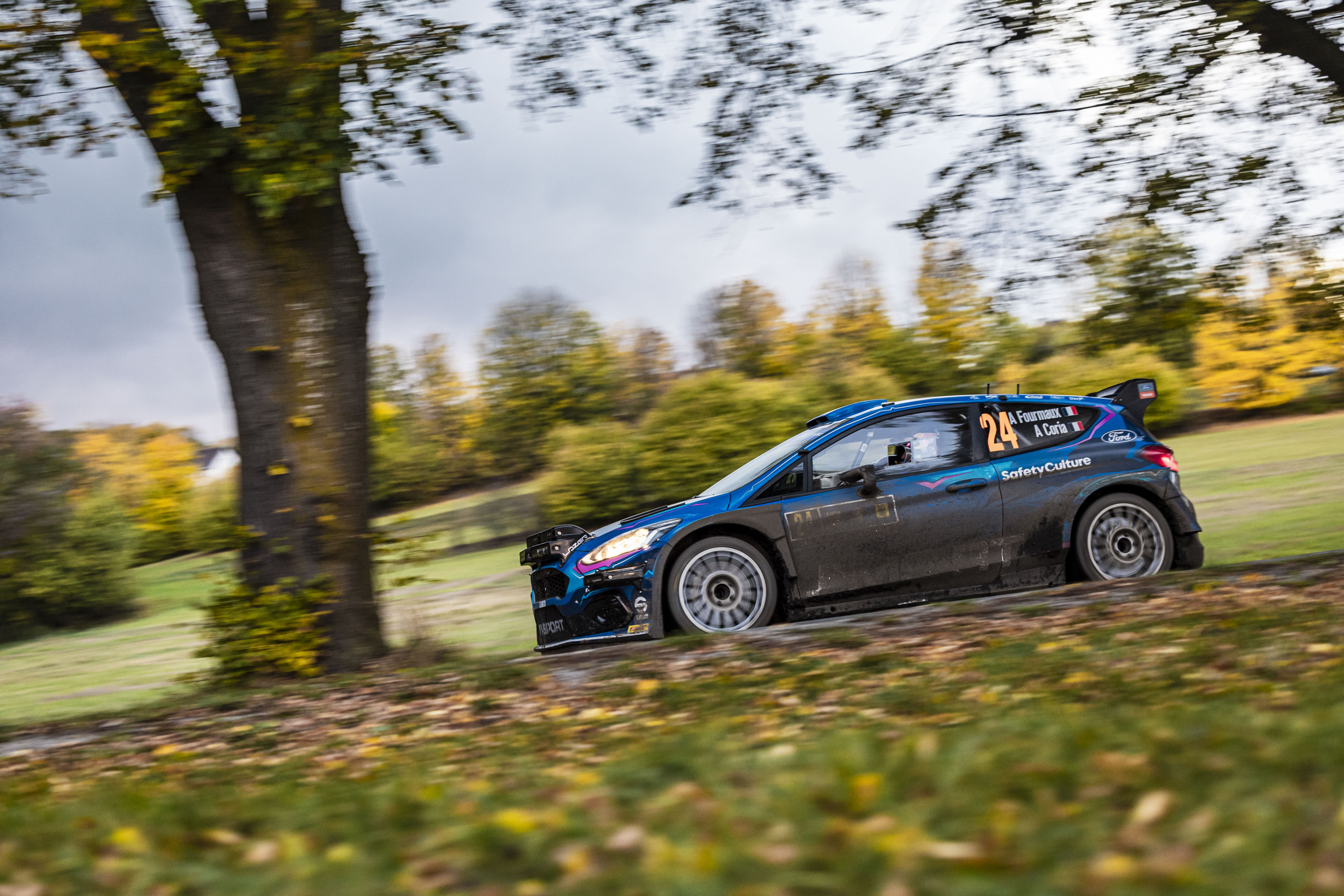 "Thanks to the team, the new cooling package has been working really well. Looking at the times, that for sure helped us this weekend. "The next challenge in Japan is on the way, but first I want to enjoy this victory."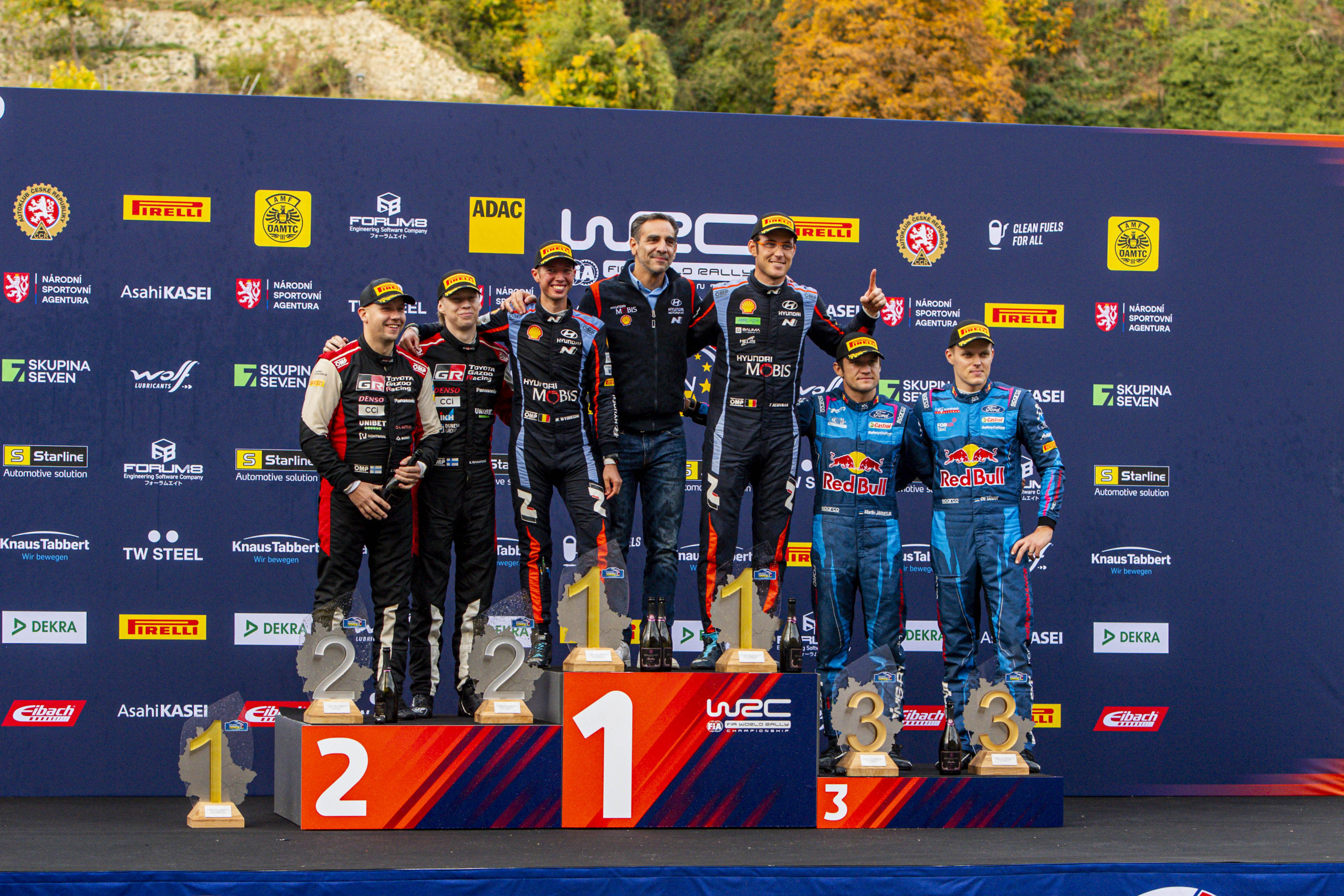 2023 FIA World Rally Championship for Drivers' Standings
After round 12
| | | |
| --- | --- | --- |
| 1 | K. Rovanperä | 235 |
| 2 | E. Evans | 191 |
| 3 | T. Neuville | 184 |
| 4 | O. Tänak | 162 |
| 5 | S. Ogier | 114 |
| 6 | E. Lappi | 98 |
| 7 | T. Katsuta | 89 |
| 8 | D. Sordo | 63 |
| 9 | T. Suninen | 42 |
2023 FIA World Rally Championship for Manufacturers' Standings
After round 12
| | | |
| --- | --- | --- |
| 1 | Toyota Gazoo Racing World Rally Team | 504 |
| 2 | Hyundai Shell Mobis World Rally Team | 399 |
| 3 | M-Sport Ford World Rally Team | 271 |
Summary
This was a significant result for Hyundai and Thierry. They had not taken victory since June in Rally Italia. It is good to see the team take this result and they certainly deserved this, as they have worked incredibly hard this year.
However, we should talk about Kalle and Jonne. To win their second world title is amazing. Kalle becomes the youngest double world champion in the history of the sport. Quite remarkable really.
Seeing Ott and Martin on the podium again for M-Sport Ford is great and shows that the Puma is a front running car capable of great results. Let's hope that they continue to score these results next season even without Ott and Martin.
The final round of the championship is next up in Japan, held from the 16th to the 19th of November.