The final day then with 54km's over four stages. Could Ott and Martin hold on to take victory and how would the battle for the podium between Teemu, Thierry and Elfyn go?
Just like Saturday, Alberto Heller would open the road for the three stages. That is because the power stage start list is always changed and sees the WRC2 crews head in first before the top crews start.
First up was SS13 Las Pataguas 1 – 13.20 km and Thierry was fastest from Teemu and Elfyn. Thierry reduced the gap to his teammate and also increased the gap over Elfyn. However, Teemu was certainly driving brilliantly, holding a 9.1 second lead over Thierry. In WRC2 Gus was fastest from Emil and Yohan. The Brit remained in second place behind Oliver with Sami holding third place.
Into SS14 El Poñen 1 – 13.86 km and Thierry was fastest again from Teemu and Ott. The gap between the two Hyundai teammates fell again to 6.7 seconds. Ott remained firmly in charge with a 51.6 second lead. Elfyn was doing what he could to reduce the gap to the podium, but with the better road position the two Hyundai crews had meant they were both pulling away from the Welshman. In WRC2, Oliver was fastest from Sami and Gus and the young Swede remained firmly in charge of the category.
After the service break the rerun of SS15 Las Pataguas 2 – 13.20 km saw Thierry fastest from Elfyn and Takamoto. Unfortunately, Teemu and Markko crashed out of the stage after hitting a tree root on the edge of the road. This impact broke his suspension and steering on the front right causing the car to exit off the road on the left side. A big shame for the Finnish crew after a superb drive. In WRC2 Nikolay was fastest from Gus and Oliver who continued to hold a 22.8 second lead.
The final stage then, SS16 El Poñen 2[Power Stage] – 13.86 km and Kalle took the stage win from Elfyn who had set the benchmark. Thierry was third, Ott fourth and Takamoto fifth. It was a brilliant and well-deserved victory for Ott and Martin in their M-Sport Ford Puma, their 19th victory as well moving them into the WRC legends level. In WRC2, Oliver and Elliott took victory in their final points scoring rally of the year winning from Gus and Sami.
Let's check out the final finishing positions and hear from the drivers.
Final Overall Classification – Rally Chile
| | | | | |
| --- | --- | --- | --- | --- |
| 1 | O. Tänak | M. Järveoja | Ford Puma Rally1 Hybrid | 3:06:38.1 |
| 2 | T. Neuville | M. Wydaeghe | Hyundai i20 N Rally1 Hybrid | +42.1 |
| 3 | E. Evans | S. Martin | Toyota GR Yaris Rally1 Hybrid | +1:06.9 |
| 4 | K. Rovanperä | J. Halttunen | Toyota GR Yaris Rally1 Hybrid | +2:11.0 |
| 5 | T. Katsuta | A. Johnston | Toyota GR Yaris Rally1 Hybrid | +4:41.5 |
| 6 | O. Solberg | E. Edmondson | Škoda Fabia RS | +8:18.5 |
| 7 | G. Greensmith | J. Andersson | Škoda Fabia RS | +8:44.3 |
| 8 | S. Pajari | E. Mälkönen | Škoda Fabia RS | +9:20.6 |
| 9 | Y. Rossel | A. Dunand | Citroën C3 | +9:53.9 |
| 10 | N. Gryazin | K. Aleksandrov | Škoda Fabia RS | +10:08.2 |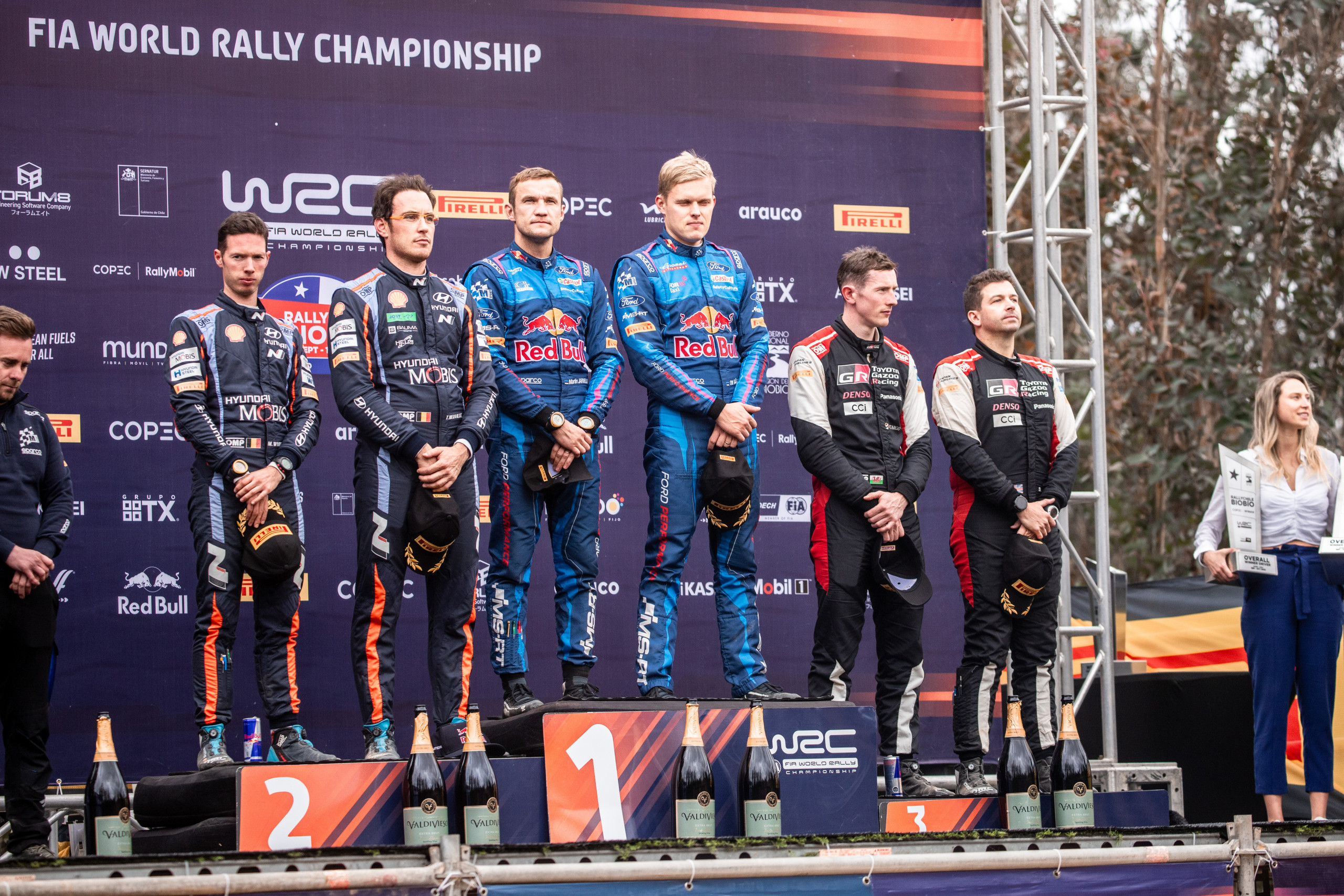 M-Sport Ford WRT
Ott Tanak
"It's definitely to have a positive outcome, since a long, long altogether and almost a perfect weekend. It was very different what we had to do, not too much about pure performance, a lot about the management to get through the loops, it was a bit different challenge."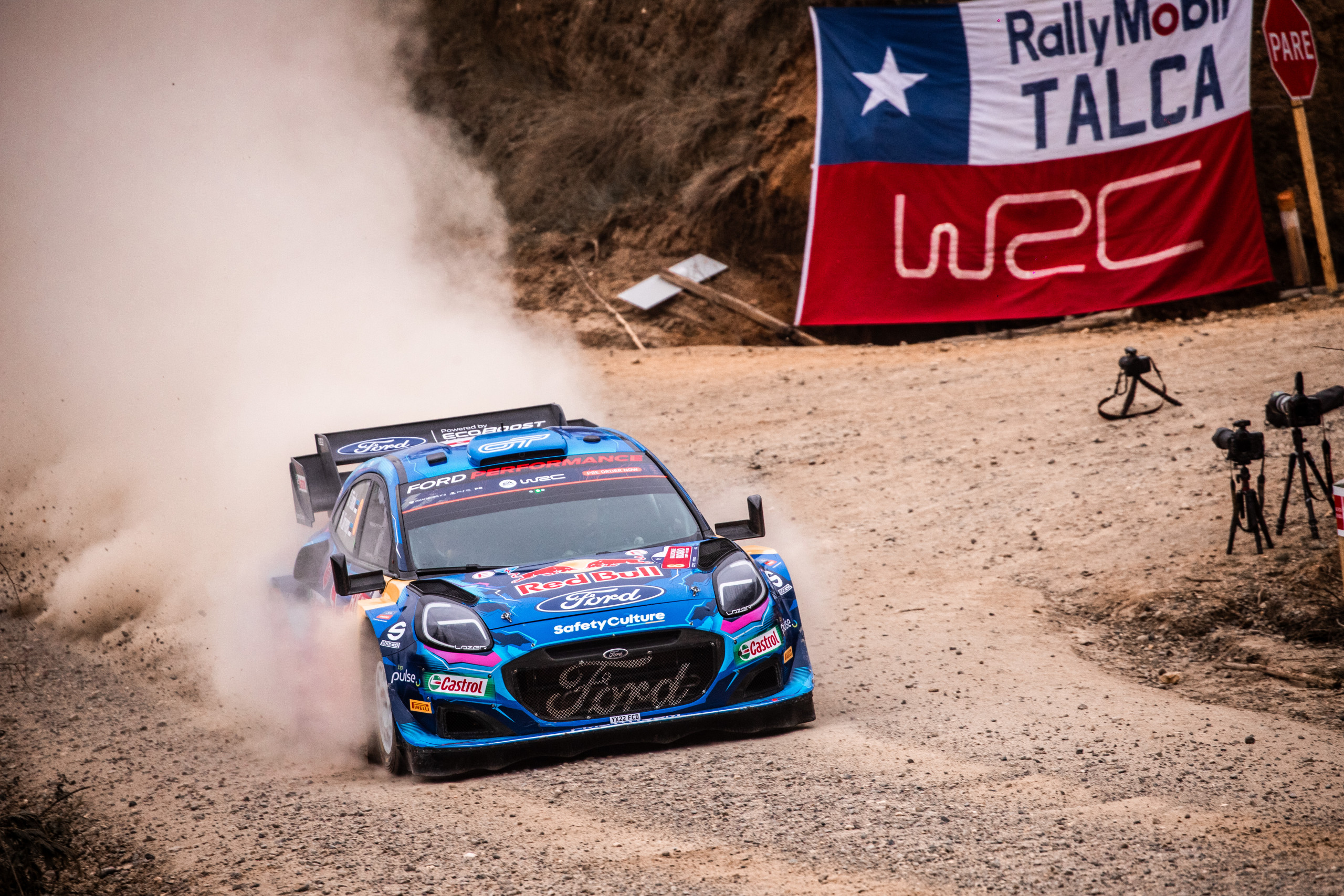 Alberto Heller
"It was amazing, a really nice event for Chile, all the people in the stages, it was fantastic. To drive one of these cars is an amazing experience. Saturday and Sunday I opened the road, so more learning for me. I enjoyed and reached all more goals. My target was to return the car in the same shape. I hope to return and drive some more events next year."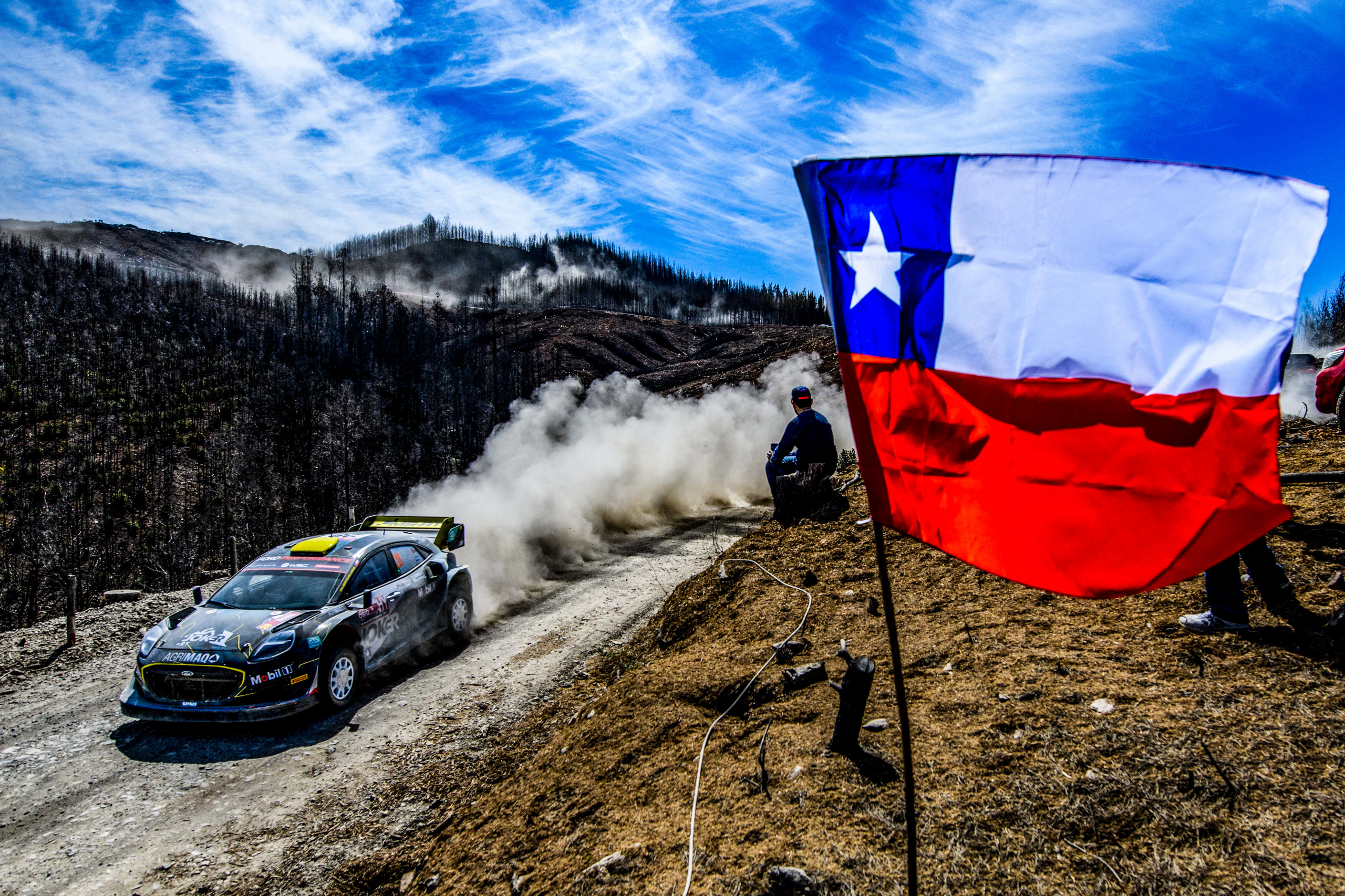 Grégoire Munster
"If you take everything into account, the pacenotes, the tyre delamination, the small off from my side, then today the brakes it was not easy. Perhaps change the car number for the Central Europe, but in general happened, happened for a reason. Good learning from our side, all the issues we had we managed to solve, that's the main goal. One of the biggest things I leant was opening the road, then all the power has to transform to traction is so difficult, so demanding for the tyres. Coming from WRC2 the first thing is the hybrid to get to know and when to use it, how much you can apply and not to lose too much time with the traction. Then there is the aero you can use it in the short corner, but you may not have the grip, it depends if the tyre will accept this."
Hyundai Motorsport
Thierry Neuville
"It has been a tough weekend for us. Unfortunately, we had two cars out, and I feel sorry for both of them – especially Teemu, who was having a great event. We all know how cruel rallying can be, and we saw it at the previous event in Greece. We had a job to do this weekend, and we did our best despite our issues. We kept fighting and tried to keep our position and progress to second, and now we've scored good points. It's a shame the manufacturers' championship is over, but it is nice to be back on the podium in second place. We're happy with that."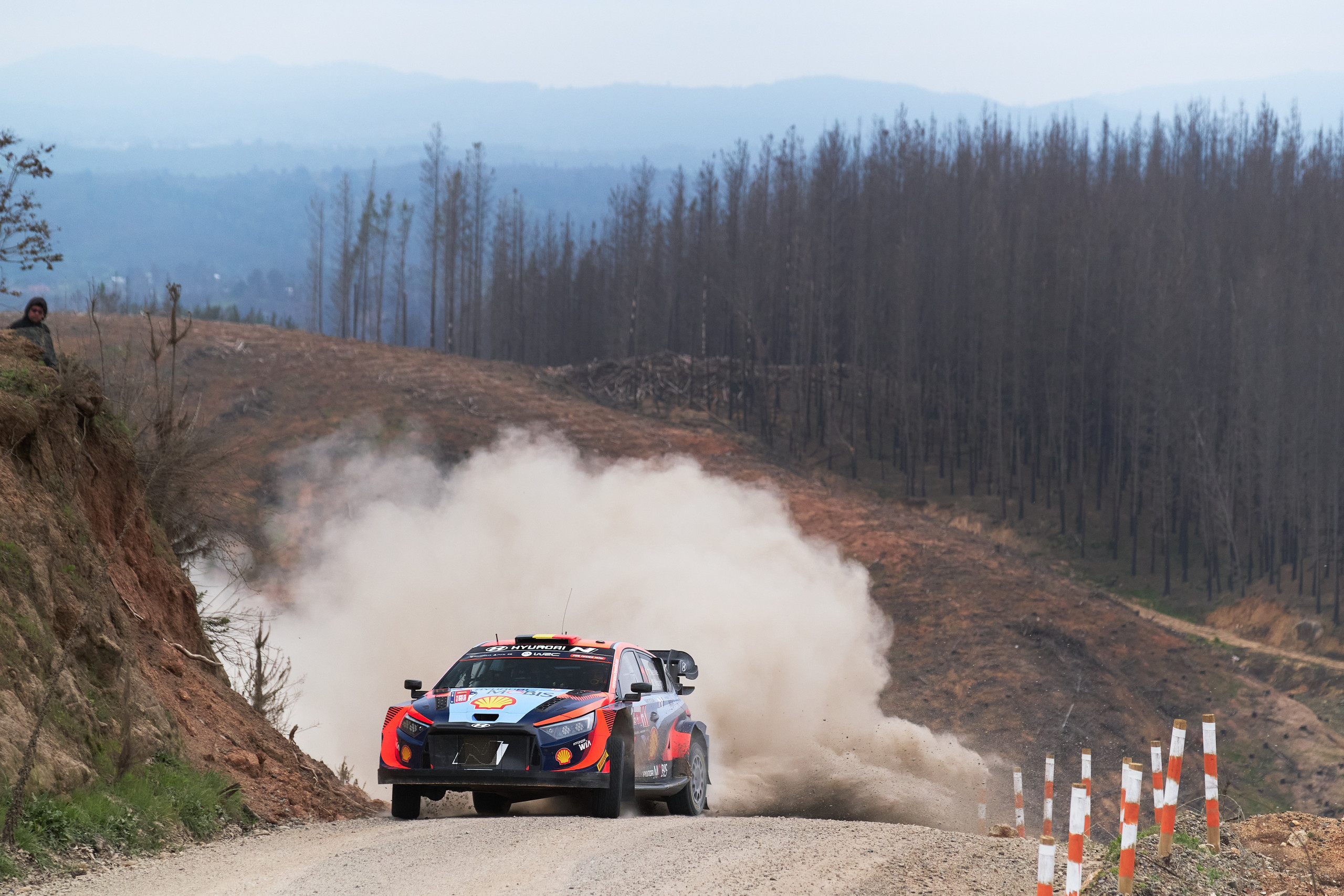 Teemu Suninen
"I would like to say a big thank you to the team. It was a great rally and a nice battle with Thierry, but unfortunately our hard work came to an end because of a very small mistake. I was just a few centimetres too tight with my line and hit a tree stump, which was game over. Thankfully we are unhurt. I'm very sorry to the entire team that we were unable to bring home the podium for them this weekend. We hope to be able to put that right in a few weeks at Central European Rally."
Toyota Gazoo Racing WRT
Elfyn Evans
"Overall, the weekend was perhaps not what we hoped for, and I think there was potential for more. We didn't quite get it all right this time around even though we had some good speed at times. But I think we can be relatively happy with our end result of a podium. The best news is that the team has clinched the manufacturers' title. It's an honour to be a part of the team and it's great to reward everybody for all their hard work. In the drivers' championship we probably needed to close a bit more on Kalle this weekend than we did, but at least the fight is still alive."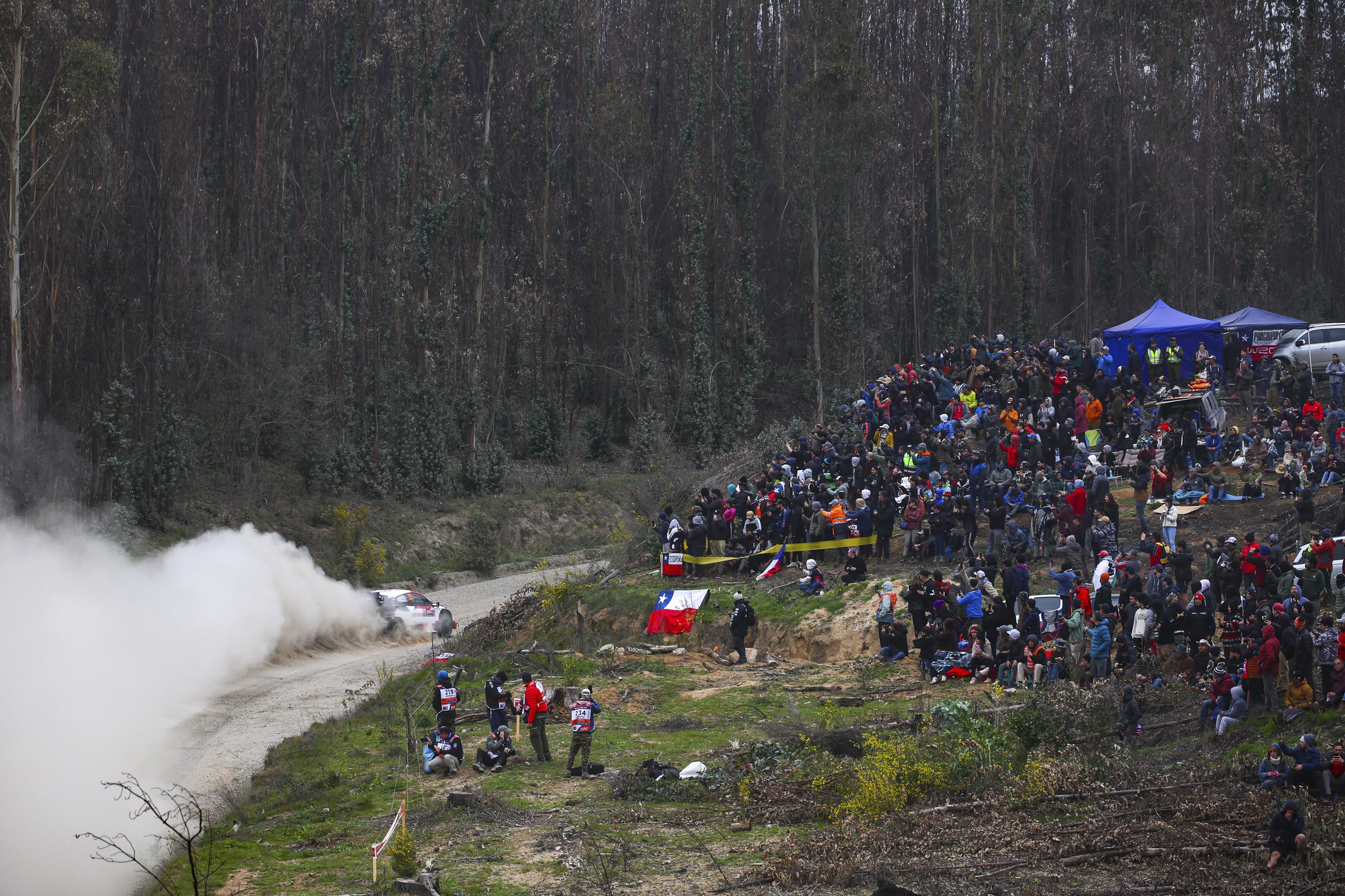 Kalle Rovanperä
"It feels good to have helped the team secure the manufacturers' title. To confirm it here in Chile with two rounds to go is a great achievement and it feels really nice. This was not the easiest weekend for us, as we were a bit handicapped with the starting position on Friday and didn't make the best decisions on Saturday. Today it was still tricky with quite a lot of road cleaning even on the second pass. But we had a good plan to save the tyres and push hard on the Power Stage. The quick time came, showing we had the speed, and it was good to get those points."
Takamoto Katsuta
"It has been a very demanding weekend, but I want to say a big congratulations to everyone in the team for winning the manufacturers' title. There are so many people doing such great work during the season: a huge thanks to all of them because we are always happy to drive such a strong and fast car. The stages here in Chile this weekend were, nice but very difficult. I felt quite good on Friday afternoon but then on Saturday we were struggling a lot with the aggressive surface. It wasn't easy but we got an idea of how to improve for the future, so it was good experience."
WRC2 Winner
Oliver Solberg
"What a rally, from the moment we met thousands and thousands of fans at the ceremonial start on Thursday night right up until the end of the last stage, this has been such a special event. A big thank you to Toksport who have been so great to work with this year. These guys have worked so hard to give us the best car and I am so grateful.
"The roads here are just fantastic and to win here is a great result – the perfect result to close out our WRC2 campaign. Of course, it would have been good to take the title, but I can't be too sad with the way our year has gone.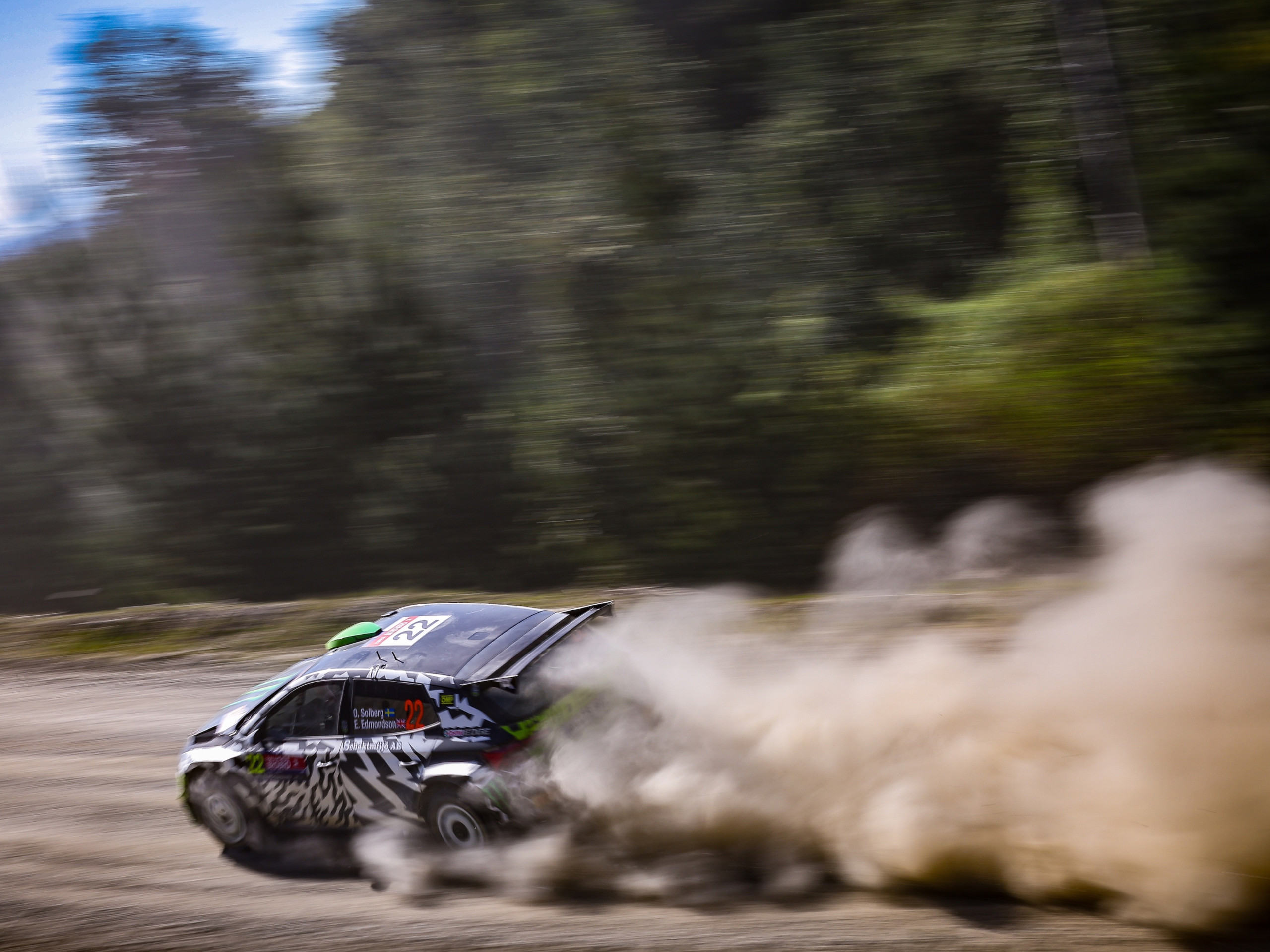 "More than anything, I wanted to show our speed this year and I think we've done that. We've won stages and rallies and me and Elliott can be proud for what we've done."
Rally Chile was different. Reflecting on his South American debut, Oliver said he needed a different strategy on the gravel roads sitting just inland from the Pacific.
"When we could see how abrasive the roads were, we knew we had to be clever for this one," he said.
"We took a different strategy. Through yesterday (Saturday) we were trying to be careful and to really look after the tyres. I wasn't sliding the car so much, braking more progressive and just thinking all of the time to keep the car as straight as possible.
"I wanted to be in a good place for the final stage of the day – we knew this one was the most tricky for the tyres. It was so hard at times, when you get to the end of stage and you can see the seconds are going in the wrong direction, but I made a plan and I stuck to it."
"The plan worked. I was quite happy for that. Like I said, when you were watching the other guys taking time, it was frustrating – but the priority was to save the tyres and play a longer game. We did that.
"This is a good way to end the year: a WRC2 win, and another top-six finish overall on a WRC round. That's nice. Very nice."
2023 FIA World Rally Championship for Drivers' Standings
After round 11
| | | |
| --- | --- | --- |
| 1 | K. Rovanperä | 217 |
| 2 | E. Evans | 186 |
| 3 | T. Neuville | 155 |
| 4 | O. Tänak | 146 |
| 5 | S. Ogier | 99 |
| 6 | E. Lappi | 98 |
| 7 | T. Katsuta | 77 |
| 8 | D. Sordo | 63 |
| 9 | T. Suninen | 34 |
2023 FIA World Rally Championship for Manufacturers' Standings
After round 11
| | | |
| --- | --- | --- |
| 1 | Toyota Gazoo Racing World Rally Team | 466 |
| 2 | Hyundai Shell Mobis World Rally Team | 360 |
| 3 | M-Sport Ford World Rally Team | 247 |
Summary
Well, what a great return to the top step for the 2019 world champions. Ott and Martin made a great result of these demanding stages in Chile. They completely deserved this result, and it is refreshing to see another team take victory as well. Speaks volumes for the effort of the entire M-Sport team.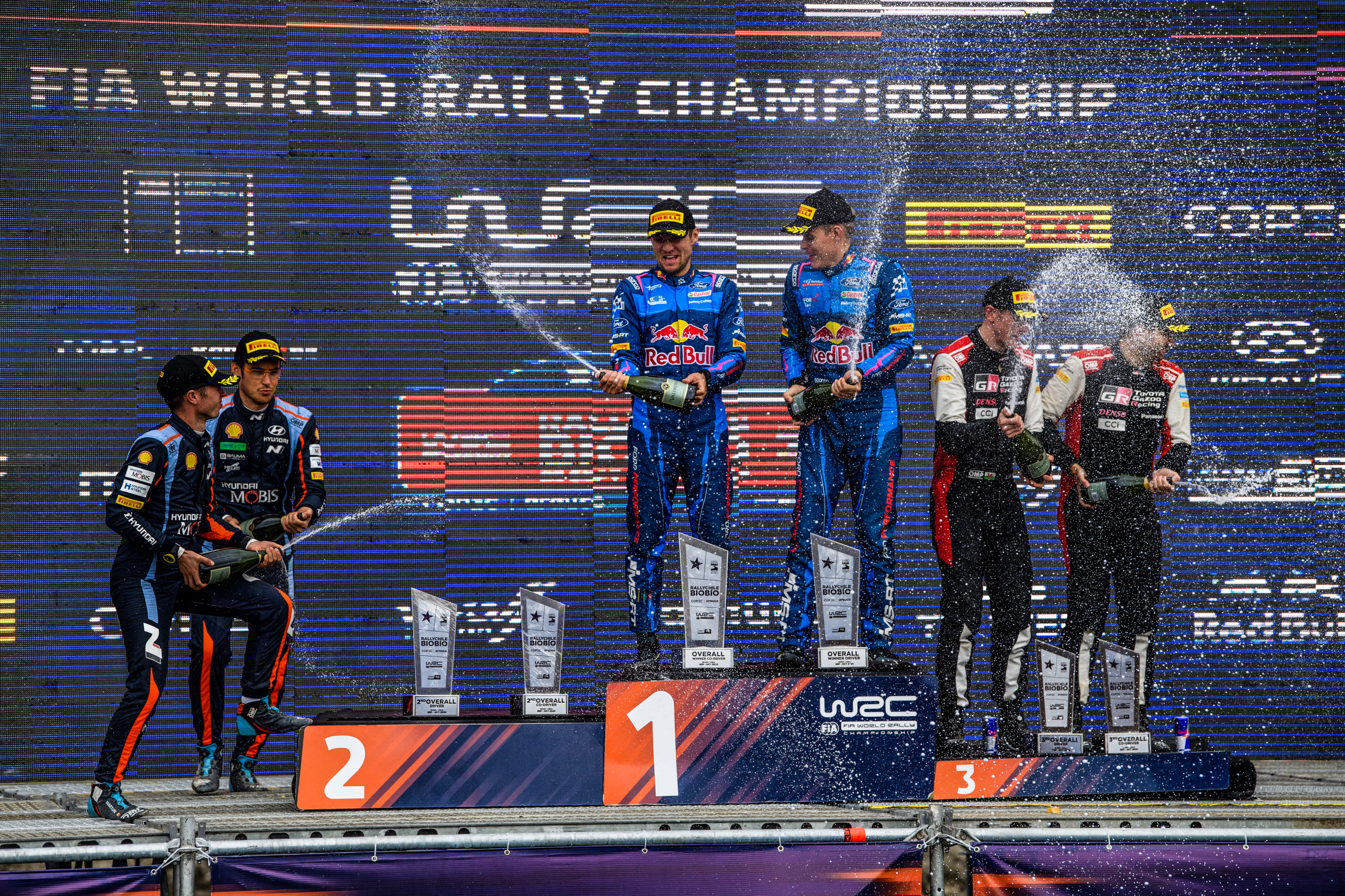 Elsewhere it was good to see Elfyn and Scott finish ahead of their rivals for this year's championship. They still have a good chance to take it, but we shall have to wait and see who prevails in the final two rounds.
Let's wait and see how things pan out. The next round is the Central European Rally over the final weekend of October from the 26th to 29th.