The final day then and 41km's three stages to decide the result of this event. Thierry and Seb both returned to the starting line-up and the Belgian would open the road.
First up was the classic SS13 Tarzan – 23.37 km and it was a stage win for Elfyn, beating Dani by nine seconds and with that the Welshman was back into second overall. Third fastest was Thierry. In WRC2 there were some changes made overnight with Gus and Andreas being swapped around after some changes to the notional time given to the Norwegian. Nevertheless, he won the stage and reduced Gus' lead to just 1.1 seconds. Yohan remained in third place.
The first run of the power stage, SS14 Grammeni 1 – 9.00 km saw Dani take a good stage win, but with Elfyn setting a time just 1.3 seconds slower the Welshman remained in second place. Ott was third fastest and was holding fourth overall as well. Andreas took the lead of WRC2 as he was fastest again from Adrien and Joona. Gus was now in second place in the category.
Well, to the final stage then, SS15 Grammeni 2[Power Stage] – 9.00 km and the Welshman set the pace at the top of the timesheets beating early pace setter Ott and the Welshman confirmed his second-place finish. However, Kalle who had driven through the earlier stages with a measured drive, unleashed his pace which he'd been holding in reserve earlier and came through to win the stage and the rally. Top positions in the stage, Kalle, Elfyn, Ott, Dani and Esapekka. Andreas won the WRC2 category from Gus and Yohan. WRC2 top three in the stage was Joona, Adrien and Andreas.
Let's take a look at the finishing positions and hear from the drivers.
Final Overall Classification –Acropolis Rally
| | | | | |
| --- | --- | --- | --- | --- |
| 1 | K. Rovanperä | J. Halttunen | Toyota GR Yaris Rally1 Hybrid | 3:00:16.7 |
| 2 | E. Evans | S. Martin | Toyota GR Yaris Rally1 Hybrid | +1:31.7 |
| 3 | D. Sordo | C. Carrera | Hyundai i20 N Rally1 Hybrid | +1:35.9 |
| 4 | O. Tänak | M. Järveoja | Ford Puma Rally1 Hybrid | +4:28.4 |
| 5 | E. Lappi | J. Ferm | Hyundai i20 N Rally1 Hybrid | +6:22.3 |
| 6 | T. Katsuta | A. Johnston | Toyota GR Yaris Rally1 Hybrid | +7:20.9 |
| 7 | A. Mikkelsen | T. Eriksen | Škoda Fabia RS | +9:41.0 |
| 8 | G. Greensmith | J. Andersson | Škoda Fabia RS | +9:51.3 |
| 9 | J. Rossel | A. Dunand | Citroën C3 | +11:07.0 |
| 10 | S. Ogier | V. Landais | Toyota GR Yaris Rally1 Hybrid | +11:43.4 |
Toyota Gazoo Racing WRT
Kalle Rovanperä
"It's been a nice weekend, for sure. This rally is always so tricky, and it was a tough week with all the difficult conditions, starting already in the recce. It was a big challenge, and starting first on the road I was not expecting to finish first, so taking 30 points is amazing. Last year we struggled from start to finish in Greece, and this year even as first car we could at least fight with the others. Big thanks to the team, as the car was super strong. We could fight back quite well on Saturday, still staying out of trouble and trying to take care of the car and the tyres which you always need to do on this type of rally. Then I really went for it on the Power Stage, like we always try to do. Now we need to stay consistent and focus on the next rallies."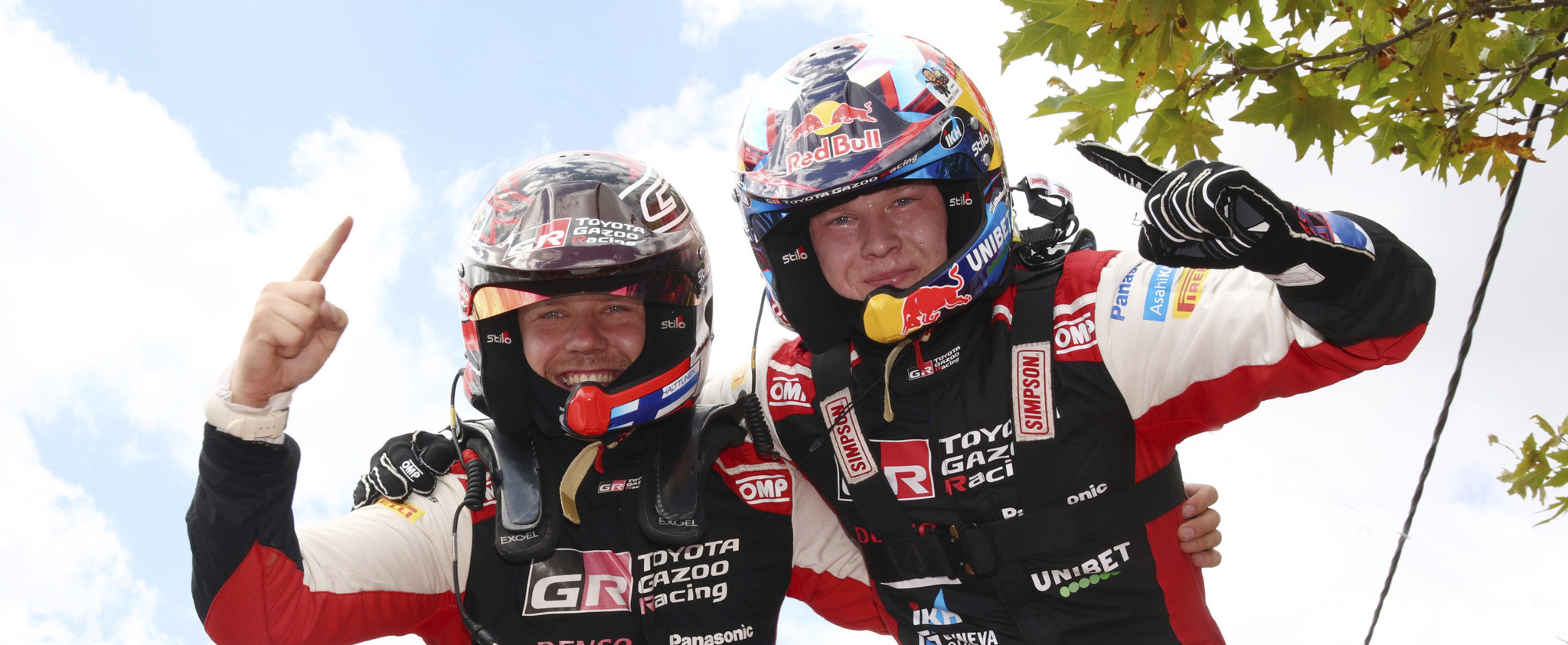 Elfyn Evans
"It's been a pretty up-and-down weekend. If we rewind to Saturday lunchtime, we were very lucky to stay in the rally after the radiator damage. We lost over a minute, so to come back to second place, we have to be happy considering everything. Dani was keeping the pressure on and it was still really tight going into the final stage, so it was good to secure the place in the end and to take some Power Stage points as well. It's not been a perfect weekend for us in championship terms, as Kalle's been very strong, so congratulations to him, but we will continue to give it everything. And it's an incredible result for the team: a credit to everyone for making a leap forward from where we were here last year."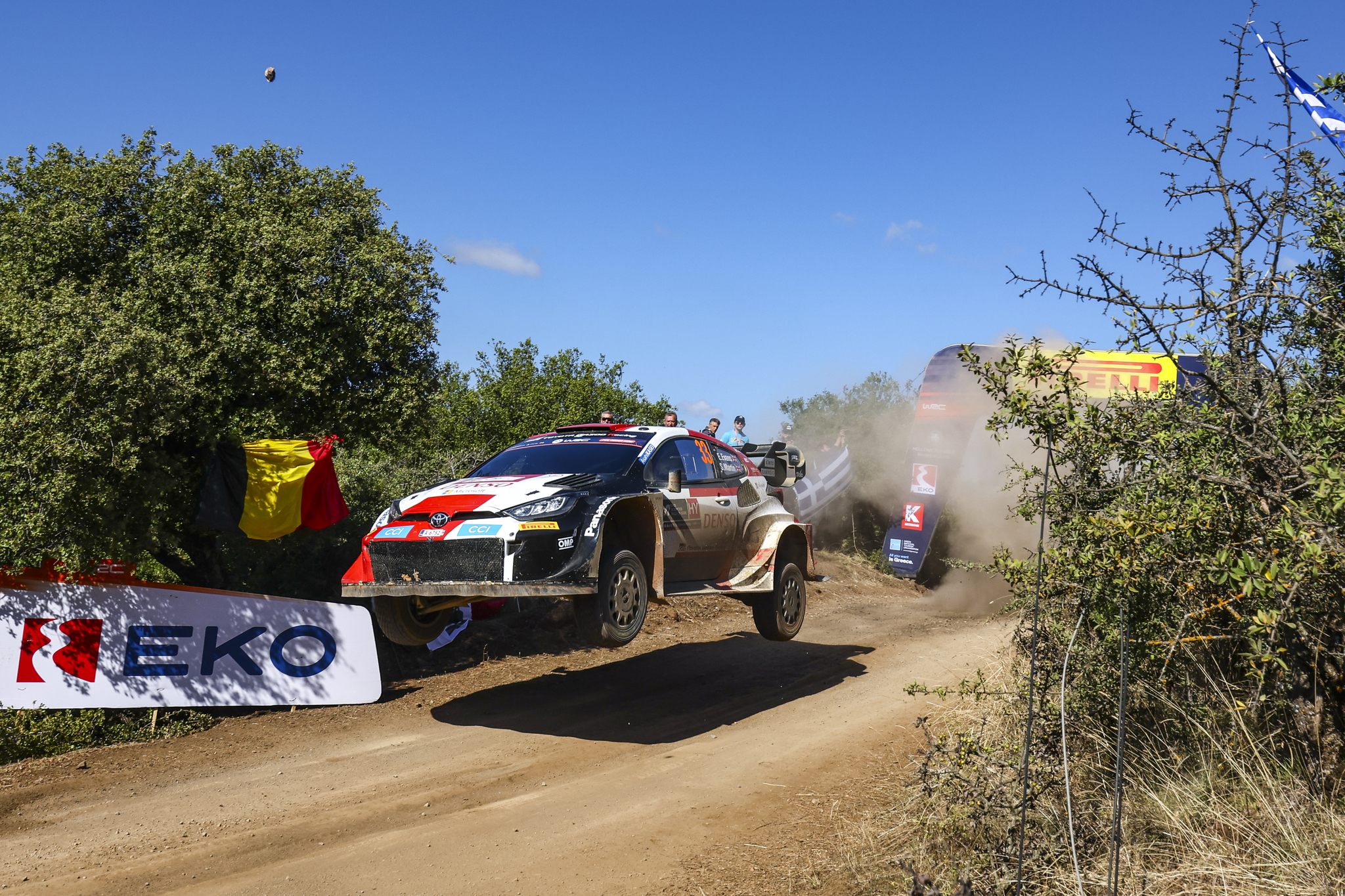 Sébastien Ogier
"It's not been the rally we wanted on our side but that's the way it is sometimes. This is the kind of rally where you need to have luck on your side, with the very rough conditions, and unfortunately, we had an accumulation of issues yesterday and had to stop. Today I tried my best in the Power Stage but starting pretty much in the front was not so easy. At the end, the positive is that we had some good performance this weekend. We were not rewarded for it, but at least the team did another great result with a one-two, both in the rally and in the Power Stage, which is really good for both championships."
Hyundai Motorsport
Dani Sordo
"I tried everything in that final stage. Elfyn had a little bit of bad luck during the rally, but he has driven very well. I'm not really happy with my performance this weekend, but we managed to finish in third place. Today we were able to go for it, which I really enjoyed, so I'd like to give a big thanks to the team for giving me another opportunity to drive like this. They are striving all the time to improve the car and pushing me to do better, so I will try to continue doing so."
Esapekka Lappi
"It was good to finish the rally in the way that we did. I was enjoying the final stages, I was aggressively attacking but lost some time as well because of that approach. Still, after two days of problems it was good to have a trouble-free day and an enjoyable drive. Today was ok overall, but it was not our weekend. We need to get better, and next time we will be."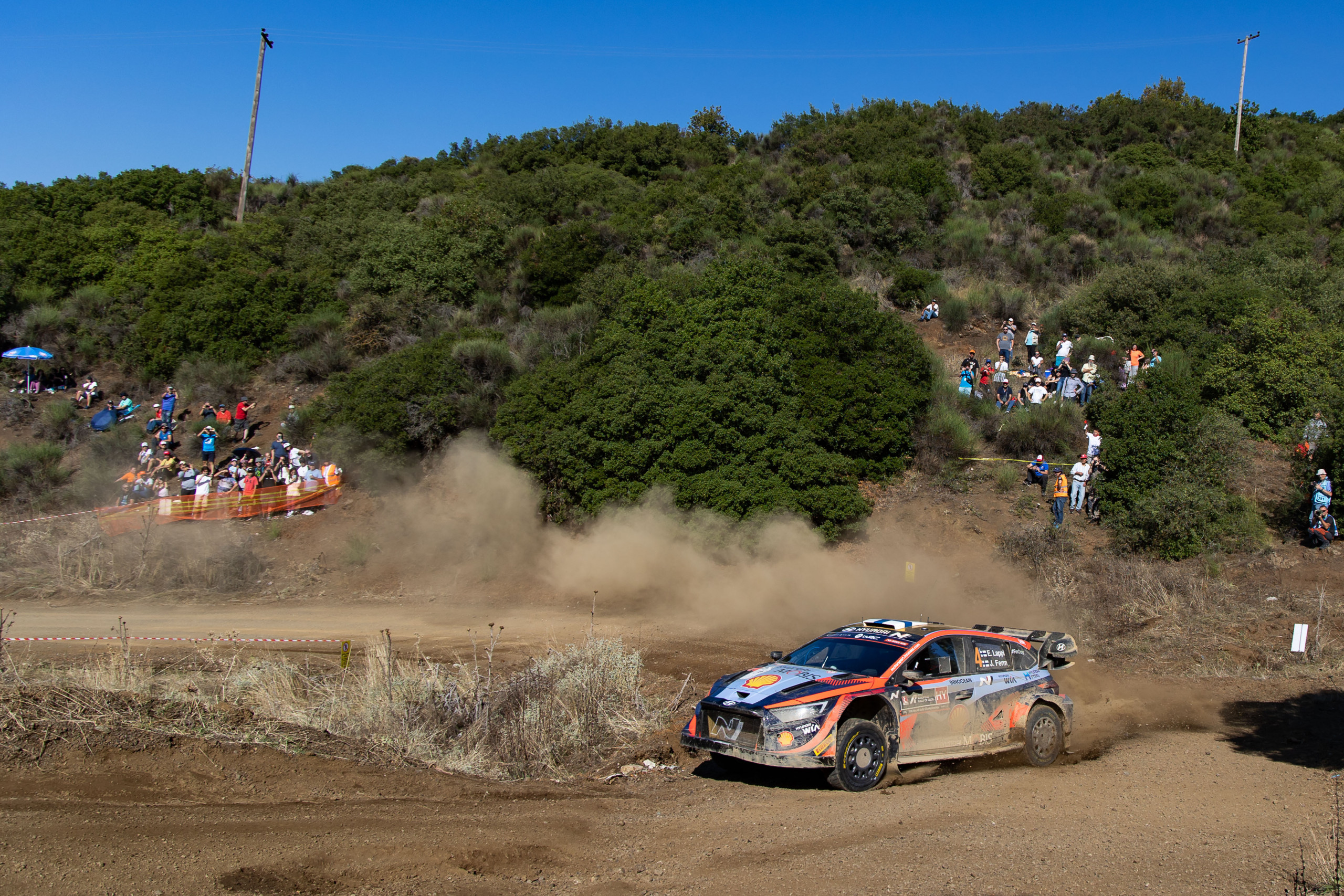 Thierry Neuville
"Luck wasn't with us this weekend; yesterday, we were in control of the lead, had a good tyre strategy, and the car was working well. Everything was going perfectly until our suspension failure, and unfortunately that cost us a victory. I enjoyed the driving today, the car was feeling very nice, so that's a positive to finish the weekend. This may be the end of our championship title hopes, but now we look ahead and target some victories in the final events of the season."
M-Sport Ford WRT
Ott Tänak
"It was altogether a very challenging time, not only to the organisers but the whole of Greece. It was extremely tricky and was definitely a big job for them, so to come out from that has been impressive. On the rally side, we can see how quickly the weather can change and that it can change everything.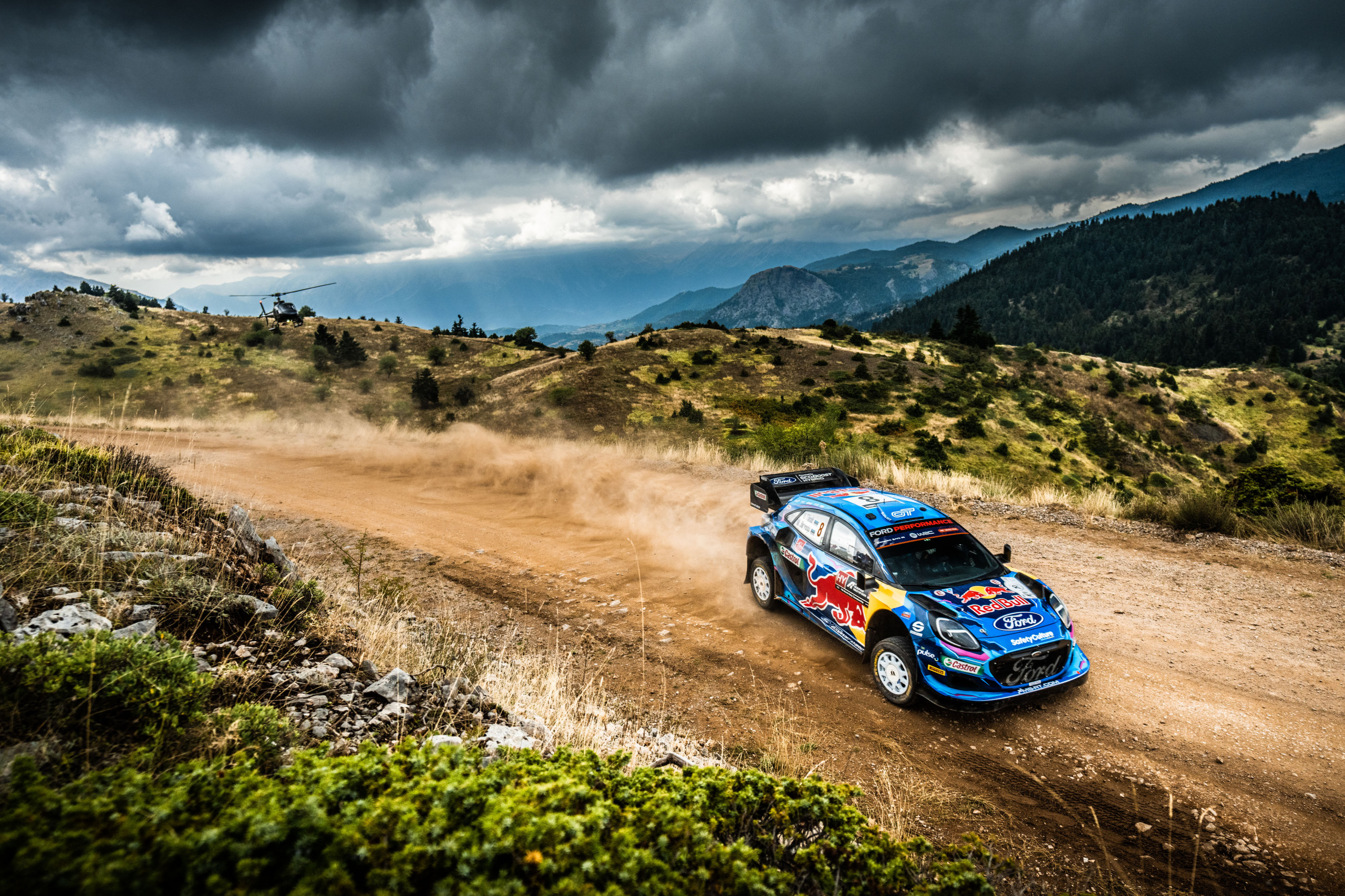 It's one of my favourite events, the stages are cool, and it's not actually so rough. The roads have a really nice flow and most of it is quite wide, so they're stages you can enjoy."
Adrien Fourmaux
"It was a great start to the rally, when the stages were quite smooth, but then we had some issues with the tyres and punctures. We lost a lot of time after that, and we were 11th (in WRC2) on Saturday morning, and finishing fourth now, so we can be happy with the rest of the rally.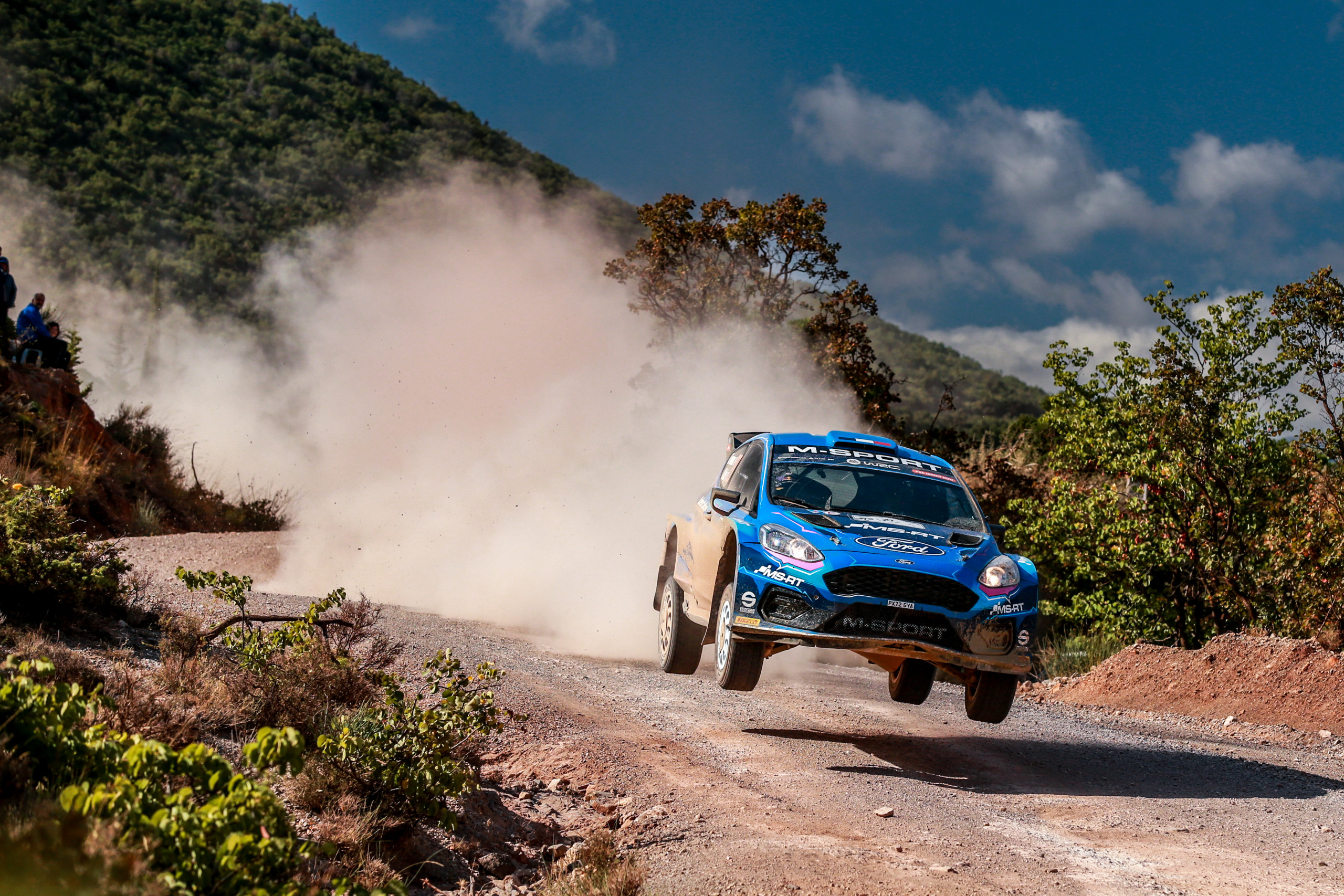 "The car has been good all weekend, it's been difficult for everybody because it's such a tough rally. We can be pleased with the performance of the car when we need it."
Grégoire Munster
"It's been a good weekend in Greece, I'm happy about the performance and the stage times we did. For sure Adrien is the reference with the Fiesta and we managed to be close to him, so that's a good point here. We managed to stay out of trouble, apart from two punctures at the end of stages, and with that we managed to secure a strong end position and win in the WRC2 Challenger class.
"About Chile; we're really excited to be there, it's a once in a lifetime opportunity so we want to just grab as much experience as possible and then look to reuse that back in WRC2."
Jourdan Serderidis
"17th overall and 1st Greek driver: it was the objective, but you still needed to achieve it! First Greek means so much to me. Fred and myself, had a fantastic week, without punctures, without big moments and with decent speed. So, I am very happy!"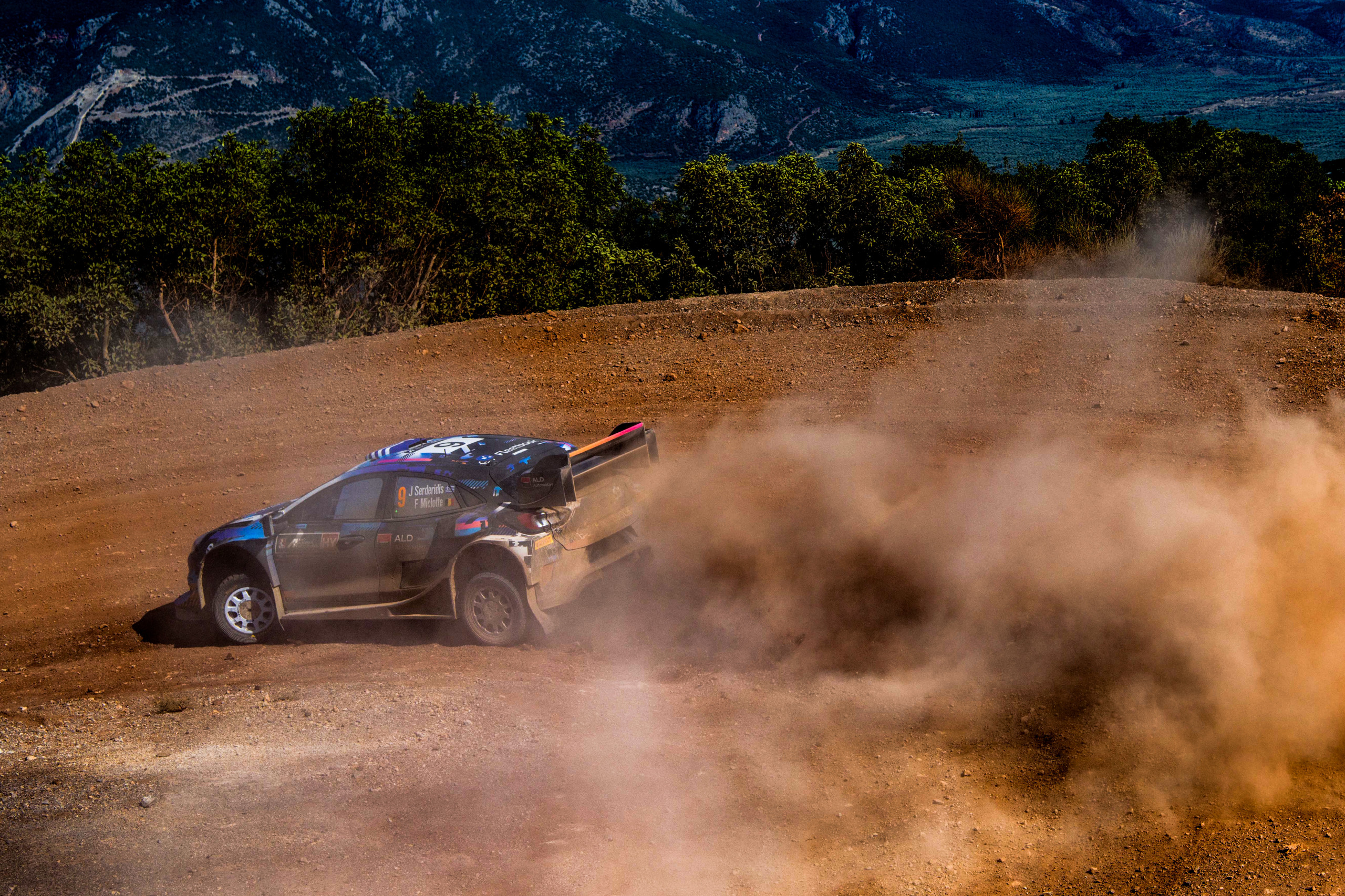 2023 FIA World Rally Championship for Drivers' Standings
After round 10
| | | |
| --- | --- | --- |
| 1 | K. Rovanperä | 200 |
| 2 | E. Evans | 167 |
| 3 | T. Neuville | 134 |
| 4 | O. Tänak | 119 |
| 5 | S. Ogier | 99 |
| 6 | E. Lappi | 98 |
| 7 | T. Katsuta | 66 |
| 8 | D. Sordo | 63 |
| 9 | T. Suninen | 34 |
| 10 | P.L Loubet | 28 |
2023 FIA World Rally Championship for Manufacturers' Standings
After round 10
| | | |
| --- | --- | --- |
| 1 | Toyota Gazoo Racing World Rally Team | 430 |
| 2 | Hyundai Shell Mobis World Rally Team | 339 |
| 3 | M-Sport Ford World Rally Team | 220 |
Summary
What an incredible rally then. The roads had lots of surprises for the crews, in particular the single run stages on Friday. It was a good battle throughout the Friday's stages between Seb and Thierry which continued into Saturday. It did not continue though and with Seb also suffering a problem on Saturday's final stage, Kalle was there to take his third victory of the year with a drive where he kept out of trouble. Elfyn overcame a tyre off the rim and also the technical problem with his engine to take an excellent podium and also with second fastest in the power stage good points for the championship.
Dani also kept out of trouble as well and took yet another podium. He is a really good driver and deserves the success he took this weekend.
Next round is over the weekend of the 28th of September to the 1st of October in Chile. Look out for my preview just before.