Jorge Martin continued his great form from this morning with a dominant win in this afternoon's Tissot Sprint race. Championship rival Marco Bezzecchi finished 2nd and reigning world champ Pecco Bagnaia finished in 3rd.
Both Bezzecchi and Pecco carrying injuries into this weekend from last weekend in Barcelona, both using all of the painkillers and adrenaline they could get a hold of to get through the sprint race today. Heroic performances from both riders.
Pecco fended off legend Dani Pedrosa and late charging Brad Binder at the end of the sprint, both KTM riders tried all they could to get by Pecco in the closing laps of the race. With his title rivals not at 100%, can Martin capitalise on this and win the main grand prix tomorrow? When Martin is in this kind of form, its hard to imagine any rider being able to stop The Martinator.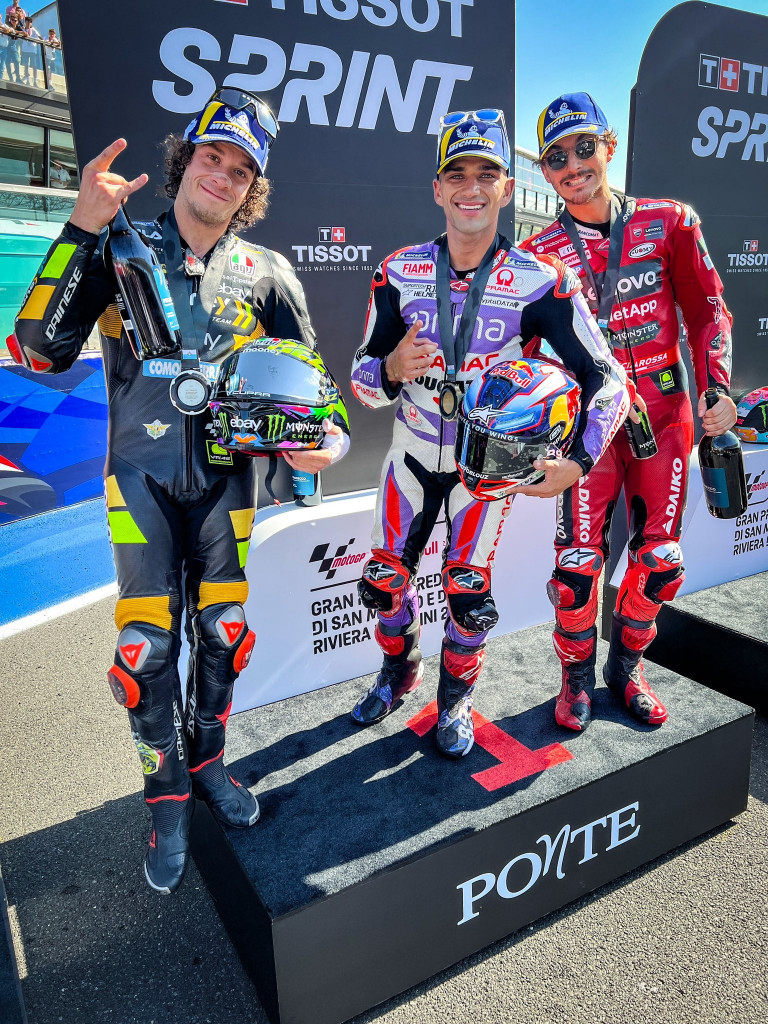 Image Credit: MotoGP
AS IT HAPPENED
Martin got off the line and off to a great start leading into turn 1. Pecco close in behind Martin through turns 2 and 3 with a gap already to Bezzecchi 3rd who was leading the rest of the group behind.
Pedrosa managing to get up the inside of Maverick Viñales into4th with Pol Espargaro up 6 places on the opening lap. A great start given the KTM GASGAS rider crashed twice this morning.
Onto the second lap the stand out overtake of the race happened as Binder went up the inside of both Luca Marini and Aleix Espargaro in one corner, up into 6th place. Binder was determined to catch those in front before its too late. The lead group of 4 already pulling away from the rest of the field now forming a gap at the front. Martin leading from Bezzecchi now up to 2nd pulling away from Pecco and Pedrosa 3rd and 4th.
Over the next few laps, the VR46 star Bezzecchi tried all he could to catch Martin ahead, losing it at one point at turn 16, gifting half a second back to Martin who controlled the race at the front throughout.
Binder eager to carry on the charge to the front was in a great battle for 5th place with Viñales and Marini. Eventually Binder coming out on top and keen to press on to catch the wildcard Pedrosa and Pecco battling for 3rd ahead of him.
Aleix Espargaro at this point was unable to keep pace with the battle in front eventually settling in 8th place. Aleix will be hoping for better tomorrow given he won the race last time out in Catalunya.
Moving into the final stages of the Tissot Sprint and Martin maintained his gap to Bezzecchi controlling the race from the front. Pedrosa was closing up behind the injured Pecco , ever keen to try and get onto the podium with only a few laps to go.
Just as Pedrosa was closing onto the back wheel of Pecco, Pecco responded putting his personal best lap time of the race so far. An incredible performance here with the pain he must be suffering after the horrific crash last weekend in Barcelona. Its nothing short of a miracle that Pecco is here competing this weekend.
Lap 11 of 13 now and as Pecco runs wide Pedrosa is right up behind Pecco with 2 laps to go. The first two places were sown up at this point, as Martin was over a second ahead of Bezzecchi in 2nd. Almost every rider in the field was on the brink of a long lap penalty, as Binder closed in on the Pedrosa and Pecco battle for 3rd.
Last lap now and the KTMs of Pedrosa and Binder are right up behind Pecco as Pecco is still resisting this charge hanging onto 3rd.
Into turns 11, 12 and 13 the factory Ducati just glides through with ease as Pecco creates just enough of a gap to keep 3rd place.
Jorge Martin takes the chequered flag and wins the Tissot Sprint with a commanding and faultless performance. VR46 star man Bezzecchi takes a well deserved 2nd and a superb performance given the pain Bezzecchi must be in with the carrying hand injury.
Race Classification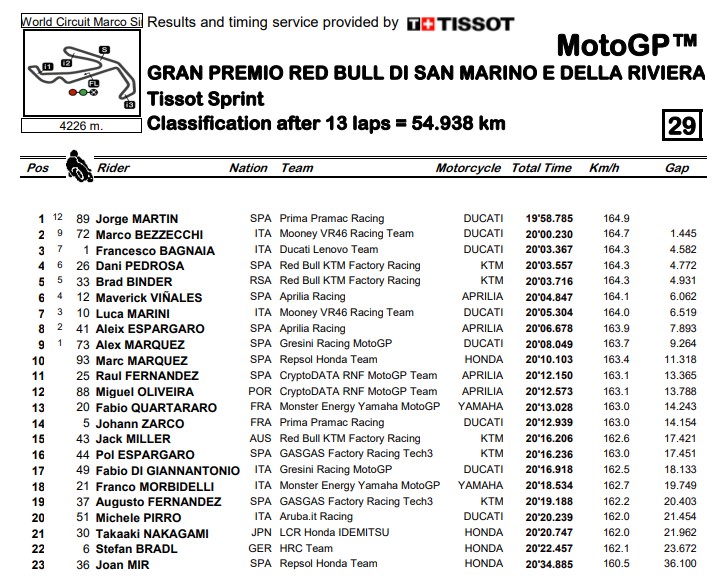 Image Credit: MotoGP