The second day of action from Finland dawned with Elfyn holding the lead from Thierry, the gap sitting at 6.9 seconds between the top two. The crews faced eight stages and a total of 160 of competitive kilometres.
Pierre-Louis Loubet returned for M-Sport and would open the road throughout Saturday's stages. There was news that surprised many though with Kalle and Jonne not restarting at all. The damage to the 69 GR Yaris was too high and the world champions would not be returning.
The action started with SS11 Västilä 1 – 18.94 km and Elfyn was quick out of the blocks, going 4.6 seconds faster than Thierry, thus increasing his lead to 11.5 seconds. Teemu was third fastest, taking 8 tenths of a seconds from Takamoto's lead as the pair fought over third overall. In WRC2, Sami was fastest from Marco and Mikko, whilst the category was led by Jari from Sami and Adrien who moved up into third overall.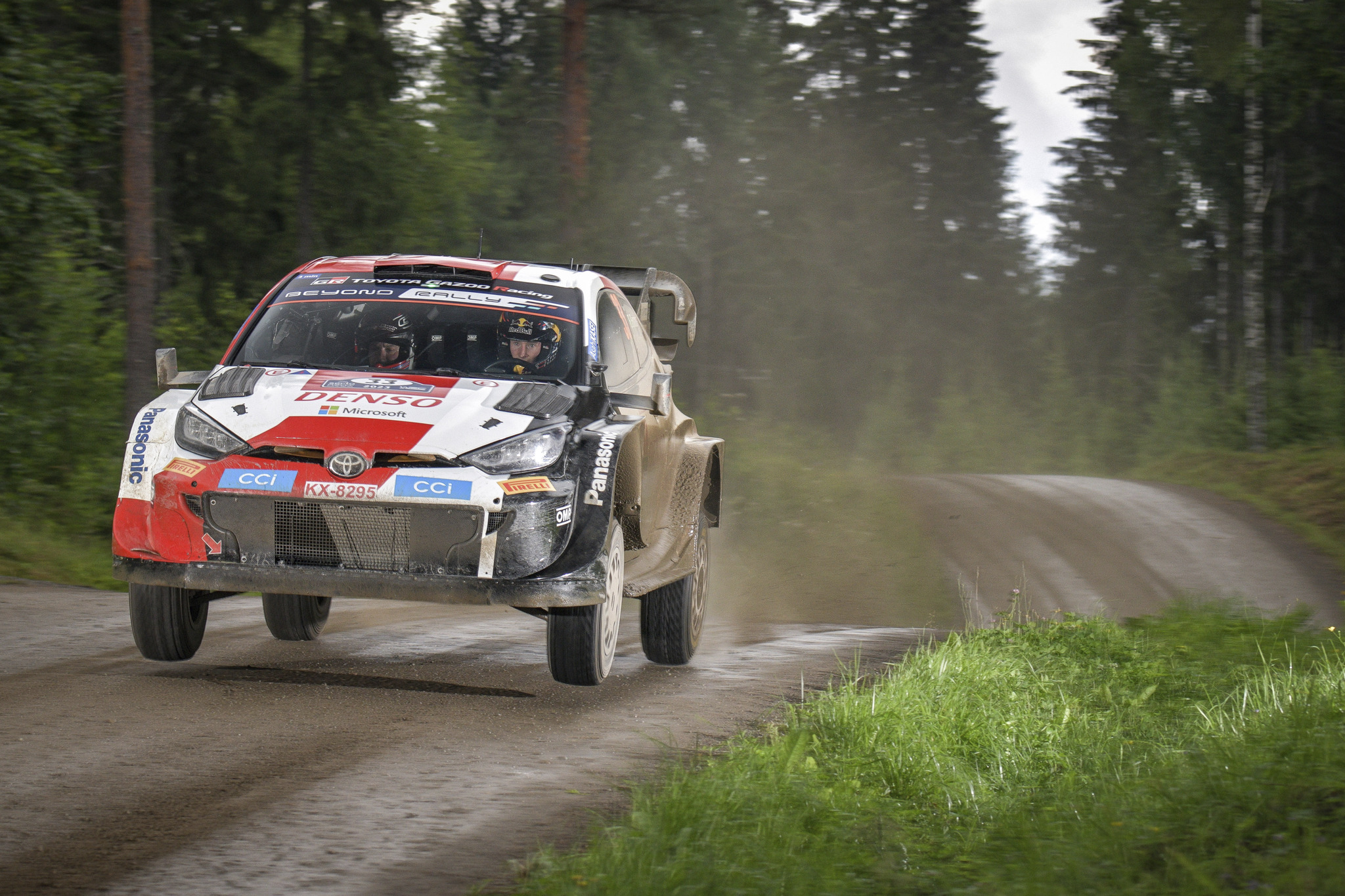 Next up was SS12 Päijälä 1 – 20.19 km and Elfyn was fastest again by 4 tenths of a second over Thierry. Takamoto had a spin in this one and fell behind Teemu, the Finn taking third overall. Top three remained the same in WRC2.
Elfyn maintained the great pace out there in SS13 Rapsula 1 – 20.56 km winning again by 3.4 seconds from Thierry and Takamoto was third, who closed the gap a little to Teemu who remained in third overall. Gus drove well in this one, setting the best time in WRC2 with Sami matching the Brit's time and Roope third fastest. Meanwhile Jari remained in charge of the category leading from Sami and Adrien.
Elfyn made it four out of four in the final morning stage, with Thierry second and Takamoto third and reduced the gap even further to just a second to Teemu who remained third overall. The Welshman had increased his lead over Thierry to 17.7 seconds and was firmly in charge.
Into the afternoon stages with the rerun of SS15 Västilä 2 – 18.94 km and Elfyn was really fast in this one, with Thierry second but 7.8 slower than the leader. Meanwhile Takamoto regained third overall moving ahead of Teemu by just eight tenths of a second. Meanwhile it was all change in WRC2 with Jari suffering an engine problem and falling down from the lead. Sami moved into the lead from Adrien and Andreas.
Next up was SS16 Päijälä 2 – 20.19 km and Elfyn was again fastest from Thierry by another good margin of 4.5 seconds. Teemu moved back past Takamoto as their battle for third place continued, moving ahead by just three tenths of a second.
Just two stages left and Elfyn won SS17 Rapsula 2 – 20.56 km from Thierry and Takamoto. Just a tenth of a second separated Teemu and Takamoto in their fight for third place. Sami also remained in charge of WRC2 with a similar lead to Elfyn's over Thierry.
The final stage then of the day, SS18 Vekkula 2 – 20.65 km and it was a clean sweep for the Toyota squad as Takamoto won the final stage of the day from Thierry and Elfyn. The Japanese stars pace and also a problem for Teemu with the loss of his front splitter meant he'd retaken third overall. In WRC2 Adrien was fastest from Sami and Emil. There was a change for third though in the category as Andreas suffered a tyre off the rim and dropped almost 11.8 seconds and one place. Benefitting from this was Nikolay, going back into third place.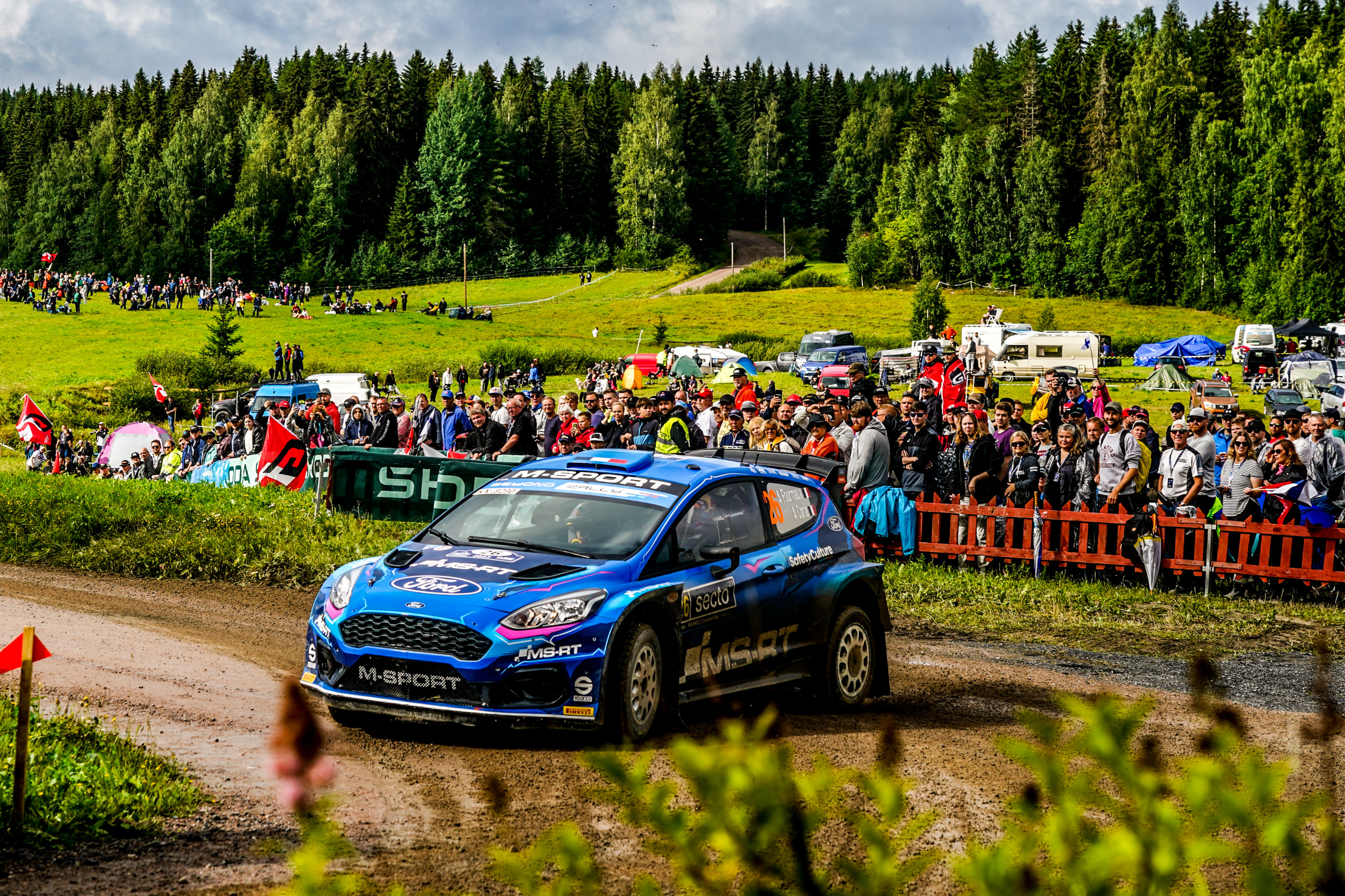 Let's check the top positions and hear from the drivers.
Classification after Day Two
| | | | | |
| --- | --- | --- | --- | --- |
| 1 | E. Evans | S. Martin | Toyota GR Yaris Rally1 Hybrid | 2:08:07.0 |
| 2 | T. Neuville | M. Wydaeghe | Hyundai i20 N Rally1 Hybrid | +32.1 |
| 3 | T. Katsuta | A. Johnston | Toyota GR Yaris Rally1 Hybrid | +1:27.8 |
| 4 | T. Suninen | M. Markkula | Hyundai i20 N Rally1 Hybrid | +1:34.2 |
| 5 | J. M. Latvala | J. Hänninen | Toyota GR Yaris Rally1 Hybrid | +3:39.5 |
Toyota Gazoo Racing WRT
Elfyn Evans
"The feeling's been good today and the car has been working well. We've had the confidence to push and also been able to focus on driving cleanly where necessary. Conditions were difficult at times, especially in the last stage, but we seemed to have everything under control and we're obviously happy to be in this position tonight. We had some incredible stages today, some of the best in the world, and to have a car that's working as we want in those conditions has been mega and reminds me of the feeling, we had here in 2021. But there is still some distance to go tomorrow, and we're focused on what we need to do to bring the car home in this position."
Takamoto Katsuta
"This morning was tricky as it was still raining quite a lot. In the first stage I was struggling to judge the grip, and then in the second one I was trying to drive better but I made a small mistake that cost us a lot of time. After that, I was trying to fight back but the time gaps were very close, and we were only gaining a few tenths of a second on each stage. But we knew the last stage could have difficult conditions so I decided to push as much as I can. Of course, there was risk, but I knew it could put us in a better position for tomorrow if we could make some time, and luckily we could. Tomorrow will still be a big challenge, but I will try my best."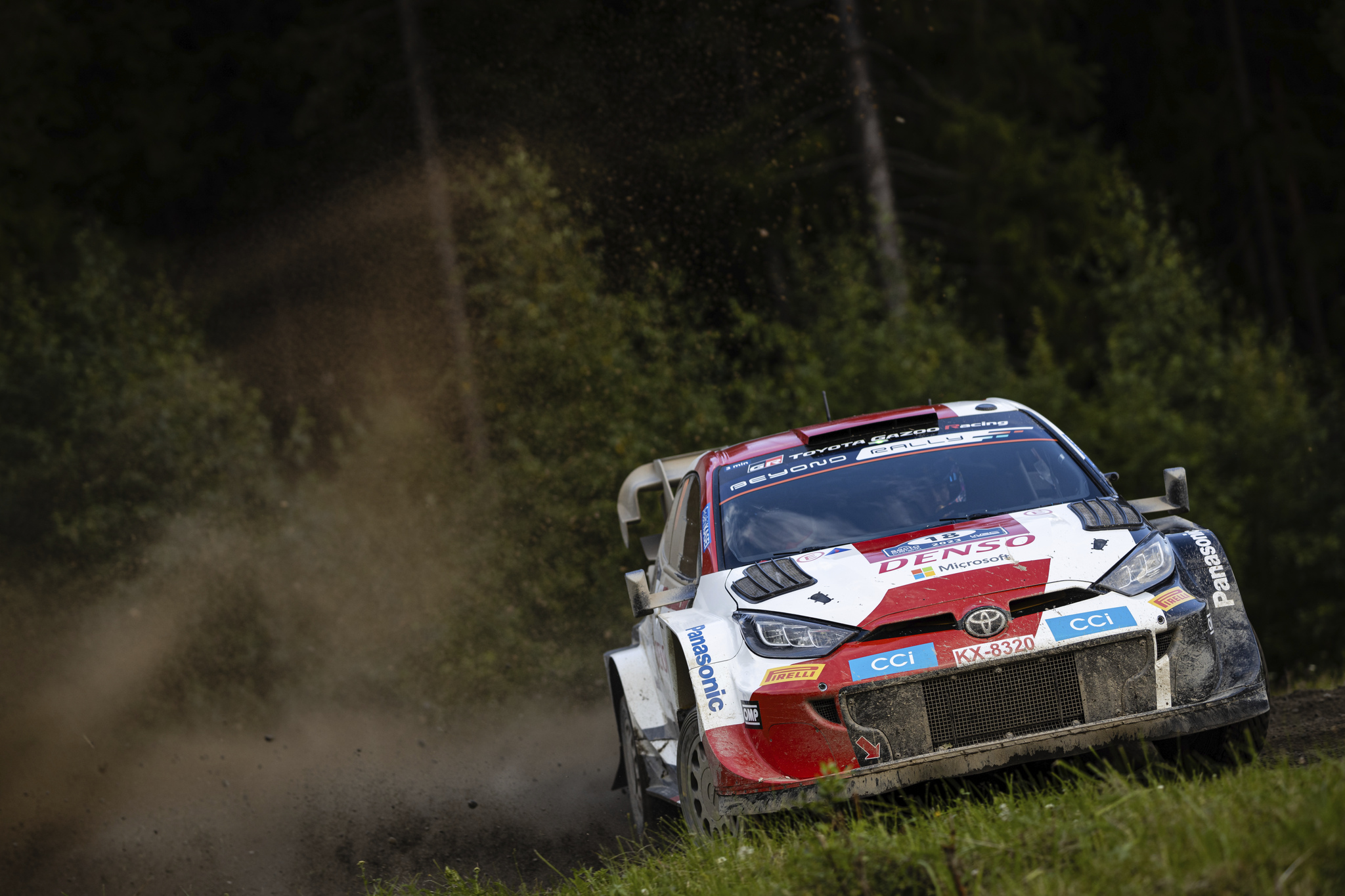 Jari-Matti Latvala
"It has been good fun again today. It's always nice to go to these stages around Jämsä which are wide, fast and flowing with usually a lot of people spectating, and the atmosphere was really nice. The conditions were a bit challenging with a lot of rain, but it was still enjoyable most of the time. The last stage of the day was more like Safari, with big ruts full of water and a lot of mud coming to the windscreen. But it has been great to see so many people cheering for us on the stages and telling us that we're doing well. The boost I'm getting from them is giving me an amazing feeling and I hope to carry that until the finish tomorrow."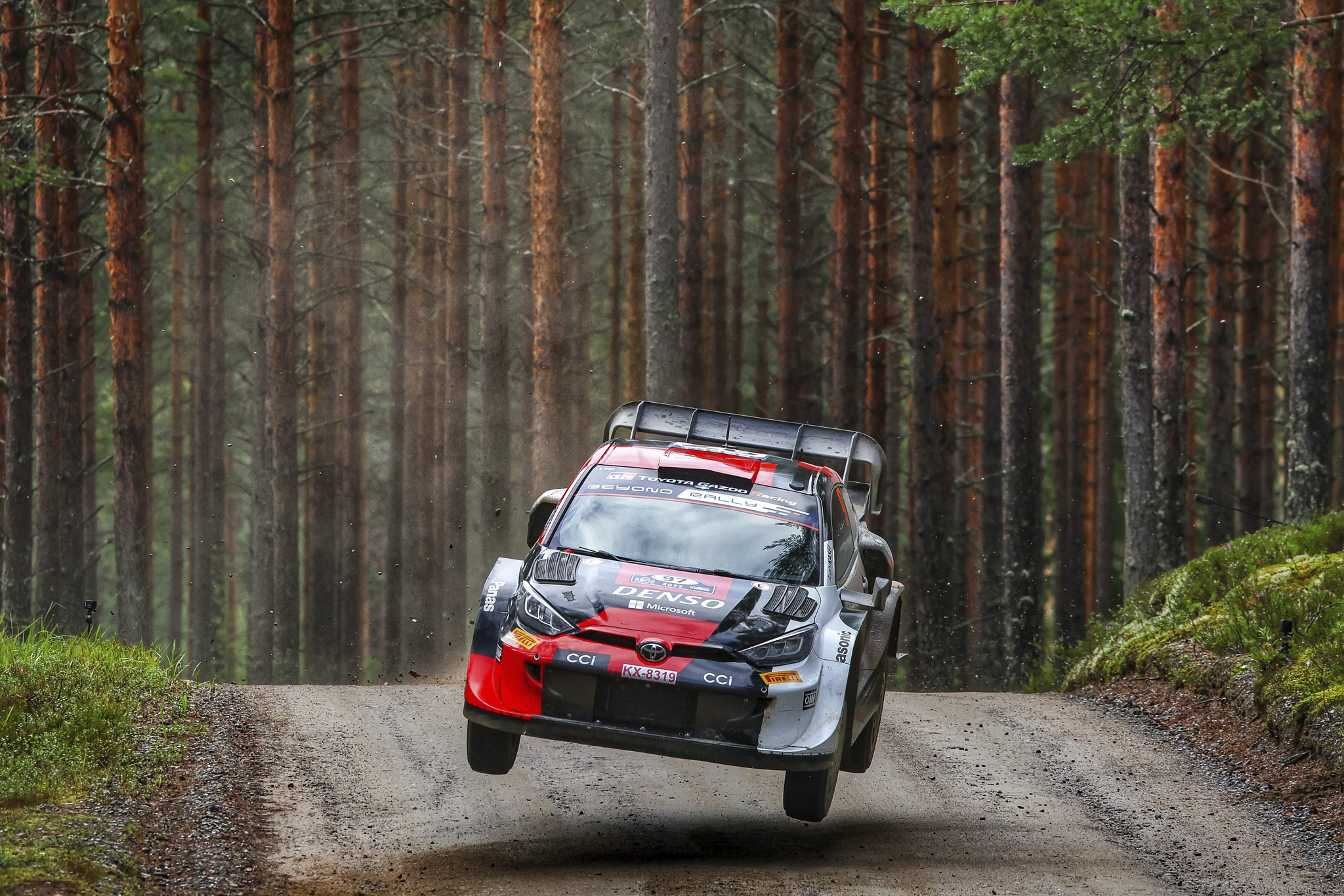 Hyundai Motorsport
Thierry Neuville
"It wasn't the day we were hoping for, but still it was a good one. We had some speed this morning, but it was trickier this afternoon. Challenging weather conditions made it difficult for us to keep the car on the road. We tried to push hard but, in the end, we had to settle provisionally for second behind a very quick Elfyn. We're satisfied though, we weren't expecting to be in this position in Finland. We've done a good job and the car was working fine. The championship hasn't been easy up until now, but our hope isn't lost, so let's see how many points we can maximise from this event."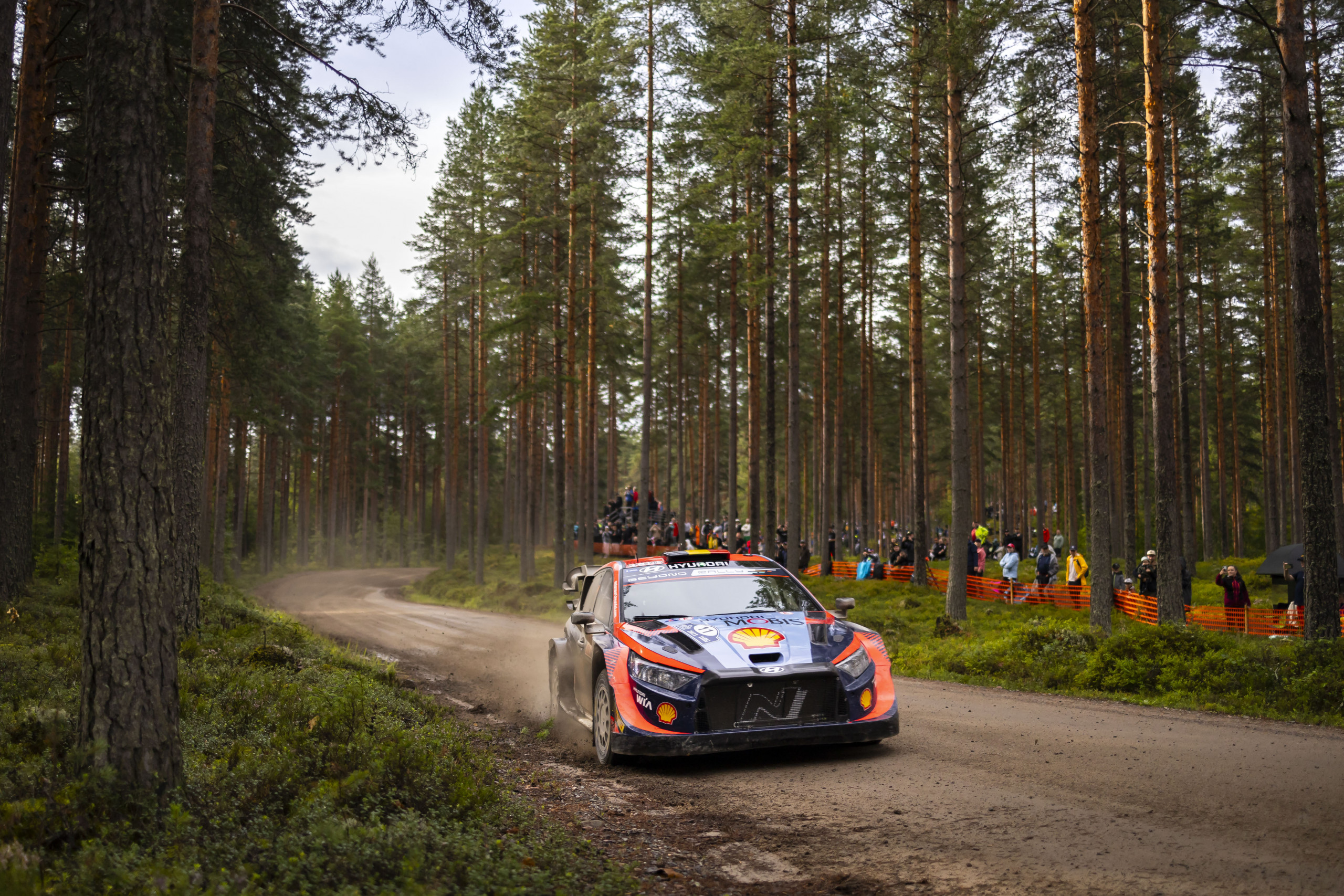 Teemu Suninen
"It's been a good day for us until the last stage. Generally, throughout the day we have been able to catch Takamoto, then pass him and have a proper fight, but we lost time on the final stage. The ruts were full of water, so it was difficult to adjust the speed and assess the grip level in the muddy places. It would be great to get the podium, especially in only my second rally in the Hyundai i20 N Rally1 Hybrid but it is a tricky, long day ahead – still we have a good chance, so we have to go for it."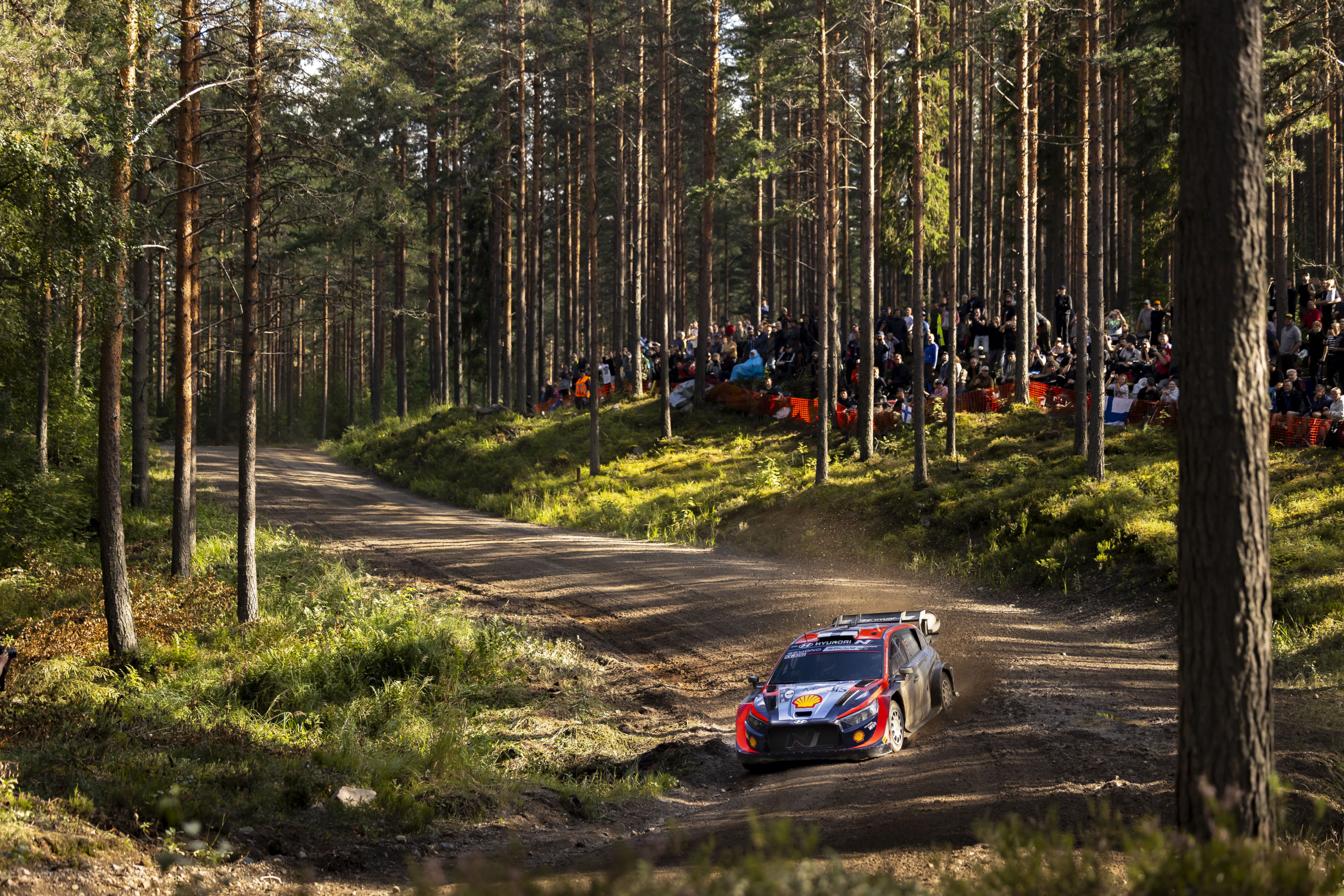 Summary
Well, what a brilliant day for Elfyn and Scott. We have seen this kind of drive before from them at many rallies over the last few years and the way he gapped Thierry and Martijn on these incredible stages was fantastic. They utterly deserve to win tomorrow, and it will be a case of bringing it home.
Thierry and Martijn just did not have an answer to the Toyota crew today, but this has been one of the best performances at this rally for over a decade.
Takamoto could take a third career podium in his adopted home land, let's see if he can hold off Teemu tomorrow.