The second full day of action had 106km's over nine stages. Ott Tanak would open the road throughout the second day.
Into the first stage then, SS9 Mäeküla 1 – 10.27 km and Kalle was fastest from Thierry and Elfyn. The Welshman closed the gap to EP who was holding third. Ott was now in eleventh overall and just 6.2 seconds from the points paying positions. Andreas remained in charge of WRC2 holding a 9.3 second lead over Gus whilst Sami held third.
Kalle made it two in a row winning SS10 Otepää 1 – 11.15 km also with Thierry and Elfyn second and third fastest. Elfyn's morning pace was bringing him close to Esapekka, the gap now just seven tenths of a second! Meanwhile Ott jumped up two places and into ninth overall and was just eight seconds from WRC2 leader Andreas.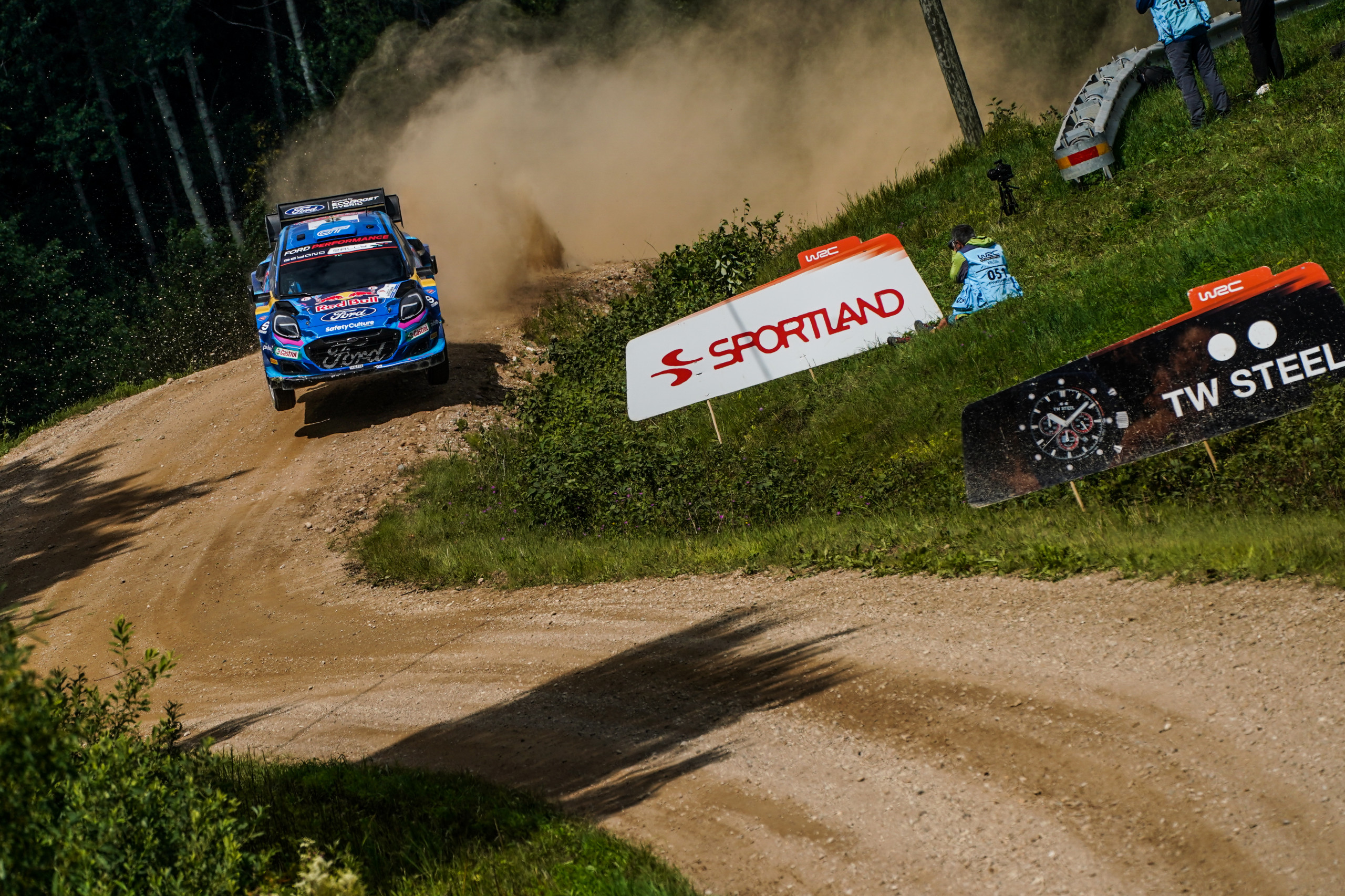 After the regroup and tyre fitting zone there was the second run of SS11 Mäeküla 2 – 10.27 km. Kalle was fastest again but this time EP was second fastest from Elfyn, whilst Thierry was fourth. The gap between Elfyn and Esapekka rose very slightly to 1.2 seconds. Ott moved into eighth place, pushing WRC2 leader Andreas down to ninth, whilst Sami passed Gus for second place in the category.
Kalle was really on a roll now, winning SS12 Otepää 2 – 11.15 km from Esapekka and Elfyn. Thierry fell away from the battle for the lead as he suffered from a tyre coming away from the wheel rim. In WRC2 Andreas remained in the lead, but Sami edged a little closer by a few tenths of a second.
After the service break, we had a whole new set of stages for the crews to tackle, starting with SS13 Elva 1 – 11.73 km. This stage included a visit to a rally cross circuit. The top three was Kalle, Thierry and EP. The Finns lead over the Belgian was now 23.9 seconds and EP was also gapping Elfyn, there being a gap now of two and a half seconds. There was no change in the WRC2 category with Andreas still leading, but the gap did come down a little to 16.3 seconds to Sami who was faster in the stage.
Into SS14 Kanepi 1 – 16.48 km and again Kalle was fastest from Thierry and Esapekka. The Finn in his i20 was opening a gap to Elfyn and now was ahead by 3.7 seconds. There was no change either with the top three in the WRC2 category.
Kalle again was fastest in SS15 Elva 2 – 11.73 km but this time from his teammate Elfyn who was one second faster than EP, thus reducing the gap again, whilst Thierry was third fastest.
In the next one, SS16 Kanepi 2 – 16.48 km Kalle again was fastest from Thierry and Esapekka and Elfyn was fourth, losing more time to EP. The gap was now 5.6 seconds. In WRC2 Sami edged a little closer to Andreas, bringing the gap down to 15.1 seconds. The young Finn was eyeing up a category win.
Onto the final stage, run near the service park and a bit of a mickey mouse stage really, SS17 Tartu vald 2 – 3.35 km. Last run-on Thursday evening and as the opening stage of the event. Kalle made it a clean sweep of all nine stages, winning this one as well from EP and Thierry. WRC2 category leader was sixth fastest in the stage.
Let's take a look at the top positions.
Classification after Day Two
| | | | | |
| --- | --- | --- | --- | --- |
| 1 | K. Rovanperä | J. Halttunen | Toyota GR Yaris Rally1 | 2:05:29.3 |
| 2 | T. Neuville | M. Wydaeghe | Hyundai i20 N Rally1 Hybrid | +34.9 |
| 3 | E. Lappi | J. Ferm | Hyundai i20 N Rally1 Hybrid | +45.4 |
| 4 | E. Evans | S. Martin | Toyota GR Yaris Rally1 | +52.7 |
| 5 | T. Suninen | M. Marrkula | Hyundai i20 N Rally1 Hybrid | +1:41.5 |
| 6 | P. L. Loubet | N. Gilsoul | Ford Puma Rally1 Hybrid | +2:25.5 |
| 7 | T. Katsuta | A. Johnston | Toyota GR Yaris Rally1 | +2:32.5 |
| 8 | O. Tänak | M. Järveoja | Ford Puma Rally1 Hybrid | +5:552 |
Toyota Gazoo Racing WRT
Kalle Rovanperä
"It's been an amazing day. It doesn't happen so often that you can win all the stages in one day. We had a clear plan this morning to push hard and get a bit of a gap if we can, and to make use of our better starting place. It was a bit easier to match the speed, we had a clean morning and gained a lot of time. This afternoon I really enjoyed the stages, and it went well, the feeling was great in the car. Tomorrow is still a tricky day, with a new stage that is quite technical, so we need to stay sharp, do a good job and then hopefully we can have a final push on the Power Stage."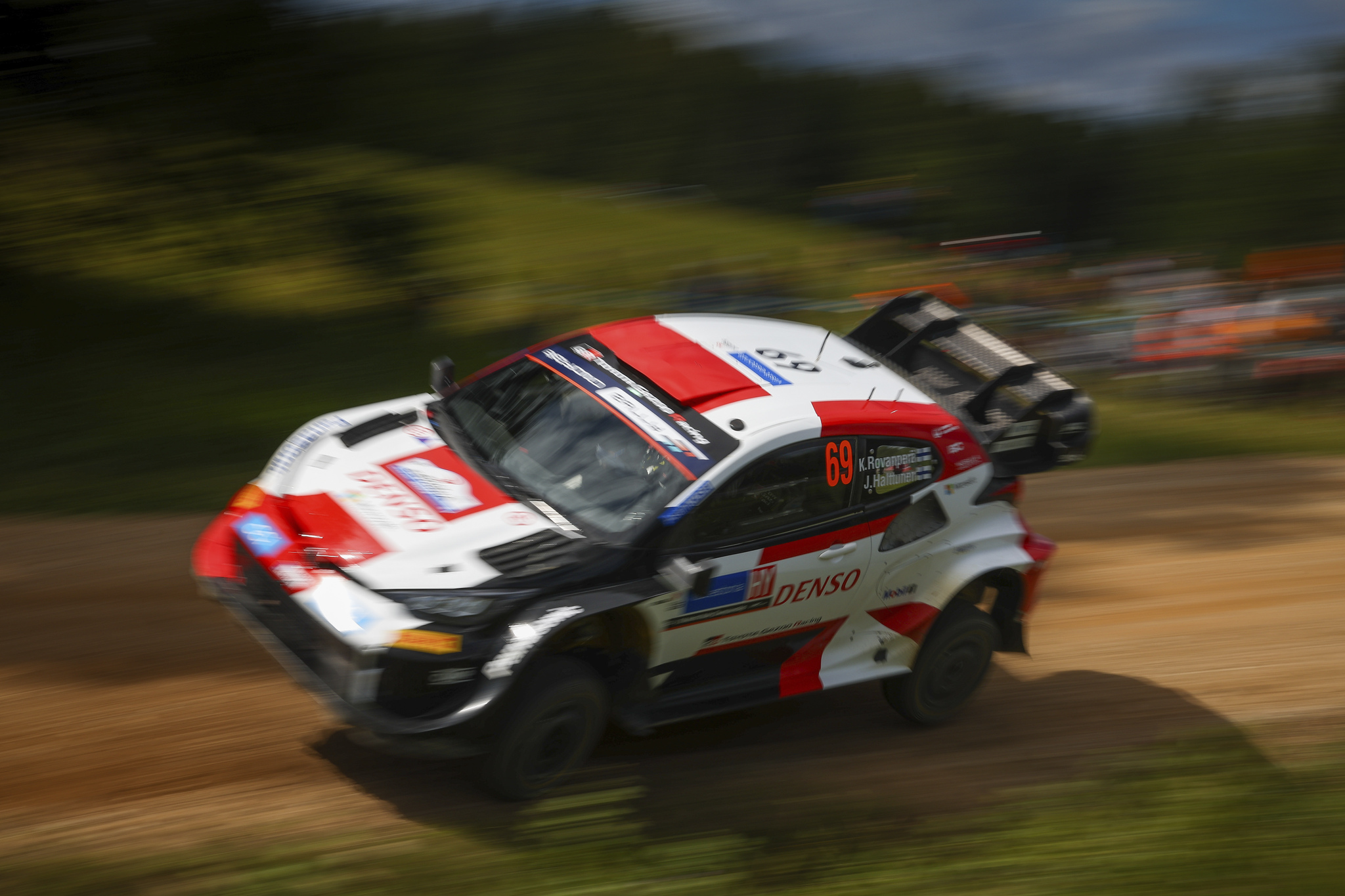 Elfyn Evans
"It has been a pretty close battle with Esapekka: there has been a fair bit of back and forth between us during the day and we've both enjoyed the fight. It was particularly tight this morning: I took a bit in the first couple of stages, and then he took exactly the same amount back. The gap went a bit more in his favour towards the end of the day, so it's a bit bigger now than we would like. The longer stage this afternoon maybe didn't suit us so well and we conceded a bit too much time there. But it's still relatively close and all to play for tomorrow. We're going to give it everything we have and see what we can do."
Takamoto Katsuta
"Together with the team we changed a few things on the car last night and we made a good step forward with the setup, so I felt much better than yesterday. Of course, I was struggling a bit with the grip because of our starting position, which we knew would be the case. But other than that, it was going well this morning. I was trying to improve my driving more this afternoon, but then many things happened. We had a few issues with the car and the intercom, and it was a bit difficult to work out what was going on, but we got through all the stages OK and that's the main thing."
Hyundai Motorsport
Thierry Neuville
"I enjoyed today; we were driving the car to its maximum most of the time and having a lot of fun while still feeling comfortable, which was key. We made no mistakes and had no moments, but we got unlucky with a puncture, which cost us a few seconds. The goal tomorrow is to bring home the result, but Esapekka and Elfyn are pushing hard behind us. Esapekka has had an incredible day – I felt I was driving really well, and we were nearly matching times in the stages, which shows that our car is giving us what we need to go fast. We have been strong in the past here and the car feels good, but we are clearly missing something that would get us closer to Kalle."
Esapekka Lappi
"I think this is the first time in my career where I have had this kind of fight for position over two days. We struggled to build a bigger gap in the forest, but it is impressive that on the super special we managed to stretch the gap a fair bit. It has been up and down against Elfyn, but it has been a nice battle. I took more risks in the afternoon and drove on the limit more It has been enjoyable, but I thought I gave everything on SS15 – maybe even a little bit more – and so for the time to not be impressive was quite frustrating. We will do everything we can to stay ahead tomorrow; while we all know the Power Stage, there is also a brand new one which can always throw up some surprises."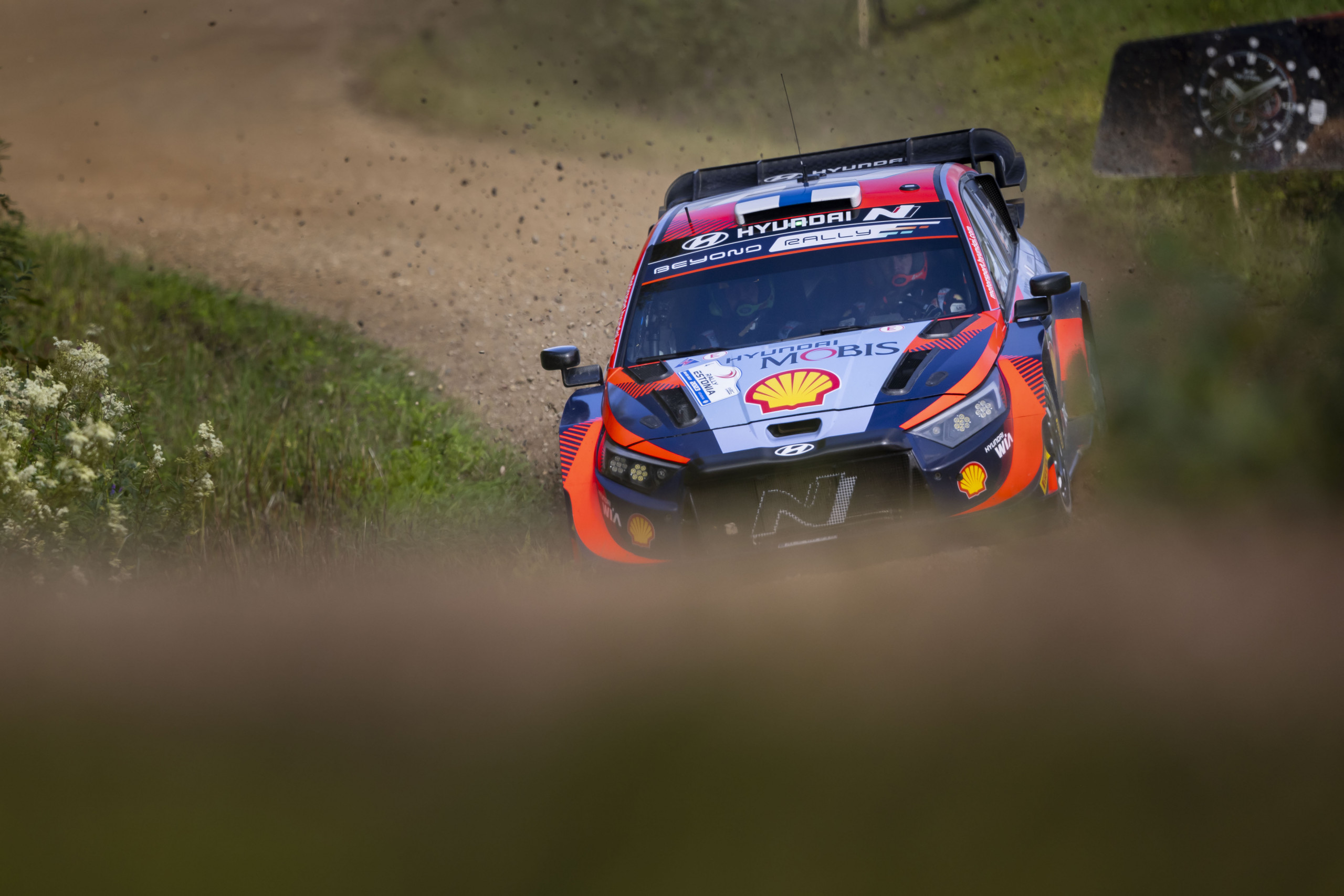 Teemu Suninen
"Step by step, we have been able to improve and increase our pace today. I am thankful to Dani; he has been like a big brother to me, helping with my first steps in the Hyundai i20 N Rally1 Hybrid. There were two stages where we lost just over a second, so we are not far away however, I still need a bit more rhythm to maintain a consistently good pace. Now there is a risk that we make a mistake; we haven't had a single moment so far, which might mean there is a bit of margin to go faster, but to be honest I need the kilometres. As I'm in the third car, I need to be in a good position to bring home points in case anything happens tomorrow."
Sunday
The final day sees the crews tackle 61km's over four stages with a service break in the middle. Can Kalle continue in the same form and win all the final stages, or will we see another stage winner?