The first full day of action would see the crews tackle 136km's over seven stages. Following the opening stage, the previous evening, Ott was leading from Thierry and Kalle. The start list looked like this – Rovanperä, Evans, Tänak, Neuville, Lappi, Katsuta, Loubet, Suninen, Solberg (WRC2), Greensmith (WRC2).
First up was SS2 Peipsiääre 1 – 24.35 km and Ott was fastest from Thierry and Kalle. There were a few changes in the leader board, with Thierry moving into the lead, Kalle moving into second, whilst Esapekka and Elfyn dropped a place each to third and fourth. In WRC2 Oliver moved into the lead and Andreas into second, whilst Egon held third. At this stage, Ott was holding 46th overall.
Into SS3 Mustvee 1 – 17.09 km and Ott was fastest through this one from Thierry and Kalle. The Belgian now held a 3.9 second lead over the Finn. There was a change for third, with Elfyn moving ahead of EP who suffered a boost problem with his hybrid system. The stage winner gained nine places on the leader board, moving into 37th place. In WRC2, Oliver continued to lead, but was not altogether happy with the way his Skoda was handling. Andreas remained second with Gus moving into third place.
The final morning stage SS4 Raanitsa 1 – 21.45 km saw Ott once again set the pace from Thierry again and Kalle. The Estonian gained another six positions as well. His expected march up the leader board was going well. There was a change in WRC2 for third place behind the two leaders with Gus dropping two places and Georg and Egon passing the Brit.
After the service break, Kalle swooped, winning SS5 Peipsiääre 2 – 24.35 km from Esapekka and Elfyn. Overall leader, Thierry could only manage the fourth best time, seeing his lead cut to 2.1 seconds. Meanwhile, Pierre-Louis moved ahead of Takamoto and into sixth overall. Teemu was going really well in his debut event with the i20 Rally1 holding fifth overall and matching Thierry's pace as well. There was drama in WRC2 with erstwhile leader Oliver hitting the scenery and damaging his suspension. With the young Swede's demise for the day, Andreas moved into the lead of the category Sami was now second and Egon third. Ott gained another ten places and was now in twenty-first place.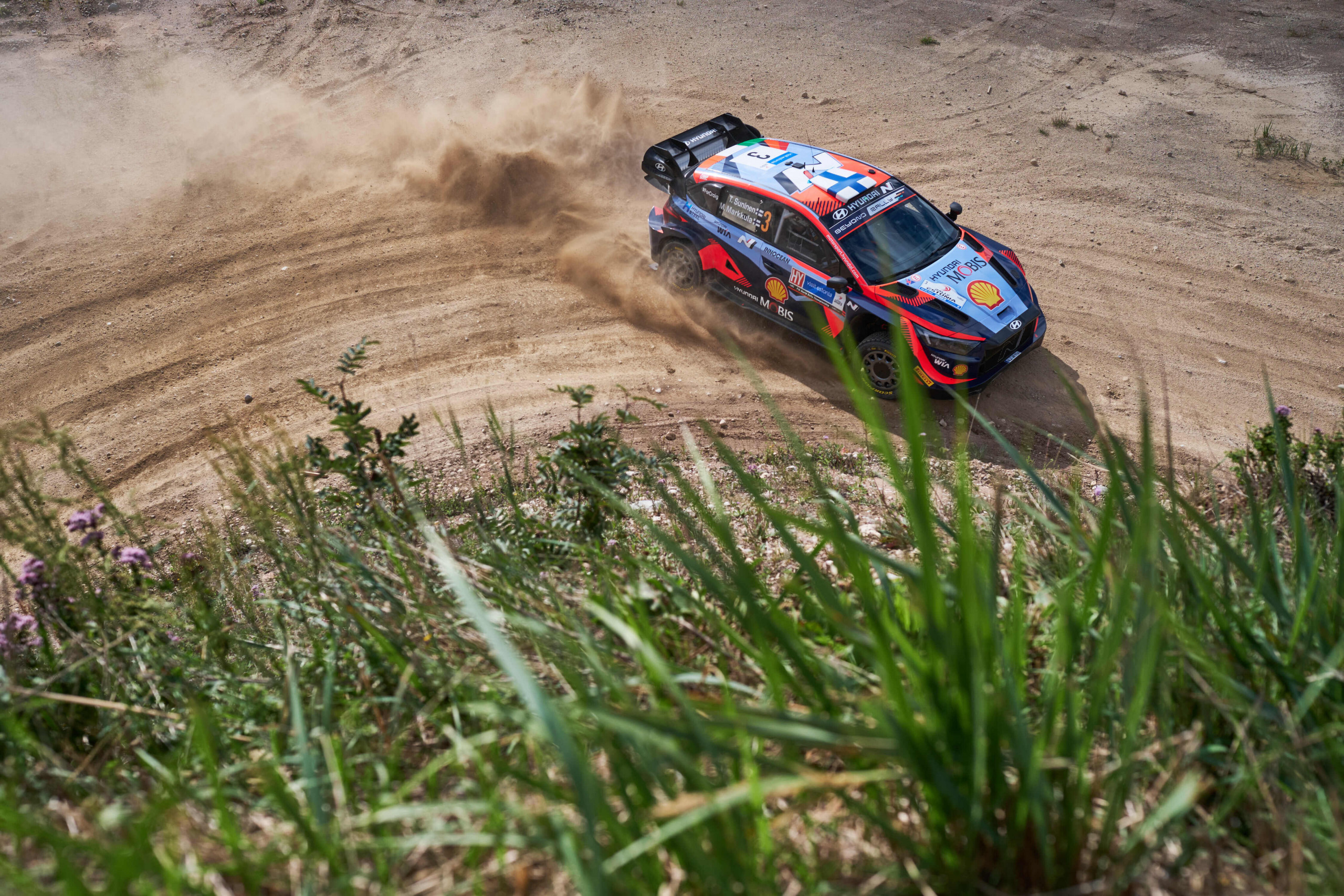 We had a lead change in SS6 Mustvee 2 – 17.09 km with Kalle going fastest from Ott and Esapekka. Former leader Thierry could only manage the fifth best time and fell to second, albeit with a 2.3 gap to the Finn. In WRC2 Andreas remained in the lead from Egon who'd passed Sami for second. The rise of the local favourite continued with Ott gaining a further four positions and moving into seventeenth overall.
Ott was again fastest in SS7 Raanitsa 2 – 21.45 km and gained a further five places to move into twelfth place. EP was second and Pierre-Louis third. Sadly, Elfyn dropped behind EP, who now held third overall. There were some changes in WRC2 behind Andreas. Egon who was holding second in the category prior to the stage dropped seven positions, with Gus, Sami and Emil benefitting.
The final stage of the day, SS8 Neeruti – 7.60 km saw Ott fastest again from Elfyn and Kalle. There were no changes in the top three, meaning Kalle is the overall leader heading into Saturday's stages and Andreas is holding the WRC2 lead. Ott gained one last position moving into eleventh overall, just twenty-two seconds from tenth place, currently held by Sami.
Let's look at the top positions and hear from the drivers.
Classification after Day One
| | | | | |
| --- | --- | --- | --- | --- |
| 1 | K. Rovanperä | J. Halttunen | Toyota GR Yaris Rally1 | 1:12:22.2 |
| 2 | T. Neuville | M. Wydaeghe | Hyundai i20 N Rally1 Hybrid | +3.0 |
| 3 | E. Lappi | J. Ferm | Hyundai i20 N Rally1 Hybrid | +12.2 |
| 4 | E. Evans | S. Martin | Toyota GR Yaris Rally1 | +14.1 |
| 5 | T. Suninen | M. Marrkula | Hyundai i20 N Rally1 Hybrid | +33.8 |
| 6 | P. L. Loubet | N. Gilsoul | Ford Puma Rally1 Hybrid | +48.8 |
| 7 | T. Katsuta | A. Johnston | Toyota GR Yaris Rally1 | +1:03.6 |
Toyota Gazoo Racing WRT
Kalle Rovanperä
"It was a really big challenge this morning opening the road, as it was much looser than I was expecting. It seems the roads had been drying quite a bit since the recce. I think we did a good job, we pushed really hard without making mistakes and there was not much more that we could do. This afternoon was a bit better, as we could at least have similar grip levels to the guys behind. We needed to open the ruts a bit in places but at least we could push and at the end of the day it's not looking so bad. It's still close with Thierry so let's see how it is tomorrow when we both have better starting places. I hope at least that our pace will come easier than today."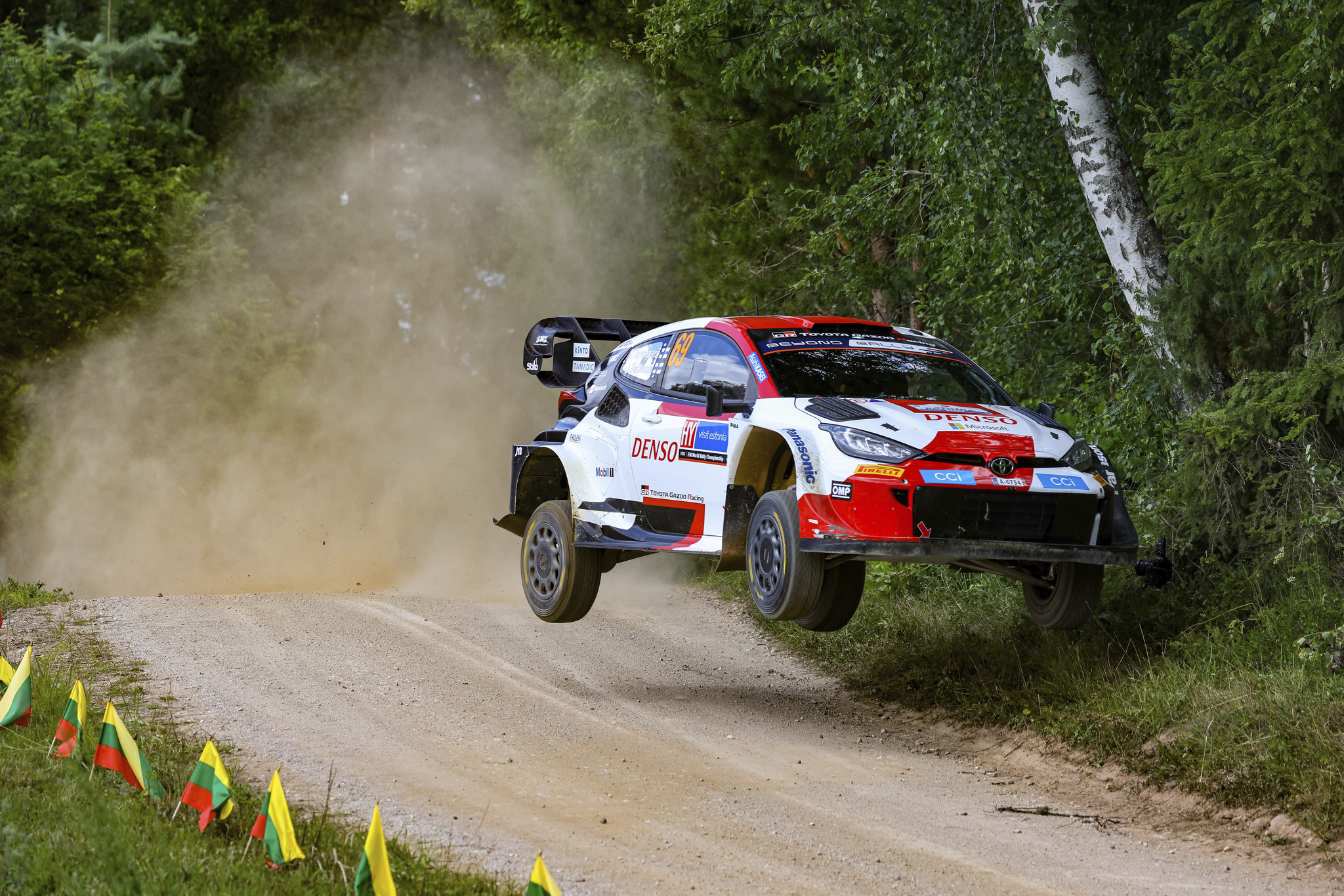 Elfyn Evans
"Our day started not too bad this morning considering our road position, but I didn't have the best feeling with the car. I was struggling with the balance a little bit and it wasn't as easy as I'd like. So, there were definitely some improvements to be made with the setup during service, and things were quite a bit better this afternoon. Unfortunately, we just had one stage – the third one of the loop – where we seemed to drop a lot of time but other than that I've had an improved feeling behind the wheel and that puts us in a better place looking ahead to tomorrow."
Takamoto Katsuta
"It has been quite a long and tough day for me. In the morning, I was struggling a bit and didn't feel so good with the car. Then, this afternoon, the conditions on the second pass were much rougher. The team did a good job to improve the car a lot, but on my side, I was still finding it difficult. The high-speed sections are OK for me, but when it's very technical or when it's rutted and the risk is getting higher, I'm hesitating too much. Tomorrow we will drive four stages twice and I will try step-by-step to find some confidence and hopefully start to use the potential of the car more."
Hyundai Motorsport
Thierry Neuville
"I'm definitely satisfied to finish the day in second place. We would like to have kept our first position, but we expected Kalle Rovanperä to be very fast this afternoon. I kept trying but in some sections I was losing a little bit here and there. We may have lost the position, but at the end of the day we are only three seconds behind. Compared to last year, my feeling in the car is much better and I was quite confident, as well as having a lot of fun out there. Tomorrow will be tough, Kalle has the better road position if there is no rain, so let's see what we can do."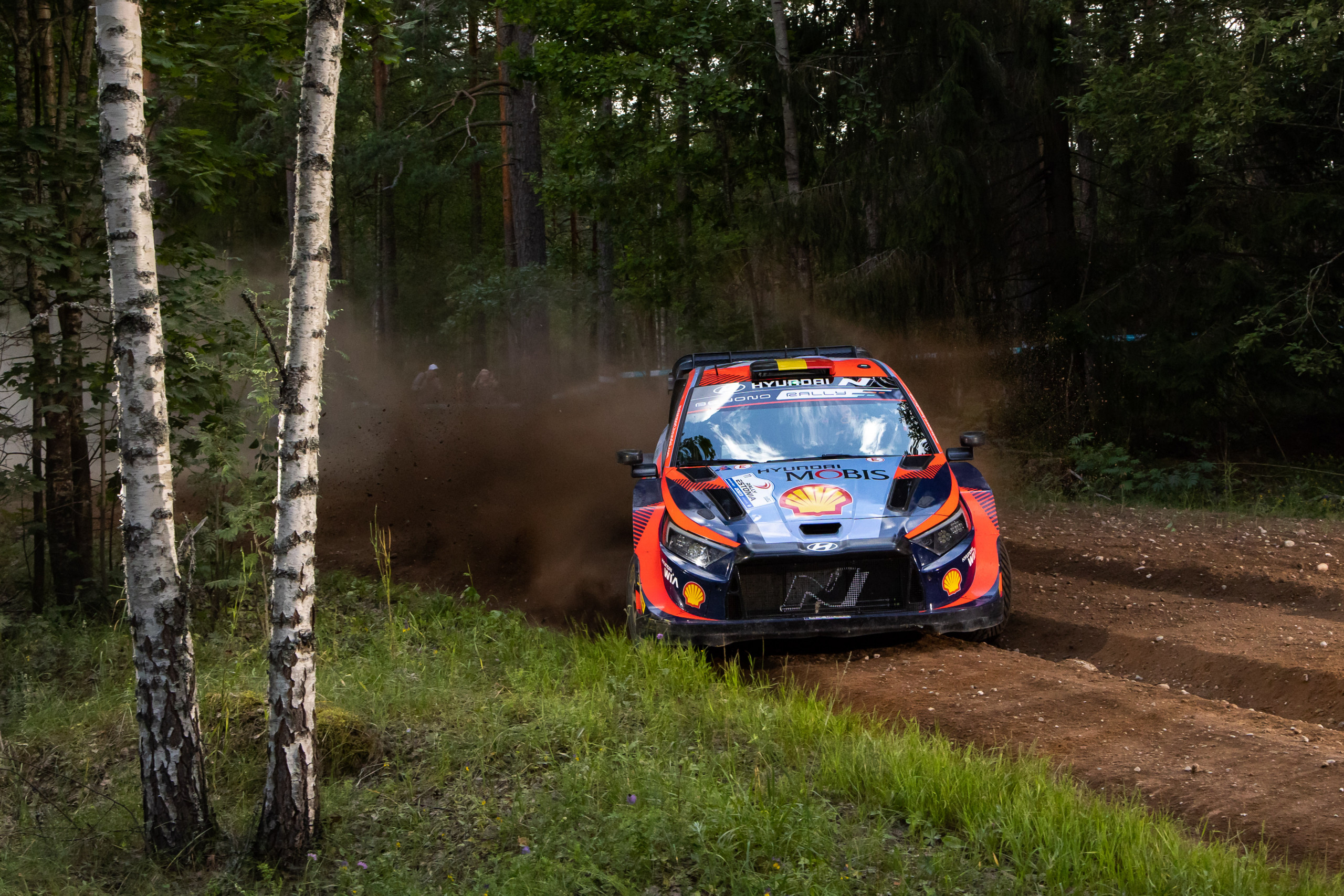 Esapekka Lappi
"We have had a very consistent day from the first stage to the last. In the morning we faced a hybrid issue, which we later discovered was caused by me, but doing a whole loop without the boost was definitely a disadvantage. I really tried to push hard to minimise the time loss before we reset the issue in service. The second loop was easier, but the conditions were quite tricky. It was especially so on the first two afternoon stages where there were deep ruts and some holes, which caught me out under braking. Overall, it's been a very fun day. The car is behaving so well, and I am able to do exactly what I want – I can push to the limit, and sometimes even go over it."
Teemu Suninen
"The feeling today has been amazing. I really enjoyed it and focused on learning the car as quickly as possible. I think we have shown good pace and I loved every single stage. It has been so nice to be back working in the top class and with the Hyundai Shell Mobis World Rally Team, especially Dani Sordo who has been a big support to me so far. I knew it is impossible to drive conservatively here, because then you are nowhere, so I tried to avoid bigger risks and was careful in really high-speed places. I think there is still more to come, and while we want to bring the car home safely without mistakes, I hope I can make a few small steps forward."
M-Sport Ford WRT
Ott Tanak
"On the first one we were struggling quite a bit and the second one we improved a bit, but had some technical problem with the set-up, and the last two were much smoother and two good stages. First on the road tomorrow and it appears dry, so definitely not helping, anyhow we catch quite a bit of time and the rally2's are not far and that's been the target"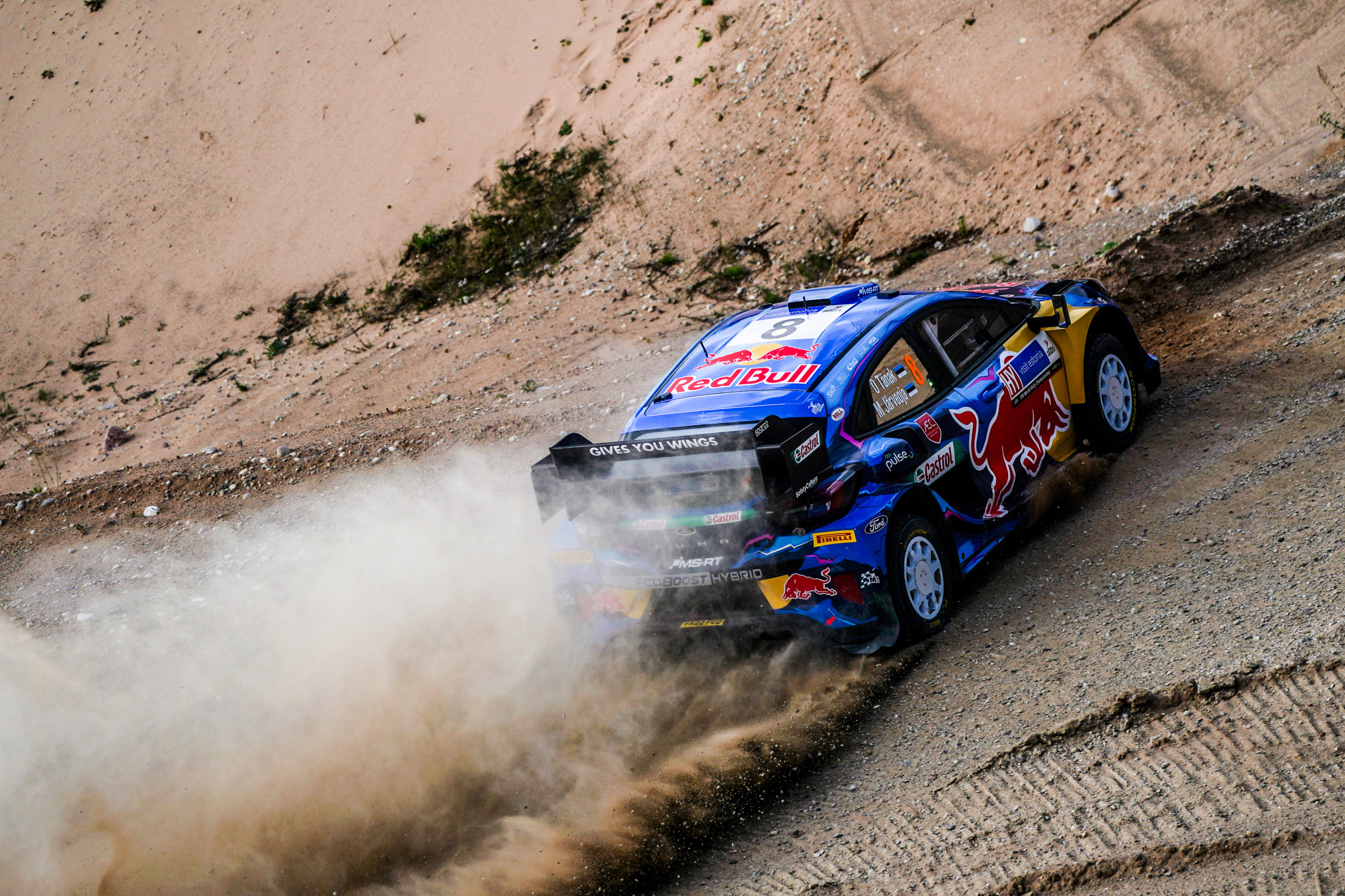 Saturday
The second full day of action will see the crews tackle 106km's over nine stages. Can Kalle remain in front, or will Thierry turn up the speed like always appears to do on Saturday's and take the lead back? The battle between the fan favourites Elfyn and Esapekka for third is even closer at just 1.9 seconds!
Ott's continued rise will surely continue as he targets the forty second gap between himself and WRC2 leader Andreas who currently holds eighth overall.