The second full day from the island of Sardegna had 133km over eight stages and the start list looked like this – Sordo, Tänak, Evans, Katsuta, Rovanperä, Neuville, Ogier, Lappi.
First up then and don't forget EP had a tenth of a second lead over Seb heading into SS8 Coiluna – Loelle 1 – 16.28 km. Thierry took the stage win from Seb, with Kalle third. Esapekka was fourth and lost the lead to Seb, the gap now 1.7 seconds between the duo. There was huge drama though for Takamoto as he hit a water splash really hard, heavily damaging the front including the radiator. Sadly, he was out for the day as the damage was to much for the crew to repair and continue. Meanwhile in WRC2 Sami was still leading from Adrien and Andreas moved into third with Emil dropping one place.
Into SS9 Su Filigosu 1 – 19.57 km and it was a good stage for the two leading Hyundai crews with Thierry winning the stage from EP and Seb third. This meant that Esapekka moved back into the lead by just three tenths of a second and Thierry was just thirteen seconds from the new overall leader. Unfortunately, Ott who was setting a really good pace had a huge problem in a river crossing which stalled the engine and he could not get it working properly again. Two crews down then after two stages. Wow, there was huge drama already! In WRC2 there was a lead change as Sami fell to third and both Adrien and Andreas moved into the top two positions!
Seb won SS10 Erula – Tula 1 – 21.92 km from Dani and EP was third. The Toyota crew moved back into the lead, the gap now 12.7 seconds. Dani had now moved into seventh overall gaining four positions and now only Adrien was ahead of the Spanish driver. The Frenchman was still leading WRC2.
The last stage then of the morning, SS11 Tempio Pausania 1 – 9.04 km was won by Thierry from Seb and Kalle! Seb remained firmly in the lead, the gap growing over EP to over 18 seconds. The Frenchman was looking comfortable out in front. There was one change for position with Dani moving ahead of Adrien and into sixth overall. In WRC2 the Frenchman remained in charge with Andreas holding second and Kajetan moved ahead and into third place.
After the service break Esapekka won SS12 Coiluna – Loelle 2 – 16.28 km with his teammate second fastest and Seb third. He ended up losing about eight seconds of his lead, the gap now just 10.5 seconds between the top two. The top three in WRC2 remained Adrien, Andreas and Kajetan, whilst Teemu was climbing the leader board now into fifth in category.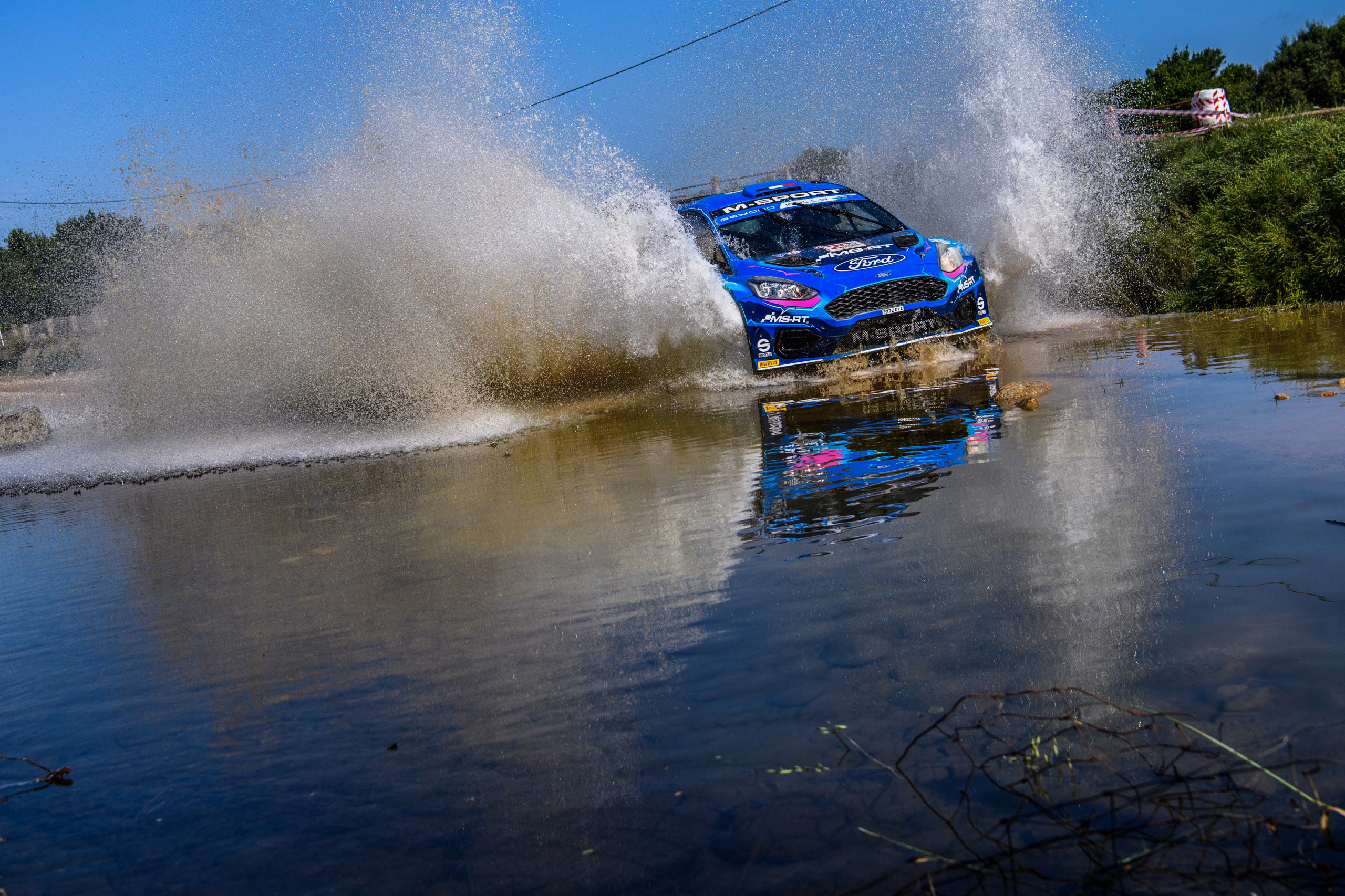 Next up was SS13 Su Filigosu 2 – 19.57 km and the rain fell down moving from the stage start to the end making the conditions super tricky! Seb lost more time as he completed the stage going through the river crossing and almost stalling his Toyota. His lead was now just 4.3 seconds. Thierry won the stage from Kalle and EP. There was a change in the positions in WRC2 with Teemu moving past two drivers and into third place, with Kajetan and Emil falling to fourth and fifth respectively.
The drama continued in SS14 Erula – Tula 2 – 21.92 km with Seb sliding off the side of the road just a short distance into the stage. When EP came past him, he decided to back off and completed the stage, whilst Thierry continued to push on, having started the stage before Seb and EP. Of course, starting the stage first actually gave Dani the best conditions in the stage and he won the stage. We had a new leader though with Thierry jumping ahead of EP, the gap between the teammates now almost 24 seconds! What a turnaround! There was a change in the WRC2 positions as well with Emil passing Kajetan for fourth place.
The final stage then of the day, SS15 Tempio Pausania 2 – 9.04 km and Thierry finished his day with another stage win with Dani and Elfyn setting the second and third fastest times. Adrien remained quickest in WRC2 and at the end of the day held a 25 second lead over Andreas.
Let's take a look at the top positions and hear from the drivers.
End of Day – Saturday
1 Thierry Neuville/Martijn Wydaeghe (Hyundai i20 N Rally1 HYBRID) 3h10m36.9s
2 Esapekka Lappi/Janne Ferm (Hyundai i20 N Rally1 HYBRID) +36.4s
3 Kalle Rovanperä/Jonne Halttunen (Toyota GR YARIS Rally1 HYBRID) +1m50.7s
4 Elfyn Evans/Scott Martin (Toyota GR YARIS Rally1 HYBRID) +5m36.5s
5 Dani Sordo/Cándido Carrera (Hyundai i20 N Rally1 HYBRID) +6m27.9s
6 Adrien Fourmaux/Alexandre Coria (Ford Fiesta Rally2) +8m11.7s
7 Andreas Mikkelsen/Torstein Eriksen (Škoda Fabia RS Rally2) +8m37.4s
8 Teemu Suninen/Mikko Markkula (Hyundai i20 Rally2) +10m46.4s
9 Emil Lindholm/Reeta Hämäläinen (Škoda Fabia RS Rally2) +11m08.3s
10 Kajetan Kajetanowicz/Maciej Szczepaniak (Škoda Fabia RS Rally2) +11m40.5s
18 Sébastien Ogier/Vincent Landais (Toyota GR YARIS Rally1 HYBRID) +19m46.9s
Hyundai Motorsport
Thierry Neuville
"Today has been a big battle with lots of ups and downs. We started very well this morning, until we took a big hit from Ogier on SS10 as he was pushing very hard. We felt we were doing well and step-by-step we closed the gap until we were only seven seconds behind going into the stage where everything changed. It is a fine line between pushing hard and keeping the car on the road, and we were able to stay just on that line. The job is not done, we have to get the car ready for tomorrow – it has suffered a lot in these conditions. The weather will still be tricky so we have to remain focused."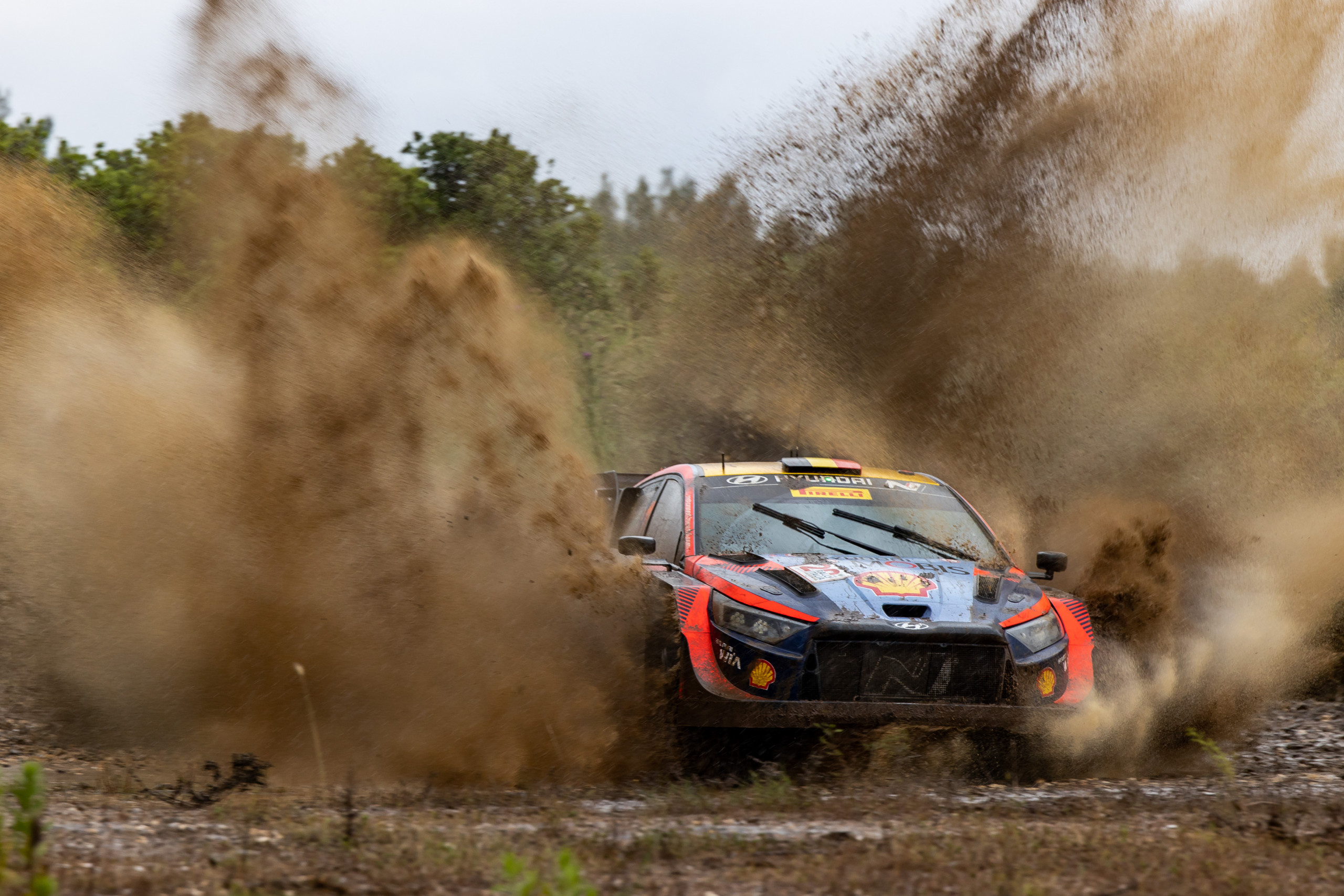 Esapekka Lappi
"We had a consistent morning but our target in the afternoon was to keep Ogier under pressure. We were managing that very well, and while I would never hope that he would make a mistake like that, it is part of rallying. After that, our target changed; with the rain coming down, we focused on saving our tyres and not taking any risks. It would have been very easy to go off as well. The aquaplaning was crazy at some points, but thankfully we had no big moments. Tomorrow is definitely not going to be dry, and while we are 1-2 at the moment there is always a chance that can change, so we have to be careful."
Dani Sordo
"Another difficult day today. It was tricky to find the right pace, particularly in the narrow forests. Being first on the road in the morning was a small advantage, as I had a little bit more grip than the others, but after that the stages became quite slippery and it would be very easy to make a mistake. We felt we were cleaning the road a little bit and that made it hard to fight. However, the job today was to bring the car home to service, and now we are in fifth place, so let's see what else happens tomorrow. In the recce the stages were already really wet, so we're expecting another demanding and unpredictable day."
Toyota Gazoo Racing WRT
Kalle Rovanperä
"It's been a good day and a really smart one from us, I think. This morning we could show some pace when we needed to. We had a better road position than yesterday, and it was going quite well; then with some others dropping out we ended up having to do some road cleaning again. The afternoon was really tricky. We had some tyres that were already well-used so we just did the best that we could. We tried to stay out of trouble, have a clean afternoon and we could also gain one position – but it's never nice to gain it when a team-mate has issues. Hopefully our tyre package will be better for tomorrow and let's see what we can do."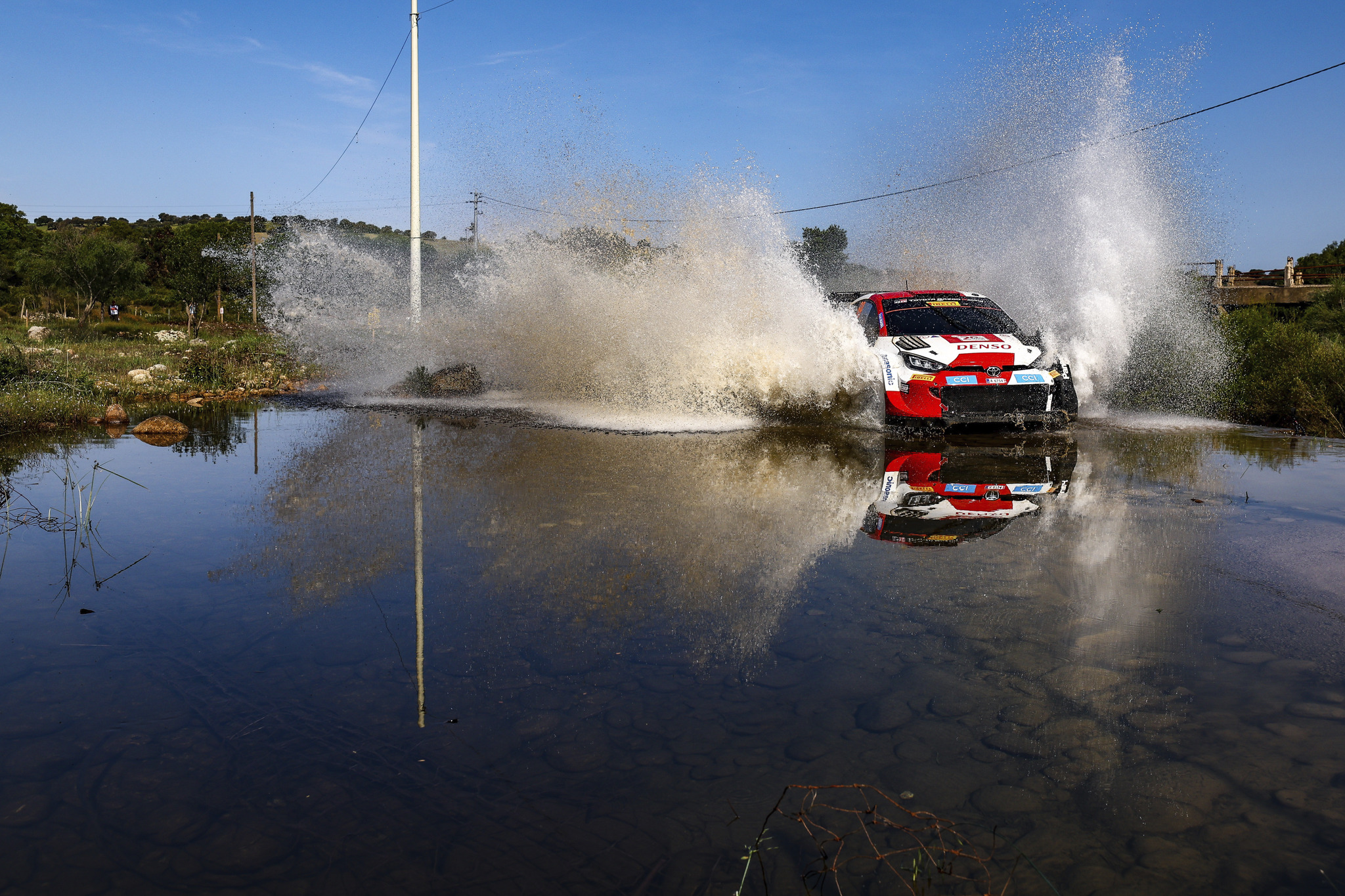 Elfyn Evans
"It's been a long and challenging day. In the morning we were caught by surprise by a watersplash that was deeper than I was expecting. That did quite a lot of damage at the front end which we then had to try and manage to get back to service – where the team did a great job to fix the car. This afternoon we had some very difficult conditions and were just taking it easy to try and get the car through. We're a bit lucky to be fourth tonight with the issues we've had but there's still a decent way to go tomorrow, so we just have to try and stay clean and see what's possible on the Power Stage."
Sébastien Ogier
"We were missing a bit of pace in the first two stages this morning, but we managed to react in the longest and probably most difficult stage. I fought hard to make this time and it was nice to build a bit of a lead after that. Unfortunately, it was then an eventful afternoon for us. It started with the issue in a watersplash where we damaged the front of the car. It was a big fight to try and fix that and carry on. Then we had to change a tyre right at the last minute before the third stage, in the mud. And when I hit the brake pedal, my foot slipped, and we couldn't make the corner. We have been quite unlucky today, but that's rallying, and we need to put it behind us and look forward."
Final Day – Sunday
One more day then with 46km's over four stages. Will we see yet more drama over the final short day, or will things calm down? We shall see!