The second day of this seasons visit to Portugal saw a battle develop between the three Hyundai crews for the remaining spots on the podium. Here's the story from the longest day of the rally. The start list looked like this – Katsuta, Tänak, Neuville, Loubet, Lappi, Sordo, Rovanperä.
Kalle won the first stage of the day, SS9 Vieira do Minho 1 – 26.61 km from Esapekka and Dani. EP moved back ahead of Thierry and into third overall. Meanwhile in WRC2 Adrien was fastest from Gus and Sami. However, Oliver remained firmly in the lead of the category with a 40 second lead over Gus.
Kalle also won SS10 Amarante 1 – 37.24 km from Ott and Esapekka. The Finnish world champion was building a very big lead over second placed Dani. The gap between the three Hyundai crews remained really close, just a little over six seconds between them. Unfortunately, Pierre-Louis had a little error with large consequences, hitting a tree at the side of the stage and then a bank on the opposite side. This led to his front suspension and steering breaking, and he was out for the rest of the day. In WRC2 top fastest runners were Adrien, Teemu and Andreas, whilst Oliver, Gus and Yohan remained the top three.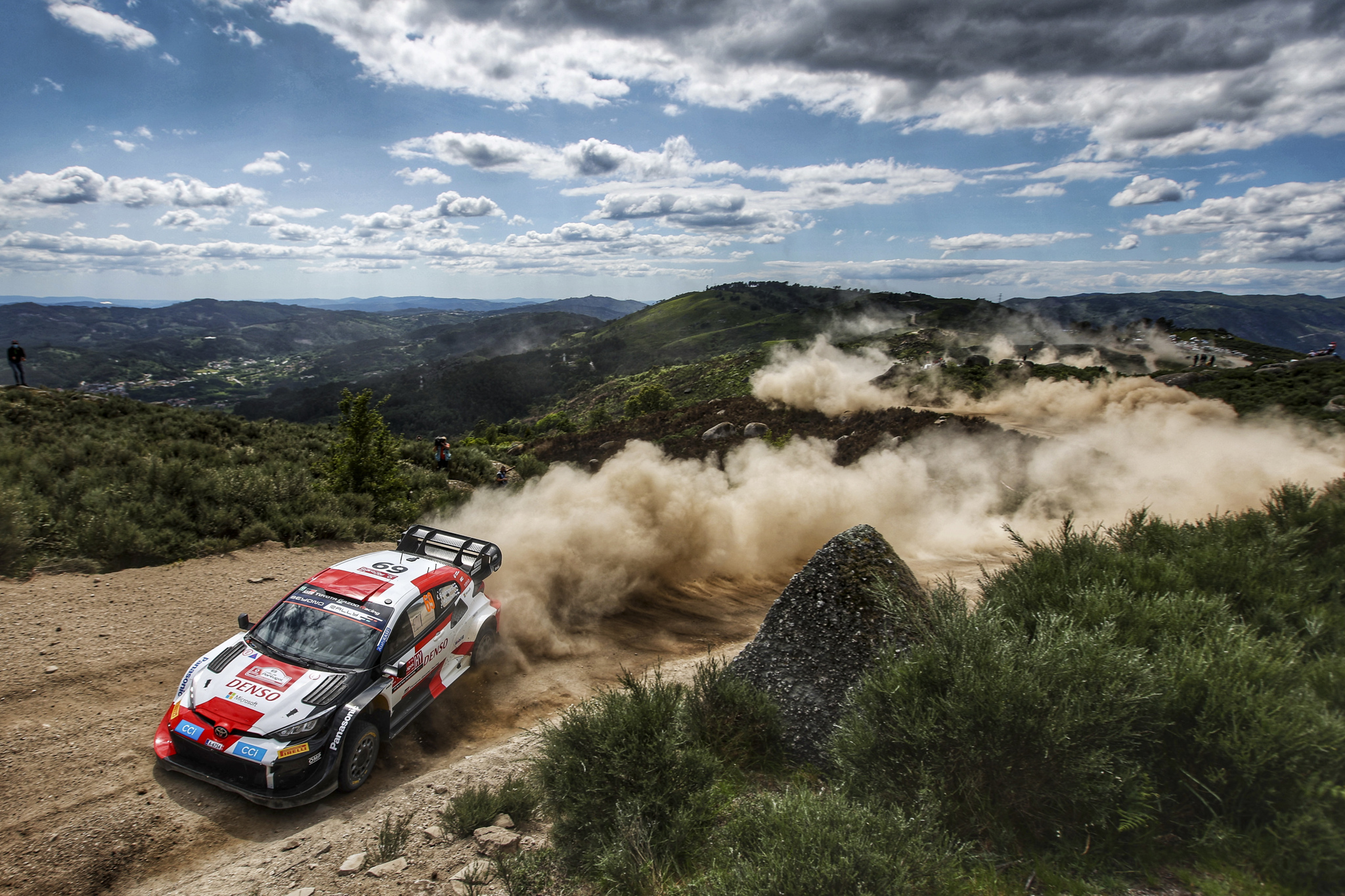 Into SS11 Felgueiras 1 – 8.81 km and Kalle took his third stage win of the day from Thierry and Dani. The Belgian's pace brought him to just 9 tenths of a second from third place. In WRC2, there was no change in the leaders with Oliver still leading from Gus and Yohan.
After the service break Kalle also won SS12 Vieira do Minho 2 – 26.61 km from Dani and EP. Esapekka opened up the gap a little from Thierry who could only manage fourth best time and almost five seconds slower. In WRC2, there was a change for third place as Andreas moved into that position with Yohan who was struggling for pace dropping behind.
The second run of SS13 Amarante 2 – 37.24 km saw Dani set the fastest time bringing an end to Kalle's run, the Finn setting the second fastest time and Thierry third. The Belgian moved ahead of EP and into third overall. The top three in WRC2 was Andreas, Teemu and Gus. Teemu's pace brought him back into the top ten as well.
Just two stages left and next up was SS14 Felgueiras 2 – 8.81 km. Kalle won this from Esapekka and Thierry. Oliver was still holding the lead of WRC2 and actually set the sixth fastest time in the stage.
The final stage of the day, SS15 SSS Lousada – 3.36 km was a double run around the Superspecial track. Dani was fastest from Takamoto, and Thierry third.
Let's take a look at the top positions and hear from the drivers.
Classification after Day Three
| | | | | |
| --- | --- | --- | --- | --- |
| 1 | K. Rovanperä | J. Halttunen | Toyota GR Yaris Rally1 | 2:59:48.6 |
| 2 | D. Sordo | C. Carrera | Hyundai i20 N Rally1 Hybrid | +57.5 |
| 3 | T. Neuville | M. Wydaeghe | Hyundai i20 N Rally1 Hybrid | +1:08.6 |
| 4 | E. Lappi | J. Ferm | Hyundai i20 N Rally1 Hybrid | +1:10.9 |
| 5 | O. Tänak | M. Järveoja | Ford Puma Rally1 Hybrid | +2:21.8 |
Toyota Gazoo Racing WRT
Kalle Rovanperä
"It has been a really nice day. After yesterday we changed some small things on the car and the feeling was even better than before, so now we have just been enjoying the driving. The first stage this morning actually felt quite tricky with the grip changing a lot, but I knew that I had a good feeling in the car and I just kept pushing quite hard; I knew I could take some time if everything goes right. After that I just carried on with the good feeling. This afternoon I tried to keep up the pace when the conditions were good, and when it was rough we backed off and I think we did quite well to save the car and the tyres. We can feel quite comfortable now, and tomorrow we will aim to have a clean morning and then try something on the Power Stage also."
Takamoto Katsuta
"Today I knew it was going to be a big challenge opening the road, but it was still nice to get experience of how to manage these kinds of conditions. This morning it was very slippery and sandy, like it is every year on the Saturday stages here; a lot of loose gravel on top of the surface which is making traction difficult. The conditions were much rougher this afternoon, more than I had expected. There was still lots of cleaning too after the smaller cars had driven the stages with ruts and lines that are completely different. Tomorrow, I need to bring the car back to the finish but let's see how it's going in the morning, especially in the first pass of Fafe. If I'm feeling comfortable, I'll try to push in the Power Stage to get extra points for the team."
Elfyn Evans
"Yesterday was a difficult day. We knew that it would be tough with the cleaning effect, but we also struggled a little bit with the confidence and feeling in the car. Things were working better, and I definitely had a better feeling in the Mortágua stage, but I just got caught out in a tricky place. It was a pretty fast section with a couple of left-handers together; the second one was a bit more sandy and slippery, and we just slid ever so slightly wide into the bank, which pitched the car into an aggressive roll. Scott and I are both perfectly fine, so the car has done its job really well in protecting us, and I'm looking forward to getting back behind the wheel in Sardinia."
Hyundai Motorsport
Dani Sordo
"I was really pushing to remain in the fight. I was concerned at times of wearing-out the tyres, but I tried to keep a good rhythm in the stages. I'm really enjoying being back in the car; today there was much more grip, so it felt more natural than yesterday. I was taking some risks, but I didn't have any big moments. We have two new stages, which will be really demanding – it will be a long day, but hopefully a good one."
Thierry Neuville
"The battle today was fun, even if I was struggling a bit out there! It was a bit better than yesterday, but things were not quite working as I would like them to. We are all very close, and tomorrow it is important for me to take maximum points for the drivers' championship, as well as for the manufacturers' standings. It will be crucial to have a strong Power Stage; I think if we are clever, we won't push too hard in the first stages so we have good tyres for Fafe and we can end the weekend in a solid position."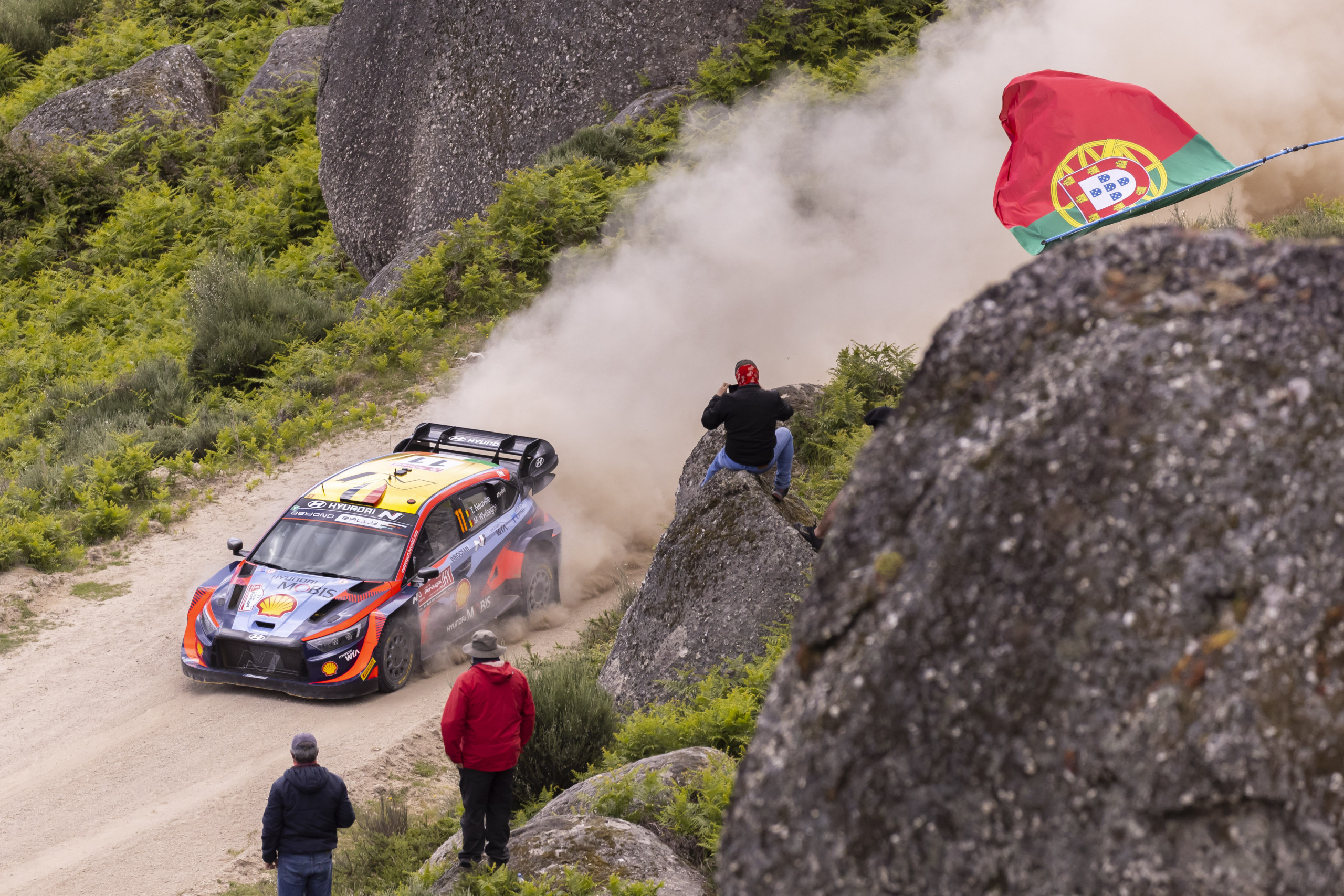 Esapekka Lappi
"It was really warm out there today, I could really feel the heat on my face. We stayed out of trouble and had no punctures or drama, and the speed has been ok. It's been a consistent day. There are four stages tomorrow, so I think we are going to do take the same approach as today. The first person you compare yourself to is your team-mate, so it is good that we were able to match Thierry and Dani here, but it is frustrating that Kalle is pulling ahead."
M-Sport Ford WRT
Ott Tanak
"No issue, generally our nominated suspension, so we can't do anything with the road rougher than the morning we can't do anything and struggled quite a lot, let's see what the future brings."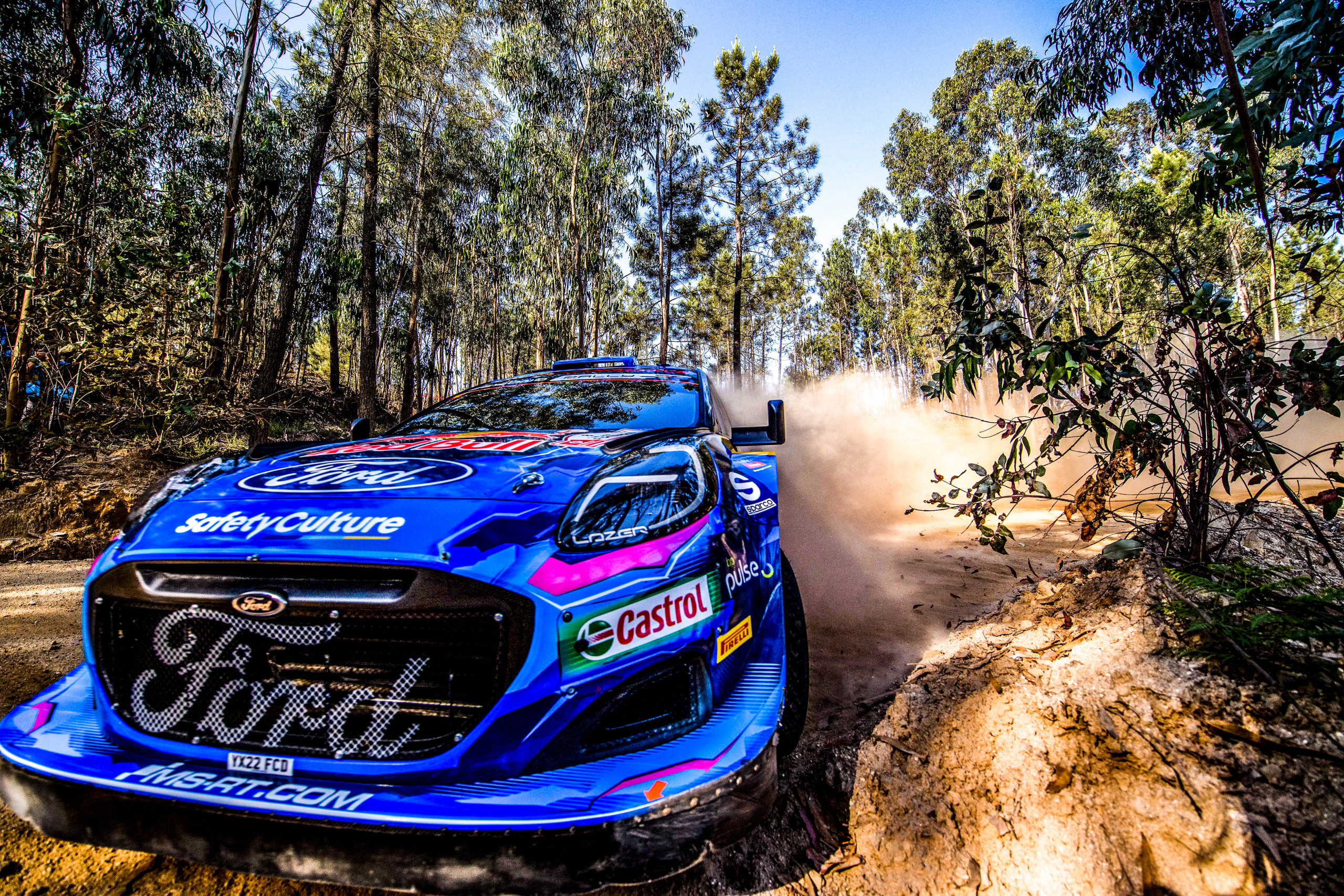 Sunday
The final day sees two new stages run just once each, with the double run of the famous Fafe stage! Who will take the final spot on the podium. I'm sure that the fight between EP and Thierry will go down to the final stage.