The first full day of action from Portugal had lots of drama. Here's the report of what happened throughout Friday's eight stages. The crews started in championship order, and this is how the start list looked – Evans, Rovanperä, Tänak, Neuville, Lappi, Katsuta, Sordo, Loubet.
First up was SS1 Lousã 1 – 12.03 km and clearly the conditions suited the later runners as Pierre-Louis came through fastest from Dani, with Ott also right there, making the best of his position as third into the stage. Championship leader, Elfyn was almost eight seconds slower, just because on having to sweep the road. In the WRC2 category, Teemu led Adrien with Yohan third. Great to see three different makes of car holding those positions.
Into SS2 Góis 1 – 19.33 km, and Ott hit the mark with his fastest time, jumping two places into the lead, with Dani remaining in second and Pierre-Louis dropping to third overall, as the Frenchman could only manage the fifth best time. It was all change also in WRC2 as Adrien took the top spot in the category from Oliver who leapt up three places and Teemu fell to third.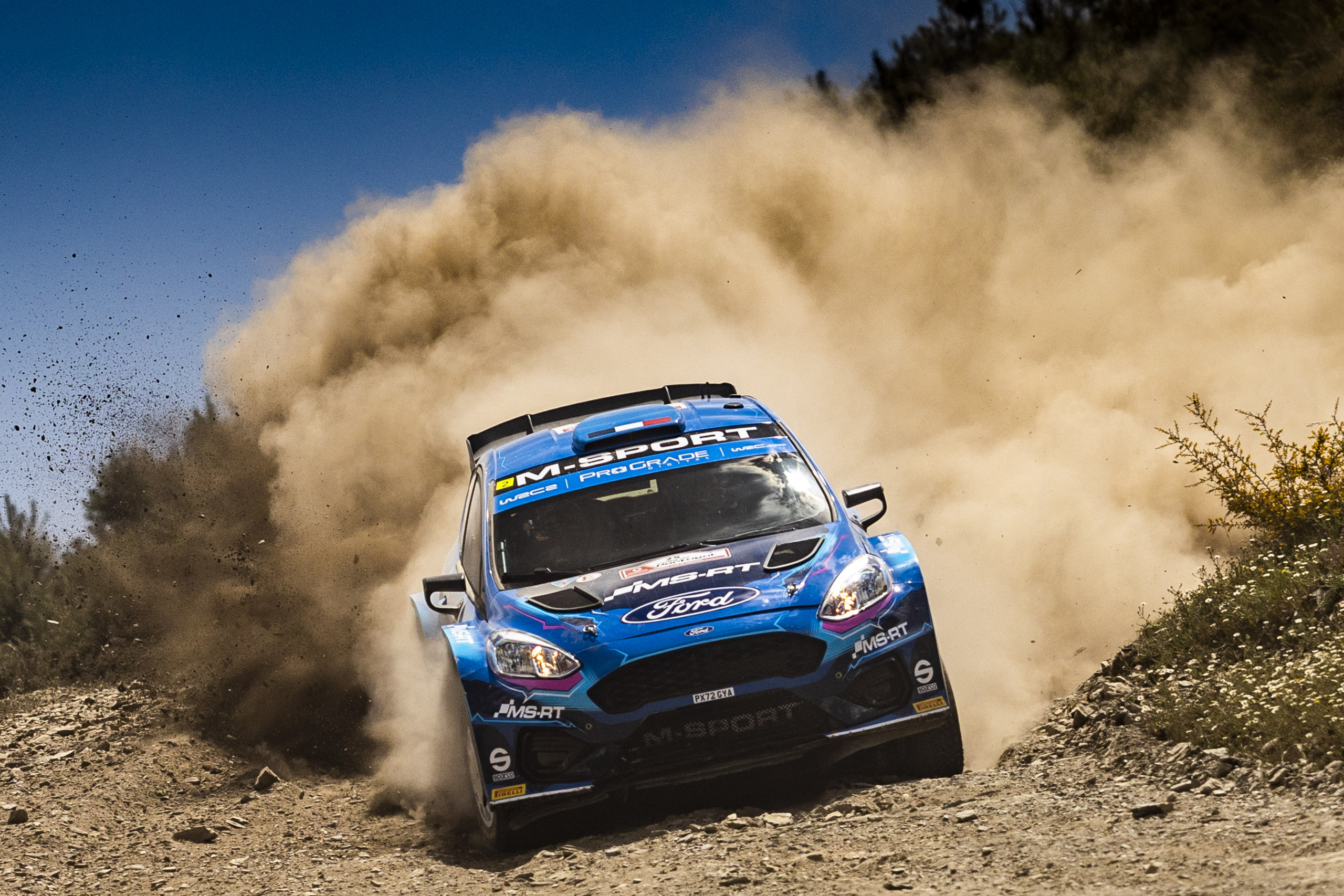 The final stage of the morning loop saw Kalle go fastest from Ott and Elfyn. At this point only 3.6 seconds covered the top three as well, those drivers being Ott, Kalle and Dani. Elfyn's time was really good to see, the Welshman jumping three positions and into fifth overall, just 18 seconds from the leader. There was some drama for Takamoto, who sadly retired with a mechanical problem. There was some drama for Pierre-Louis though who went past the stop line as there was smoke in his Puma. Meanwhile in WRC2, Adrien continued to set the pace leading new second placed Andreas who gained four positions and was now ahead of Oliver who was now third in the category.
A tyre fitting zone followed the morning stages and after that it was straight back into the action with SS4 Lousã 2 – 12.03 km. Esapekka set a great time to go fastest, from Dani and Pierre-Louis. Dani now led, after Ott suffered a puncture and lost almost a minute. The Estonian was now in seventh place. In WRC2 Andreas also had a puncture, dropping out of second place, which meant that Oliver and Teemu were now into second and third from category leader Adrien.
Next up was SS5 Góis 2 – 19.33 km and Kalle was revelling in the better handling of his Yaris GR, going fastest from Thierry and Dani. The Finnish world champion moved into the lead from Dani, who remained really close, just eight tenths of a second between them. There was a change for the WRC2 lead as well as Adrien was the next to suffer a puncture and Oliver benefitted, moving into the lead from Teemu and Yohan.
Kalle was on a roll now, winning SS6 Arganil 2 – 18.72 km from Dani and Pierre-Louis. The young Frenchman was certainly going well in his Puma, but Kalle was the one now building a lead, the gap now almost three seconds to Dani. Showing how much opening the road does to hurt your pace, Elfyn was now 46 seconds from the lead, but holding sixth place. There was more change in WRC2 with Oliver still in the lead, but now Yohan was in second from Marco third. Teemu sadly suffered a puncture and dropped out of second in the category.
The last proper stage of the day then, SS7 Mortágua – 18.15 km with just the super special to come, and unfortunately Elfyn rolled his Yaris GR out at 13.8km's. The car briefly caught fire, but this was extinguished quickly. Meanwhile Esapekka was fastest from Kalle and Ott, whilst Kalle maintained his lead from Dani, despite the Spaniard going straight on at a junction. Esapekka's pace brought him up two places and into third overall, whilst Pierre-Louis remained ahead of Thierry, the Belgian dropping from third to fifth place. In WRC2 Oliver was still leading and now Gus was now second, Yohan in third.
The final stage then, SS8 SSS Figueira da Foz – 2.94 km which was two circuits on full tarmac roads and a car park, lined with plastic barriers and Dani was fastest from Ott and Thierry third. The Belgian benefitted from EP only going fifth fastest swapping places around Pierre-Louis who remained fourth.
Let's take a look at the top positions and hear from the drivers.
Classification after Day One
| | | | | |
| --- | --- | --- | --- | --- |
| 1 | K. Rovanperä | J. Halttunen | Toyota GR Yaris Rally1 | 1:22:27.7 |
| 2 | D. Sordo | C. Carrera | Hyundai i20 N Rally1 Hybrid | +10.8 |
| 3 | T. Neuville | M. Wydaeghe | Hyundai i20 N Rally1 Hybrid | +26.0 |
| 4 | P. L. Loubet | N. Gilsoul | Ford Puma Rally1 Hybrid | +26.9 |
| 5 | E. Lappi | J. Ferm | Hyundai i20 N Rally1 Hybrid | +27.3 |
| 6 | O. Tänak | M. Järveoja | Ford Puma Rally1 Hybrid | +1:04.7 |
Toyota Gazoo Racing
Kalle Rovanperä
"It has been a really good day for us. This morning was not perfect, but we changed a few things on the car to give ourselves a bit more precision on the fast roads, and after this the feeling got better and the afternoon went well. I think the stages were even rougher than expected; it has clearly been very dry here in the lead up to the rally so there were a lot of stones and rough places. But we managed it quite well, I think we did a clever drive. It's nice to be leading after starting second on the road today and to be in the fight for the win. Tomorrow our starting place should be much better and hopefully we can keep it up."
Takamoto Katsuta
"This morning the car felt good, and I was enjoying the driving. We had to manage an issue from the end of the first stage but still the times were good even though I wasn't pushing at all, as I was feeling very happy with the setup and the balance. We tried to continue as best as we could but going to the third stage, everything shut down and we could not restart again, so we had to end our day there. This was a pity but we still have the chance to drive the remaining two days on these great stages. It will be difficult starting first on the road tomorrow, but we will try to enjoy it and learn something for the future."
Hyundai Motorsport
Dani Sordo
"Today was a really nice day – a long one, but I felt very comfortable the car. I made a small mistake in the hairpin of the final stage and locked my tyres, but I just tried to do my best as I have done all day and enjoy it. I am really happy; Kalle is the world champion, and we are up there fighting with him at the front. It's nice to be able to do that, so let's see what we can achieve tomorrow. All in all, we have had a good day. The plan is to try to maintain second place and to continue the fight."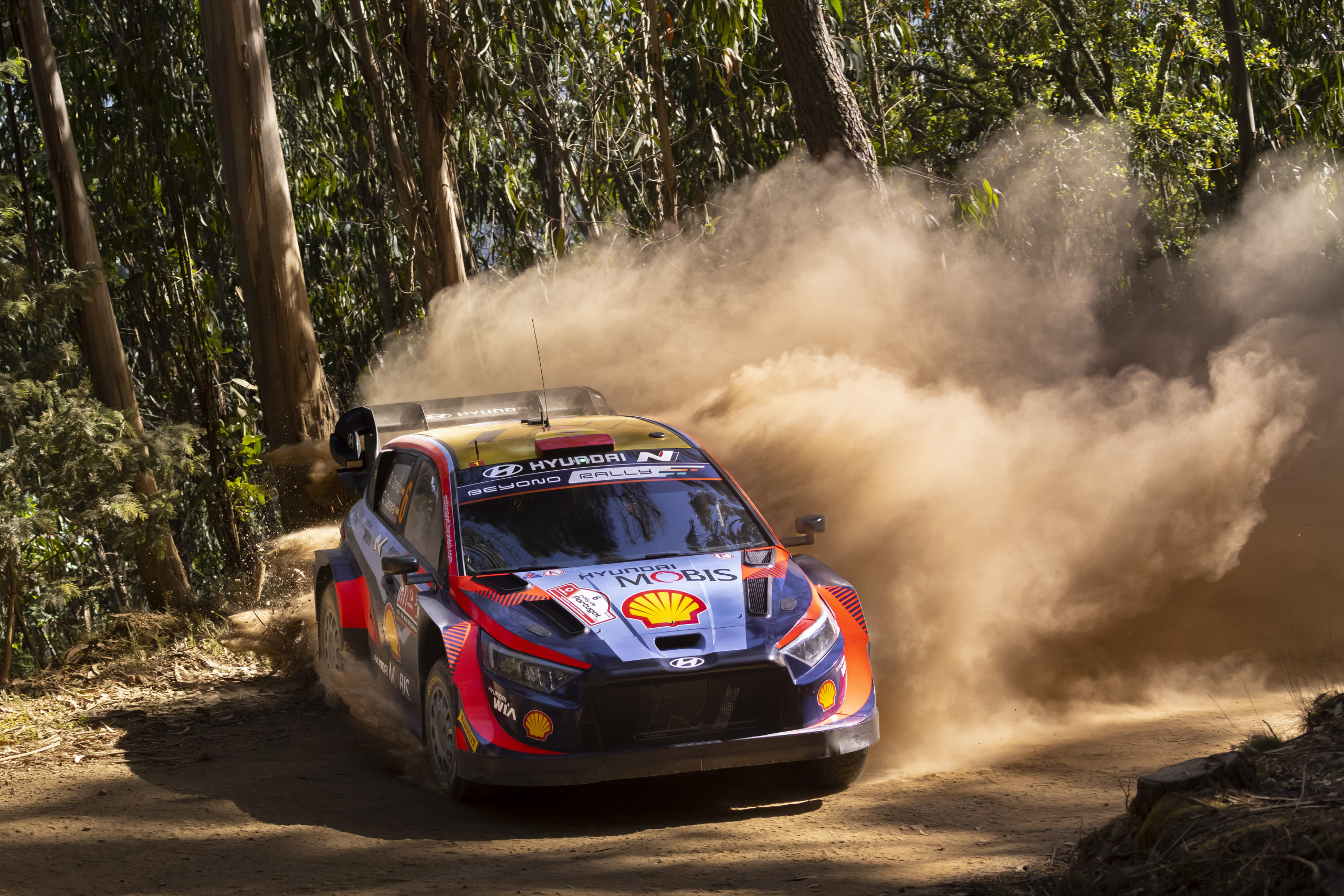 Thierry Neuville
"A really tough, long day. I couldn't find the confidence to go full attack. I was quite happy with the car, but something was missing, so tomorrow we will make some small changes which will hopefully help us to push a bit more. I had two very worn tyres, so I had to finish the loop with what I had left, which wasn't easy. A lot of small things came together to make the day really challenging. The result isn't so satisfying, we expected better, and now we have to find the confidence to do, or we won't be in the fight. It is a different profile of stages tomorrow; we're expecting it to be smoother, so hopefully everything is working a bit better tomorrow."
Esapekka Lappi
"This morning was a struggle and clearly, we made a mistake with my tyres, but on the other hand we only have a limited amount, of hard tyres so it is not an easy decision to make. The afternoon was strong; we had the right tyres, and the attack was good. Our puncture on SS6 slowed us down a little bit, but then we did a good job on SS7. We pushed hard and we managed to gain two places, which was really important for securing a good road order for tomorrow. It was so rough on some of the stages, but you still have to drive as fast as you can. If you try to minimise the speed then you will hit every rock, so you have to keep going."
M-Sport Ford WRT
Ott Tanak
"More less how we expected it, not so bad. The first loop was quite nice and the second loop we got the puncture, we didn't expect too much roughness on that one, it came out of the blue, and in the same stage we got some other damage on another tyre, so went the whole afternoon without any spare. It was difficult to survive, and somehow, we managed to bring the car home with tyre wear and punctures. Roads tomorrow should have more hard base."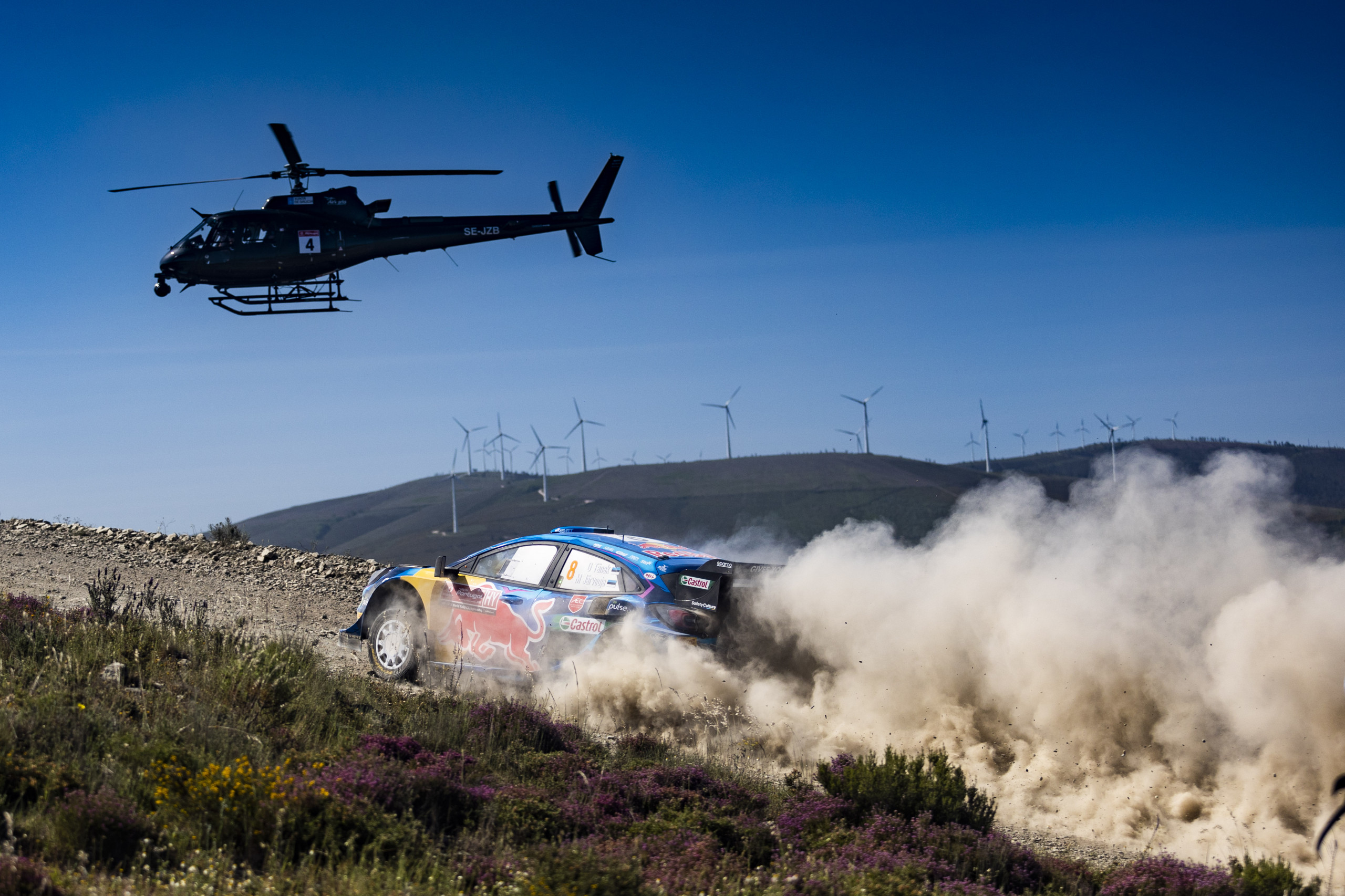 Saturday
The second full day of competition will see the crews tackle the longest day with 148km's over seven stages including the longest stage of the rally, Amarante. It's a long day, with the action starting before eight am UK time and the final stage starting at just after seven pm. We'll have to wait and see if Elfyn and Scott return tomorrow.