The Olympus Rally has ended, marking the end of the third round of the 2023 Green APU American Rally Association season. Brandon Semenuk would take a dominant win once again.
National Championship Standings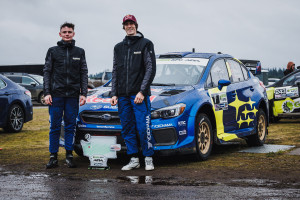 Brandon Semenuk would take his third event at win of the season at Olympus. This would allow Semenuk to extend his points lead over Patrick Gruszka from 27 to a comfortable 35-point lead. If Semenuk continues this pace he should have his second ARA championship in the bag by the end of the New England Forest Rally. Matthew Dickinson would remain third in the championship, although he would retire from Olympus meaning he took 0 points home from the event. Jeff Seehorn would move into a tie for fourth with Barry McKenna. With both drivers having 22 points under their belts. Tom Williams would get pushed out of the top five after once again retiring from the rally, therefore not taking home any points. 
National Championship Points After Olympus
B. Semenuk, 80
P. Gruszka, 45
M. Dickinson, 23
J. Seehorn, 22
B. McKenna, 22
RC2 Championship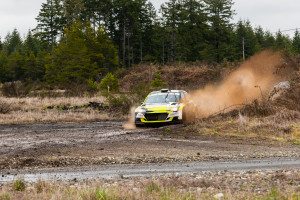 The RC2 class would see Patrick Gruszka take his second class win of the season. Gruszka now sits 39 points above Tom Williams in the championship standings. It won't be easy for Williams to regain those championship points, but it is possible, as anything is possible in rally. For Williams to regain those points he would need a shift in luck from bad to good.
RC2 Championship Points
P. Gruszka, 64
T. Williams, 25
K. Tilley, 17
M. Georgakopoulos, 17
R. Cordero, 12
O2WD Championship 
Lia Block would take a hard-fought O2WD class win at Olympus. This would allow Lia to both move into second place in the O2WD championship. As well as close the 30-point gap between her and leader Micah Nickelson down to just 5 points. With Nickelson not attending the Oregon Trail Rally next month it shouldn't be hard for Lia to move into first overall in the championship. Lia will have to fight off more experienced drivers first, however. As Nick Allen who sits third in the championship, just 10 points back from Block will also be in Oregon next month. Other notable names attending the Oregon Trail Rally next month include Dave Clark, Michael Hooper and Tim O'Neil
O2WD Championship Points 
M. Nickelson, 47
L. Block, 42
N. Allen, 32
D. Clark, 17
M. Hooper, 14
T. O'Neil, 14
LN4 Drivers Championship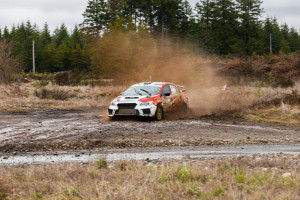 Matthew Dickinson will remain first in the LN4 Drivers Championship although the wouldn't take home any points from Olympus. This would allow Jason Bailey to take the class win and move into second overall in the championship. Bailey now sits just 10 points back from Dickinson. With both the top two drivers attending Oregon Trail next month, it should be a fun battle to keep an eye on. Javier Olivares would technically fall to third overall, as the driver would sit tied for second in the championship heading into Olympus. Olivares would take second in the class at the event. Ele Bardha would move himself and his 2000 Subaru Prodrive GC8 into fourth place in the championship at Olympus.
LN4 Drivers Championship Points
M. Dickinson, 47
J. Bailey, 37
J. Olivares, 34
E. Bardha, 26
V. Trudel, 17
Photography Credit
© Trevor Lyden, Subaru.com/motorsports, 2023
Hunter Courtin, Coachworksphoto: Instagram