The first trip for Formula 2 in Australia saw Red Bull Juniors take home the trophies, but it was not without a hard weekend of work.
Sprint Race:
The F2 Sprint saw a very clean start from everyone Hauger lead from Crawford and Maini by the end of lap 1. Leclerc tried to make a pass going towards sector 3 which saw 4 wide at one point. Iwasa had a huge lock up on lap 2 which ruined his tyres and had to pit to change his tyres. Leclerc made a move on Maini going into the chicane but Maini fought back later on in the lap. Monleoney, Martins and Bearman were all fighting with Hadjar and Vesti with all of them switching positions but Maloney just managed to get the lead of the bunch.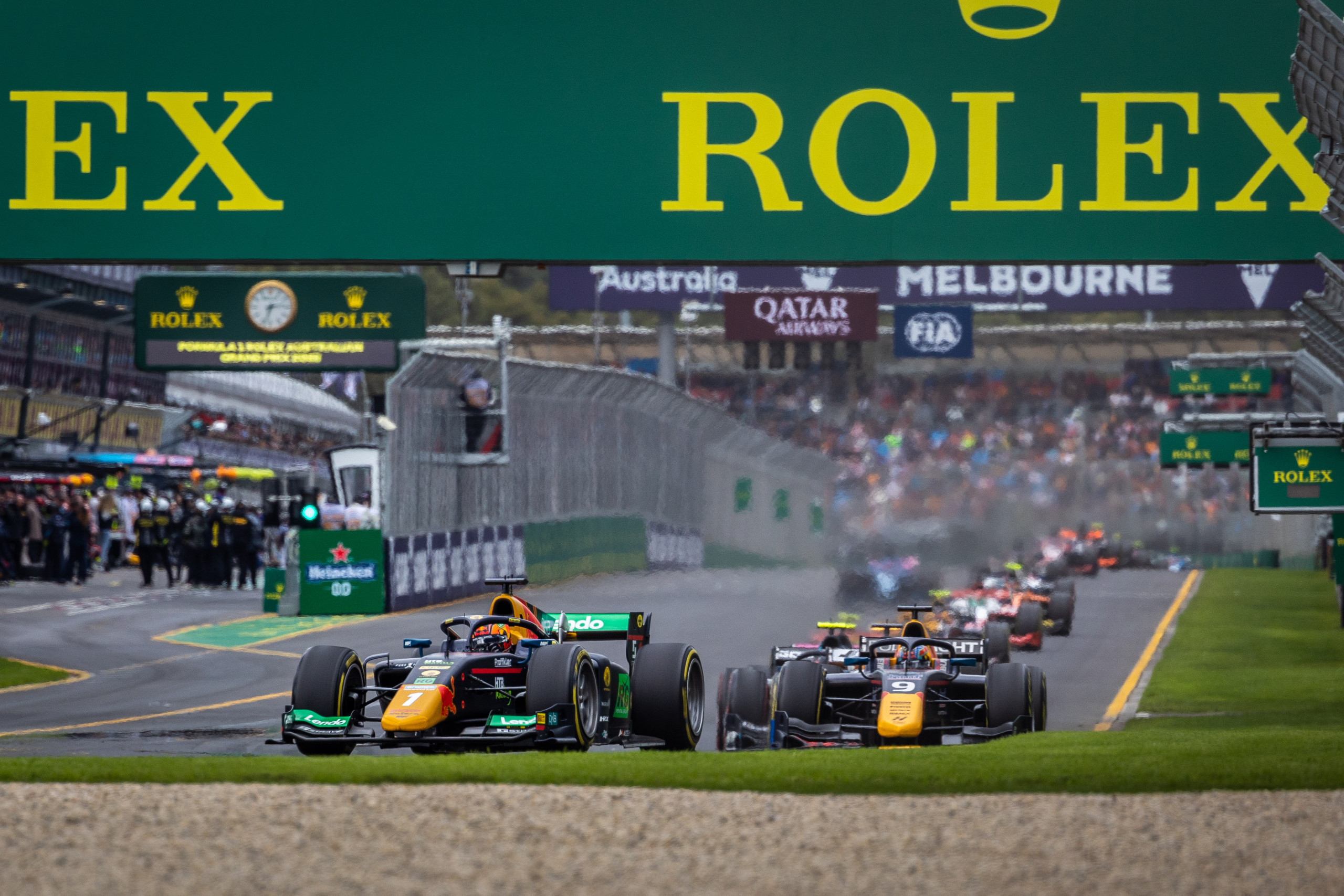 Doohan made contact with Juan Manual Correa after which he spun onthe kerb and his race was over. It started to rain from this point so some people gambled on wet tyres. However, the rain did not come so the gamble did not pay off. The safety car was meant to come in on lap 18 but Benevides crashed at the final corner so we had 2 laps of the race left when the safety car went back. Pourchaire had a visit to the gravel trap due to his wet tyres and track not being wet. Hauger managed to hold everyone off to take the victory over Crawford and Maini which round off the podium.
Feature Race:
The F2 Feature Race saw Iwasa hold the lead inro turn 1 and Verchoor struggled at the back of the back by going off. Crawford and Maini went side by side as they battled through the opening lap. On lap 7,  Doohan tried to get past Crawford but Crawford ended up coming off worse and into the barrier which brought out the safety car. Hadjar and Bearman ended up colliding in the pitlane and they both had to pit again.
Nissany and Fittipaldi battled on lap 14 and Nissany managed to hold onto the position. Hadjar was pushed off at the penultimate corner and dropped down many places. Iwasa then managed to get through to 2nd position on lap 20. Nissany collided with the wall  on lap 26 which saw the race leader Vesti going into the pits and going down to P7. Just before the restart on lap 30, however, Martins went into the back of Hauger and both of them went off and ended up dropping down to the back of the grid. This brought Arther Leclerc into the podium positions and Vesti trying to hunt Leclerc down for a podium but the Monegasque managed to hold him off and get his first podium. Iwasa won the race with Pourchaire in P2.
Featured image courtesy of Dutch Photo Agency / Red Bull Content Pool