Following Daniel Holgado's win at the last round in Portimao, all eyes were on the Tech3 rider coming into this qualifying round, but it was not to be for the first race winner of the season.
A damp third practice, meant the riders who were in the top 14 combined times from Friday, went through to qualifying 2 directly. So although Romano Fenati was the fastest on Saturday, Ayumu Sasaki topped the combined times before qualifying began.
When the track was dry, there was no other rider who came close to Sasaki and this was proven in the final moments of qualifying 2. He sat fifteenth on the timing board and following Jose Antonio Rudea's fall, Sasaki knew that he needed to show his speed sooner rather than later.
Going out alone, Sasaki put together an almost perfect lap when considering the drying track and popped a 1:48.539 onto the time sheets giving him a second pole of the season. Sasaki was the only rider who made it into the 1:48's.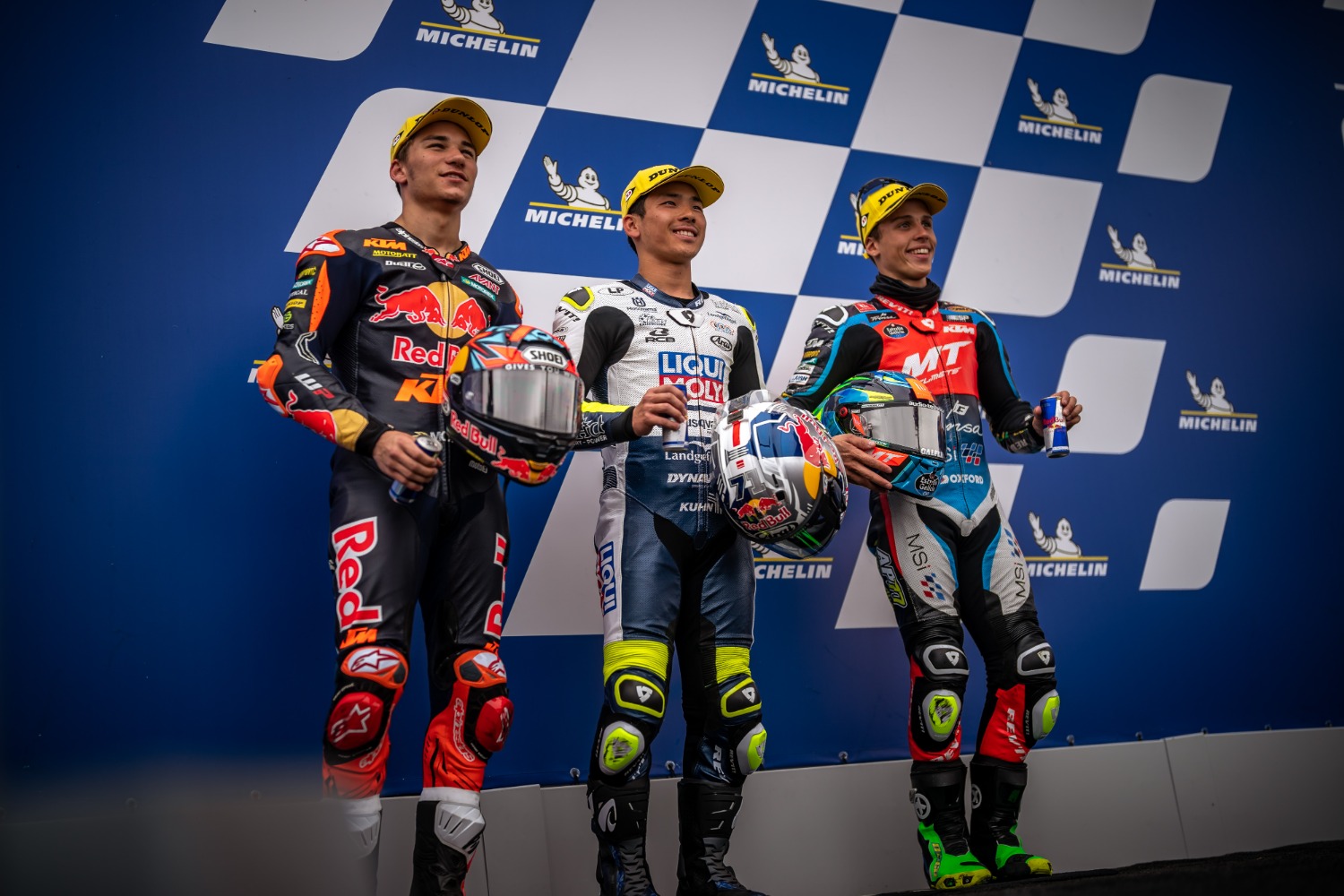 Coming through from qualifying 1 was beneficial to Deniz Oncu as it gave him knowledge of the drying track, and this allowed him to slot himself into the middle of the front row. He did have to contend with some traffic on his fastest lap which meant that he finished 0.603's slower than Sasaki.
Finishing off the front row was Diogo Moreira who used his track position to finish the session with a 1:49.214.
Ivan Ortola, who has the fastest time early on in the session, heads out the second row along with Jaume Masia and Tatsuki Suzuki.
The best rookie of the session was David Alonso in seventh after he was able to gain some time on the final lap he produced.
Scott Ogden produced a lap that slotted him into eighth on the grid and he will be using the confidence gained from his fast times in practice to help propel him up the field during the race. His teammate in the VisionTrack Team, Joshua Whatley starts 28th.
Andrea Migno is replacing Lorenzo Fellon who dislocated his shoulder in Portimao and Migno's experience served him well allowing him to place his bike in ninth place.
Daniel Holgado was able to close out the session with a tenth-place finish in qualifying.
Kaito Toba was at the front of the pack, proving the tow for Oncu, and was often in some of the fastest groups during the session but could only finish the session in eleventh.
After coming through qualifying 1, Rueda was able to cross the line with only a few seconds left on the clock and pulled himself up the grid to thirteenth place.
After missing the start of the session, Collin Viejer was unable to progress any higher up the grid than 17th.
After topping the third practice session, Romano Fenati was only able to place his bike in 18th place.
2023 ARGENTINA MOTO3 GRAND PRIX – QUALIFYING RESULTS
POS
RIDER
NAT
TEAM
BIKE
TIME
1
Ayumu Sasaki
JPN
Liqui Moly Husqvarna Intact GP
(Husqvarna)
1m 48.539s
2
Deniz Öncü
TUR
Red Bull KTM Ajo
(KTM)
1m 49.142s
3
Diogo Moreira
BRA
MT Helmets – MSI
(KTM)
1m 49.214s
4
Ivan Ortolá
SPA
Angeluss MTA Team
(KTM)
1m 49.314s
5
Jaume Masia
SPA
Leopard Racing
(Honda)
1m 49.344s
6
Tatsuki Suzuki
JPN
Leopard Racing
(Honda)
1m 49.417s
7
David Alonso
COL
Autosolar GASGAS Aspar M3
(GASGAS)
1m 49.454s
8
Scott Ogden
GBR
VisionTrack Racing Team
(Honda)
1m 49.545s
9
Andrea Migno
ITA
CIP Green Power
(KTM)
1m 49.642s
10
Daniel Holgado
SPA
Red Bull KTM Tech3
(KTM)
1m 49.665s
11
Kaito Toba
JPN
SIC58 Squadra Corse
(Honda)
1m 49.673s
12
Matteo Bertelle
ITA
Rivacold Snipers Team
(Honda)
1m 49.678s
13
José Antonio Rueda
SPA
Red Bull KTM Ajo
(KTM)
1m 49.766s
14
Stefano Nepa
ITA
Angeluss MTA Team
(KTM)
1m 49.778s
15
Xavier Artigas
SPA
CFMOTO Racing PruestelGP
(CFMOTO)
1m 49.904s
16
David Muñoz
SPA
BOE Motorsports
(KTM)
1m 50.025s
17
Collin Veijer
NED
Liqui Moly Husqvarna Intact GP
(Husqvarna)
1m 50.028s
18
Ryusei Yamanaka
JPN
Autosolar GASGAS Aspar M3
(GASGAS)
1m 50.342s
19
Riccardo Rossi
ITA
SIC58 Squadra Corse
(Honda)
1m 50.659s
20
Syarifuddin Azman
MAL
MT Helmets – MSI
(KTM)
1m 50.784s
21
Filippo Farioli
ITA
Red Bull KTM Tech3
(KTM)
1m 50.838s
22
David Salvador
SPA
CIP Green Power
(KTM)
1m 50.953s
23
Mario Aji
INA
Honda Team Asia
(Honda)
1m 51.011s
24
Romano Fenati
ITA
Rivacold Snipers Team
(Honda)
1m 51.358s
25
David Almansa
SPA
CFMOTO Racing PruestelGP
(CFMOTO)
1m 51.697s
26
Taiyo Furusato
JPN
Honda Team Asia
(Honda)
1m 51.729s
27
Ana Carrasco
SPA
BOE Motorsports
(KTM)
1m 52.114s
28
Joshua Whatley
GBR
VisionTrack Racing Team
(Honda)
1m 52.142s
Featured Image courtesy of IntactGP/R. Lekl & S. Wobser