Josef Newgarden, after leapfrogging the leaders during the final pit cycle, held off Romain Grosjean and Álex Palou for the final 15 laps to finally win his first Long Beach Grand Prix after two previous runner-up finishes.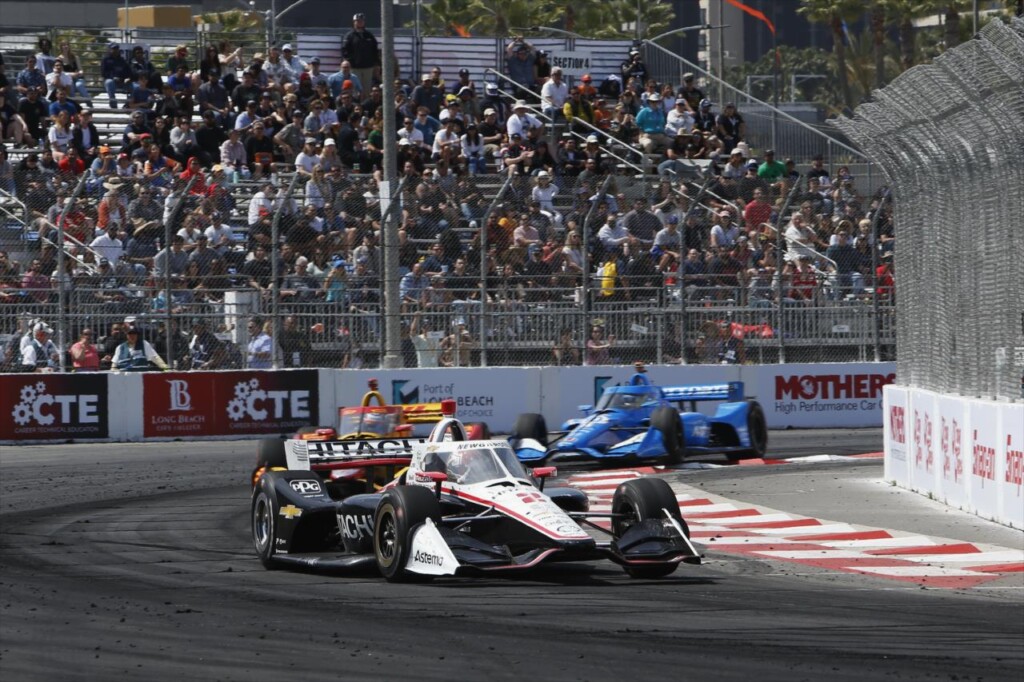 On lap 59 Newgarden who had ran inside the top three all race long, came out of pit road squeezing just ahead of Palou, holding onto the lead after staying out an extra lap. Palou went side by side with Newgarden in turns four and five, but Newgarden prevailed on the inside.
Simon Pagenaud attempted some mid-race landscaping when he drove into the dolphin fountain garden and got stuck facing the wrong way, bringing out the caution inside of 25 to go 
Grosjean then joined the battle for the lead overtaking Palou inside of 20 laps to down the front straightaway. Newgarden had to fend off Grosjean again on another restart with five to go going two-wide on the inside into turn one. Newgarden led Grosjean single file into the fountain turn and despite Grosjean sticking with Newgarden on the softer red tyre, he would not find a way past running out of push to pass while Newgarden had four seconds to spare and would finish the race in first after a yellow ended the race early with half a lap to go due to Takuma Sato crashing into the turn eight tyre wall.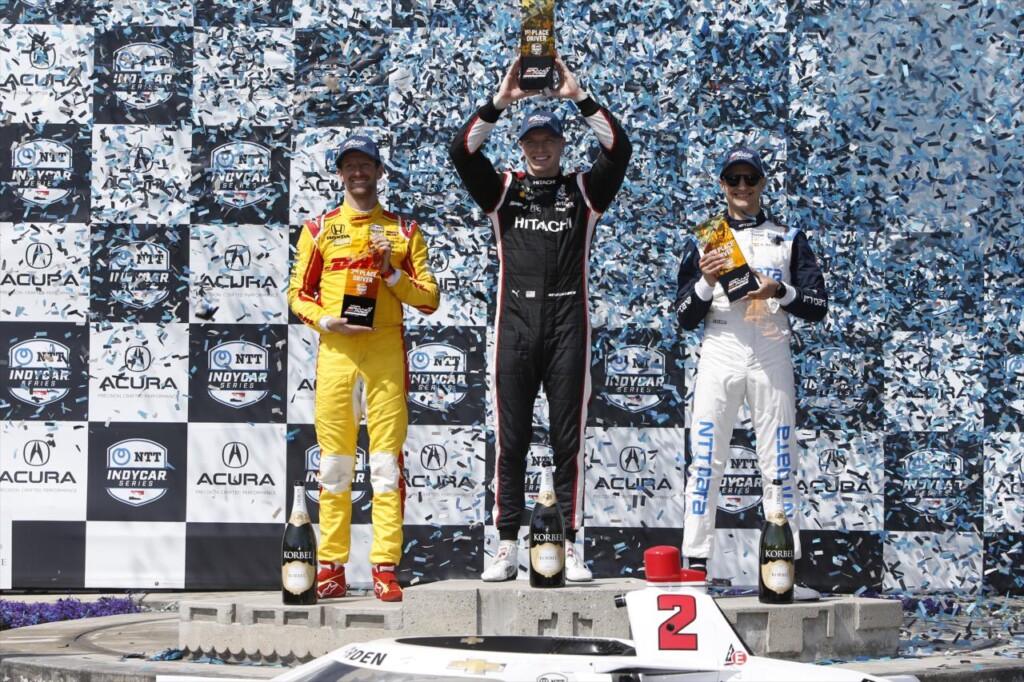 Talking to NBC in victory lane, Newgarden said "I've been trying to win here for 11 years so I'm so glad to finally get it done."
From hometown hero to hometown horror, it was Colton Herta who should have been up at the front and had been leading the first half of the race comfortably over Newgarden and Palou.
Instead while pushing hard on what appeared to be his in-lap for his final pit stop, Herta bounced over the turn nine curb and under-steered into the wall breaking his front wing and suspension putting an immediate end to his quest for consecutive Long Beach Grand Prix wins.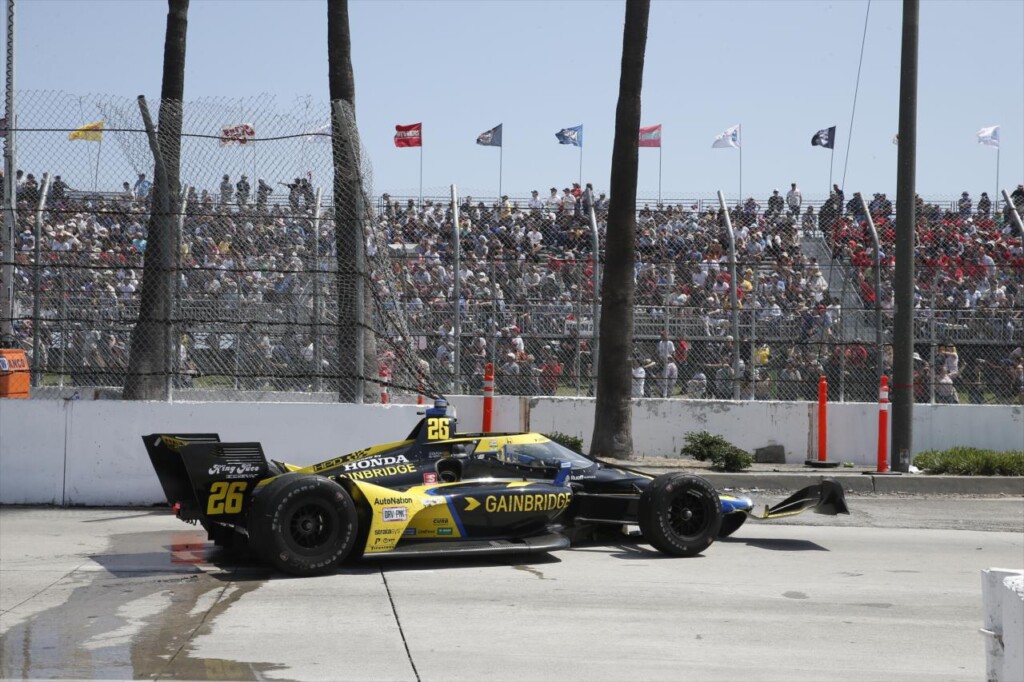 Herta had led the first 30 laps or so controlling the pace of the race, maintaining a consistent two second gap over Newgarden and Palou, the three of which had checked out from the rest of the field. Palou did the overcut during the first cycle of pit stops, going from third to first after his Chip Ganassi Racing pit crew did a fast pit stop of 7.5 seconds compared with Herta's 9.1 and Newgarden's eight.
Palou came out with a 2.7 second lead over Newgarden who had successfully done the overcut on Herta. Herta's crash at the end of his second stint, after a determined effort to gain time on his in-lap like Palou did over Newgarden, was reminiscent of his crash at last year's Nashville race where he was trying to hunt down leader Marcus Ericsson in the closing laps, before carrying too much speed off the bridge and ended up slamming into the tyre wall.
Second place Romain Grosjean had a phenomenal race weekend and was laps away from potentially winning his first IndyCar race. Grosjean had been on course to take pole away from Andretti teammate Herta on Saturday before overdriving the car into the turn five tyre wall.
Starting from sixth on the grid, he had battled through the field and joined the leaders inside the final 20 lap but Jimmie Johnson's crash with eight to go put a huge dent in his plans to overtake Newgarden and would instead only have five laps left to do so on worn softer tyres with no push to pass. Grosjean came to the checkered flag in Newgarden's mirrors.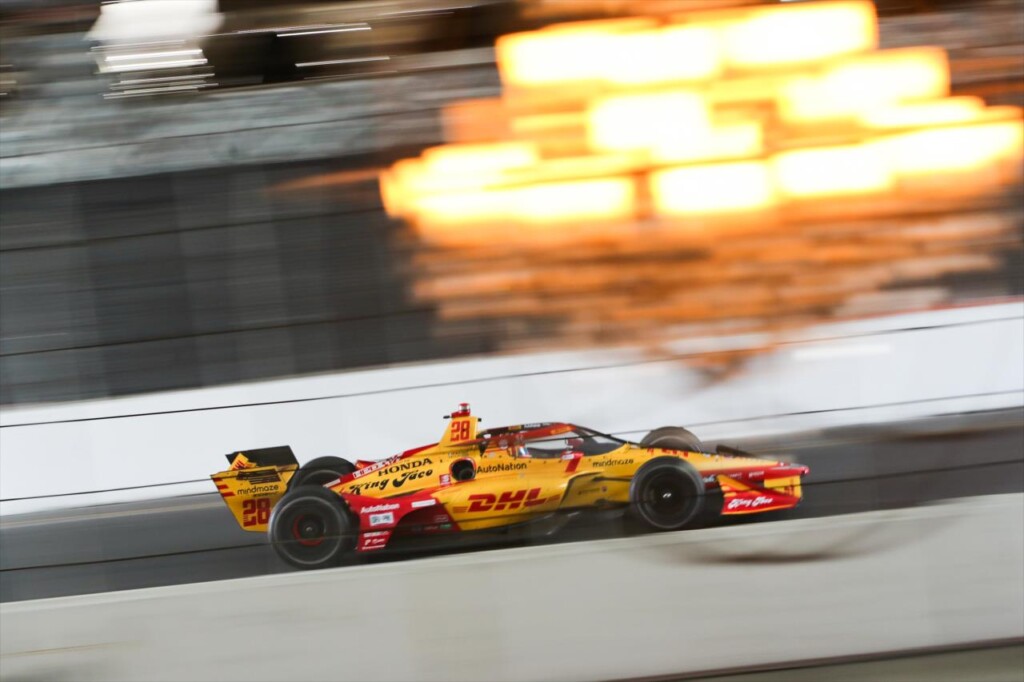 Some early front runners faced issues that saw them end up around the bottom end of the top 10. Felix Rosenqvist started fourth but on lap 21 Alexander Rossi came steaming into turn one and hip checked Rosenqvist. Both appeared to have just gotten away with the collision but Rosenqvist's fast pace would drop off following the coming together and would drop to as low to 14th place but ended up finishing 11th. Rossi would also quickly lose places to Marcus Ericsson and Grosjean and would finish eighth.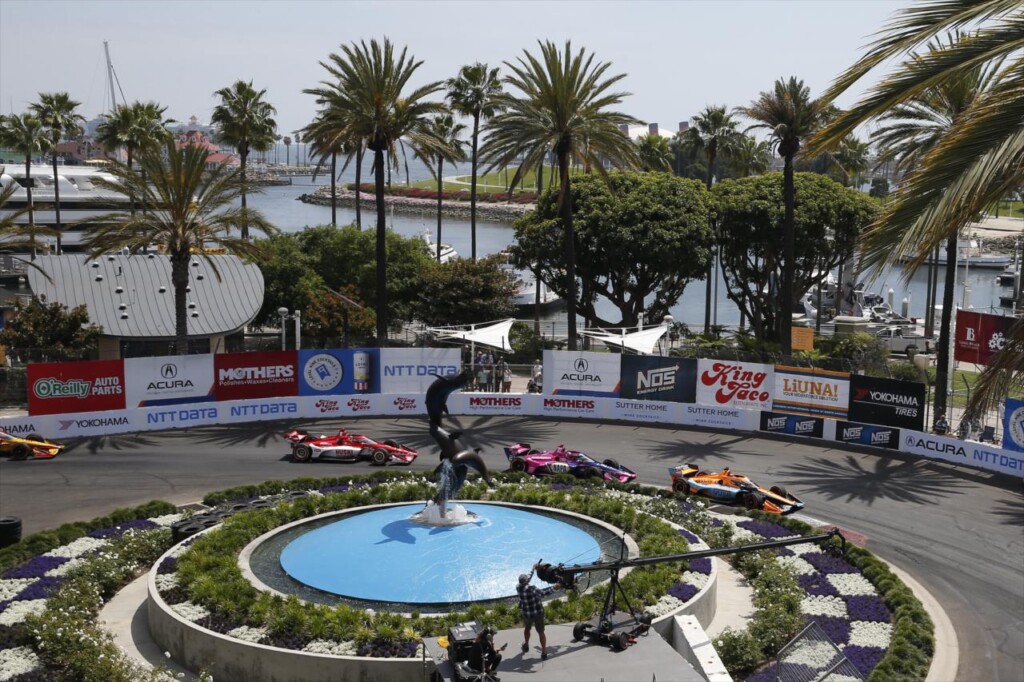 Will Power along with Rosenqvist's teammate Pato O'Ward while having no answer for the top three, would quietly make their way up the field to finish fourth and fifth due to a consistently fast race pace and staying out of trouble. Scott Dixon through the use of an aggressive undercut pit-stop strategy, would work his way to sixth after starting 16th. Dixon would be the first to pit on lap 22 as well as for his second stop, spending the most time in clean air during the race, and cycled to fifth after the first set of pit stops.
A.J. Foyt Enterprises' cars would prove to have a very respectable race through consistency and staying out of trouble. Kyle Kirkwood would finish 10th, making him the highest finishing rookie, while Tatiana Calderón would finish an impressive 16th after starting 26th in just her second IndyCar start.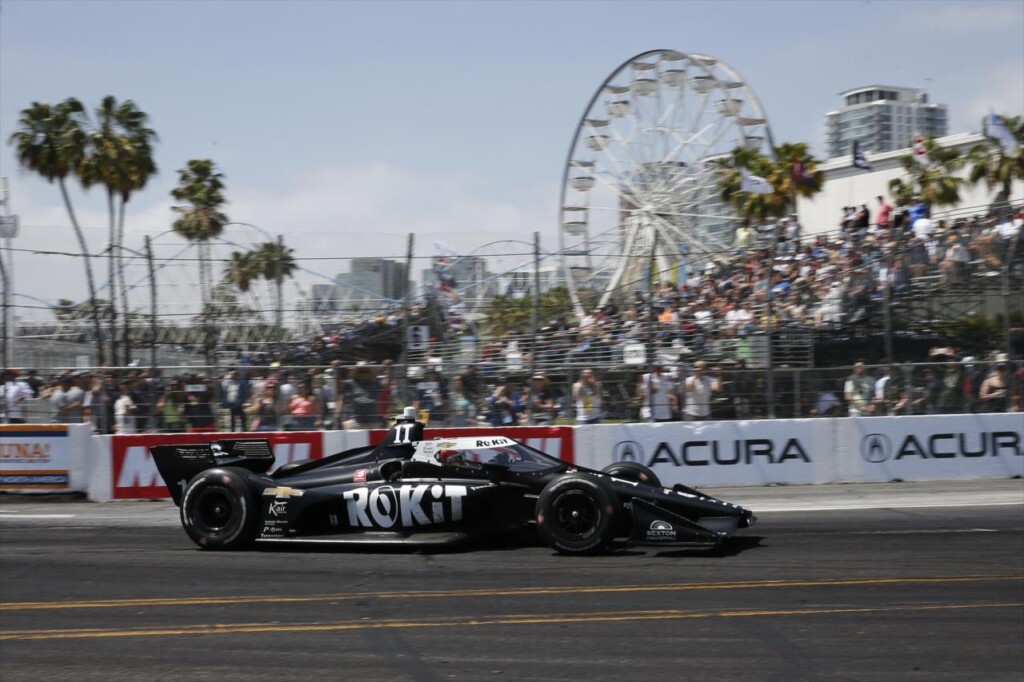 For much of the field, the race proved to be a race of attrition, with spins and collisions on a track that had the largest marbles seen at an IndyCar race for years. This was believed to be down to the significantly softer tyre that Firestone had brought to the IndyCar series this year compared with previous seasons that the street course devoured as the laps went by.
Dalton Kellett would retire early from the race after ending up in the turn one tyre wall on lap six. On lap 34, championship points leader Scott McLaughlin would clip the inside wall of turn 11 with his sidepod but completed an amazing spin around in front of the blind corner. He continued on to finish 14th but consequently lost the points lead to Newgarden.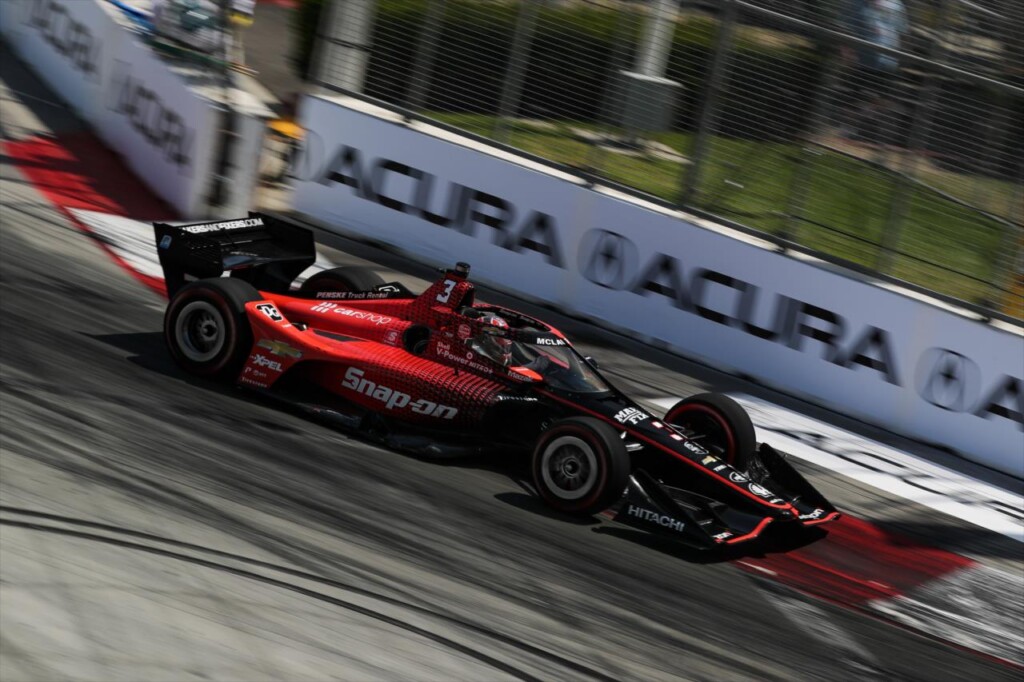 Devlin DeFrancesco would not be so fortunate as he too like Herta would drive into the turn nine wall but on his out-lap at the end of his second stint before spinning in turn 11 with terminal damage after attempting to get back to pit road. With 19 to go, Ericsson would collide with the turn four wall and spin across the track, getting collected by teammate Dixon who had nowhere to go. Ericsson would be forced to retire immediately while Dixon managed to keep going with no repairs needed.
Full finishing order: (1st) Josef Newgarden, (2nd) Romain Grosjean, (3rd) Álex Palou, (4th) Will Power, (5th) Pato O'Ward, (6th) Scott Dixon, (7th) Graham Rahal, (8th) Alexander Rossi, (9th) Hélio Castroneves, (10th) Kyle Kirkwood, (11th) Felix Rosenqvist, (12th) Conor Daly, (13th) Rinus Veekay, (14th) Scott McLaughlin, (15th) Jack Harvey, (16th) Tatiana Calderón, (17th) Takuma Sato, (18th) Christian Lundgaard, (19th) Simon Pagenaud, (20th) Jimmie Johnson, (21st) David Malukas, (22nd) Marcus Ericsson, (23rd) Colton Herta, (24th) Callum Ilott, (25th) Devlin DeFrancesco, (26th) Dalton Kellett.
Top 10 in points standings: 1st Josef Newgarden (118), 2nd Scott McLaughlin (113), 3rd Álex Palou (103), 4th Will Power (102), 5th Scott Dixon (83), 6th Romain Grosjean (75), 7th Rinus VeeKay (67), 8th Marcus Ericsson (66), 9th Pato O'Ward (63), 10th Graham Rahal (60).
Featured Image: Josef Newgarden celebrating in victory lane (Photo by Chris Jones/IndyCar Media)