You would be fooled into thinking this was a relatively easy win; a pole-to-win scenario for Chip Ganassi's Alex Palou at the Grand Prix of Portland, right?
Well, this couldn't have been further from the truth. After having to avoid contact at the start, the Spaniard was left to fight through a competitive field, fraught with danger and risks at every turn.
The start of the 110-lap race was somewhat chaotic. Pole sitter Palou got a brilliant start, with third-place Scott Dixon in hot pursuit. However, Felix Rosenqvist came upon them two at a frightening pace, clipping the rear-left of Dixon and as he avoided heavier contact he pushed both Alexander Rossi and pole-sitter Alex Palou into the Turn 1 runoff. In fact, all the front-runners missed Turn 1 as further mayhem ensued – James Hinchcliffe, Oliver Askew, Will Power, Helio Castroneves, and Romain Grosjean also ran wide.
IndyCar insists that cars that make the chicane are given priority when it comes to reordering the pack, so all three (Palou, Dixon, and Rosenqvist) were relegated to the back while Arrow McLaren SP's Patricio O'Ward was promoted to the race lead ahead of Graham Rahal, Ed Jones, Marcus Ericsson, and Sebastien Bourdais.
However, a cautionary period followed after contact between various cars including Helio Castroneves, Calum Ilott, and Romain Grosjean who took Andretti's James Hinchcliffe out of the race.
O'Ward led from the restart on Lap 11, stretching a solid gap right ahead of Graham Rahal, while championship rivals Palou and Dixon were left floundering near the bottom, but having taken the initiative to go onto an alternative strategy and pitted early.
However, things turned when O'Ward pitted from the lead on Lap 29. Graham Rahal would stay out five more laps before pitting and would eventually assume the race lead after O'Ward struggled to make his new black tyres work.
On Lap 52, Dalton Kellett and Callum Ilott both stalled on the same lap which brought out the next caution.  Some drivers, such as O'Ward would take this opportunity to pit for their second out of three pit stops, while others such as Graham Rahal would stay out, opting to use the extra yellow time to make it to the end on just one stop.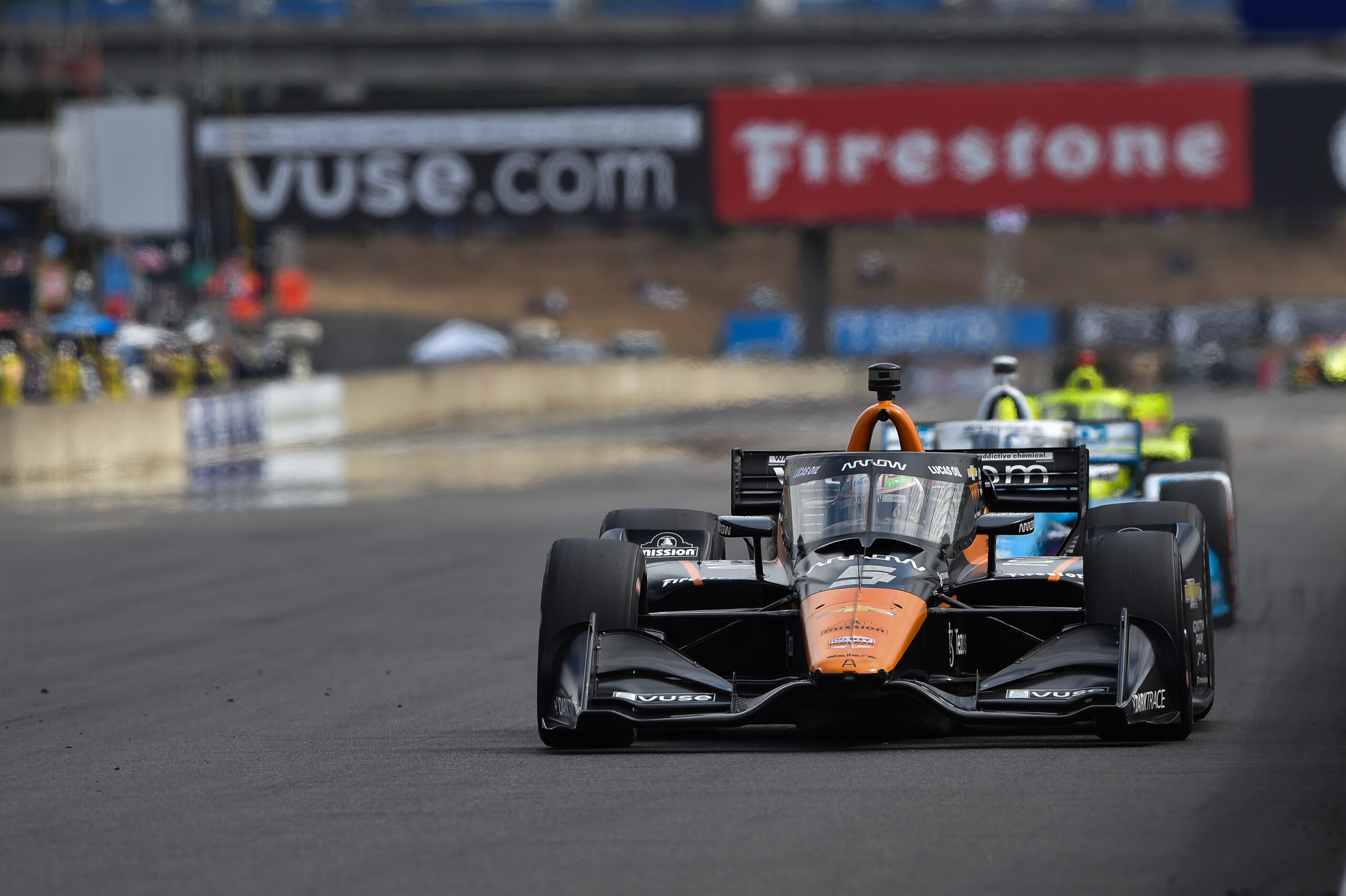 O'Ward suddenly found himself down in 12th needing to pass 11 cars on track in order to retake the race lead. On the restart, the Mexican reported a loss of power due to being in the wrong fuel mode and was quickly swallowed up by a multitude of cars which would signal the beginning of the end of his race.
Meanwhile, Rahal had remained in the lead on the restart, however, his choice not to stop meant that he needed to excessively fuel save across his final two stints. He led heading into his final stop on Lap 75 followed by Ed Jones and Jack Harvey.
However, others on the two-stop began to use the overcut to good effect. Scott Dixon, Alexander Rossi, and Alex Palou all separately leapfrogged one another on overcuts, resulting in Palou taking the race lead ahead of Rossi before two separate spins brought out the final two cautions of the day.
The first was brought out on Lap 86 by Simon Pagenaud who spun coming out of the pits after coming into contact with teammate Will Power. The second on Lap 90 by Oliver Askew who would also, unfortunately, spin and stall the car.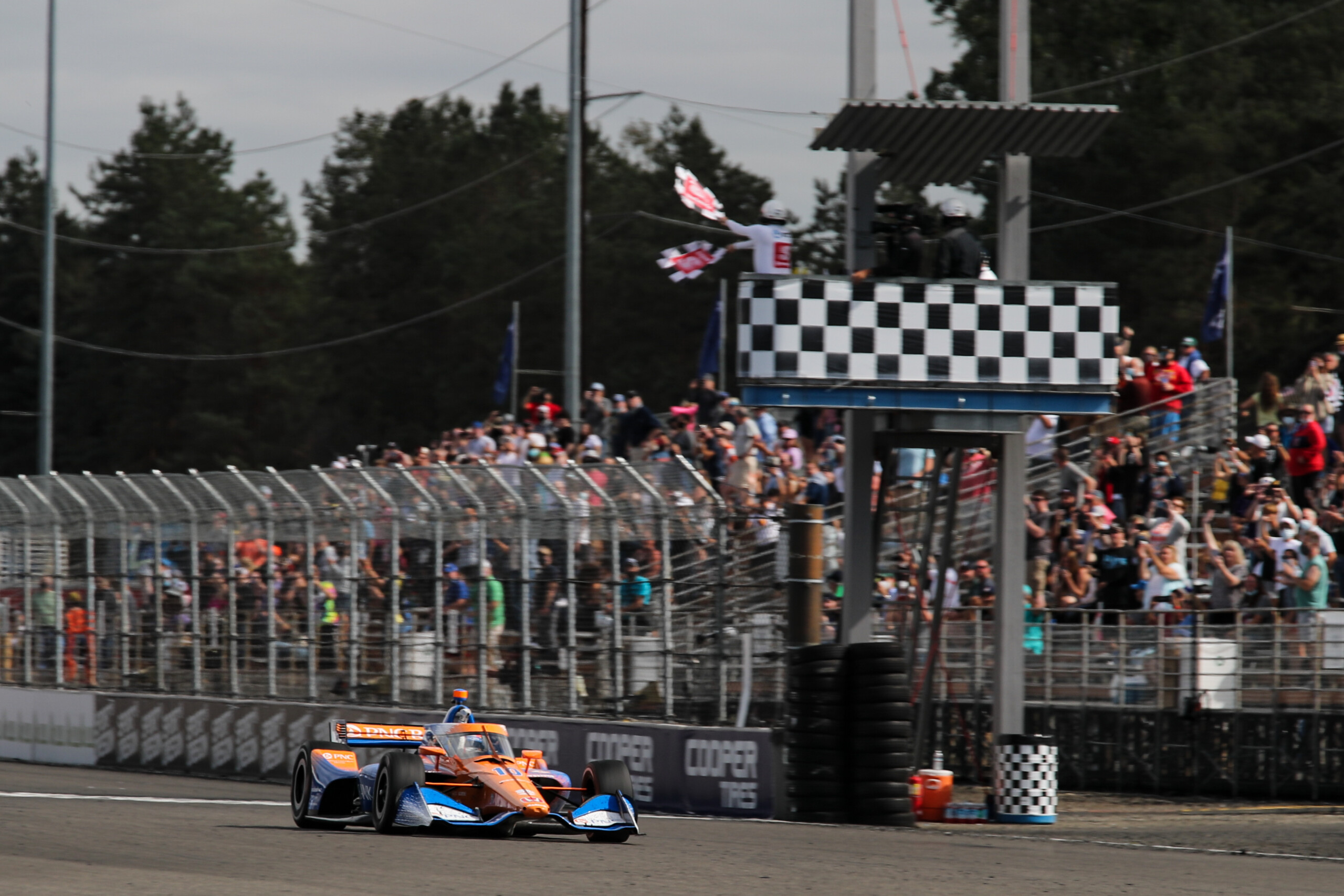 Alex Palou led the final restart from Rossi, Dixon, and Harvey, and Newgarden but was able to masterfully hold off his American Andretti rival in impressive fashion. The gap was brought down to 0.3s with 10 laps remaining, but it would be the Spaniard who crossed the line victorious to take his third IndyCar victory of 2021.
Rossi, Dixon, Harvey, and Newgarden would complete the Top Five while Rosenqvist, Ericsson, Herta, McLaughlin, and Rahal would round out the Top Ten.
O'Ward eventually finished in 14th place after struggling to make any significant ground on the restarts.
It would be a massively important win for Alex Palou who retakes the lead of the Driver's Championship with two races remaining at Leguna Seca and Long Beach. The Spaniard now holds a 25 point lead over the Mexican, with Josef Newgarden a further nine points behind and Dixon another 15.
Marcus Ericsson is still mathematically in with a shout of the title but would have to overcome a 75 point deficit to achieve what would be a 'Deus Ex Machina' type scenario at this point.