Kimi Raikkonen announced this week that he will be leaving Formula 1 at the end of the season. Whilst this has maybe been expected for the last few years, and with the rumour mill in full swing, this could be the first piece of the puzzle for the 2022 driver line up. However, no matter when you first knew of his driving style, attitude, or outlook on F1, he has been a popular driver throughout his career.
The Early Speed
First coming to the grid as a young 21-year-old, he debuted for Sauber in 2001 at the Australian Grand Prix and immediately put in a strong performance, scoring a point and a P6 finish. He proved many critics wrong after driving in Formula Renault the year before – three racing levels below Formula 1 at the time.
Having impressed early on he was very quickly signed to McLaren for 2002, replacing the retiring 2-time world champion, Mika Hakkinen. This was a successful partnership, competing head on with Michael Schumacher and coming close to titles in both 2003 and 2005. He gained a reputation for being one of the fastest drivers on the grid and to this day is still applauded for his race craft and speed.
One of his greatest wins came in 2005 at Suzuka where, having started down in 17th, he had to fight his way from the back of the grid to win the race, having to get past an extremely quick Fernando Alonso and Michael Schumacher. Putting in fastest lap after fastest lap, he took the lead from Giancarlo Fisichella with an absolutely fantastic move on the outside of turn 1 with just 1 lap to go. This cemented his place as one of the best drivers on the grid.
The Iceman's Championship
For the second time in his career, at the end of 2006 he was set to replace a world retiring world champion. Seven-time world champion Michael Schumacher decided it was time for him to exit the sport seemingly for good at the time. Kimi Raikkonen had already attracted the attention of Ferrari, having been one of their main rivals for the last 5 years. This opening meant Ferrari signed him for their 2007 season, little did they know this would be a successful title battle.
With tensions boiling over at McLaren with teammates Alonso and Lewis Hamilton, Raikkonen was able to make up a huge points deficit which ended in a title fight between the Iceman, the Champion, and the Rookie at the final round in Brazil. It was a thrilling end to the season which meant that Raikkonen came out on top by just one point. A surprise champion but definitely deserved after his first few years in F1.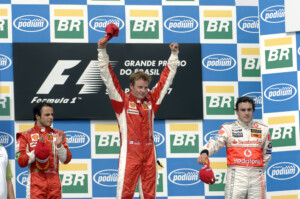 The Comeback Kid
Raikkonen did have a contract with Ferrari until the end of 2010, however with Alonso becoming a free agent at the end of 2009, the Italian team paid him off in order to get Alonso in the car. Having been evenly matched to Felipe Massa for most of his time at Ferrari, putting Alonso in the car began to make some question Kimi's performances because Alonso was comfortably outperforming Massa. As a result, Kimi spent 2 years out of Formula 1 and focused on Rallying and Nascar.
In 2012 however, Lotus were looking to get Raikkonen back on the grid and so he returned much to everyone's delight. It was a great couple of seasons for the team and driver, with Kimi having the edge over teammate Romain Grosjean due to his experience. He took two wins with the team – first at Abu Dhabi then at Melbourne – and the car seemed to be working well for the Finn.
With confidence dwindling for Alonso at Ferrari, Raikkonen made his way back to the Red team in 2014 to partner the Spaniard in his final season there. He would eventually become teammates with Sebastian Vettel in 2015 after Alonso finally decided to leave for McLaren. He became the apparent number two driver as Vettel consistently outperformed the Finn until, at the end of 2018, Ferrari decided to swap their 2007 champion with their rising star Charles Leclerc.
Having come full circle, Raikkonen has spent the last few years with the team he made his debut with, now Alfa Romeo. He has had some great drives for the team and clearly enjoyed still being in Formula 1 despite not being at the sharp end of the grid. He famously made a cameo in the second season of Drive to Survive saying: "its more like a hobby for me".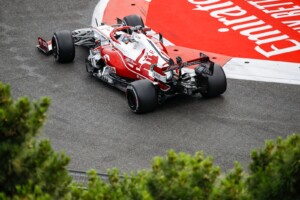 With 341 Grand Prix starts, he is the most experienced driver of all time. He has 21 race wins, 103 podiums, 48 fastest laps, a world title and 19 years at the pinnacle of Motorsport; he will definitely be missed among fans and the F1 paddock. He has provided many memories over the years and it will be exciting to see what he does next if he decides to race in other series. For now, we look forward to seeing a relaxed Kimi race the rest of the season before he gives up his hobby to focus on other things.