Formula One heads for its traditional summer break after the Hungarian Grand Prix, and a few of the drivers will be glad to see some sun after a sprinkling of rain caused chaos on lap one at Budapest.
It looked like a mistake from one Mercedes had created the perfect opportunity for the other. Valtteri Bottas' wet-weather prowess has come into question after disappointing performances over the last twelve months, and taking out Lando Norris – as well as both Red Bulls – will give extra ammunition to those who think his time at the Silver Arrows should come to an end this season. The fact that George Russell is taking part in this week's Pirelli test for Mercedes will only add fuel to the fire.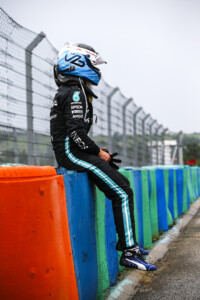 With Lewis Hamilton being the only front-running car left unscathed, it should have been straightforward for the Brit to claim his hundredth victory in Formula One after the red flag. But nothing is ever simple in Formula One. Out on his own in the record books, Hamilton was left out on his own on track as all the other cars came in for slicks. One lap later, the reigning champion was last with it all to do. Mercedes have history for making strange strategy decisions when forced to think on their feet (for example, pitting Lewis at Monaco 2015 and handing victory to Nico Rosberg), and this was another case of them being caught out when things go astray from the plan.
At this point, Hamilton would have snapped your hand off at the opportunity to take a podium, but it was another performance that took the fans (and his) breath away, dicing his way through the field on one of the trickiest tracks for overtaking on the calendar. Red Bull will certainly be hoping that Lewis' usual post-summer break performance boost is not as potent this year, otherwise Max Verstappen may have his work cut out if he is to retake the championship lead.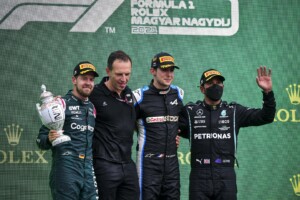 Although Bottas' first lap catastrophe didn't lead to retirement for Verstappen, the damage done to the floor and barge board pretty much ended any chances of a competitive finish for the Dutchman. Crash damage in this cost-limited season is much more problematic than usual, and with Max's engine from Silverstone being irreparably damaged, at least one grid penalty after the break is almost a certainty.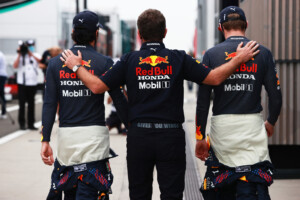 All this drama allowed a young gun and an old hand show exactly why they belong in Formula One. Esteban Ocon drove superbly to keep Sebastian Vettel at bay, the Frenchman taking Alpine's first ever win in the sport as a constructor, and the first since 2013 for the team based at Enstone. This may not have been possible were it not for the dogged defending from his teammate, Fernando Alonso. Almost inch-perfect with his car placement until a lock up at turn one allowed Hamilton through, Alonso showed the kind of performance he was known for in his original F1 foray, and a performance which will quiet those detractors who believe one of Alpine's juniors should be in that seat. Yes, it's a shame for Christian Lundgaard, Oscar Piastri and Guanyu Zhou that their path is blocked by a 40-year-old, but you aren't going to find many 40-year-olds who can perform like the Spaniard.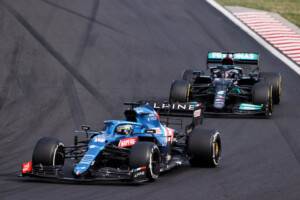 The drivers get a chance to recuperate for four weeks before the final twelve races of Formula One's longest ever season. Thanks to a Mercedes resurgence and some bad luck for Red Bull, it looks like we may need every one of those to decide the championship.