Max Verstappen took a dominant victory at the Austrian Grand Prix on Sunday, as Mercedes went four races without a win for the first time in the hybrid era.
After an excellent qualifying session yesterday, the stage was set for the latest edition in the fight between Lewis Hamilton and Verstappen. The midfield fights also looked to spice up the race, with Norris benefiting from Valtteri Bottas' penalty and Gasly qualifying really well. Points were possible for George Russell in his Williams starting in P10; the fans can hope. Overtaking is definitely possible at this track with 3 DRS zones and a powerful slipstream meant the battle was on!
The lights went out and Verstappen immediately cut across Hamilton before turn one, having trust that Hamilton would not lock up and go into the back of him. Looking further down there were 4 cars across the track in a battle up to turn 3. Leclerc clipped the rear left of Gasly with his front right wing and tyre, giving himself damage and causing a puncture in Gasly's tyre. In an attempt to steer the car around turn 3, Gasly collected Latifi and Giovinazzi but luckily didn't end any of their races. Unfortunately for Gasly that was the end of his race, coming into the pits with suspension damage – Leclerc was able to pit for a new set of tyres and continue.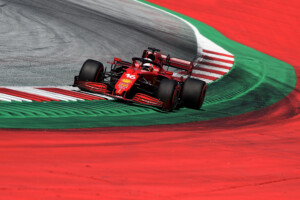 As Verstappen was pulling out a gap of two seconds and almost checking out in the lead by lap 6, his team mate Sergio Perez began to struggle behind the McLaren of Lando Norris saying over the radio that he did not have the speed on the straights to keep up. There were questions as to whether they would fight the Red Bull and Mercedes cars behind them, or race to their own plan and focus on staying ahead of Ferrari. On lap eight, these questions were answered. Perez made what looked like an easy move on Norris using DRS, and Bottas passing just a lap later. McLaren said on lap 12 that they were happy with the situation with Norris who was not experiencing some of the early car issues that team mate Daniel Ricciardo had.
After a very positive start for Russell, he made up three places from P10. The issues began when his engineer said, "plan B for reliability", and pitting on lap 26 for tyres it appeared he had a slow stop to add more pneumatic pressure to the car. Having had to change his rear brake by wire overnight, it was hoped that this would be the last of his problems. However, just one lap later Russell pitted a second time for more pressure. At this point the hearts of Russell fans sunk knowing that points were no longer a possibility. 10 laps later Russell retired with the issue not able to be resolved. Heartbreak for him and Williams.
This one hurt. Every single member of the team should hold their head high today. We were up there on merit. Racing can be brutal but we keep fighting.

— George Russell (@GeorgeRussell63) June 27, 2021
Perez was the first of the front runners to stop, but he had a slow left rear which meant that when Mercedes pitted Bottas they could punish Red Bull for the mistake with the undercut being powerful here, although not as much as Paul Ricard last week. Bottas was able to come out in front of Perez, which was vital for both the team fight and the race strategy. The large gap now formed by the dominant performance by Verstappen means that when Hamilton pitted just a lap after Bottas, he could not close it when Verstappen pitted.
Whilst not a classic or shocking race, this did have its entertainer in Leclerc. He began his recovery drive on lap two, making places very quickly and seemingly on a charge by lap 25, making a fantastic late move on Ocon. This was then a theme throughout the race; Leclerc continued to make his was through the pack, making brilliant moves and almost colliding with Raikkonen but managing to keep it clean. He made a great switch back move on Tsunoda out of turn four which was so exciting to watch. He ended up being voted driver of the day for a very entertaining recovery drive to finish seventh.
By lap 35 there was over a 30 second gap to Norris in P5, so Red Bull pitted Perez for tyres hoping to take the fastest lap off of Hamilton at the time. Gaining on Bottas at nearly two seconds a lap, he achieved provisional fastest whilst closing the 20-second gap. With just 2 laps to go, having settled for 2nd place, Hamilton pitted for fresh tyres to re-take the fastest lap from Perez.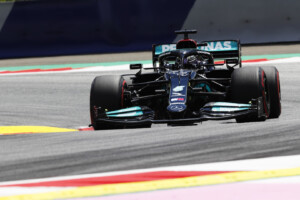 As the race ended, Verstappen won with a 35 second lead, showing his impressive and dominant form over the weekend and the race. Hamilton achieved fastest lap to finish P2 and crucially get that world championship point. Perez was still gaining on Bottas, and was poised to overtake for the podium place, but the chequered flag came just in time for the Finn. One or two more laps and Perez could have ended up on the podium.