The circuit Paul Ricard was originally designed as a test circuit, and has thus far proven to be a test of patience for Formula One fans sine its reintroduction to the calendar in 2018, but will it give us some joy as it makes its return to the calendar in 2021?
Well, to put in bluntly, at least the weather tends to be nice in le Castellet. Although, having said that, we did see a couple of excellent battles during the 2019 race, particularly through the chicane into Turn Seven. And what's more, we might not expect to see Mercedes and Lewis Hamilton utterly dominate this one.
The silver Arrows looked decidedly average two weeks ago in Baku, which is extremely concerning given the powerful nature of a track where we typically expect the champions to thrive – they are perhaps being given their greatest challenge since the beginning of the hybrid era.
And that challenge is coming from Red Bull who, crucially this time around, have both dogs (or bulls) firmly in the fight. Max Verstappen's previous team mates, Alex Albon and Pierre Gasly, were simply left unable to compete with the other frontrunning cars during their unsuccessful tenures with the team, but we have seen a momentum shift with Azerbaijan winner Sergio Perez. The Mexican took the gauntlet to win following Verstappen's cruel tyre blowout. Part of the reason for the swing of the ultra-fast pendulum has been the form and misfortune of Finn Valtteri Bottas.
It was his turn to give a tow in Baku in qualifying last time, leaving him down in tenth, and he only fell backwards in an immensely disheartening race – he did however finish ahead of Hamilton after the world champion's massive error on the safety car restart.
So all in all, this is a big race for Mercedes; they need a strong response to what has been a baffling and exasperating last couple of Grands Prix. The lead in the championship remains the same between Verstappen and Hamilton Hamilton coming into this weekend, so it actually may just be an enthralling few days of action with a lot to play for.
Pierre Gasly and Esteban Ocon enter their home race this weekend, both coming off the back of impressive performances at Baku, with Ocon's efforts not yielding the results they deserved as he failed to finish after a mechanical failure. Gasly, meanwhile, picked up his third career podium.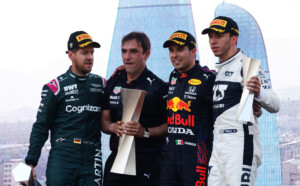 In fact, we have seen improvements from a lot of drivers in the midfield – even from Mick Schumacher's Haas team mate, as drivers begin to settle into new teams.
Daniel Ricciardo, though is another that finds himself in need of a response to team mate Lando Norris' supreme form. Should he find it this weekend, McLaren will find themselves with a wonderful opportunity to try and put the sword to Ferrari for third in the Constructors' standings.
This circuit does not always give us the best racing, but with a lot to play for up and down the field, we may witness another cracker for round seven, as F1 returns to where motor racing all began.