The scenes in the picturesque valleys of Tuscany brought more than anyone could have anticipated this weekend at the Gran Premio d'Italia Oakley 2021.
It's no denying that although Mugello encapsulates all that is wonderful about racing, with all riders on the grid always so excited to have this coming up on the calendar, this weekend meant far more than just racing to all those involved.
It is with great sadness as the calendar moves on from Mugello, we parabolically speaking are leaving one of our own behind as the world of motorsport mourns the loss of 19-year-old Swiss Jason Dupasquier. Although the news came to us at around 11 am UK time, just before Moto2 kicked off – the following race was performed by all with Jason and his family at the very forefront of their minds.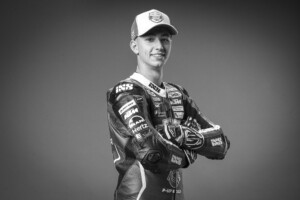 Before the race kicked off, Xavi Artigas was given a Double Long Lap Penalty for riding slowly between Turn 12 and Turn 13 during Q1. 
It was a fantastic hole shot for championship leader Pedro Acosta who, although launched into a fantastic early lead, fell victim to the start/straight slipstream by the end of lap 1. Particularly onboard the Moto3 machines, their size and weight means it's the class that falls victim to a lot of the fast corners Mugello has to offer. This was shown throughout and turn 1 claimed some first lap victims. 
Fernandez found himself in quite the ordeal with wildcard Surra in the first corner, Deniz Oncu taking himself out of contention shortly after. Almost immediately at the same corner, Kofler swept the man on home soil that is Migno alongside Tatay who was unable to avoid the collision. Kofler was taken to the medical centre for further checks, though declared ok.
It was an eventful race as ever, less than 2 seconds covering the top 15 in the early stages of the race. One man who was absolutely not letting this race get away from him was Leopard Racing Team's Dennis Foggia – who was never far from the fight for first throughout the race. He's been hungry for a win, so alongside fellow Italian and former VR46 Academy rider Romano Fenati, it was a fight for the tricolor trophy throughout.
Dennis was able to maintain a stunning lead throughout the end part of the race, followed closely behind by Jaume Masia who has been carrying an injury picked up at Le Mans, Gabriel Rodrigo taking a well-deserved third position. One person it is worth mentioning following Saturday's devastating and fatal qualifying collision, Ayumu Sasaki despite being involved in this event was able to put his determination into today and finished a stunning stint in 4th place. Bravo!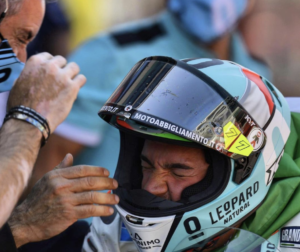 Overall it was a fantastic victory for the Italian, however all on track, in the paddock and all of us viewers were happy to see all riders finish the race safely. As we look ahead to Catalunya, Pedro Acosta leads the World Championship followed by Jaume Masia.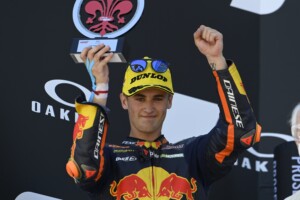 We'll certainly never forget this weekends' racing.
GRAN PREMIO D'ITALIA OAKLEY TOP 15
1 – Dennis Foggia
2 – Jaume Masia
3 – Gabriel Rodrigo
4 – Ayumu Sasaki
5 – Darryn Binder
6 – Romano Fenati
7 – John Mcphee
8 – Pedro Acosta
9 – Sergio Garcia
10 – Tatsuki Suzuki
11 – Filip Salac
12 – Kaito Toba
13 – Niccolò Antonelli
14 – Stefano Nepa
15 – Jeremy Alcoba